Stimulating Cotton Growth In Uzbekistan
Uzbekistan is one of the world's leading producers and exporters of cotton, with an annual output of about 1 million tons of fiber . Cotton is a vital source of income for millions of farmers and workers in the country, as well as a major contributor to the national economy, accounting for 8.3% of its exports in 2022 .
In recent years, the government of Uzbekistan has initiated a series of reforms to modernize and diversify the cotton sector, aiming to improve its social and environmental sustainability, increase its value addition and competitiveness, and enhance its transparency and accountability. In particular, following the President of Uzbekistan's decree on the establishment of cotton-textile clusters in 2018, Global Textile allocated 12,341 hectares of land in the Fergana region to assist farmers in cultivating cotton and then converting the yarn into finished products at their own factories.
Since then, in just three years, Global Textile has managed to increase cotton yield by 75-80% and launch three new factories. One of the factors contributing to this success was the use of EOSDA Crop Monitoring for observing farmland and timely responses to emerging crop-related issues. The platform was provided by IT Crop, the regional reseller of the company's solutions in Uzbekistan.
In this case study, we will explore how Global Textile employs EOS Data Analytics technologies for further growth and optimization of their business processes.
Overview: About Global Textile
Global Textile Group is a full-cycle group of companies, from sowing to garment production. In 14 months, their product goes through a complete life cycle – from cotton seeds to finished products, such as t-shirts.
To achieve the highest quality of their products, Global Textile uses the most advanced equipment from global manufacturers, and the quality of the cotton itself is tested in laboratories with Uster HVI 1000, a Swiss fiber classification and analysis system.
Cotton product export in the European market requires having a Better Cotton Initiatives (BCI) license. To produce such licensed improved cotton, it is necessary to adhere to seven principles, which include preserving the biodiversity of the area where cotton is grown, improving soil fertility, and careful management of water resources. The effectiveness of such efforts can be monitored using satellite technologies, but that was not the only factor that prompted the company to explore relevant solutions.
Challenge: 12,341 Hectares Of Fields To Analyze
After the first season of working with farmers in 2019, Global Textile conducted an extensive analysis and found that a lot of time was spent on field inventory. For example, after sowing, it is necessary to analyze the emergence of plants and determine the seed germination percentage.
In addition, nowadays, even the most experienced agronomist finds it difficult to conduct an accurate analysis of a field larger than 10–15 hectares using organoleptic methods, simply because there is no way to physically check every meter of each row. In this case, we are talking about fields with a total area of 12,341 hectares.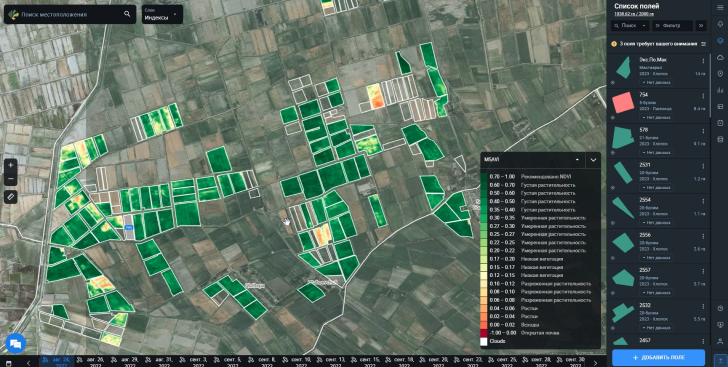 Moreover, the company could not promptly obtain information about the vegetative development and condition of the fields in order to timely respond to emerging problems, such as crop diseases or the appearance of pests. Thus, the decision was made to utilize satellite technologies.
Solution: Satellite Monitoring To Notice Problems Faster Than Farmers
Over the course of two years, the company analyzed and tested various offerings in the market, and then concluded that the EOSDA Crop Monitoring platform from EOS Data Analytics was the best solution for addressing the following issues.
First and foremost, for Global Textile managers, analytics on crop development, soil fertilizer content, problem alerts, and yield forecasts, as well as historical data, were crucial.
All of these features are present in EOSDA Crop Monitoring, but integrating such a solution also requires efforts to train employees and farmers to work with it. However, the process is facilitated by the fact that EOS Data Analytics provides comprehensive support, which was also one of the reasons for choosing the platform.
Now, each plot can be analyzed with an accuracy of up to one meter, and for a Global Textile agronomist to analyze a 100-hectare field, it takes not a full working day, but just 10-15 minutes of studying data on the platform. After this, they make a targeted inspection of their territory, precisely knowing the problematic areas marked on satellite images.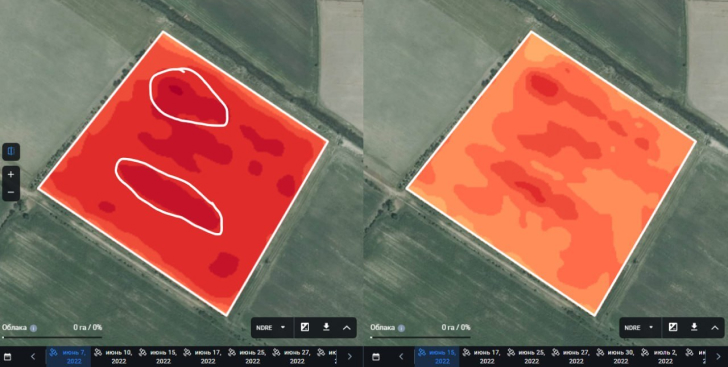 Once, I saw red spots on an NDRE map of a field through the EOSDA Crop Monitoring platform. When we arrived at the site, we discovered a tick infestation. When we told the local agronomist about it, he didn't believe us at first, but when he saw it for himself, he couldn't understand how we identified the problem faster than he did.
The Zoning feature is also of particular value to the company, as it allows farmers to save on fertilizer application. Using the platform, they analyze the amount of nitrogen in the plants and then apply fertilizer only to those areas of the field where starvation is observed.
EOSDA Crop Monitoring
Fields monitoring platform, leveraging high-resolution satellite images to identify and react to any changes remotely!
Outcome: The First Step To Digitized Agriculture
The company has no doubts that choosing EOSDA Crop Monitoring was the right decision and has allowed them to further expand cotton production.
Now, Global Textile's current tasks are to convince their farmers to use the platform to increase field yields, and reduce costs that affect the cost of cotton production. In the long term, they intend to fully digitize agriculture.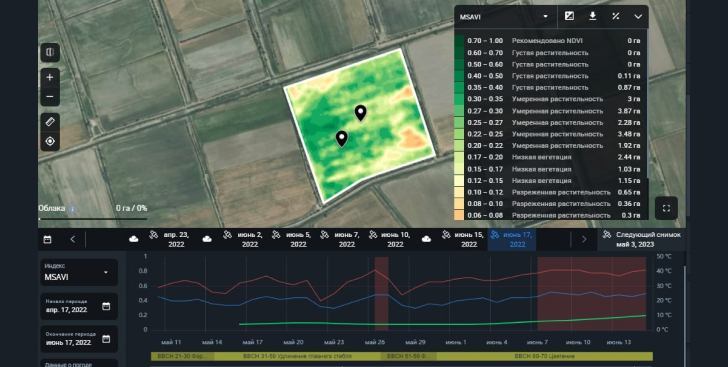 As for the technical aspect, company managers are considering the possibility of engaging a team of scientists and engineers from EOS Data Analytics to develop a field irrigation schedule feature.
Global Textile timely adopted satellite technologies to stimulate precision farming, increase yields, and reduce the cost of growing crops. Their approach to implementing innovation has long proven itself and will continue to play a significant role in upcoming projects related to solar energy, organic farming, and renewable energy resources.
About the author:
Kateryna Sergieieva joined EOS Data Analytics in 2016. She has a Ph.D. in information technologies and a 15-year experience in remote sensing.
Kateryna is a Senior Scientist at EOSDA. Her specialty is the development of technologies for satellite monitoring of natural and artificial landscapes and surface feature change detection. Kateryna is an expert in the analysis of the state of mining areas, agricultural lands, water objects, and other features based on multi-layer spatial data.
Kateryna is an Associate Professor conducting research at the Dnipro University of Technology. She is the author of over 60 scientific papers.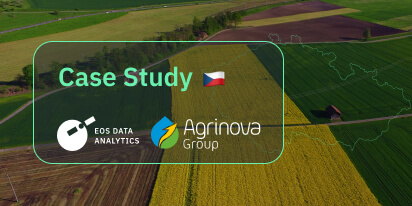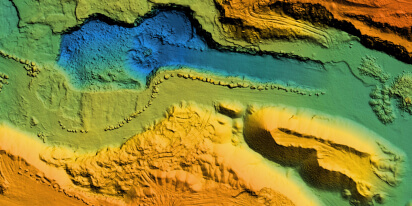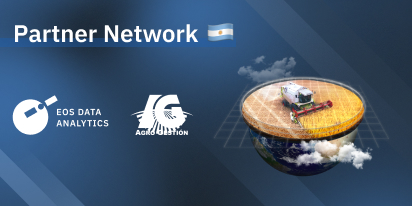 EOS Data Analytics Partners With Agro Gestión
With a focus on innovation and sustainability, EOS Data Analytics and Agro Gestión's partnership will bring cutting-edge satellite technology to more agribusinesses in Argentina, Paraguay, and Spain.