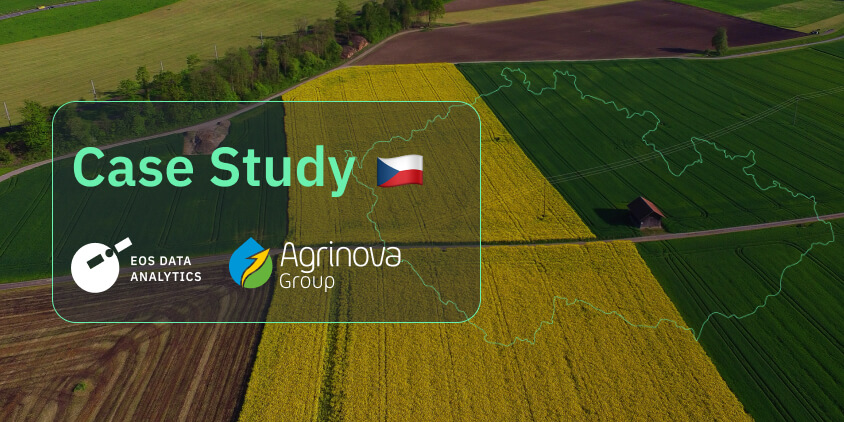 Agrinova Grows By Offering Satellite Data Analytics
Recent statistics by the European Commission reveal an increase in agricultural export along with a decrease in imports . In light of this situation, the importance of local food production becomes a major focal point, which also needs to be balanced out with sustainability policies.
Another important factor is that European areas with natural constraints (ANC) cover 59% of the agricultural area . Those are the lands where farming becomes more challenging due to a range of geological and climatic conditions. Economically, ANCs are less profitable because they produce less output. Yet, such areas efficiently feed local communities and contribute to biodiversity and carbon sequestration as a result of using fewer inputs, while preserving uncultivated zones.
Modern agricultural practice demonstrates that it is possible to optimize harvest yields while minimizing the use of inputs. This case study shows how Agrinova, an agricultural consulting company with a head office in the Czech Republic, successfully implements precision agriculture in challenging Central and Eastern European countries by introducing satellite imagery analytics.
Overview: About Agrinova
Agrinova Group is a progressive leader in agricultural consulting in Central and Eastern Europe. Over two years of collaboration with EOS Data Analytics, the company increased its total monitored agricultural land from 5,000 to 12,800 hectares. Such rapid growth is driven by many factors, both on the global and local scale.
The company's growth is coming from natural expansion. During the first year, I was mostly delving into technology, observing just a few fields. Right now, there are over 300 fields under continuous supervision while we started with 10 fields of testimonial use. That is 30-fold growth over the first 2 years of operation. To a large extent, I contribute this rapid development to the use of pioneering technology of remote sensing on a practical level. Right now, satellite imagery is a valuable proposition in Central Europe that is only at the dawn of its wide-scale adoption.
Overall, the company's growth is enabled both by continuing collaboration with existing customers and acquiring new opportunities. The business strategy of Agrinova is to provide highly qualified agricultural services based on the benefits of multispectral satellite imagery.
The short-term objective is to grow the agribusiness together with all current suppliers. The EOSDA Crop Monitoring platform acts like a data source bank where consultants can leverage different tools to better support customers in efficient crop production. In this regard, remote sensing analytics service is the pivot point of the consulting offer, around which all the additional services revolve.
The vision of Agrinova is to be the leading company in crop production services, introducing the newest technologies of the 21st century. The mission is to be a reliable business partner for suppliers and customers by delivering advanced solutions in an easily approachable way.
Luděk Novák has spent years developing a unique portfolio of innovative crop nutrition products that have proven efficiency. Supplying these products to farmers comes as part of his unique consulting service model, which comprises data-powered advising and full-cycle support throughout the season.
Challenges: Input Pricing, Legislation, Climate Change
Agrinova is fully equipped to meet all the challenges that European farmers are facing. According to Luděk, changes in the agricultural sector are inevitable and composed of plenty of variables. Some of the primary concerns voiced by his clients are uncertainty with input pricing, new legislation (like the European Green Deal and Fit for 55 implementations), and climate change.
Now as the company, Agrinova has three years of precision trials with the Prague Institute of Crop Production at the field station in the city of Humpolec where they have been measuring different schemes of fertilization. And these trials confirm that widespread practices of the previous century are not efficient anymore.
Customers aim to reduce the use of fertilizers by 50% while maintaining business profitability. Ultimately, yield optimization and cost reduction in the face of current challenges are possible. Yet, success requires restructuring the whole crop production lifecycle by approaching it from a sustainability perspective.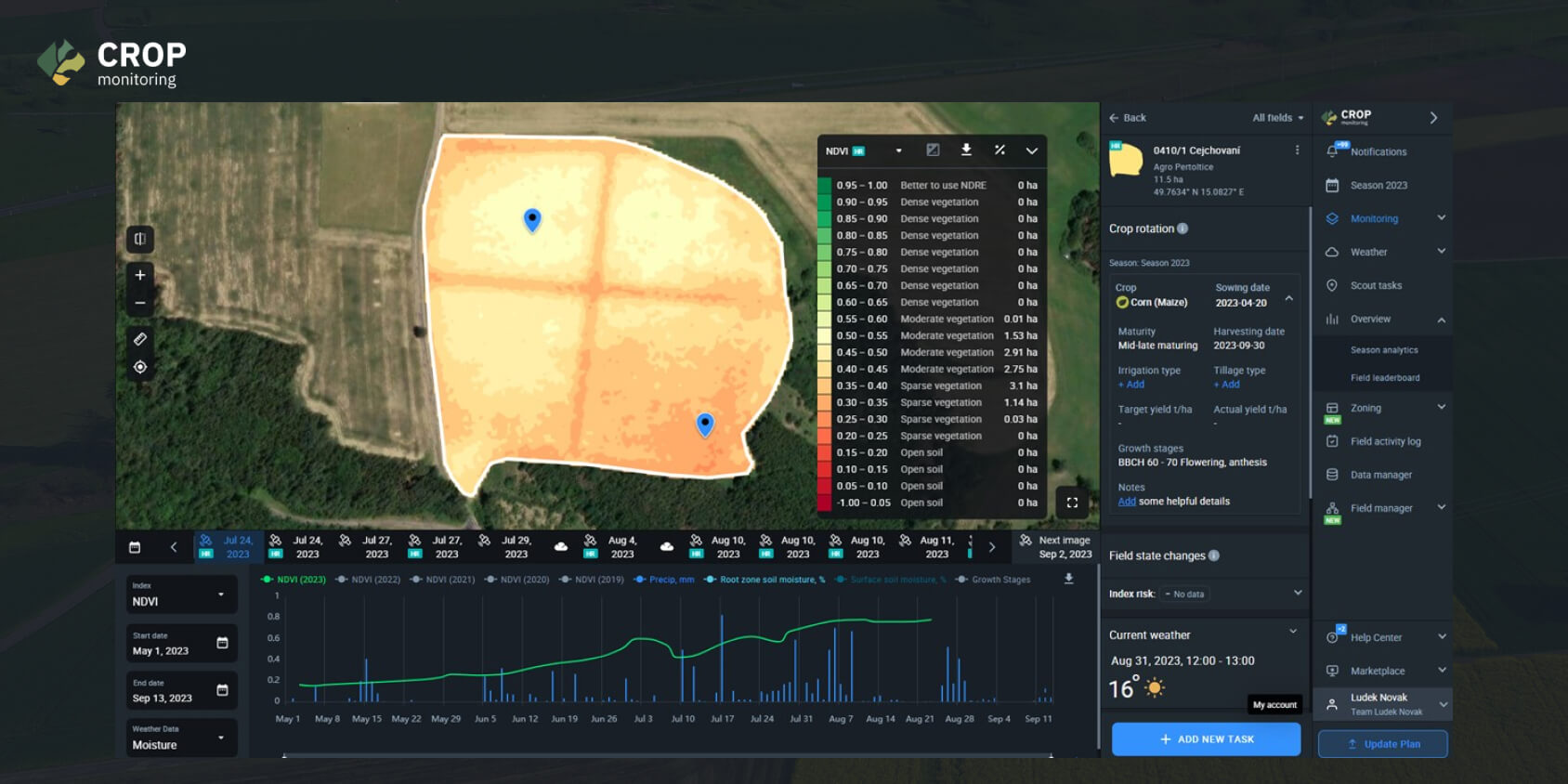 Solutions: High-Resolution Imagery, Indices Comparison, Scouting
The consulting service lifecycle at Agrinova usually starts from a farmer's concern or request. For example, if the crop didn't perform well during the season, it is a sufficient reason to seek professional assistance in implementing precision agriculture tactics proposed by Agrinova.
Luděk Novák is able to take a close-up look at every field, providing insights into the current climatic, biological, and geological conditions on the location with the highest level of detail, down to particular locations within a field.
Such precision has become available due to the use of subscription-based upgrades to EOSDA Crop Monitoring, such as high-resolution imagery on 2,356 hectares, and custom indices like GNDVI and SIPI.
Field Leaderboard is handy during contrast & comparison analysis, seeing how trends in one field differ from another. For example, in the screenshot below, fields are sorted by region. By vegetation map preview, they can immediately see that in roughly the same climatic and soil conditions, vegetation might be drastically different, which highlights the importance of utilizing the right agricultural tactics at the right time.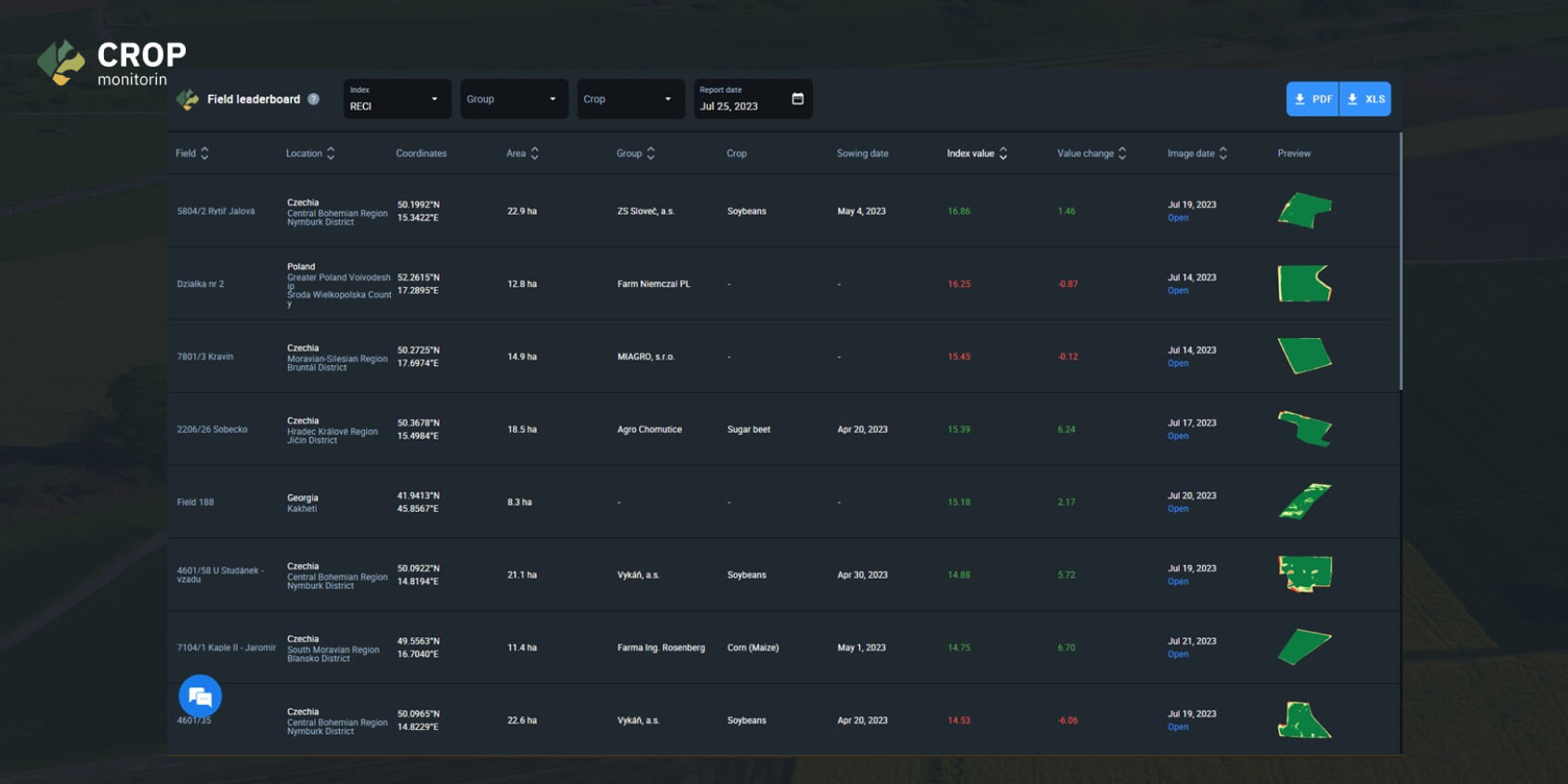 Scouting feature is used for visiting precise locations in the field. In this case, the pinned locations show the places where soil samples were taken.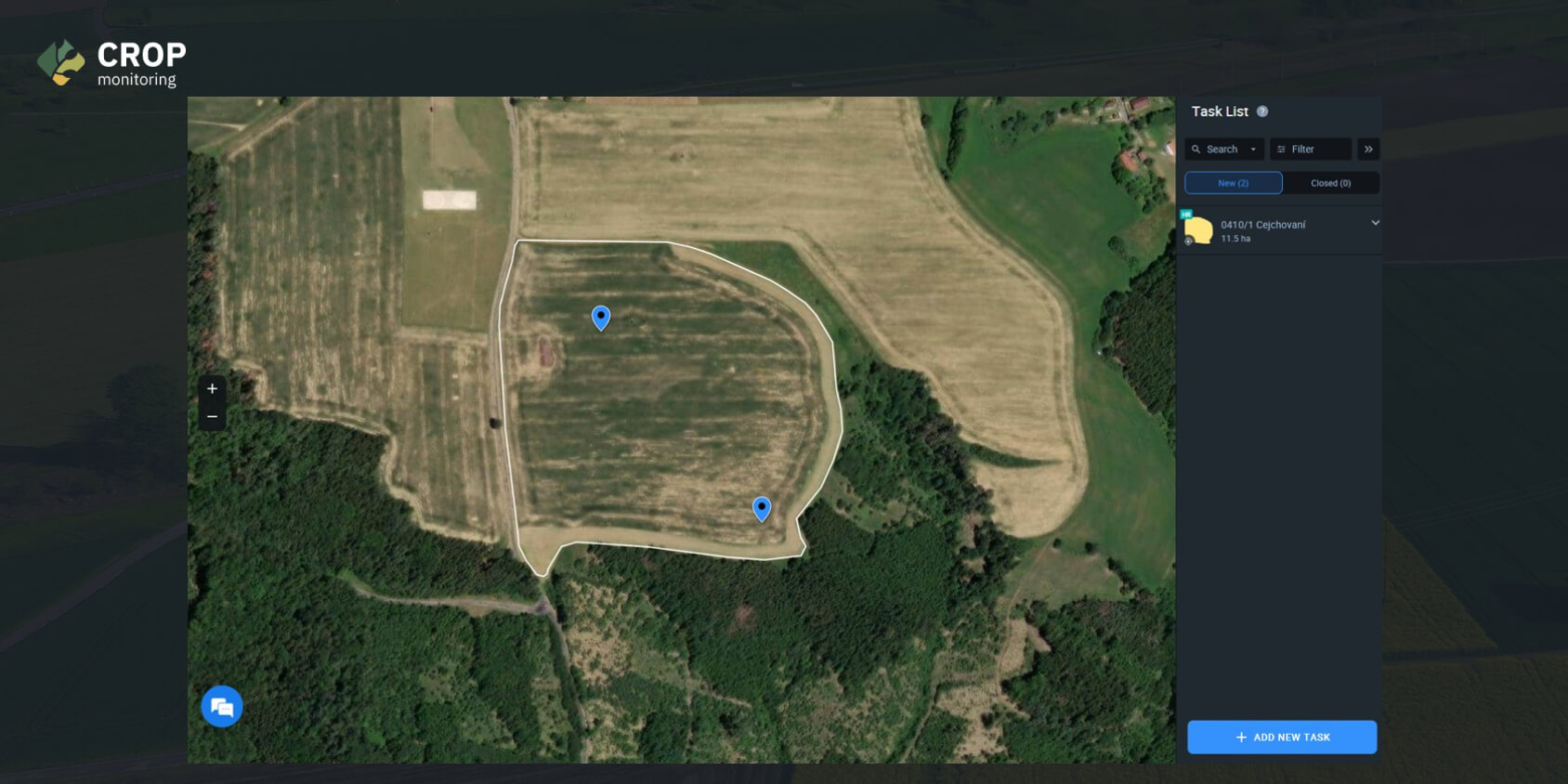 High-resolution (HR) imagery provides more satellite data to analyze because it adds more sources to regular ones like Sentinel and Landsat. Additionally, it gives a higher level of detail on field conditions. As you can see, the precise detalization of RECI (Red Edge Chlorophyll Index) on the screenshot below shows exactly the areas that need more attention. This could've been used for variable rate application of inputs. Indeed, at the beginning of July, you can see a significant upward spike in the index values, which shows enhanced growth due to the effect of input application.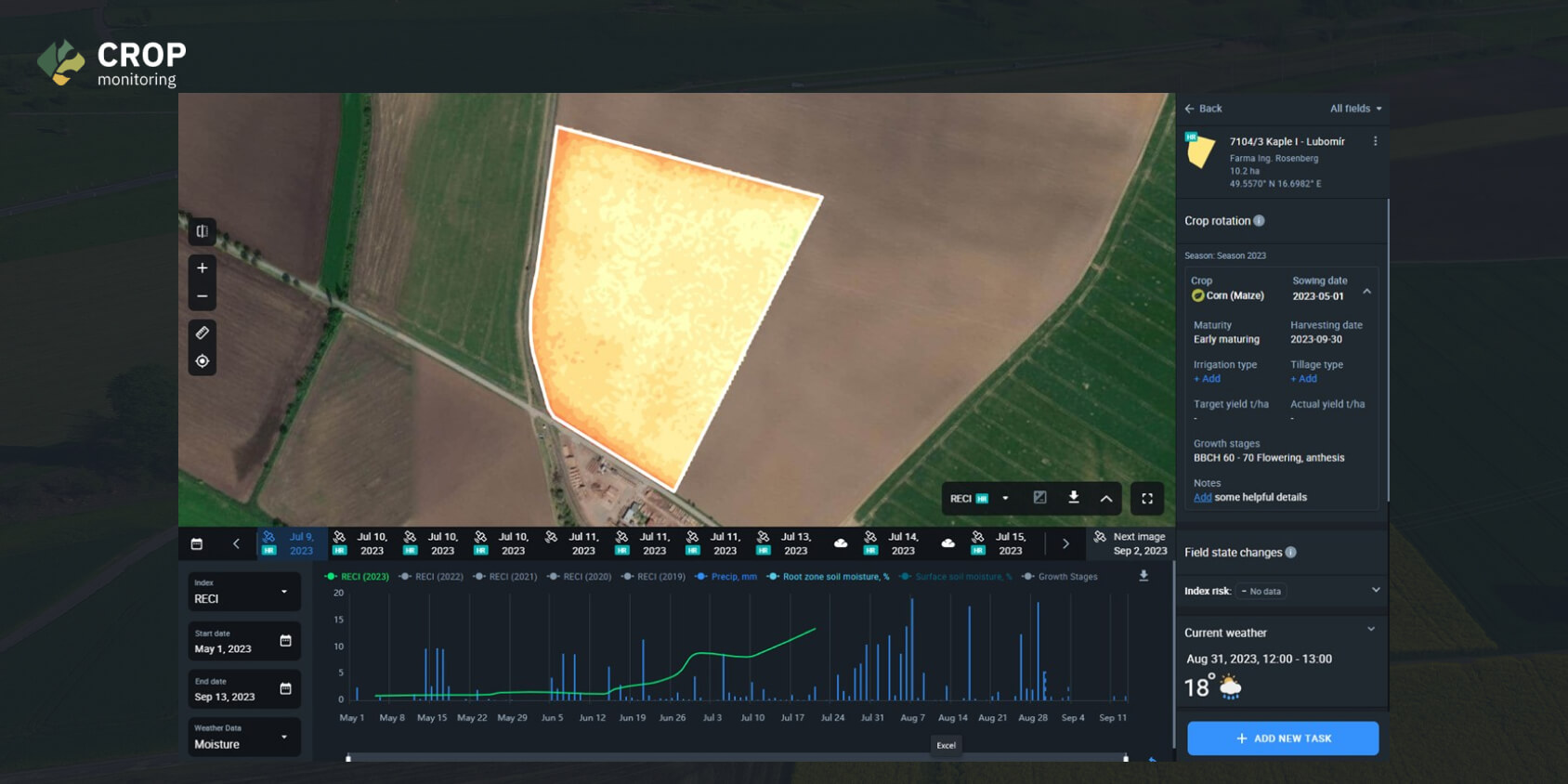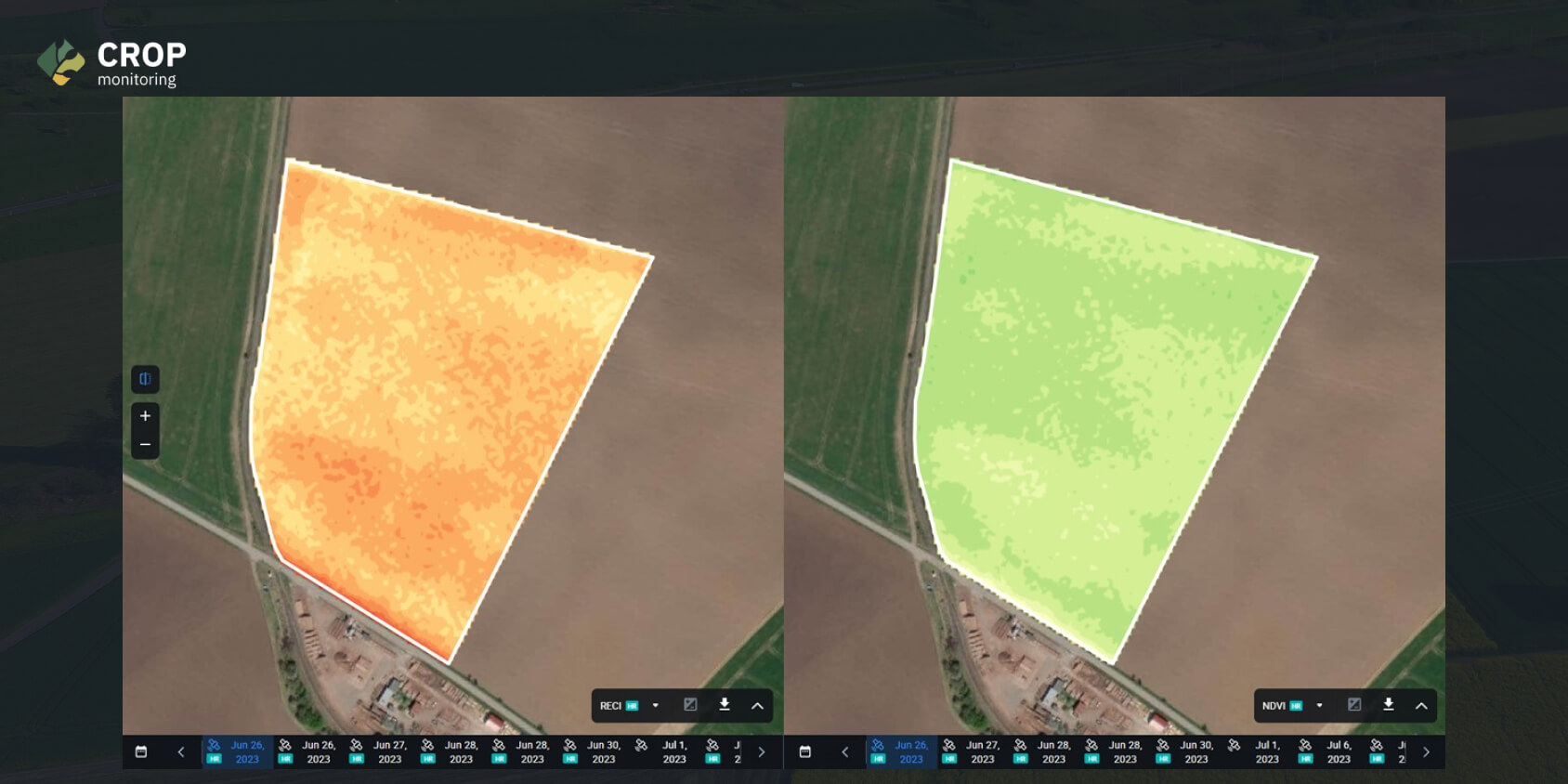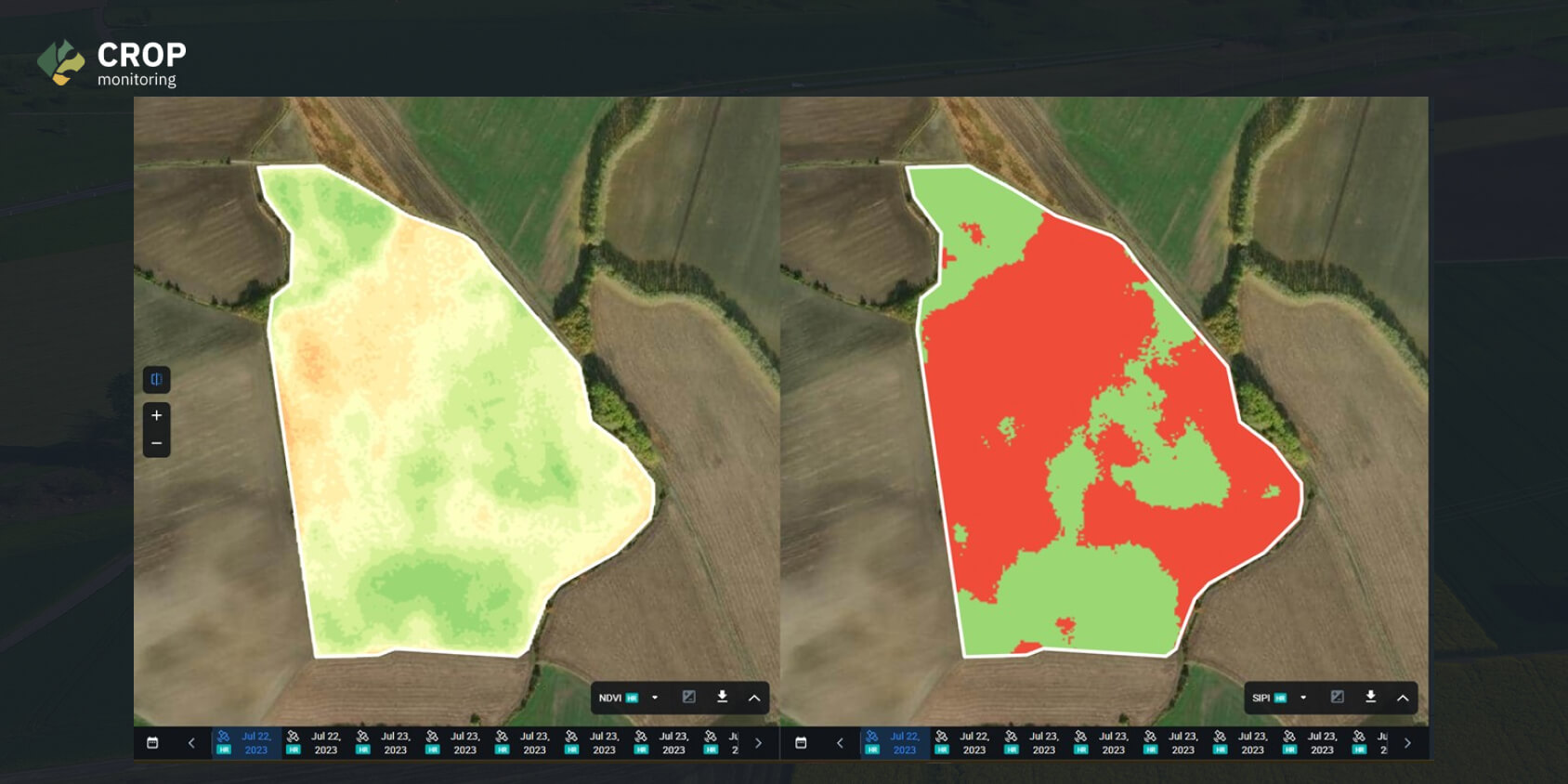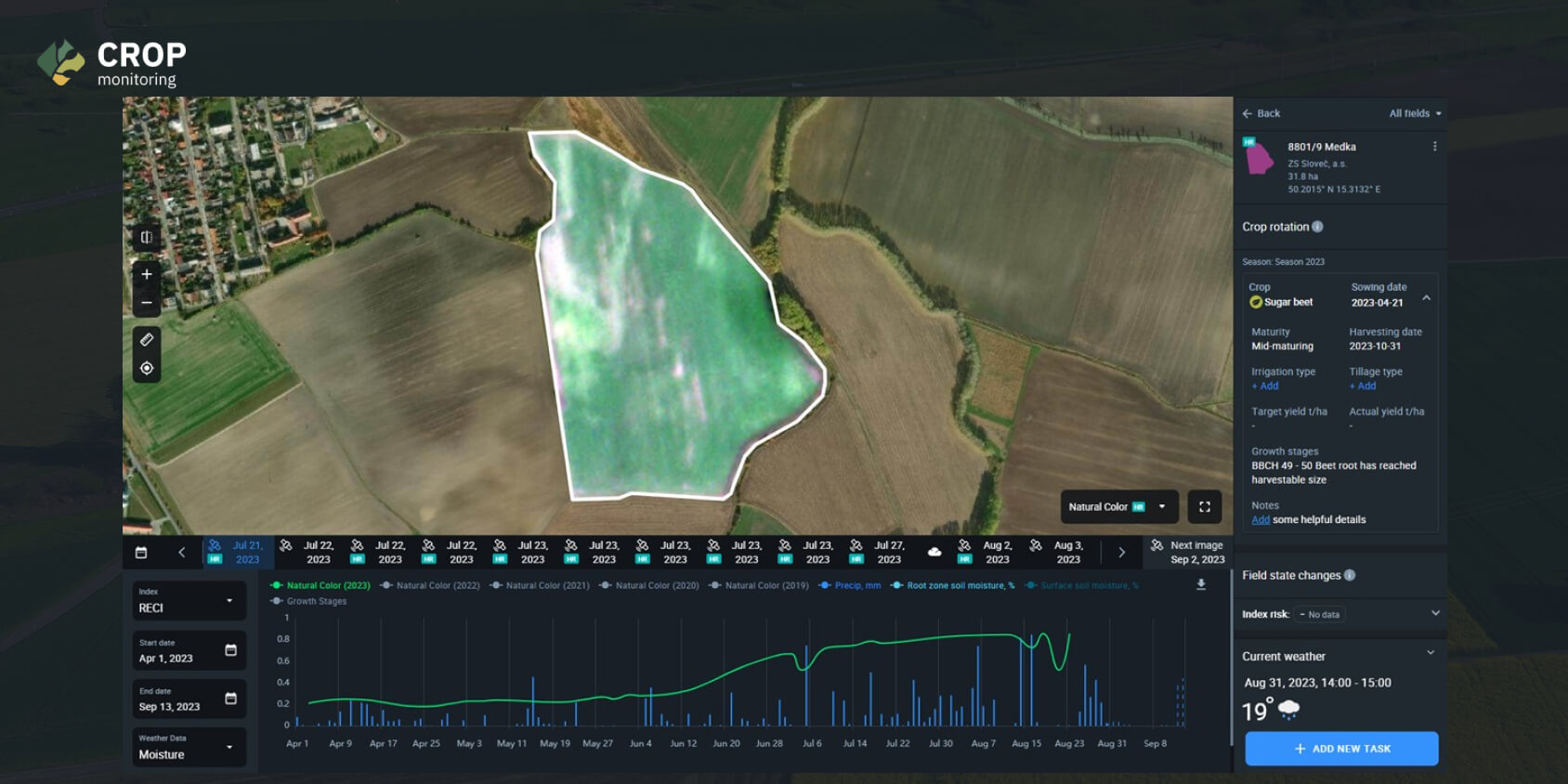 Luděk admits that analyzing every field is a complex procedure. It is possible to obtain insights and formulate an appropriate course of action only after exploring multiple indices and comparing the data. On top of that, the best results can be achieved if the farmers actively cooperate during the research and monitoring phases, providing in-situ data when such a need arises.
EOSDA Crop Monitoring
Fields analytics based on high-resolution satellite images to track all the changes on-the-spot!
Result: Data-Driven Decisions, Strategic Approach, Optimized Agri-Practices
Agriculture as a business process might seem straightforward because crops are supposed to grow on their own. However, the experience of Agrinova shows that optimizing the natural properties of the soil and crops, while fighting pests, diseases, and unfavorable climate conditions at the same time, requires a true scientific approach. Simply applying fertilizers often doesn't bring the desirable result, so strict European regulations that require reducing the use of inputs are not the biggest problem for farmers. On the contrary, based on research institute trials and satellite imagery analytics from EOSDA Crop Monitoring, Luděk Novák was able to prove that reducing the use of old fertilizer formulas while refining agricultural practices (e.g. less tillage), and fine-tuning the use of novel inputs helps to deliver reasonable harvest yields while preserving the soil health.
The issue of utilization of mineral granulated fertilizers like urea (N) or amorphous (P) is common. The low utilization coefficient of nitrogen and phosphorus (about 40 -60%, subject to the local conditions) is in fact a root cause of vast financial and energy losses with significant environmental footprints. High application rates of low-cost fertilizers reflect the presence of habitual practices of the 20th century that are no longer sustainable for crop production in the 21st century.
There are opportunities with aspirations to reduce abundant fertilizer use by at least 50%. Those innovations are arising from contemporary nitrogen, phosphorus, and other fertilizers with utilization above 95%. However, the vast majority of agronomists are very conservative and reluctant to accept innovations without any scientific and field development proof.
The adoption challenges are addressed by the ongoing testing trials program in corn for silage conducted by Agrinova and the Crop Production Research Institute in Prague. The program is going to continue for the 3rd season in a row at the field station of Humpolec. The aim is to generate and document innovations in corn silage. Fertilization and nutrition best practices are vital to formulating a thorough understanding of the impact of inputs on corn silage quantity and quality. Vegetation indices monitoring through EOSDA Crop Monitoring helps Luděk and academic researchers to track the precise measurements of nitrogen and photosynthesis dynamics in the biomass of the plants. Enriched by ground truth evidence, such measurements help to calculate the efficiency of various types of fertilizers.
Table 1: Trial program in silage corn
Application timing
With planting
6th leaves
10th leaves
Before flowering
Var. 1 New Zea mais
With planting40 kg of urea/ha +
PLANSTAR Zea/ 24 kg/ha
6th leavesQuantum UltraZinc 117 0,5 l/ha +
Quantum SeaAmin 1,0 l/ha
10th leavesNUTRINO 20 l/ha +
Quantum AminoMax 0,5 l/ha +
Quantum UltraComplex 5,0 l/ha
Before floweringNUTRINO 10 l/ha +
Quantum AminoMax 0,5 l/ha
Var. 2 Control standard
With planting200 kg/ha urea +
120 kg/ha amorphous
6th leaves
10th leaves
Before flowering
NUTRINO is a liquid fertilizer with controlled nitrogen release produced by INTRACROP a part of Frontier Agriculture, Ltd., United Kingdom of Great Britain and Northern Ireland. PLANSTAR Zea is N, P micro granule fertilizer produced by Platin, SARL France. Quantum is a brand of leaves fertilizers produced by RBC Kvadrat, Ltd. Ukraine.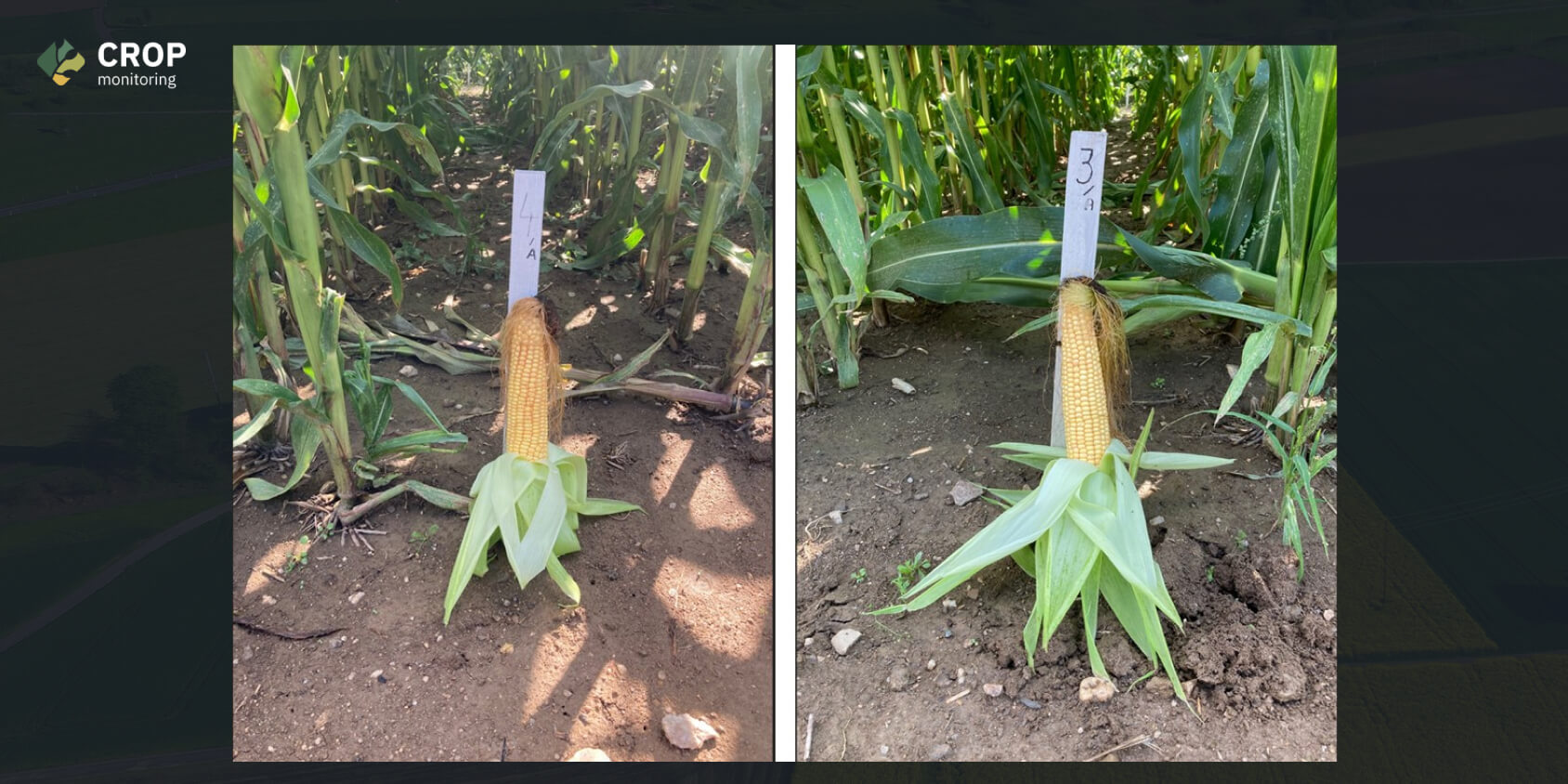 Two out of three years of trials have been already completed and the harvest data of corn silage quantity and quantity were generated and documented by Corteva NIR and research institute labs.
No statistical differences were identified in the two trials data on yield (t/ha), fibers (%), starch (%), NDF (%), ADF (%), ELOS (%), and NEL (MJ/kg of dry matter).
However, there are significant differences in nitrogen fertilization balance (see the chart underneath) while there was no manure or other organic matter applied to the testing field within the last 10 years. Having said that, only the mineralization residue from the previous crop could account for the soil content of NO3 and NH4. The previous crop, in this case, was winter wheat.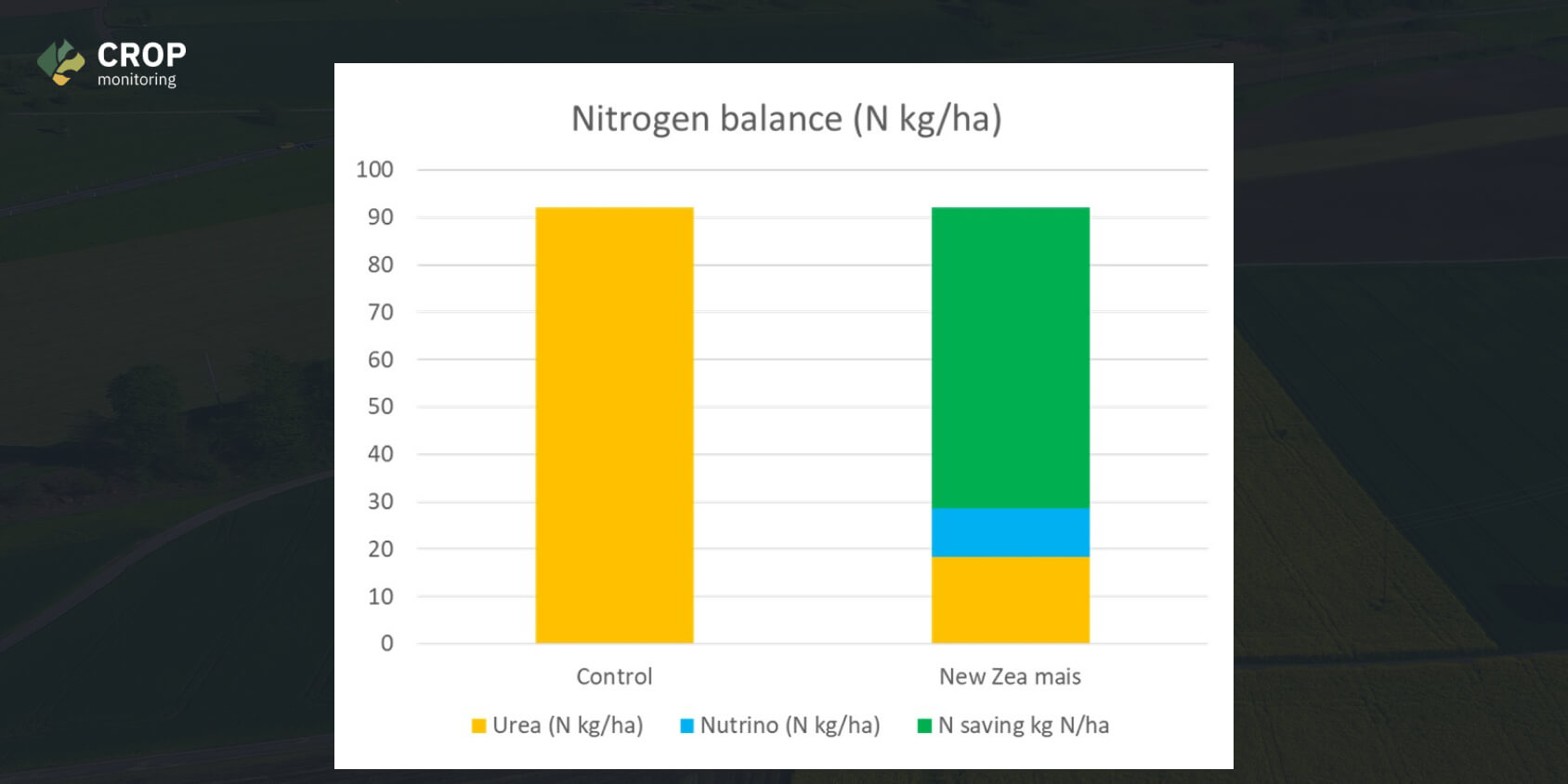 The integration of well-documented field trial data and EOSDA Crop Monitoring platform images and data orchestrates unique synergy for factual foundations and better decision-making during the introduction of new fertilization technology. Verification and proof of a new concept are conditioned by close cooperation with farm innovators and their commitment to growing crops with fewer inputs and reduced environmental footprint without compromising on output quantity and quality.
Agrinova's customers consider field development trial data and adjust it to the local conditions, crop situation, etc. To offer custom recommendations, Agrinova maintains observation of satellite imagery analytics offered by EOSDA Crop Monitoring in particular fields.
For example, the uniformity of the indices patterns indicates the solid performance of the monitored corn field (see underneath) as a reflection of innovations in fertilization and nutrition technology. In this particular case, there was an application of 30 l/ha of straight NUTRINO (no water solution) by the drone DJI Agras 40. Each agronomist is aware of the risks of burning and scorching after nitrogen application on corn leaves however this is not valid for NUTRINO.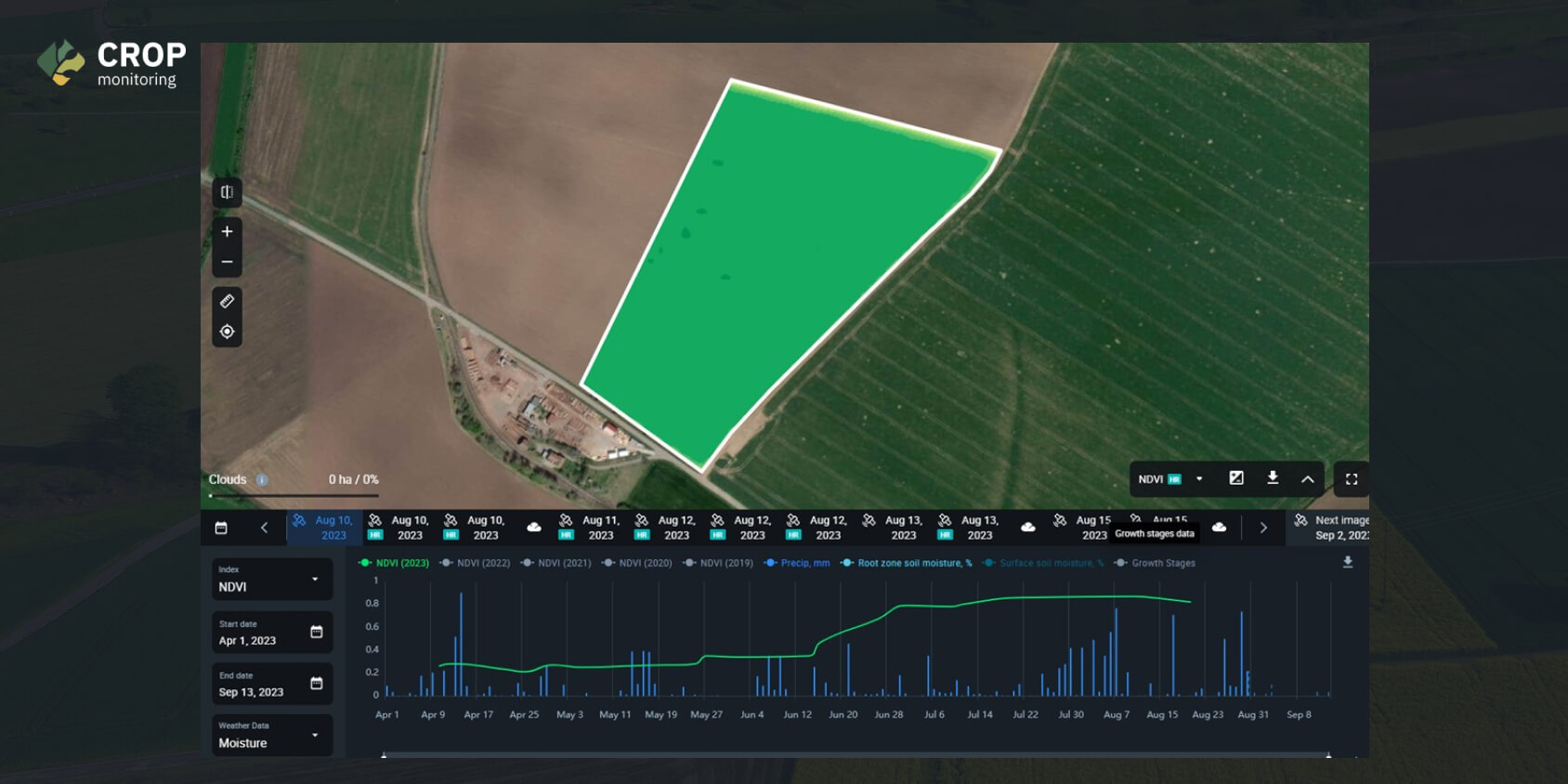 The near future plans of Agrinova Group include providing a more precise analysis of the disease risk that is inherent to certain locations depending on weather and phenological patterns of the crops. Also, the company is looking forward to embracing the full potential of Earth Observation technology, driven by the continuously increasing possibilities of space hardware and software.
About the author:
Karolina has embarked on a unique career journey that has taken her from journalism to a STEM degree, leading to her current path in writing about science & deep tech.
Currently pursuing a Bachelor of Science degree at Pennsylvania State University, Karolina combines her passion for writing with her technical expertise by contributing to technical documentation on Earth Observation satellites and spacecraft data processing. She also excels in communicating the scientific value of EOSDA solutions in precision agriculture, precision forestry, and environmental monitoring in a way that is accessible to all.
As a dedicated advocate for personal empowerment, Karolina is actively involved in 5th-wave feminism, striving to represent and uplift Ukrainian women in the global STEM community. Her commitment to this mission is demonstrated through her membership in esteemed organizations such as the Association for Women in Science (AWIS), Women in Technology (WIT), and Blue & White Society, featuring the biggest alumni network in the US of over 750,000 influential professionals.