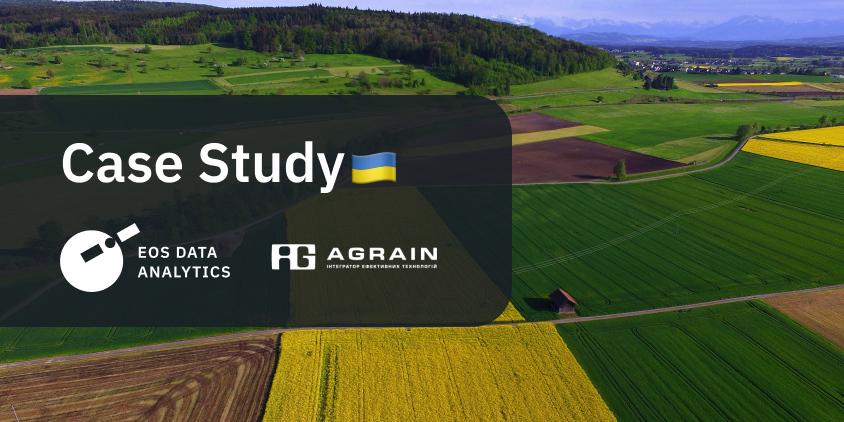 AGRAIN Uses Remote Sensing In Ukraine
Climate change and economic events stimulate Ukrainian farmers to be more flexible and prompt in finding new development opportunities . Since investing in this sector is currently off the rise, farms need high-tech, efficient, and financially feasible methods of optimizing yield.
The principles of precision agriculture have been studied by Ukrainian academics for several decades . However, until recently, no software tools were available for streamlining the usage of some types of data. Namely, the utilization of satellite imagery in agronomists' workflow presented challenges. Specialists who have field-specific knowledge about things like phenotypes and technological maps of plants weren't equipped to use remote sensing in everyday life.
AGRAIN is the first integrator company in Ukraine, which implements the most modern crop production technologies and creates an ecosystem for developing agricultural producers. The company helps to optimize the pesticide load, and business processes in the operation of the farm, as well as to reach fundamentally new indicators of productivity and profitability. The company recently started using EOSDA Crop Monitoring's satellite data analytics on a continuous basis. In this article, we will consider the practical application of this technology in modern field conditions, as well as look at the available results.
Overview: About AGRAIN
AGRAIN cooperates with both large-scale holdings and independent farms, which allows them to implement high-quality standards for large and small market players, guided by the principles of equal economic opportunities.
Comprehensive agricultural consulting is integral to the company's wide range of services. It is this service that combines the diversity of different areas of technological expertise into a synergistic strategy for improving the business efficiency of agricultural producers. The average rate of improvement of production processes after the implementation of AGRAIN recommendations reaches 20%.
Due to the business operations expansion and strategic growth, AGRAIN started using EOSDA Crop Monitoring as a source of remote sensing analytics. In addition, the platform serves as a centralized tool for field management, data storage, and team performance evaluation.
Currently, the company monitors fields in Ternopil, Khmelnytskyi, and Chernivtsi regions, as well as in a number of locations in the west of Ukraine. Expansion plans include servicing farmers in Lviv, Ivano-Frankivsk, Vinnytsia, and Zhytomyr regions. Thus, AGRAIN plans to cover regions that include diverse geological and phenological zones, offering opportunities for sustainable development to a larger number of farmers facing individual challenges.
As part of the consulting service, a comprehensive assessment of the state of the farm and the natural characteristics of the fields is carried out in the first place. Types of analytics may include:
Financial audit
Quantitative and qualitative analysis of farming machinery
Agrochemical analysis
Assessment of the condition of fields, types of soils, weeds, and pests
Evaluation of the effectiveness and resistance of the used treatment and its combinations.
After analyzing the received data, AGRAIN experts form an Action Plan with a detailed description and step-by-step instructions for implementing the necessary technologies and processes. In addition, the client is not left alone with new information, because AGRAIN offers full support to achieve results.
Support includes practical recommendations and personal technical service. For example, initial optimization of agricultural equipment settings (planter, etc.), training on the further use of innovative technical solutions, individual selection and mixing of plant protection products, development of technological maps, fieldwork schedule, etc. AGRAIN's unique offer is that the company is the first in the Ukrainian market to offer satellite monitoring of fields on a regular basis and as part of an integrated approach to improving yields. Thanks to EOSDA Crop Monitoring, AGRAIN specialists are able to develop individual precision agriculture technology for each field, thus optimizing production indicators and minimizing costs. The service includes full support from the beginning to the end of the season.
Efficiency of agricultural enterprises increases due to timely response. In agronomy, everything that is done in a timely manner brings the appropriate result. EOSDA Crop Monitoring allows early warning of problems with plant growth and nutrition, soil conditions, etc., and this is always better than dealing with problems when they are already evident in the fields.
As of mid-2023, AGRAIN offers services on a total area of about 50,000 hectares for more than 100 clients. As more and more farmers connect to the company's service, the number of monitored hectares also shows a positive trend. EOSDA Crop Monitoring is in permanent use by 10 agronomists and three customer service managers. Usually, Ukrainian agribusinesses use a cautious tactic, testing AGRAIN consulting first on one field. Yet, after evaluating and comparing the results, as a rule, they add more and more fields to the service in subsequent seasons.
Challenges: Lack Of Tech Expertise, Economic Challenges, Agri Practices Imbalance
Ukrainian agricultural enterprises have considerable experience in agricultural production to satisfy large domestic and foreign orders. For many years, Ukraine has been the leader of the sector and, according to the results of 2019-2020, even became the second largest grain exporter in the world . Currently, a number of macroeconomic factors complicate the conditions for achieving profitability. In this context, the goal of AGRAIN is to optimize natural resources and minimize costs in order to achieve the business objectives of its clients.
The sown area of grain crops in ownership of our clients has practically not decreased over the last year. This shows that Ukraine continues to be a significant player in the grain export market and, thus, the principles of precision agriculture are not just an interesting novelty, but an absolute necessity in terms of maintaining both their profitability and productivity. The best strategy, in this case, is the maximum improvement of product quality and compliance with international standards. While we don't want to decrease the sown areas, we're also looking to exercise ecologically conscious management, aimed at preserving soil fertility for hundreds of years to come.
Considering natural resources, the moderate climate and fairly good soil fertility allow for the introduction of a number of environmentally friendly methods of rationalizing crop production. Therefore, compared to exporters from regions characterized by droughts, heavy rains, and sudden temperature spikes, Ukrainian producers are able to ensure a reliable and stable harvest, which encourages many international partners. Although the implementation of the above methods requires a high level of technical expertise and experience in the field of precision agriculture, which Ukrainian farmers mostly do not have due to the lack of available training resources.
AGRAIN specialists note the presence of enthusiasm among agribusinesses to overcome obstacles, such as the introduction of scientific innovations in technological, chemical, and biotechnological terms. But in order to avoid mistakes and reduce the risks of transition to new technologies, it is necessary to take into account numerous nuances that largely depend on local conditions and practices. Statistics on when and how certain varieties of plants ripen do not always correspond to the actual variability observed every other year. Therefore, the best solution is to navigate the current situation at every given moment in time, and this requires accurate and economically feasible means of monitoring and analysis.
Some demographic factors also affect the development of the agricultural sector in Ukraine. AGRAIN has noticed a significant increase in the new generation of customers (28-30 years old), which is less dependent on "traditions" and more mobile in learning new knowledge, reorganizing processes, and adapting to changes. Accordingly, the need for consulting based on satellite monitoring was partly dictated by the rapid increase in demand and numerous requests for the latest technological solutions from customers.
Solutions: Implementing New Technology, Turn-Key Consulting
In order to provide timely and high-quality services, AGRAIN decided to create a new team of agronomists with experience in satellite monitoring and analytics, led by a manager who is responsible for EOSDA Crop Monitoring and its integration.
The platform features that the team uses most often are Monitoring, Overview, Weather, Field Activity Log, and Scout Tasks — for the responsible agronomist with critical field zone labeling.
In the first stage, experts analyze the available data remotely using the Monitoring, Zoning, and Season Analytics features. Potentially problematic areas are pinned in the Scout Tasks section. Planned and completed assignments are logged in the Activity Log. Agronomists also use the Weather forecast to plan field work schedules. On location, they often use EOSDA Crop Monitoring on mobile devices such as tablets and smartphones. A photo of the questionable area must be taken and a report of the completed work is attached to the Scouting Tasks.
In the future, these reports are used in the correction of field maintenance tactics and in communication with customers. For example, to demonstrate the effect and expediency of using fertilizers, soil herbicides, etc. Recommendations are based on real data since vegetation indices show the available level of nitrogen in biomass and the unfolding of certain events in space and time.
Let's consider two examples that show how AGRAIN specialists managed to identify the spread of pests early on with the help of EOSDA Crop Monitoring.
Example №1
In the screenshots below, you'll see a field of rapeseed on a field of 20 hectares. AGRAIN analysts were able to identify damage done by insects that spread to this location from a neighboring field in the early stages of plant growth and recommended measures to solve the problem.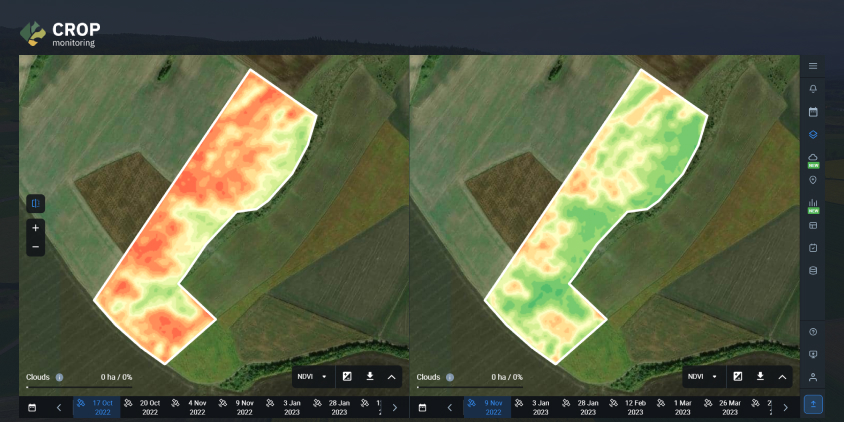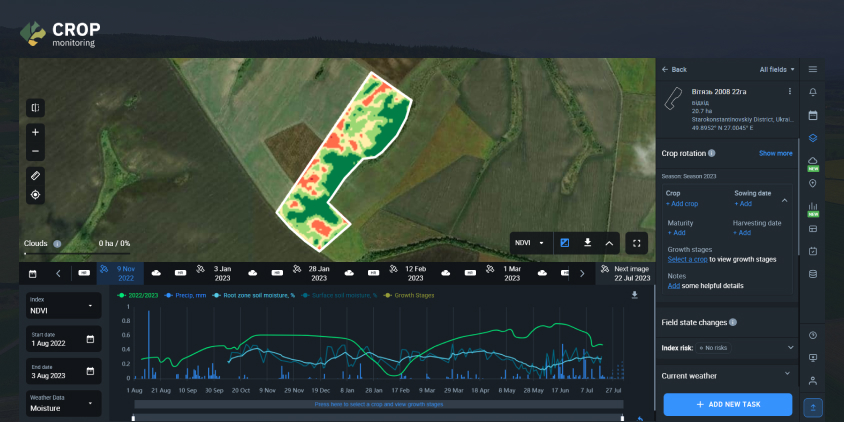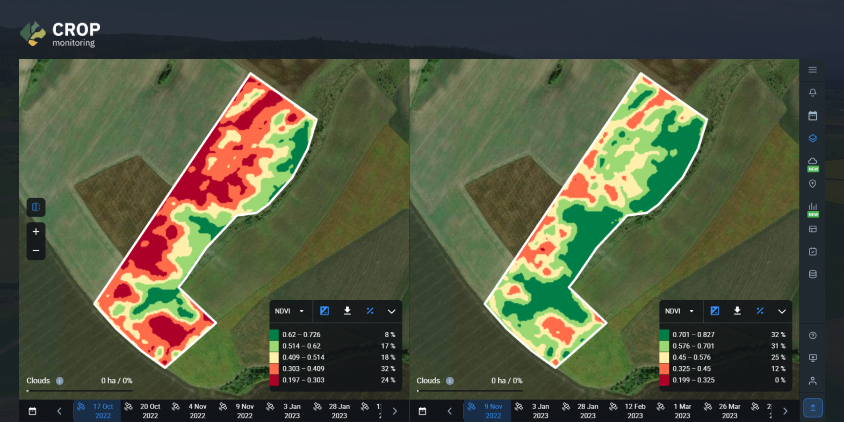 Due to biological features, rapeseed branches well: one plant can reach two meters in diameter. Accordingly, the timely elimination of the problem made it possible to save enough time for the plants to branch out and the crops to be preserved.
The land owner also mitigated the risk of financial losses, because, in the event of significant damage to the rapeseed, he would have to sow something else in this field, hence the owner would lose the funds spent on seeds, nitrogen fertilization, and weed control of the rapeseed. According to AGRAIN's assessment, the estimated loss would be around 100 USD per hectare, which is a total of 2,000 USD.
After field monitoring showed an improvement in the situation, agronomists also recommended ways to stimulate plant growth in the affected areas. Currently, the predicted yield for this field is 3 tons per hectare. As the field owner responded at a stage when 23% of the field was affected, the yield figures are not likely to be statistically the highest, but upon a faster response, these figures could have been increased. One ton of rapeseed usually brings about 325 USD of net profit, so with a yield of 3 t/ha on a 20-ha field, the projected gross profit will reach 19,500 USD.
Example №2
Rodent attacks are a rather hardly-predictable problem, as they tend to be more active depending on climatic conditions. This trend is mainly related to the peculiarities of wintering. For example, after a dry and mild winter, the probability of mice spreading is high, but if the early spring is cold and wet, the probability of an attack decreases.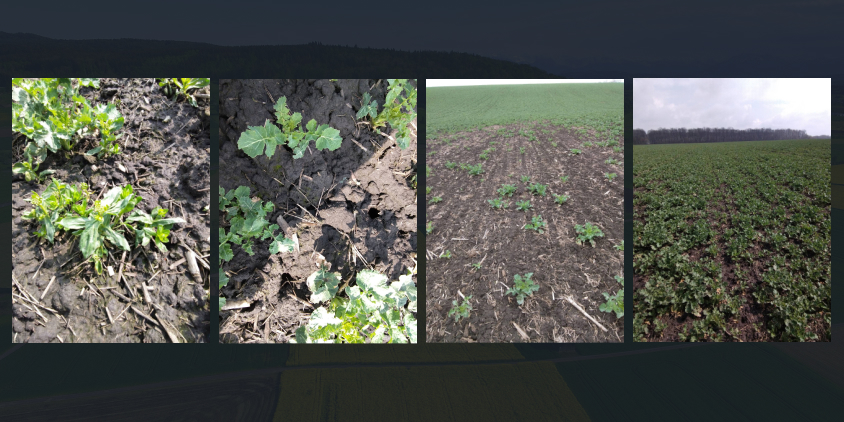 This example concerns the spreading of mice in a 202-hectare winter rapeseed field. In this case, the field owner received information from AGRAIN about questionable areas in advance and reacted as quickly as possible. Consequently, it was possible to almost completely eliminate the probability of plant loss. The projected harvest is 4 t/ha, which in financial equivalent reaches 262,637 USD.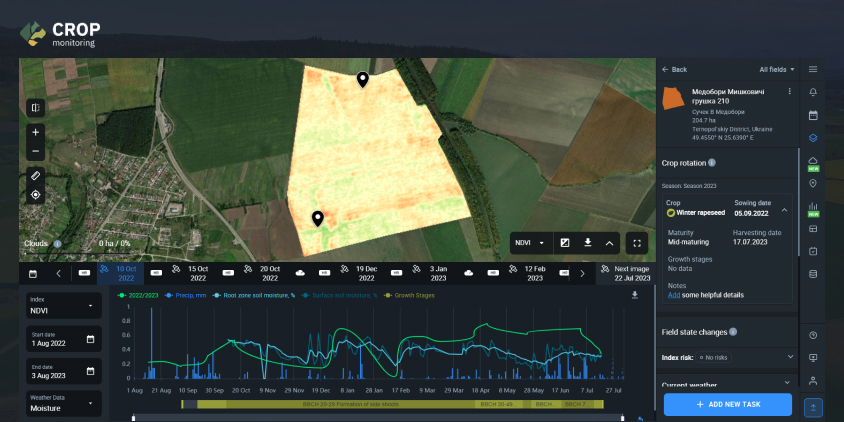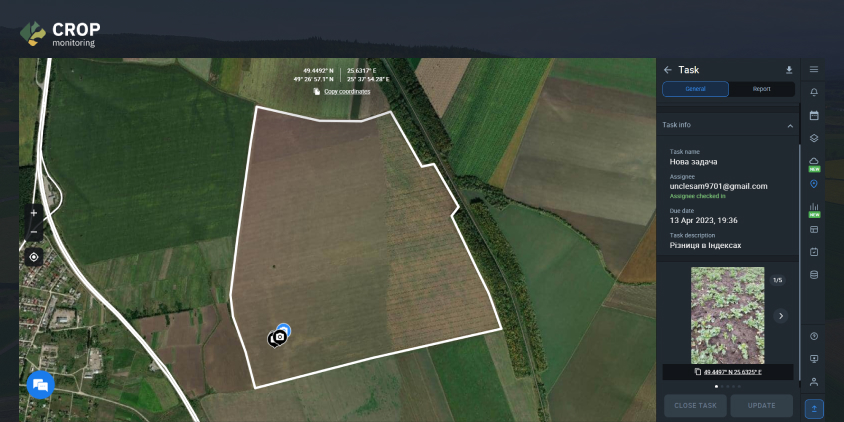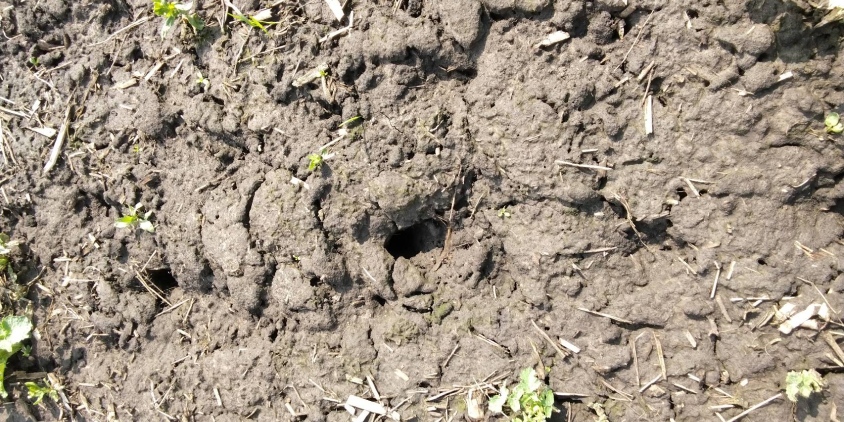 Results: Resource Optimization, Effective Management, Prevention Of Problems
The implementation of EOSDA Crop Monitoring satellite data analytics allowed AGRAIN not only to master practical methods of achieving strategic goals but also to increase the level of comfort and confidence in the future for employees and customers.
Using the mobile application and browser version of the platform increased the efficiency of agronomists by 20-50%. This means that experts are able to take care of a larger number of fields in a shorter amount of time, which helps to optimize yields.
EOSDA Crop Monitoring also partially acts as a marketing tool, as it allows them to clearly demonstrate the level of vegetation and trace cause-and-effect relationships regarding the application of agrarian practices.
In addition to satellite data, the platform also provides an opportunity to enrich remote sensing with useful data, such as the amount, type, and time of applied inputs, weather conditions, soil moisture, field history, individual statistics on the time of germination and development of vegetation, media files, files for agricultural machinery, etc. It is the consideration of the widest range of factors in each individual case that makes precision farming affordable.
The company's plans include expanding into new geographic regions, enhancing its expertise in precision agriculture, as well as achieving leadership in the Ukrainian market. For EOSDA Crop Monitoring, the professional experience of AGRAIN specialists is a valuable source of new ideas for broadening the functionality of the platform for users worldwide.
About the author:
Rim Elijah joined EOSDA in early 2020. She holds a double degree in business administration and political science from Stockholm University.
Rim is VP of Sales at EOSDA. She is overseeing all aspects of business model development and implementation, maintenance of positive business & customer experience, and the growth of the company's global coverage. She is responsible for closing deals, scaling up ongoing projects, as well as the development and implementation of process control within the Sales department. Rim also regularly takes part in negotiations with important clients.
So far, Rim has managed to successfully establish a number of strategic partnerships with an emphasis on the delivery of sustainable solutions in various regions of Africa and Asia.
In addition to her main responsibilities, Rim is presently involved in the upcoming launch of the first agri-based satellite constellation by EOSDA, scheduled for mid-2022. She manages relationships with the EOS SAT investors.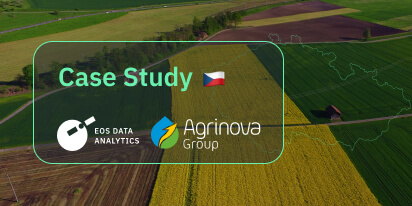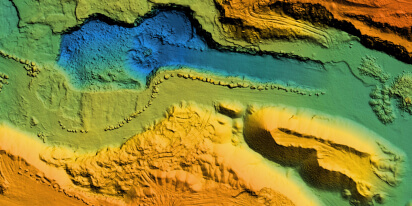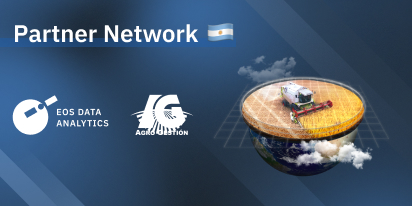 EOS Data Analytics Partners With Agro Gestión
With a focus on innovation and sustainability, EOS Data Analytics and Agro Gestión's partnership will bring cutting-edge satellite technology to more agribusinesses in Argentina, Paraguay, and Spain.