EOSDA Crop Monitoring Helps HIT Group Manage Fields
Regardless of the location of cultivated lands and external factors (mean temperatures, rainfall, or soil productivity), crop growers must not only ensure but constantly improve the quality of their production. The good news is that there is equipment and software that can provide agribusinesses with up-to-date data about the state of crops. Those who use such data to manage farming activities can improve yields and reduce resources spent.
In this case study, we'll discuss how HIT Group relies on the EOSDA Crop Monitoring precision agriculture online tool for tracking the condition of tomato fields in near-to-real time and adapting treatment and harvest strategies for better field management.
Overview: About HIT Group
HIT Group is a food production holding founded in 2007 and a subsidiary of the Japanese company Kagome. It consists of two factories, Italagro and Fit, based in the heart of the Portuguese tomato-growing region. The holding processes more than 350,000 tons of fresh tomatoes annually.
The business has been focusing on sustainability, aiming to produce high-quality tomato products while minimizing the ecological impact of its operations. With a focus on remote observation and precise evaluation of crop and soil conditions, precision farming can aid in environmentally friendly crop management.
Challenge: Lack Of Visibility Over The Condition Of Fields And Prompt Response To Crop Health Issues
Luckily for a holding, environmental conditions in tomato production regions are favorable: climate and fertile soils allow it to get high yields. However, it's difficult for the team to efficiently manage large areas of arable land.
The holding specialists used to monitor 4,000 ha of tomato fields in person: they inspected farmlands from time to time, driving around them or walking by foot to find out whether or not tomato bushes were growing without abnormalities. The approach of random inspections left no chances for close step-by-step monitoring of tomato growth stages, precise identification of problem spots, prompt response to vegetation deviations, and prediction of yields.
Given these factors, the HIT Group's agronomic department was looking for a tech solution that would automate field monitoring tasks and help minimize crop issues by prioritizing scouting tasks.
Specialists also needed a source of vegetation, productivity, and weather data.
Join the EOSDA Partner Program
Solution: 24/7 Field Monitoring With Timely And Precise Detection Of Problem Areas
The HIT Group employees chose EOSDA Crop Monitoring to follow precision agriculture methods: remote sensing of fields via analysis of satellite imagery data on the density of vegetation, soil water supply, and weather.
The team uses several platform features for tracking field conditions, assigning scouts, and managing crop care activities: scouting app, zoning, weather (14-day forecasts, daily weather, and historical data since 2008), NDVI index, and field leaderboard.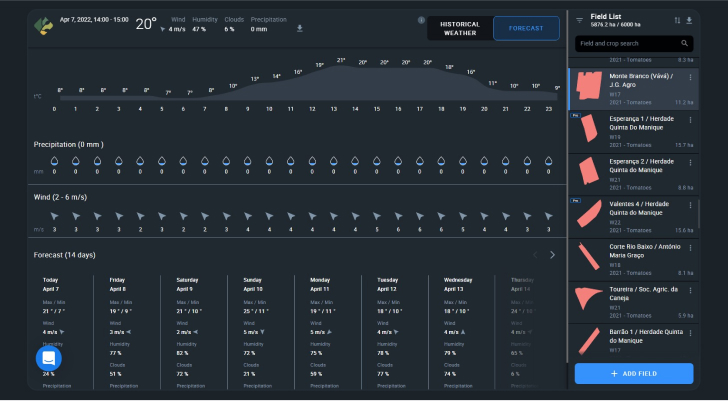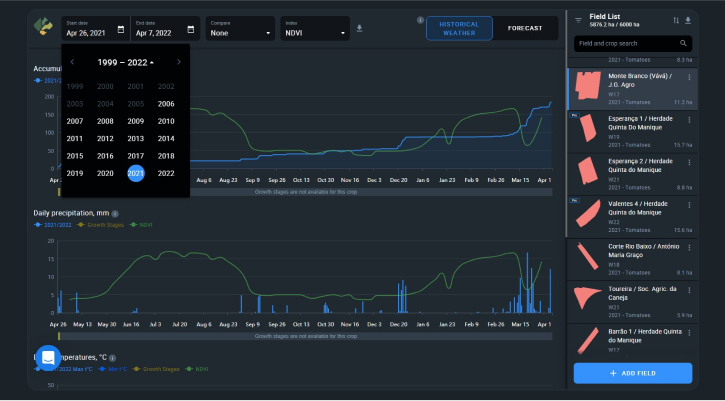 We use the product to pinpoint problem areas and send scout notes to field technicians to save crops from further damage. We also use EOSDA Crop Monitoring to visualize and analyze growing areas in blocks or by planting week in near-to-real time, follow plant development, predict agronomic yields and harvest dates.
Scouting app. The team gets notifications about changes in crop vegetation and sends scouts to problem spots for on-site inspection.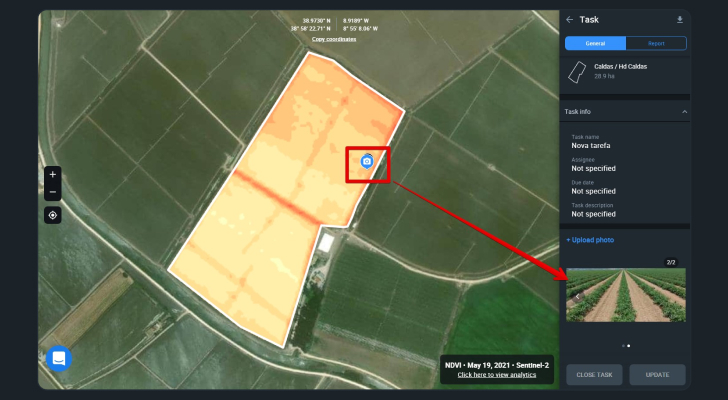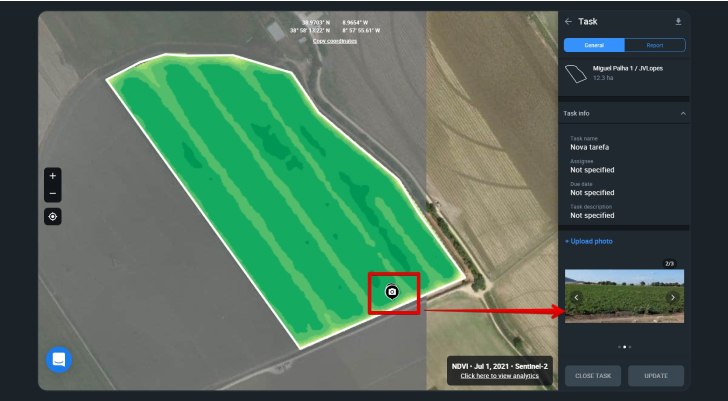 Zoning. Agronomists analyze how different field plots perform by creating vegetation and productivity maps.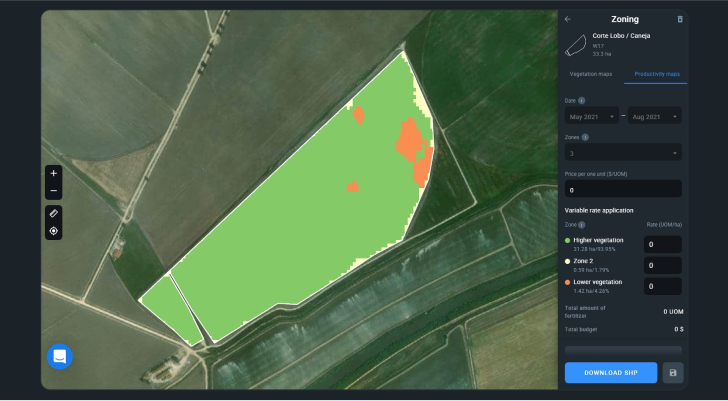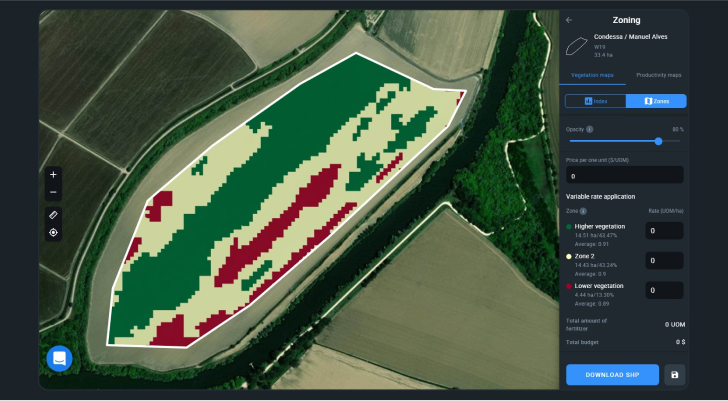 The NDVI index. Since productivity maps are built using NDVI values and numerous satellite images, NDVI is another commonly-used feature among the HIT Group specialists. The index illustrates the crop health (vegetation state) based on the correlation between reflected and absorbed near-infrared light by the plant.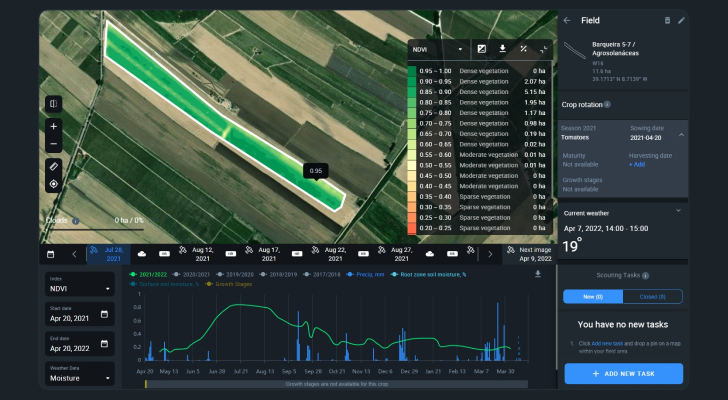 Field leaderboard. Thanks to this notification feature, agronomists know what field areas have the most drastic NDVI changes thus need to be taken care of first. Problem areas are ranked from the most to least critical and can be sorted by their current index value, index value change, crop, group, location, and the date when an image was taken.
So, using the precision agriculture platform, HIT Group specialists have a bird's eye view of their 4000 ha or fields:
We effortlessly get a macro view of all our fields: we can know the exact state of the crop, identify problem areas, and alter company strategies (if needed) to achieve its quantitative objectives. For instance, we once detected the onset of disease (late blight) in some fields early on and had a record of when the growers replanted the crop.
Outcome: Scouting Tasks Take Less Time While Operational Costs Are Reduced
With EOSDA Crop Monitoring, HIT Group tracks fields "without leaving the office" and promptly responds to vegetation anomalies, which eventually helps them increase yields and the quality of tomato products. So far, the solution allowed the customer to:
Detect tomato health issues in near-to-real time and know the exact location of problem areas;
Variable-rate application of fertilizers based on field zoning;
Prioritize field inspections;
Use relevant data for reporting to top management;
Save time on scouting;
Cut operational costs.
This year, we saw improvements in managing our contracted fields compared to previous years and, mainly, had information readily available to consult whenever necessary.
The HIT Group team is familiarizing themselves with the platform's capabilities and expects to use the Scouting app more frequently in the future.
About the author:
Rim Elijah joined EOSDA in early 2020. She holds a double degree in business administration and political science from Stockholm University.
Rim is VP of Sales at EOSDA. She is overseeing all aspects of business model development and implementation, maintenance of positive business & customer experience, and the growth of the company's global coverage. She is responsible for closing deals, scaling up ongoing projects, as well as the development and implementation of process control within the Sales department. Rim also regularly takes part in negotiations with important clients.
So far, Rim has managed to successfully establish a number of strategic partnerships with an emphasis on the delivery of sustainable solutions in various regions of Africa and Asia.
In addition to her main responsibilities, Rim is presently involved in the upcoming launch of the first agri-based satellite constellation by EOSDA, scheduled for mid-2022. She manages relationships with the EOS SAT investors.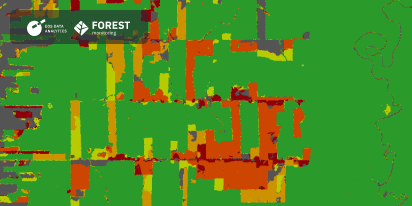 EOSDA Custom Neural Net: Deforestation Detection
The Science team at EOS Data Analytics has developed a custom algorithm for intelligent detection and tracking of deforestation in tropical regions using LEO satellite images as a data source.