Using Satellite Tech To Drive Georgia's Agriculture
Agriculture remains an essential part of Georgia's economy, accounting for 6–8% of GDP over the last five years and employing 39% of its workforce as of 2018 (at the same time, the FAO estimates that more than 50% of employees work in the industry.) Favorable climate conditions and fertile soil allow for producing various types of agricultural products, including nuts, subtropical fruits, and annual crops like wheat, maze, and barley.
The sector has been growing. Since 2010, the country's agricultural output rose from 2 241,797 to 5 492,600 GEL in 2020 (GEL — the Georgian Lari). However, the dominance of traditional approaches to farm management, such as manual monitoring and precision irrigation of cultivated land, remains.
Achieving sustainable development in agriculture can improve farm productivity, resource use efficiency, and the well-being of people employed in the sector. It's impossible without introducing farmers to tech-based approaches to agricultural production and ensuring crop growers have the opportunity to follow them.
The case study focuses on how the Georgian Farmers' Association uses EOSDA Crop Monitoring to help farmers optimize operations and reach much-needed sustainability.
Overview: About The Georgian Farmers' Association
Established in 2012, the Georgian Farmers' Association (GFA) is a non-commercial and not-for-profit organization and the EOS Data Analytics partner since May 2022. The GFA focuses on strengthening the country's agricultural sector, and its work is managed based on advocacy, capacity building, and networking.
Navigating well in the market specifics, the organization identifies farmers' challenges and suggests solutions with their interests in mind. It also holds educational events, training sessions, and projects on modern farm management. The association also does research and provides consulting services.
Its networking activities include helping to build partnerships with colleagues, input suppliers, and agricultural produce buyers and facilitating cooperation with the public sector.
We actively cooperate with the governmental, donor, and educational organizations and now represent quite a strong coordinating structure between farmers and other people interested in agriculture.
Challenge: Low Adoption Of Digital Tools, The Lack Of Weather And Agronomic Data To Support Advising And Optimize Farm Management
Since the association works closely with agricultural businesses, it knows about factors that prevent them from achieving high yields and profitability. These are irrigation management problems, environmentally unfriendly farming that usually implies input overuse, the lack of weather forecasts on a field level, and historical agronomic data and statistics to analyze past activities and optimize the ones in a current season.
Also, local farmers struggle with adopting digital solutions that could help them organize workers' daily duties more efficiently, optimize the application of input supplies like fertilizers, pesticides, and seeds, and even remotely monitor vehicles.
EOSDA Crop Monitoring
Using satellite monitoring for remote fields management in one platform!
Solution: Introducing Satellite Field Monitoring And Getting Centralized Access To Agricultural Data
To access up-to-date and historical data for farm management and develop different packages of services and agronomic consultancies, the GFA adopted the EOSDA Crop Monitoring platform and became its reseller. The tool distribution entails creating client subscriptions with specific pricing and the number of hectares for monitoring. Besides giving access to the precision agriculture tool, the partner provides consultancy and productivity field mapping for an additional cost.
The organization actively uses weather data: daily weather conditions for fields within 9 square km, historical data since 2008, and 14-day weather forecasts.
Another popular feature is vegetation indices for monitoring crop conditions at different growth stages and timely identifying deviations from the norm. In particular, the specialists perform NDVI (the Normalized Difference Vegetation Index) analysis to measure the vegetation's greenness and density, indicating crop health, and use NDMI (the Normalized Difference Moisture Index) to define water stress levels in irrigation management tasks. The platform is also a source of historical data for the partner. For instance, the specialists used the smart farming platform to observe irrigation management changes in one of the fields of their biggest client, Udabno (The company manages 14,500 hectares of land.) Better NDVI index values illustrate improved water use a year after the revised irrigation system.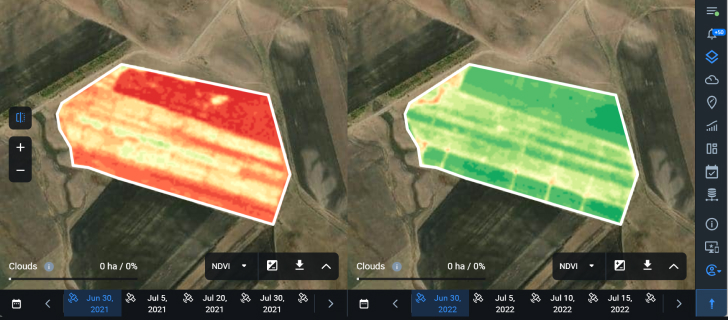 The platform is also a source of historical yield data for the partner.
Outcomes: Improved Servicing Of Customers And Coordination With The Public Sector
The GFA notes that adopting the solution and access to multi-source data has positively impacted its cooperation with other businesses and organizations.
By partnering with EOSDA, we have tools that help us better coordinate with governmental, donor bodies, and the private sector. Access to weather data and statistics helps us to elaborate on different issues. We also continue popularizing the adoption of smart farming solutions like sustainable irrigation management. Although we partnered with the company recently, we have a clear vision in which industries we will position EOSDA Crop Monitoring.
The GFA also changed its model of providing services for mobile laboratories.
We do productivity mapping of the field and define problematic areas to take test samples on site. Satellite monitoring gives us a much more precise evaluation of the field's state and permits us to make fewer inspections, thus saving time and cutting fuel use.
The organization plans to use EOSDA Crop Monitoring for soil testing services.
About the author:
Rim Elijah joined EOSDA in early 2020. She holds a double degree in business administration and political science from Stockholm University.
Rim is VP of Sales at EOSDA. She is overseeing all aspects of business model development and implementation, maintenance of positive business & customer experience, and the growth of the company's global coverage. She is responsible for closing deals, scaling up ongoing projects, as well as the development and implementation of process control within the Sales department. Rim also regularly takes part in negotiations with important clients.
So far, Rim has managed to successfully establish a number of strategic partnerships with an emphasis on the delivery of sustainable solutions in various regions of Africa and Asia.
In addition to her main responsibilities, Rim is presently involved in the upcoming launch of the first agri-based satellite constellation by EOSDA, scheduled for mid-2022. She manages relationships with the EOS SAT investors.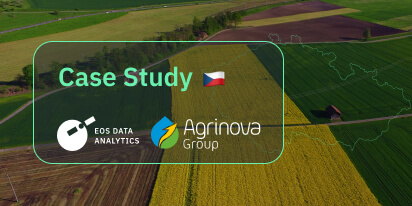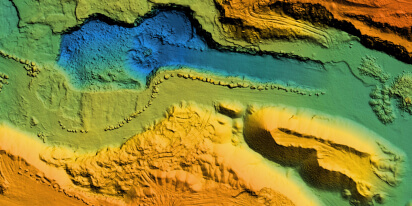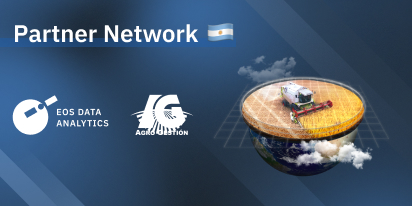 EOS Data Analytics Partners With Agro Gestión
With a focus on innovation and sustainability, EOS Data Analytics and Agro Gestión's partnership will bring cutting-edge satellite technology to more agribusinesses in Argentina, Paraguay, and Spain.