Satellite Monitoring For Agricultural Input Suppliers
EOSDA delivers AI-based solutions with a chief focus on Agriculture and Forestry, operating in 22 more industries. Its flagship product is EOSDA Crop Monitoring, a top-notch online ag-platform for the key players of the ag-market, including Agricultural Input Suppliers.
The platform makes it possible to monitor the market performance, define the demand for your product, and build stronger relationships with customers through transparency, thus getting an upper hand in the competitive landscape of Agriculture.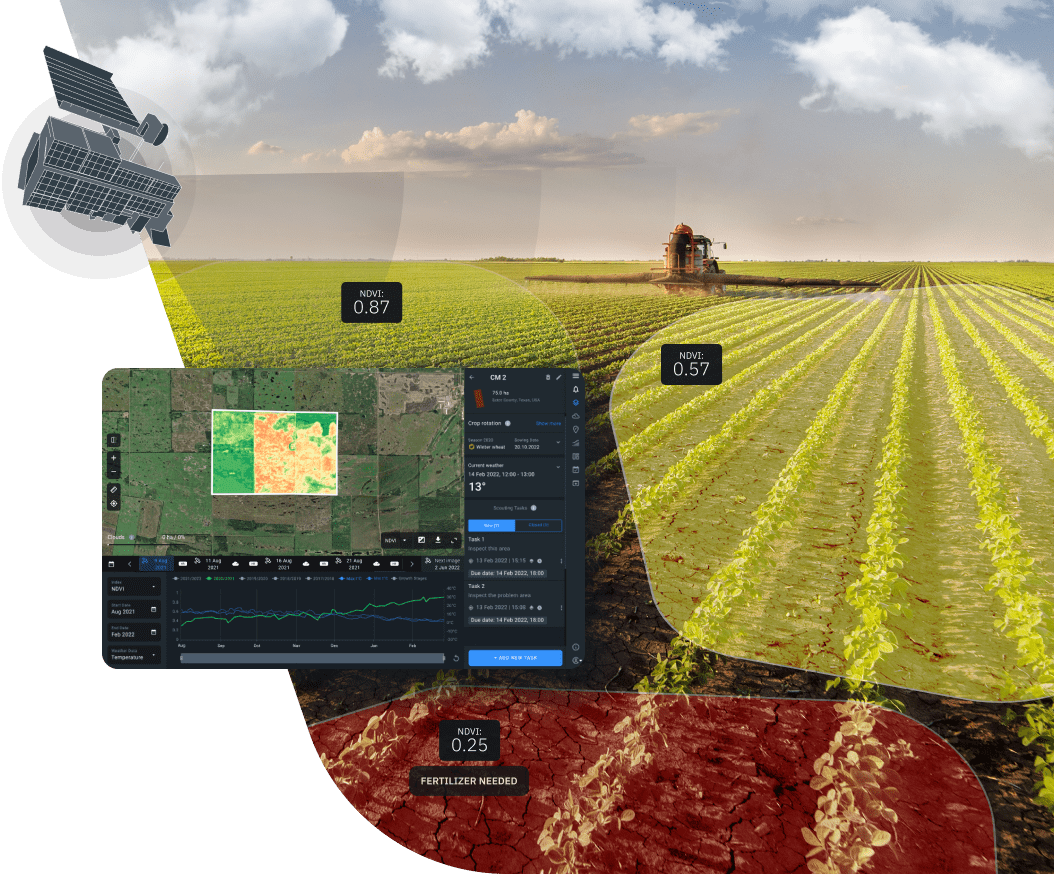 Problems and solutions
Problems Of The Industry VS Advantages Of Satellite Monitoring
Lack of data to stay updated on the most relevant market trends and demands
All-in-one platform integrates multiple types of field-related data, allowing you to:
monitor crop performance all year round;
develop sales strategies tailored to the real needs of farmers;
study historical crop productivity trends for specific fields;
And more.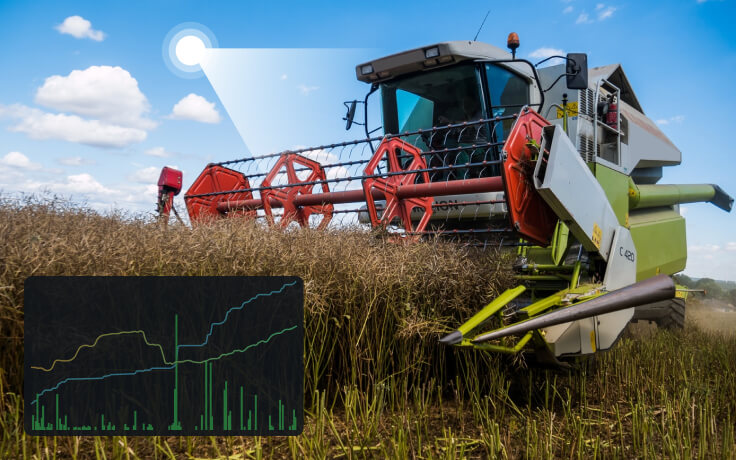 Lack of transparency in the customer interactions
Build trusted relationships with farmers, insurers, traders by sharing one platform that provides access to constantly updated field-level data, historical data on seed performance in the field, weather data and more.
Compare field productivity for different dates to get objective information on crop development.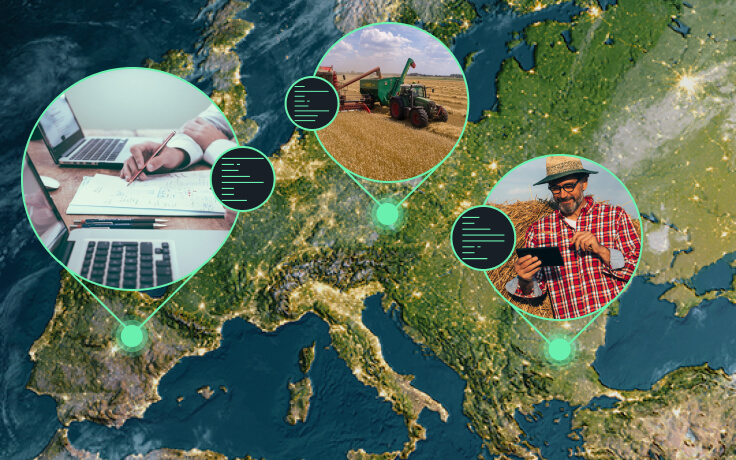 Lack of tools to prove the effectiveness of the product to the customers and compare it with that of other suppliers.
A set of vegetation indices allows you to monitor crop performance throughout the season and test different varieties of farm input supplies.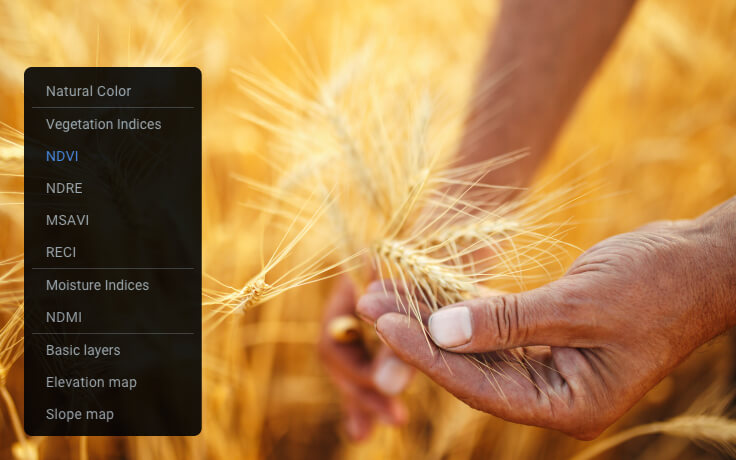 Additional value
EOSDA Crop Monitoring platform can be offered to the end-user as additional value - they get:
regular access satellite imagery of their fields
14-day weather forecasts
history of crop development
productivity maps
And more.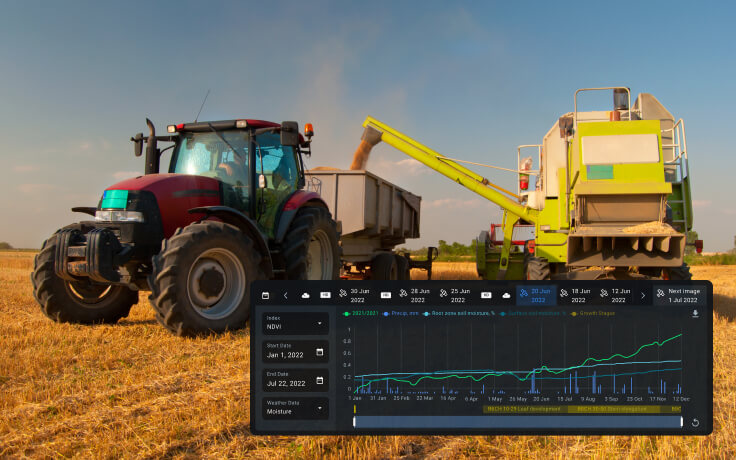 High cost of soil sample testing necessary for determining the optimal seed & fertilizer application strategy
EOSDA Crop Monitoring's variable-rate application (VRA) maps identify and pin-point the variations in crop development and productivity across the field. The VRA maps can be uploaded to the machinery for automatic variable application of seeds and fertilizers, saving costs and resources of the farmer.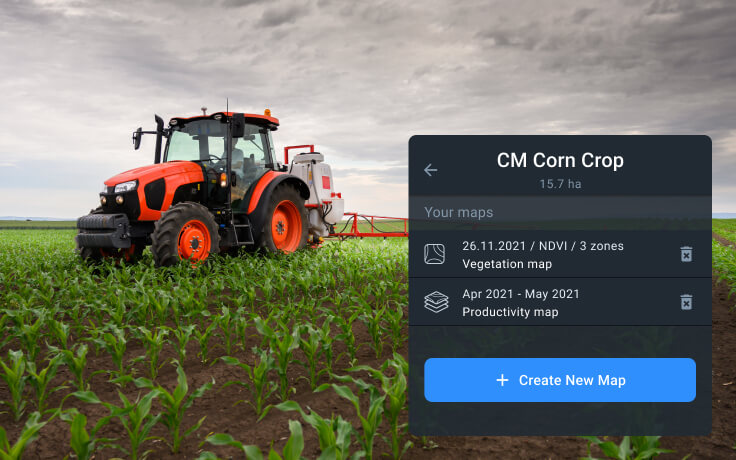 Coming up with a competitive sales strategy is a daunting task when there's a lack of data to back it up
EOSDA Crop Monitoring platform allows you to monitor crop performance all year round, estimate the amount of supplies necessary for efficient crop production for the upcoming season and adjust capacity to meet the market's demand. As a result, you can develop a sales strategy tailored to the real needs of the clients based on reliable feedback collected on our digital platform.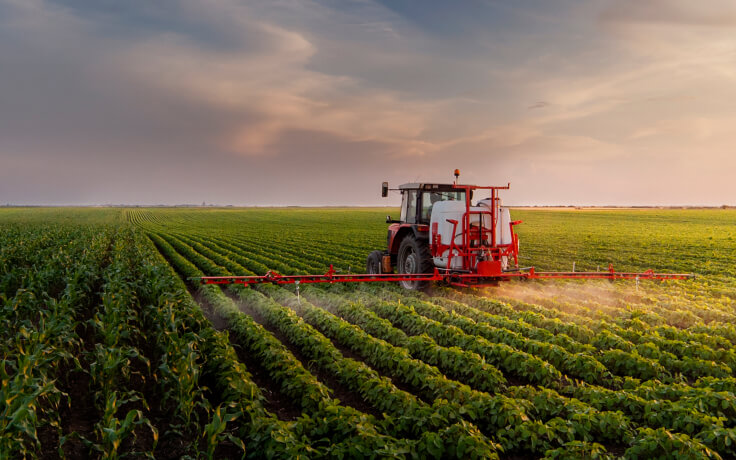 Try it now
Key Features We Offer Agricultural Input Suppliers
Split view
By splitting the screen, you'll be able to compare crop performance in the same field for different dates, based on the crop health indicators - vegetation indices. It will demonstrate the effectiveness of a particular seed and/or fertilizer variety.
Zoning (VRA maps)
The VRA maps enable a more efficient allocation of inputs across each field. This approach can greatly reduce the cost of seeding, fertilizing, and crop protection. Variable-rate application is also good for the environment, reducing the waste of fertilizers.
Each map is based on data from satellite images processed using a vegetation index - pinpointing the areas experiencing crop stress or showing less productivity over time. The field can be easily broken into zones to distribute inputs according to the needs of each zone to maximize yield.
Scouting & Team management
Using the Team Management function, field owners can overview activities related to all of their fields plus control the field access permissions by assigning a specific role to each team member (employee/cooperative partner, etc.).
Farm input suppliers can use this feature to better understand how their clients manage their fields plus control scout activities, assign tasks, and track their completion.
Mobile EOSDA Crop Monitoring Application saves scouts time on searching for problem areas.
Customers' field monitoring
Monitor crop health to better understand how the input performance correlates with crop development.
Provide crop- and location-specific recommendations on how inputs should be applied.
Track NDVI changes and adjust fertilizer application plan to better suit the needs of the crops.
Reduce expenses and save resources thanks to the automated monitoring of crop performance.
Detect crop issues at the earliest stage and react in a timely manner.
Mobile application
EOSDA Crop Monitoring Mobile App connects scouts and field owners, boosting the efficiency of scouting thanks to precision and speed. As soon as a problem area is discovered via field analytics, the owner can create a task on the main EOSDA Crop Monitoring platform assign a particular scout to complete it and set the deadline (due date), if necessary. The scout gets notified right away and uses the mobile app on location - offline maps guide the scout within the field pointing to the problem area(s) that has(have) been detected. After the check-up is done, the scout can generate a detailed report right in the app, adding a snapshot of the issue (damaged plant, weeds, etc.). The owner will have access to this report as soon as it's been generated.
More features
How This Industry Can Benefit From Using Satellite Data
Stay updated on the latest market trends to always be ahead of the game.
Build a strong and lasting relationship with your customers through transparency.
Stay on top of the competition by comparing the effectiveness of your product to that of other suppliers and demonstrating it to your customers.
Add value to your products and services by offering the clients our digital agro-platform for monitoring crops.
Considerably reduce expenses on variable rate application thanks to our satellite-based precision field maps.
Increase sales by employing a powerful sales strategy tailored to the customers' relevant demand based on all the data available on our digital farm management platform.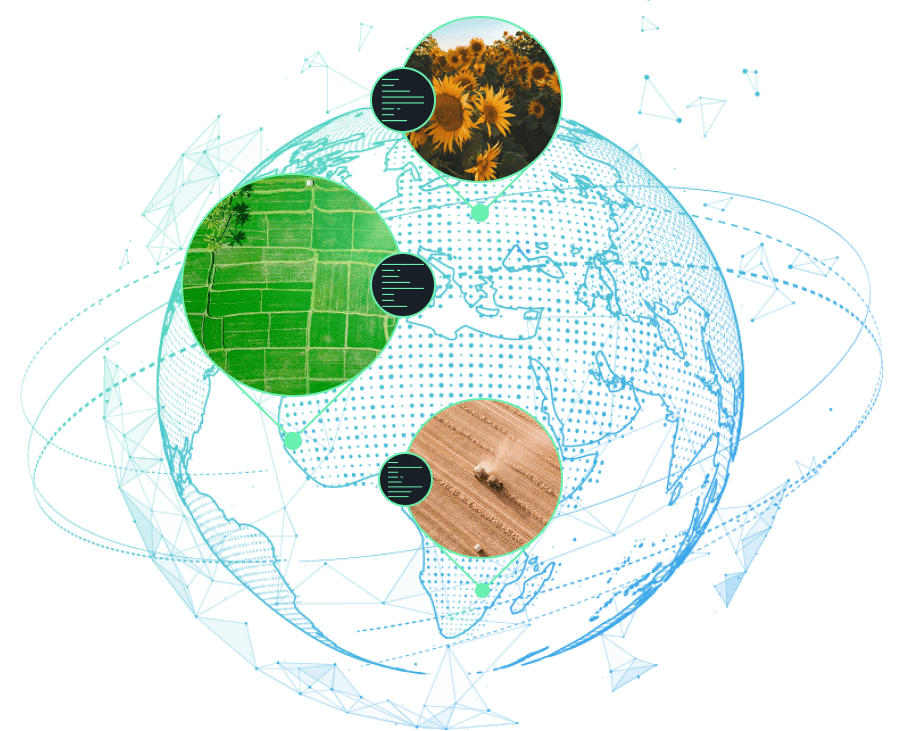 Amr Hassan
QA Section Head ad Quality Manager Assistant at Cairo 3A for Agriculture and Animal Production
We have been using EOSDA Crop Monitoring for a year. It is an essential part of workflow now. I found the Weather tool really helpful and accurate. We are using it daily. It would be very helpful for fruit growers if you add a chill hours calculator as this will help in agro-decision making.
Ernst Kemmerer
Resource Information Manager at Forico
We found that automated EOS Data Analytics reporting saves time and increases accuracy. This adds value to the business by having accurate records for harvest monitoring and forward scheduling of crews. We are also able to obtain information on cloudy days which occur a lot in the winter months.
Mor Yegerman
COO & Founder of Viridix
I find EOSDA Crop Monitoring a great tool, we at Viridix use it to plan our Water potential sensors installation taking into account variability in agriculture fields.