EOSDA Crop Monitoring solutions for developers
Years of experience and tons of technical expertise have made EOS Data Analytics one of the best providers of geospatial data and analytics out there. We specialize in creating products and custom solutions in Agriculture, Forestry, among other 20 industries.
For IT developers, we offer fast and easy API access to raw, processed, and analysis-ready satellite data from multiple sources, unparalleled White Label opportunities, and custom enterprise solutions tailored to specific real-world challenges in Agriculture. Our priority is to grow your business and ensure that you can meet fast-changing Agro market demands.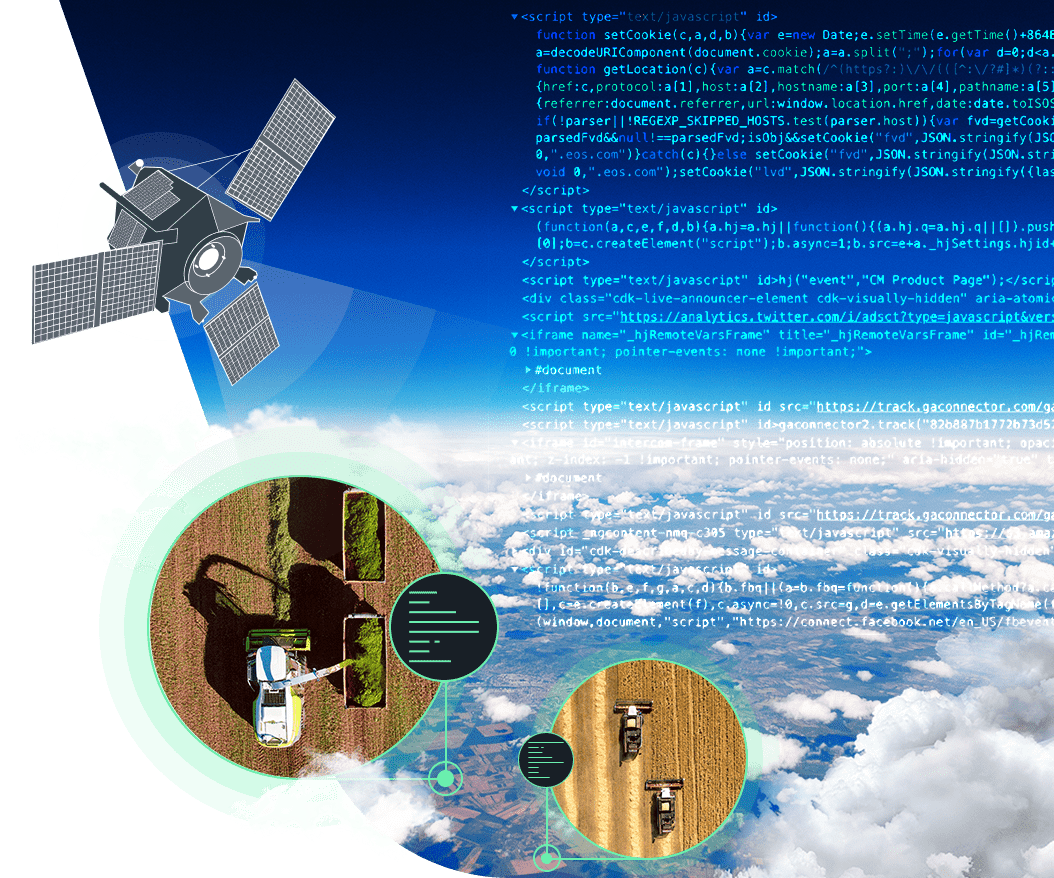 Problems and solutions
Satellite Monitoring Solutions for IT Market
Difficulty with processing and integrating large volumes of data
EOSDA Crop Monitoring platform provides fast and easy access to large volumes of data from multiple sources, including satellite imagery, weather stations, ground sensors, and more.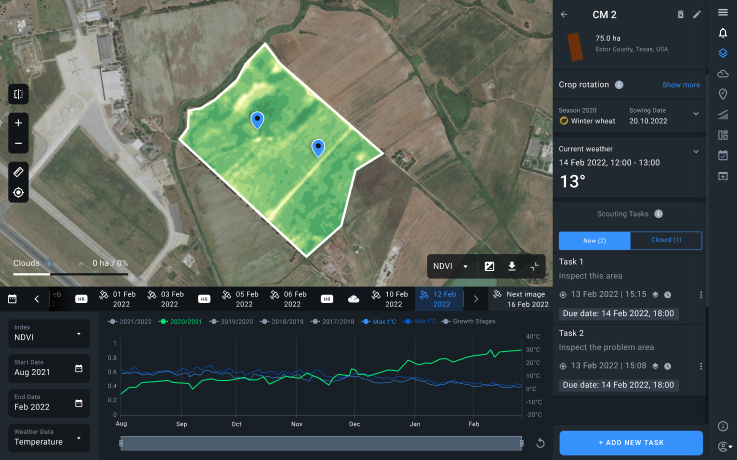 High cost of developing products and custom enterprise solutions from scratch
We have ready-made agro solutions that you can use either via API access or under your own brand as a White Label, thus reducing internal expenses and saving time on developing new products and adding features to the existing software.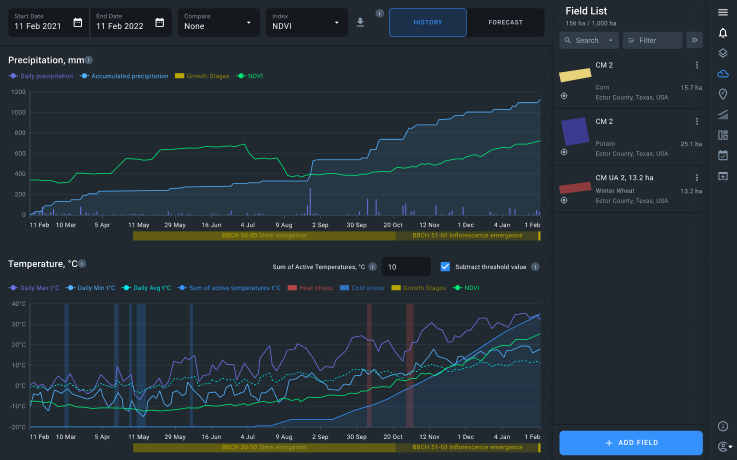 It takes way too much time, money, and effort to grow business and expand into new markets
Our unique set of features provide additional value to existing products by allowing you to cover more industries, expand the client base, save time on market analysis, skip soft development, and avoid investment risks.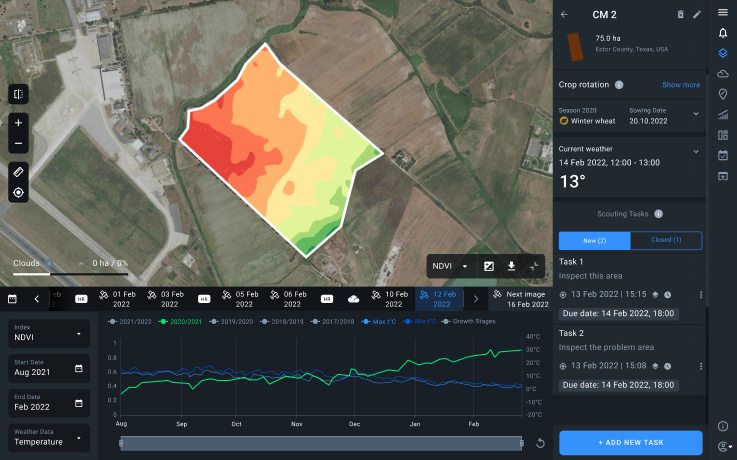 try it now
Explore EOSDA Crop Monitoring Capabilities for Developers
more features
Transform your IT experience via
Global coverage
AI-powered satellite imagery analytics
Detailed API documentation
Easy integration of satellite and weather data from one source
Multiple sources of satellite imagery
Constant tech and product support
Experienced team of RnD and Data Scientists
Trusted regular & custom algorithms
Latest aerospace technologies
Wide range of remote sensing indexes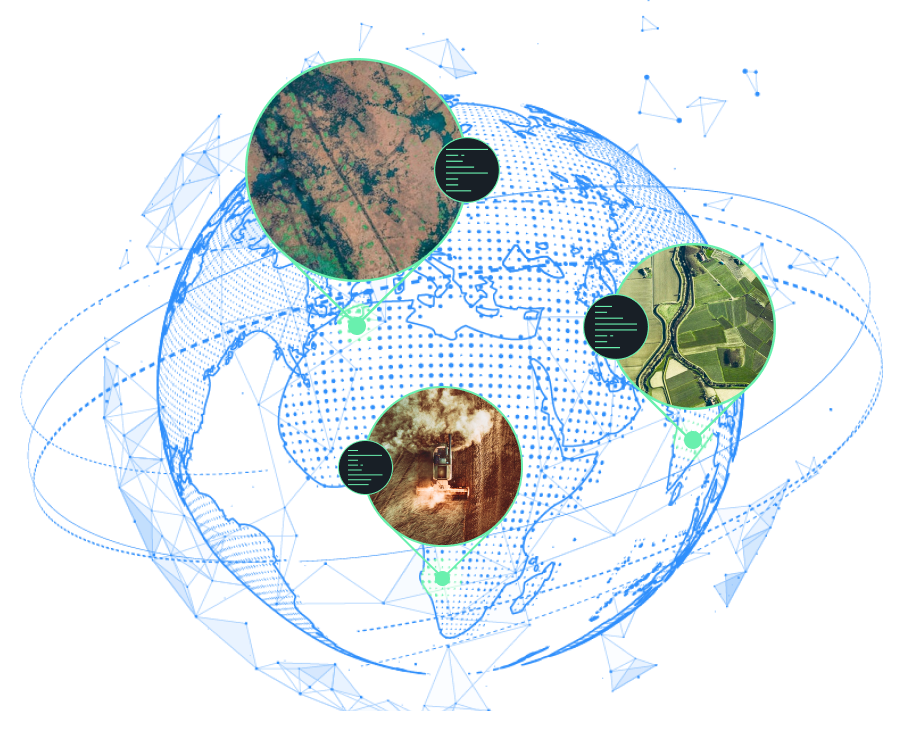 Amr Hassan
QA Section Head ad Quality Manager Assistant at Cairo 3A for Agriculture and Animal Production
We have been using EOSDA Crop Monitoring for a year. It is an essential part of workflow now. I found the Weather tool really helpful and accurate. We are using it daily. It would be very helpful for fruit growers if you add a chill hours calculator as this will help in agro-decision making.
Ernst Kemmerer
Resource Information Manager at Forico
We found that automated EOS Data Analytics reporting saves time and increases accuracy. This adds value to the business by having accurate records for harvest monitoring and forward scheduling of crews. We are also able to obtain information on cloudy days which occur a lot in the winter months.
Mor Yegerman
COO & Founder of Viridix
I find EOSDA Crop Monitoring a great tool, we at Viridix use it to plan our Water potential sensors installation taking into account variability in agriculture fields.
OUR PARTNERS
Global enterprise partners