EOS DATA ANALYTICS HIGHLIGHTS
A global provider of AI-powered satellite imagery analytics
Founded in 2015
Founded by Max Polyakov, the company operates worldwide, partnering with commercial, and scientific organizations.
Solutions for 22 industries
The company's Earth observation solutions can be applied in 22 industries, including agriculture, forestry, mining, oil and gas, and alternative energy.
Users in 195 countries
The company provides geospatial solutions to businesses in all 195 countries around the globe, from Madagascar to Paraguay.
EOSDA Crop Monitoring
An online satellite field monitoring service that allows users to access all the important information about the state of crops in one place.
EOSDA Forest Monitoring
An online satellite-based software for convenient and sustainable forest land management.
EOSDA LandViewer
Satellite observation imagery tool for on-the-fly searching, processing, and getting insights from satellite data to tackle real business challenges.
News
Company Announcements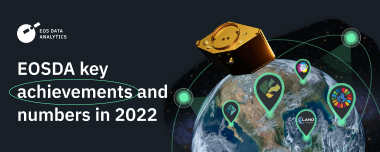 New Partners, Cases, Awards! EOSDA 2022 In Recap
In 2022, the company started monitoring more fields, prepared an agri-focused satellite for launch, and gained new users and partners. Learn more about that in numbers and facts in this overview post.
Contact us
Let's get to know each other
Contact us: