Satellite Monitoring Technologies for Telecom Sector
In the fast-changing world, the value of instant access to large volumes of data cannot be overstated. With the new era of 5G connectivity, technologies like drones, autonomous agriculture vehicles, and various IoT devices can boost agriculture's sustainability and profitability at the same time.
This is where the Telecom companies come in. Acting as an intermediary between the latest state-of-the-art precision agriculture technologies and farmers, you will be able to generate more revenue growth while improving livelihoods globally. Our EOSDA Crop Monitoring online platform was specifically designed to provide agronomists with tools for balancing budgets, rationalizing the use of resources, and increasing productivity.
Agriculture is the largest employer in the world, and by giving farmers and other agronomists access to the features on EOSDA Crop Monitoring, you will add value to your services, expand your client base, and build connectivity in the remotest areas of the world.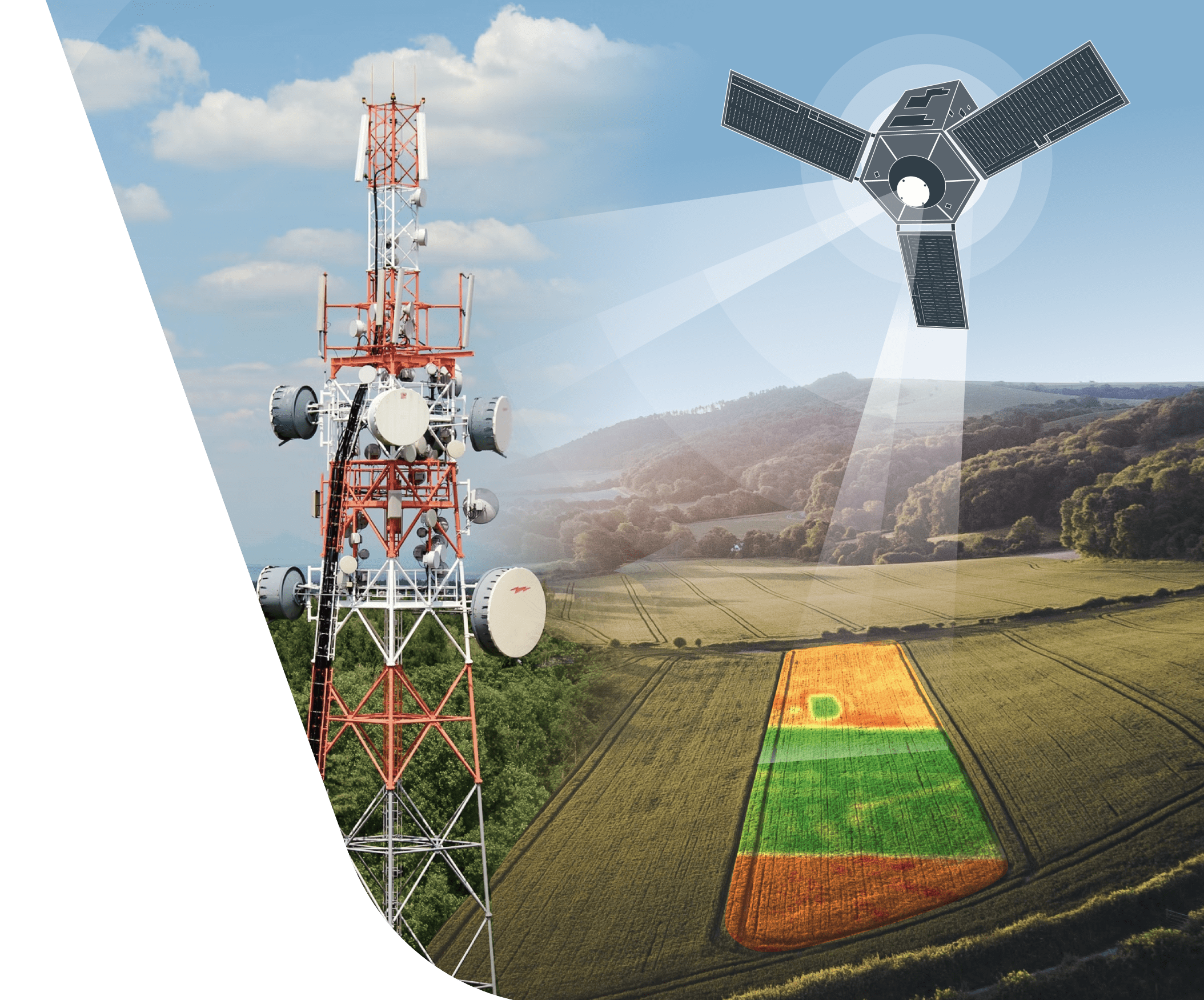 Opportunities
What You Get
Expand your client base by providing agribusinesses and farmers with tools for more efficient field monitoring and farm management, thus generating more revenue.
Get a ready-made product for precision agriculture developed by a team of GIS scientists, agronomists, and other experts in the field.
Gain a competitive advantage without spending any extra money on software development. We can prepare a WL solution for you in just 6-12 weeks.
We've got you covered with full technical support and assistance from our managers plus marketing & PR.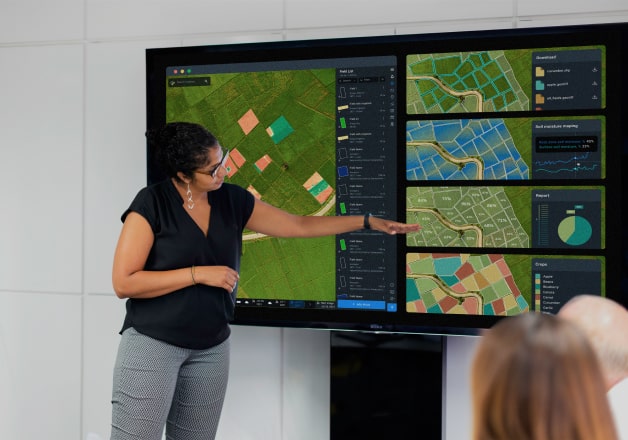 EOSDA White Label
White Label Options for Telecom Companies
EOSDA Crop Monitoring White Label solution is a ready-made platform with flexible customization and pricing options that you can provide to your customers under your own brand. We offer:
Access to multiple image sources in one place
Full rebranding + add logo
Customizable appearance (color scheme and more)
Support manager assisting you at all times
Transferring the platform to your domain of choice
An innovative mobile scouting application
Handy admin panel to manage customers with ease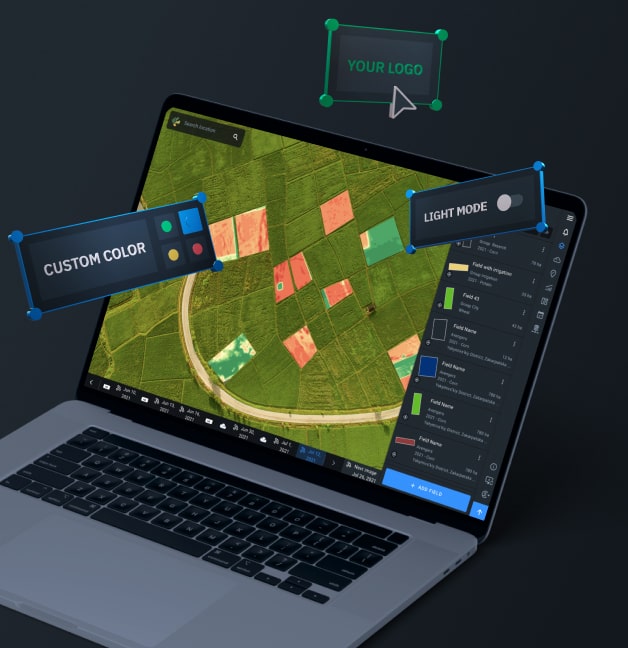 On-request solutions
Special Business Solutions on Request
Partnership Opportunities
With EOSDA as a partner, you get all the necessary tools and materials to scale up your business, increase profits, get a stronger position in the market, and promote sustainability.
We offer project discounts, complete technical and marketing support, demos, training sessions, webinars, and more.
Get access to a digital platform for precision farming that you can resell to customers worldwide and become part of a global network of resellers extensively collaborating with and supporting each other.
Custom Solutions
Field Boundaries Detection
Advanced Soil Moisture
Core Features
EOSDA Crop Monitoring Features for Telecom Clients
EOSDA Crop Monitoring functionality was designed to benefit not only individual farmers, but also big landowners, holdings, and even governments. We offer our Telecom clients a way to cover new territories, ensure food security, and battle climate change globally. We believe that sustainability is all about rational use of resources, including time, costs, and getting the most out of crop yields.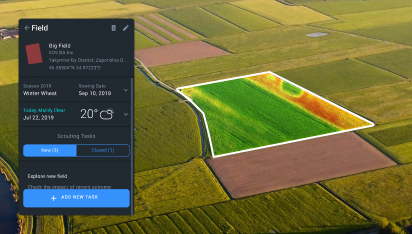 Remote Sensing Indices
Mathematically derived indices to measure different parameters that can provide insights into the state of crops growing in the AOI as captured by the satellite. Vegetation and other indices on the platform can be used to detect anomalies such as nutrient deficiency, waterlogging, pest infestations, and other stresses.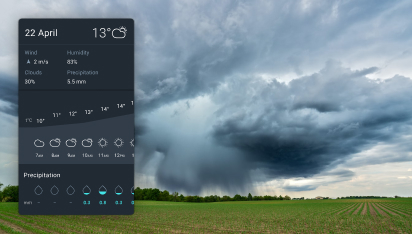 Weather Data
With a hyperlocal 14-day forecast available on the platform, planning field activities is super easy, while the historical data provides deeper insights into the recurring weather patterns and their correlation with the fields' productivity.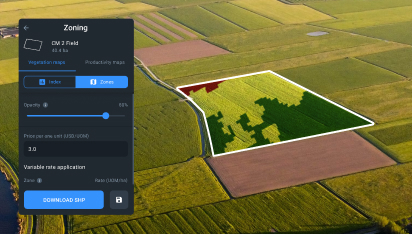 Zoning - Vegetation & Productivity
Satellite-based maps for differential sowing and fertilizer application, revealing the areas with lower or higher productivity within fields.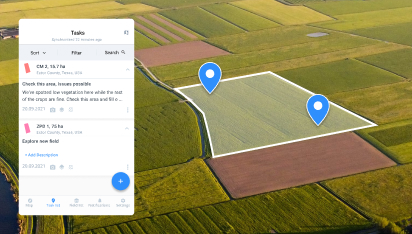 Precision Scouting
Problem areas detected remotely using satellite technologies and vegetation indices to save scouts time and effort. The mobile app is equipped with offline mode, snapshot option, online report generation, and more.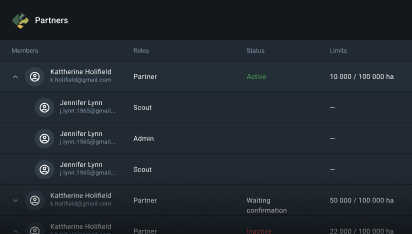 Team Management
Tool for efficient cooperation between consultants, agronomists, and scouts. Team owners can share access to data with other users, adjusting permission settings according to each user's role.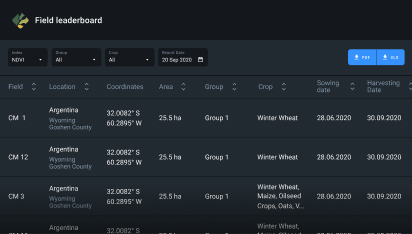 Field Leaderboard
Fields get rated according to their crop performance, with the most problematic ones ending up at the top of the list.
Real cases
Success Stories
Partnership with REDtone Digital Bhd
The Malaysian telecommunications and digital services provider, REDtone, partnered with EOSDA to power up the agriculture sector in the region, enhancing the use of data, and introducing the smart farming practices. The goal was twofold: 1) to bring precision agriculture insights to Malaysian farmers and government entities, thus boosting the national food production initiatives and 2) to strengthen REDtone's position in the market.
By leveraging the EOSDA technologies, the company keeps expanding its market coverage in the region, according to its long-term strategy, helping to ensure food security for an ever-growing population. Thanks to the remote sensing technologies and possibilities provided by the digital EOSDA Crop Monitoring platform and the time-tested data collection techniques via REDtone's IoT-based sensors, farmers and government agencies in Malaysia got access to unparalleled insights into the state of the growing crops, enhanced farm management, and sustainable food production.