Satellite Monitoring Solutions for Agricultural Cooperatives
The world is changing at an alarming rate, and relying on traditional methods of agriculture, such as guesswork, conventional weather forecasts, and cumbersome records, is becoming a risky business. EOS Data Analytics, a leader in satellite-based EOSDA Crop Monitoring solutions, offers farming cooperatives a new, efficient way of managing food production.
With our digital precision ag platform - EOSDA Crop Monitoring - that relies on satellite imagery and constant streams of data collected from multiple sources, farming cooperatives can really thrive. We believe in the power of knowledge to make the world a better place.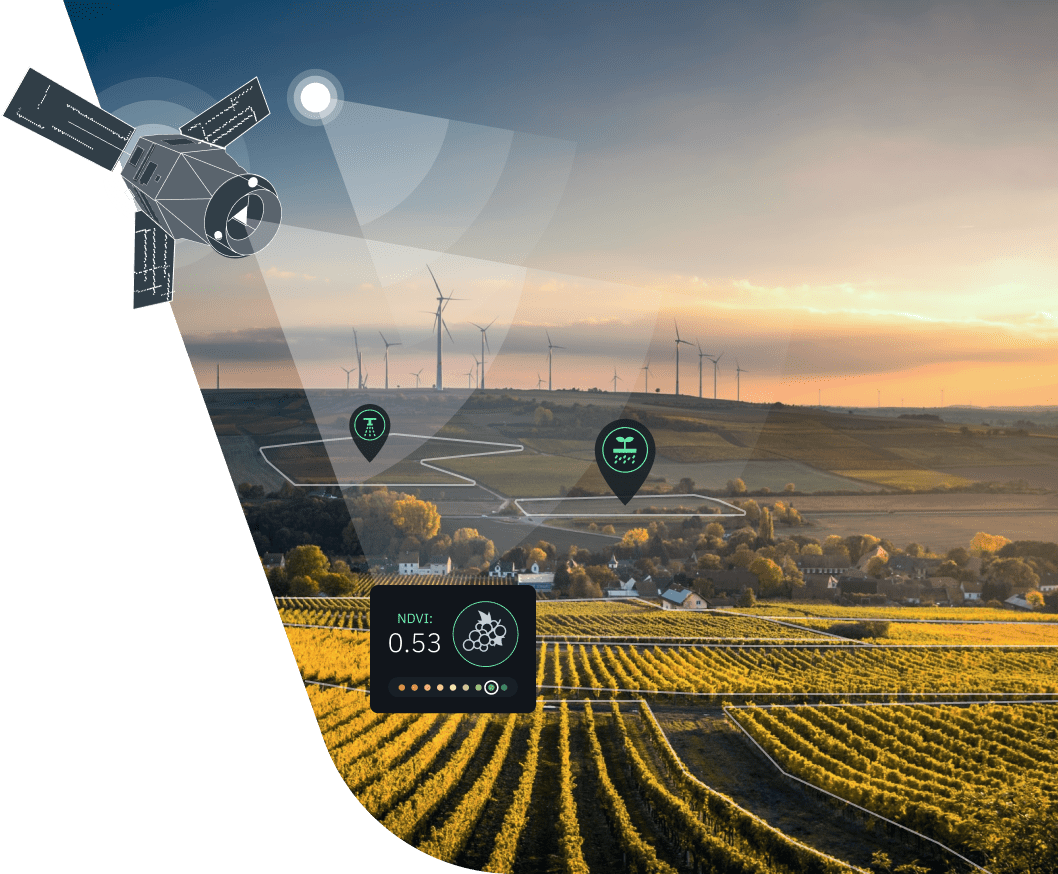 PROBLEMS AND SOLUTIONS
Agricultural Solutions for Farming Cooperatives
Lack of analytical data to make informed decisions or provide recommendations for cooperative members
Not having enough data at the most crucial stages of crop development, such as sowing, flowering, and harvesting, coupled with lack of transparency, can negatively affect yields, and lead to profit losses.
This can be easily avoided by leveraging the EOSDA Crop Monitoring platform's unique characteristic - access to all types of data indispensable for raising lavish yields in one place.
On the platform, members of farming cooperatives can access:
Data on the current state of crops according to the vegetation indices
Historical data on the field's productivity
Accumulated daily temperatures and precipitation for five years
Hyperlocal 14-day weather forecast
Scouting feature to speed up field check-ups
Leaderboard of fields according to crop performance
You're all set to start raising excellent yields.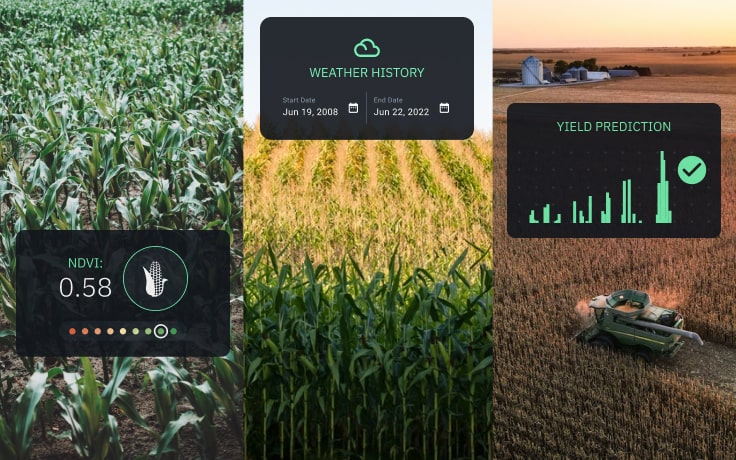 Expensive agricultural inputs
Precision agriculture practices are focused on rational allocation of resources, such as inputs, time, and costs. Our satellite-based EOSDA Crop Monitoring solutions help cooperative farmers reduce expenses on planting, fertilizing, harvesting, and other activities. state of crops according to the latest value of a vegetation index.
We offer:
Productivity maps for precise planting
Variable rate maps for precise fertilization
Reliable weather forecast & historical data for timely harvesting
Sending scouts directly to problem areas
We've calculated that these and other EOSDA Crop Monitoring features can help increase your ROI up to $43 / acre!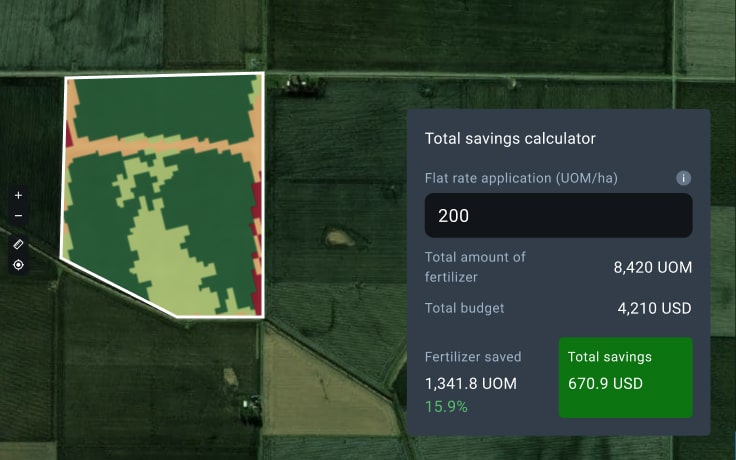 Relying on several different types of software to coordinate efforts
Having one reliable software for all members of an agricultural cooperative helps eliminate miscommunication and coordination issues. A user-friendly interface and dedicated customer support will ensure a smooth integration of every member.
Stay connected and focused on the common goal via shared accounts on EOSDA Crop Monitoring.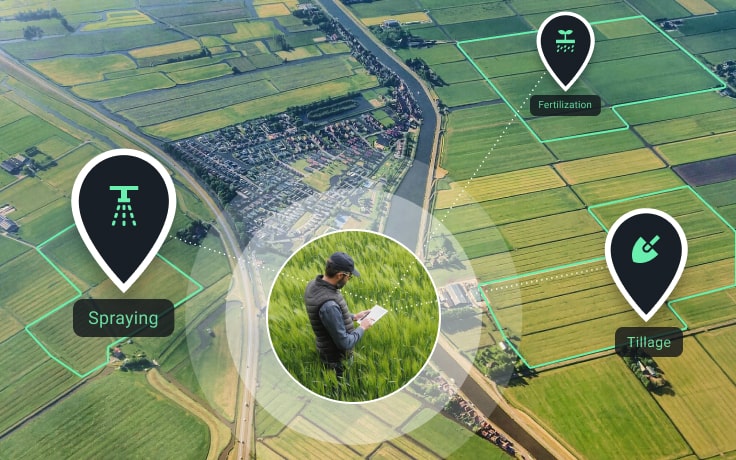 Need to monitor multiple fields scattered over a vast area
Monitoring multiple fields in different locations all at once can be quite a challenge. EOSDA Crop Monitoring is equipped with a neat system of regular notifications on the changes in the state of crops according to the latest value of a vegetation index.
Combined with myriads of data on the crops and their growth conditions that can be accessed on the platform, regular notifications will allow the farming cooperative board of directors to make decisions in the most timely manner.
Boost the efficiency of each decision.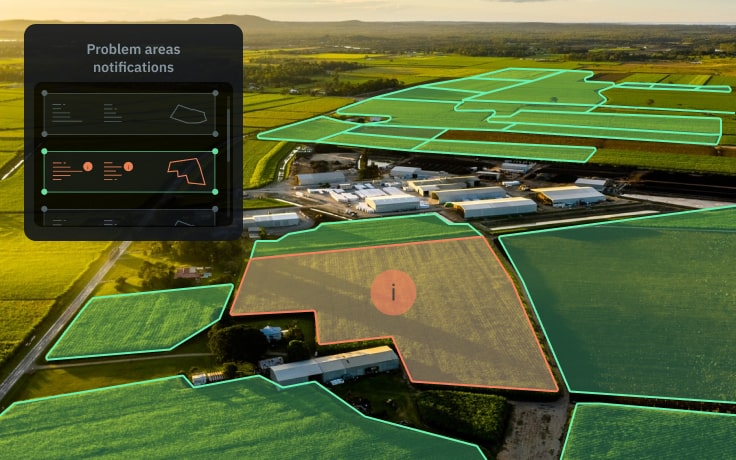 TRY IT NOW
Satellite-based Сrop Monitoring Solutions
Satellite imagery & vegetation indices
To provide farming cooperatives with data on the current state of crops, we rely on the latest satellite imagery and vegetation indices. Each vegetation index is a mathematical formula specifically derived to enhance particular surface features or parameters - from vegetation density to chlorophyll content.
These simple remote sensing tools can do wonders for agri coops, allowing for tracking changes in the state of crops in multiple fields at once and getting notified about the most critical developments.
Weather analytics
Mitigation of weather risks is one of the priorities when it comes to keeping crops safe and sound. On EOSDA Crop Monitoring, members of farming cooperatives can access daily and accumulated temperatures and precipitation rates at the field's location available for the past 5 years. You can also enhance field activities planning thanks to a hyperlocal 14-day weather forecast and trace the weather changes during the day hour by hour.
Zoning
Here's a truly valuable tool for agricultural cooperatives - maps for variable-rate application of seeds and fertilizers. Understand the real needs of your crops in nourishment and which fields need a real boost in productivity. Calculate Vegetation and Productivity maps, download them, and upload into farming equipment terminals to enhance the precision of their performance.
Field leaderboard
With a field leaderboard, members of farming cooperatives can always stay aware of abrupt changes in the state of crops in every field. This feature is especially useful if your fields are scattered across a large area. Get notified about the most alarming and most recent changes in the NDVI value - a crop health indicator.
Scouting
One of the top useful agricultural solutions for cooperatives, Scouting is the feature designed to significantly reduce the time and effort necessary for a check-up of a problem area in the field. With the mobile version of EOSDA Crop Monitoring, scouts can find the problem spot using GPS navigation even when they're offline. The app supports the instant report generation option - complete with snapshots and valuable details observed by the scout. As soon as the online report is generated, it can be accessed by everyone who shares the same Team account.
Case studies
Success Stories