Key benefits
Get to your business goals faster and in the most sustainable way with our out-of-the-box solutions
Save Time
Faster report generation
Access the most up-to-date data on your forest stands wherever you are
Remote change monitoring and regular problem area alerts
Spend Less
Reduce loss due to material damage with regular risk alerts
Cut extra costs by monitoring forest stands remotely
Predict forestry logging, transportation, and storage costs
Convenient Forest Land Management
Up-to-date forest mapping: monitor health, estimate area, and more
Monitor forest health, compare stands before and after deforestation, and more, all in one place
Monitor forest cover change in near-real time on a regular basis
Sustainable Forest Management
Reduce the negative deforestation effects on carbon cycle remotely
Detect illegal logging thanks to satellite-based deforestation maps
Get reliable data on damage by forest fire from space
WHO CAN BENEFIT WITH US
Personalized solutions
Landowners & Forest Managers
Logging Companies
Food Processing Companies
Finance & Investment
Monitoring
Remote precision silviculture monitoring and evaluation across regions and within single stands
Forest fire monitoring based on NASA FIRMS abnormally high temperature alert technology
Deforestation satellite monitoring within forest stands and on a regional scale
Monitor moisture content in plants and reduce risks of tree diseases and forest fire hazard with the Water Stress reports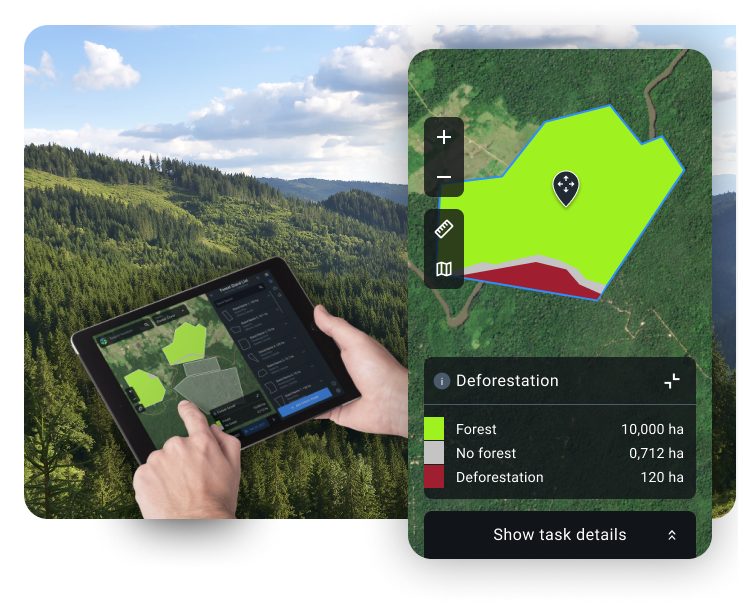 Weather Archive & Forecast
Enhanced forestry operations planning based on a reliable weather forecast within an area of 9 by 9 km
Make better-informed decisions and study weather trends in your area of interest with historical weather data available since 2008
Find the correlation between weather trends and forest growth based on the sum of active temperatures for a selected period
Predict forest fire hazard situations based on historical weather data, such as accumulated precipitation and temperature trends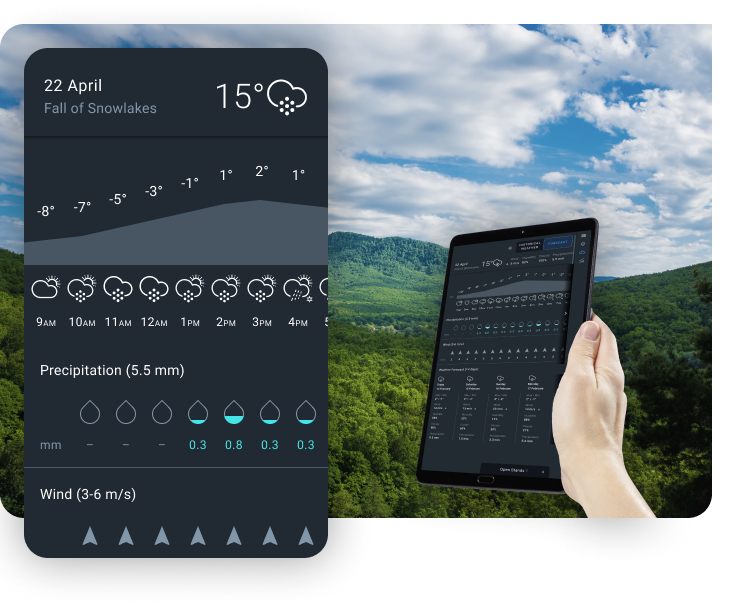 Dashboard & Notification Manager
Carry out change monitoring for as many forest stands as you like
Analyze changes within your forest stands - monthly, quarterly, yearly - in downloadable .pdf and .xls reports
Bring forest fire management on a new level with the timely high temperature alert system
Adjust notifications to your specific needs and stay aware of any changes in forest productivity, water stress, and other parameters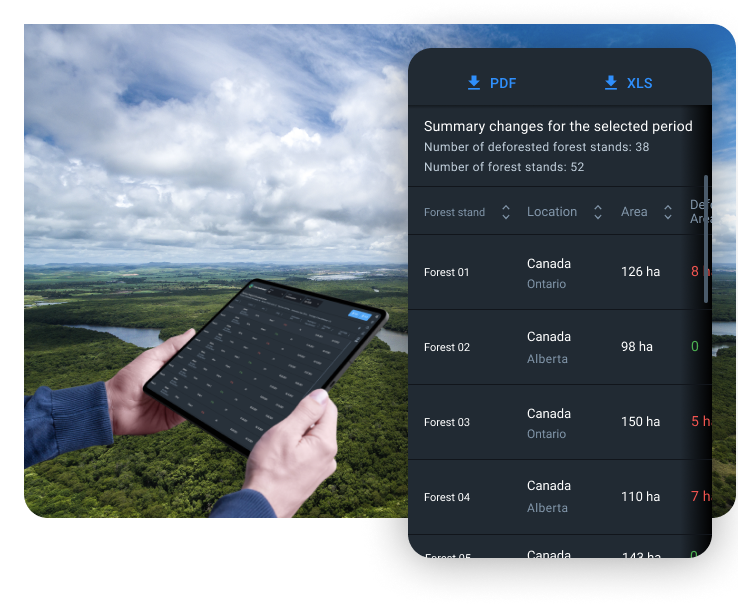 Radar Detection of Forest Clear-Cuts
Forget about clouds obstructing the view of your forest stand on the satellite image. Radar clear-cut detection and mapping technology will provide you with accurate data on forest cover change every 3-6 days, clouds or no clouds.

Automatic Tree Classification
No more manual classification of trees growing on your stand! Task us and we will provide you with solutions that suit your needs the most
one more thing
Want More Options?
API EOSDA
Advanced Data Set
Complete Access to Data
Clear API Documentation
Easy to Integrate
Prices Tailored to Your Needs
High Quality Support