Empowering agricultural businesses with remote farm monitoring
EOSDA Crop Monitoring is an advanced satellite-powered precision farming platform for food producers, insurance companies, input suppliers, and other agricultural players. Effortlessly access data on crop health, weather conditions, crop rotation, field activities, elevation, soil moisture, and more — all seamlessly embedded into a user-friendly interface.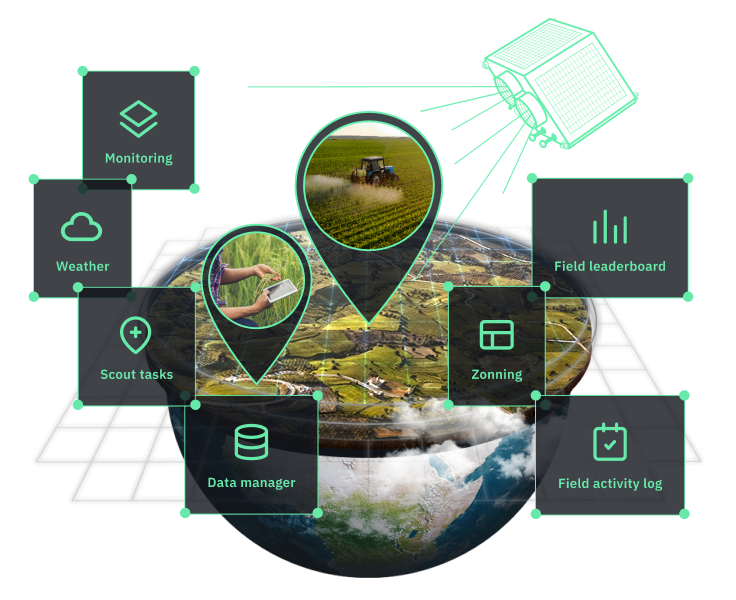 What makes EOSDA Crop Monitoring unique?
Sustainable Vision
EOS Data Analytics leverages its technological expertise to generate actionable insights through satellite data, empowering collective efforts to create a better world. Our comprehensive range of products and custom solutions is developed by our dedicated scientific team, aligning closely with 10 of the 17 United Nations sustainable development goals. Together, we strive to build a sustainable future and make a positive impact on the planet.
In-house Experts
With our own team of 25 PhD professors and 60 scientists, we get to understand the issues and requirements of our clients on a deep level, empathizing with their struggles, and tailoring our approach to each one uniquely. Our experts provide personalized solutions while adhering to long-term customer objectives.
Beyond Raw Data
Our company goes beyond being a data delivery service. We don't just collect and upload satellite imagery — we provide valuable easy-to-read analytics.
Propriatory Satellite Constellation
EOS SAT is the first ever satellite constellation designed specifically for agricultural monitoring by a company that utilizes remote sensing technologies. It will allow us to cover up to 100% of farmland and forest areas in leading agricultural countries.
Online Access To Farm Insights
Utilize satellite imagery analytics for farm tracking: monitor crop condition, identify problem areas, track vegetation, view soil moisture levels, and predict crop yields from anywhere in the world.
Find our solutions in AWS Marketplace
a digital software catalog where agricultural businesses can find satellite-driven tools aimed at helping to implement sustainable practices.
Explore EOSDA Crop Monitoring
Overview EOSDA Crop Monitoring is a comprehensive web-based agriculture monitoring system by EOS Data Analytics — a worldwide supplier of AI-driven satellite imagery analytics. It functions as a unified solution, incorporating an array of data types including crop health, weather conditions, crop rotation, farm operations, elevation, soil moisture, and more to provide a single, convenient access point to all necessary information.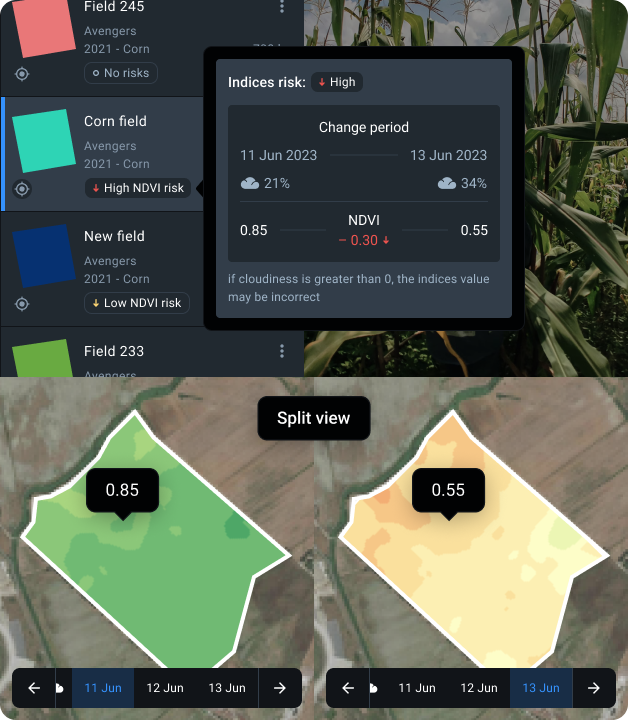 Increased Agricultural Productivity
Tap into the potential of satellite technology with EOSDA Crop Monitoring as you effectively perform multi-field management, optimize resources allocation, and make sound decisions. We tailor our solutions to the needs of a diverse range of users including farmers, agricultural cooperatives, agribusiness firms, input suppliers, banks, insurance companies, and beyond.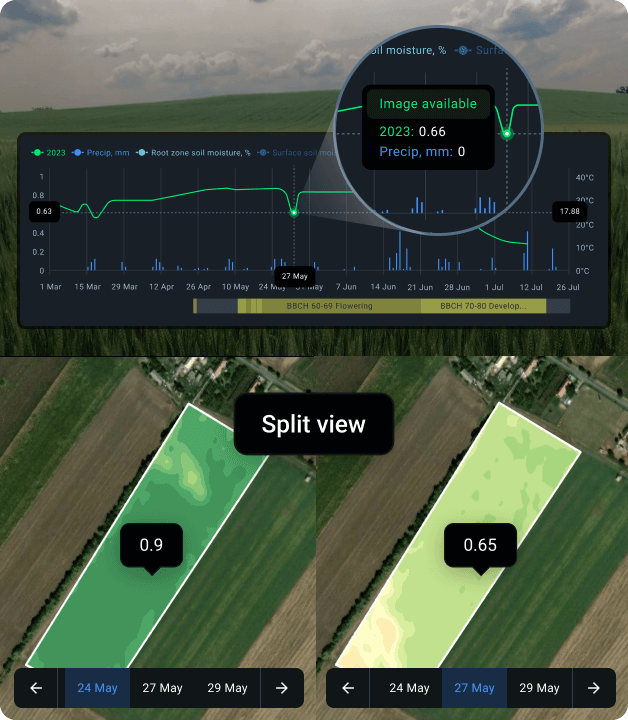 Early Detection of Major Crop Risks
Timely detect any threats to your crops thanks to:
- Accurate 14-day weather predictions on a 90x90 meter grid;
- Identification of crop stress following severe weather events;
- Soil moisture monitoring;
- Notifications on crop' state changes
- Vegetation indices for assessment of harm caused by pests and diseases.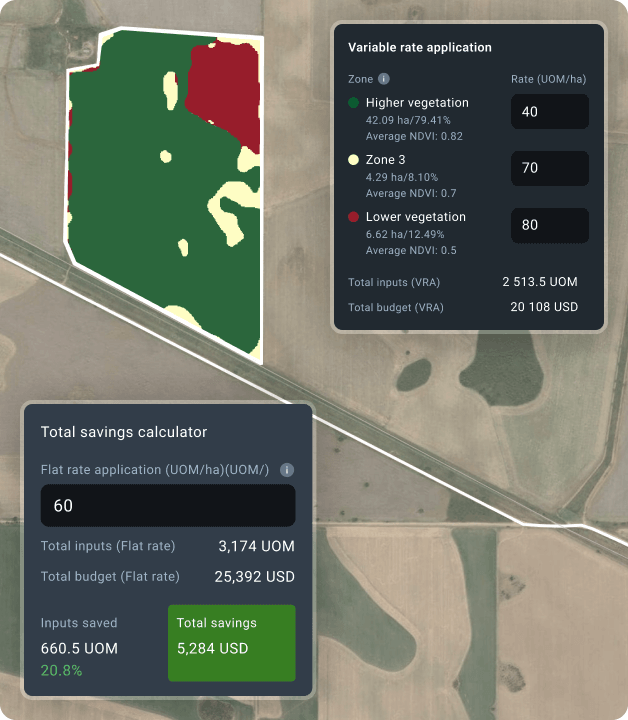 Reduced Input Costs
Use Variable Rate Application (VRA) maps to reduce waste and cut expenses on fertilizers, water, plant protection products, seeds, and fuel.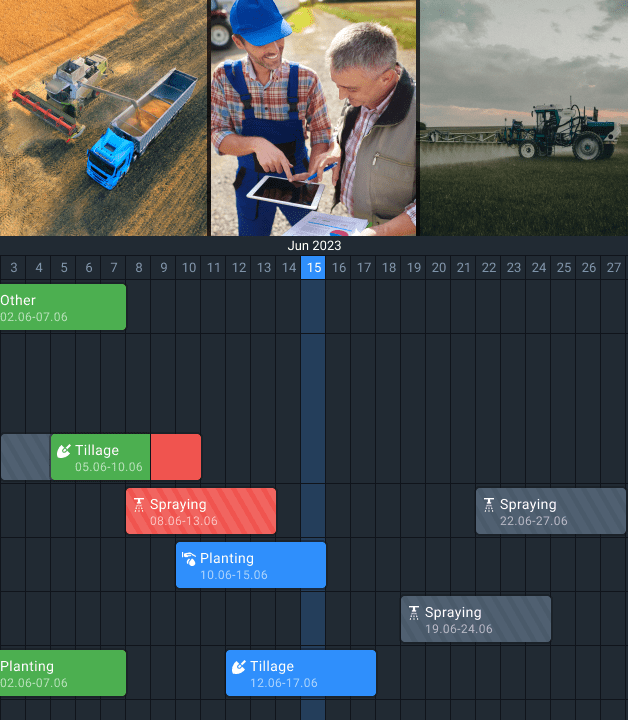 Complex Farm Monitoring
Seamlessly plan and track all your agricultural activities across different crops in our field activity log. Keep everything in order, follow advancements, and receive notifications if there are any deviations from your pre-approved plans.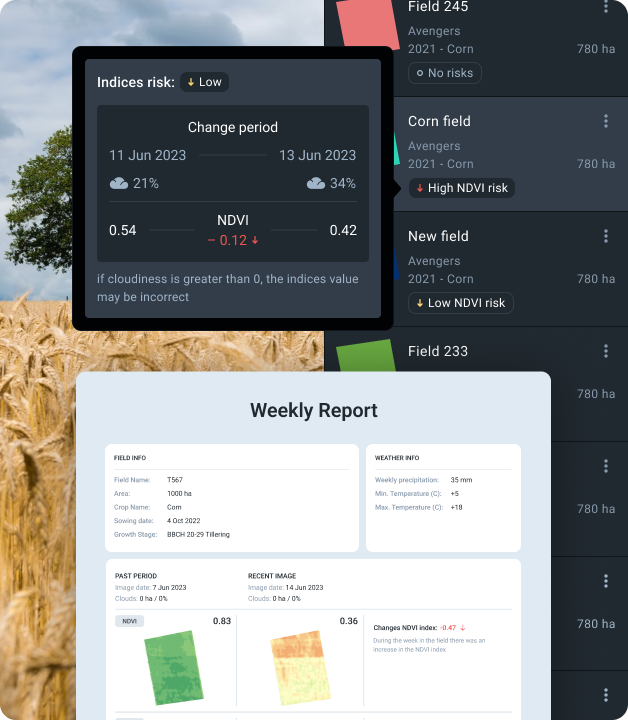 Performance Tracking
Effectively address changes in your field work progress with our timely notifications for any potential problems. Handle the issues before they can intervene with your smooth workflow.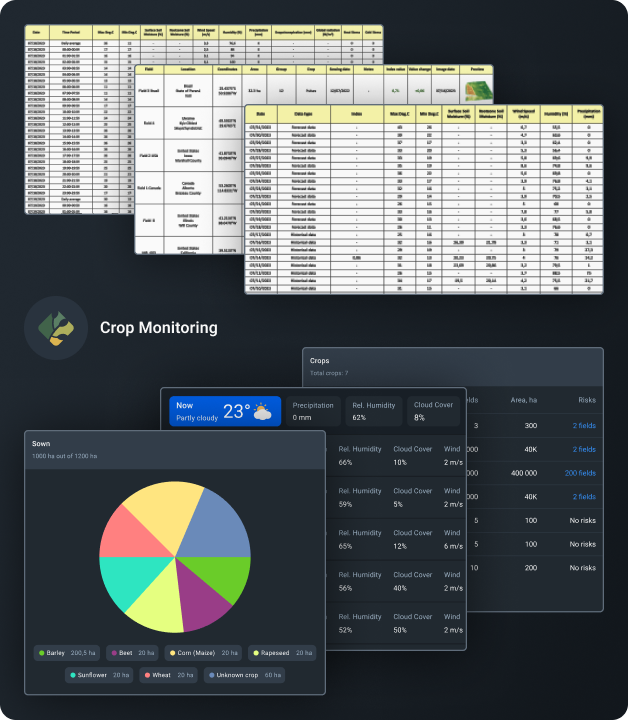 Effortless Data Interpretation
We gather and analyze complex data from diverse sources to transform it into clear and comprehensible insights for you. Our crop monitoring software highlights key dependencies, enabling you to make swift and precise farming decisions. We combine raw data from water providers, weather stations, and field equipment to illustrate trends and enable comparison across multiple data sets.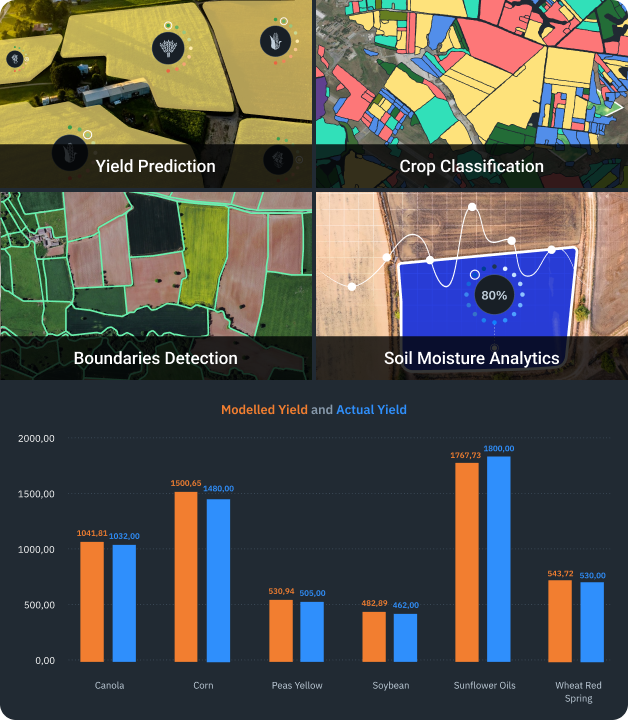 Custom Solutions
Our portfolio of custom solutions includes yield prediction, remote harvest dynamics monitoring, crop type classification, field boundaries detection, and advanced soil moisture analytics. Our science team commits to the unique needs of every customer to make sure these cutting-edge features meet their specific requirements and help boost their productivity and profitability.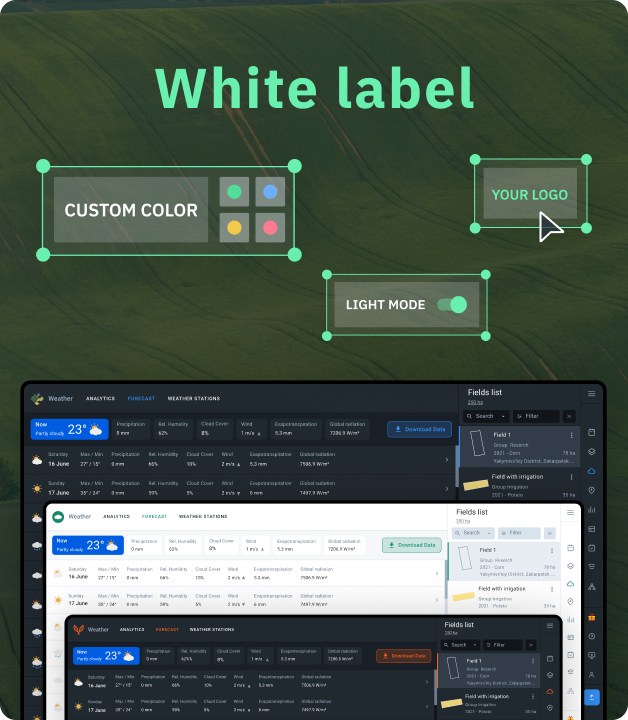 API Access to Satellite Data
Gain access to the up-to-date satellite imagery, historical data dating back to 2015, weather forecasts, and other area-tied insights via our API. Deliver your customers a turnkey solution that embodies your brand while taking advantage of our innovative technology. Our Partner program focuses on forging a worldwide network of resellers, supporting and developing businesses globally, while creating enduring relationships that benefit all parties involved.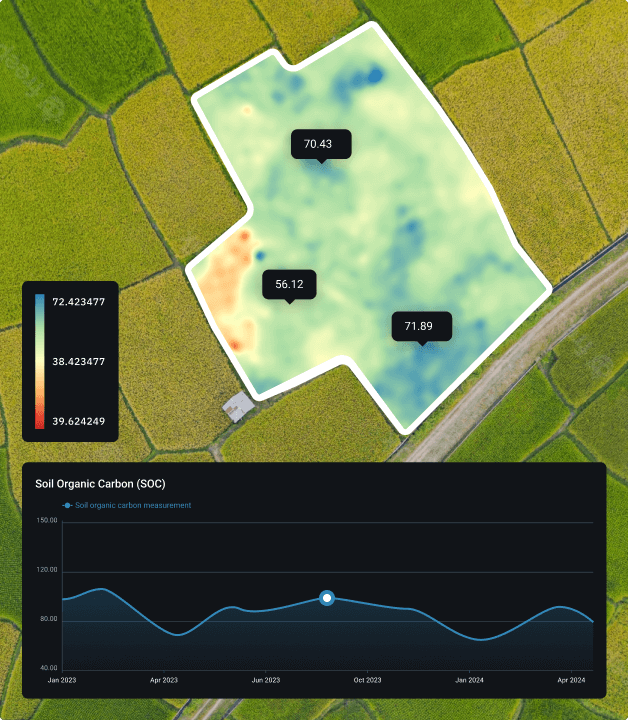 Carbon Footprint Minimization
EOSDA Crop Monitoring plays a crucial role in tackling carbon-related concerns by helping evaluate the potential for carbon sequestration, refine land management practices, and reduce greenhouse gas emissions in agriculture. It assists in directing land use strategies towards carbon mitigation initiatives and offers reliable insights for carbon auditing and reporting.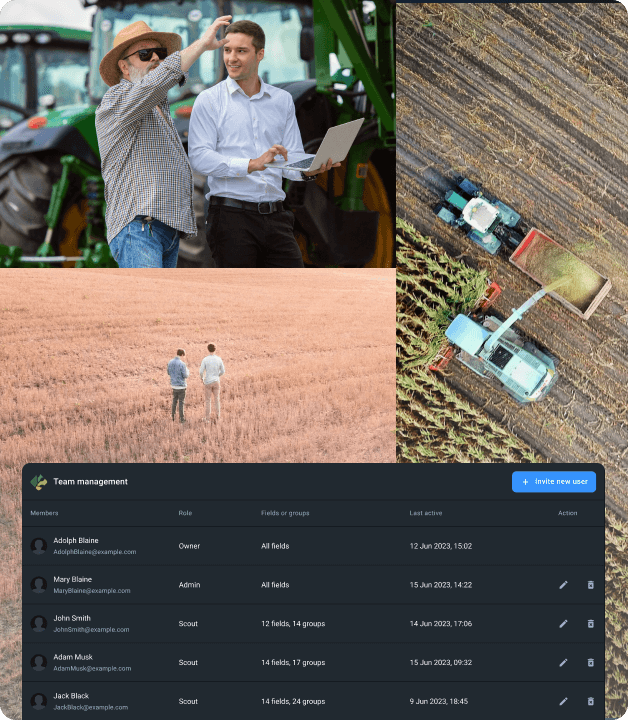 Team Management
Our Team management feature enables sharing access to particular data with the team members based on their roles.
Amr Hassan
QA Section Head and Quality Manager Assistant at Cairo 3A for Agricultural and Animal Production
We have been using EOSDA Crop Monitoring for a year. It is an essential part of workflow now. I found the Weather tool really helpful and accurate. We are using it daily. It would be very helpful for fruit growers if you add a chill hours calculator as this will help in agro-decision making.
Bernardino Buenaobra
Plantation Geomatics Manager at Del Monte Philippines
We see the remote sensing platform as a critical tool for our Pineapple growing and harvesting. In the past, our attempts were the usual way of doing it: Landsat download and processing, slopes from NASA SRTM, Sentinel-2 Hub downloads, and using ENVI, QGIS for data processing. We can always go back to that approach. Why not? However, it only takes hours, not even days, to assess the crops via satellite data processing – say, after forcing, after urea, after herbicide, fungicide, etc. So, I think most, if not all people I've discussed this with, are "on board" with the concept of EOSDA Crop Monitoring – because I've shown them a use case that is real and is taken from field experience. It demonstrates the real state of things and that gets the approval of upper management. Also, we have UAV/Drone data for about 5-years on archive - that otherwise would take weeks to process, days to fly, etc. Being a Sunday Manager of the week I had to present the report, so instead of just talking, I used EOSDA Crop Monitoring to show the state of vegetation, rainfall, weather and NDVI, NDRE of the harvested fields as well as MSAVI, NMDI for those fields currently under plowing. It was a great success because now the report has graphics and is full of visualizations instead of just words and numbers.
Ernst Kemmerer
Resource Information Manager at Forico
We found that automated EOS Data Analytics reporting saves time and increases accuracy. This adds value to the business by having accurate records for harvest monitoring and forward scheduling of crews. We are also able to obtain information on cloudy days which occur a lot in the winter months.
Anthony Mukanya
President & Co-founder of Wiingou
Insurance companies nowadays find it progressively harder to generate risk profiles of their clients due to ever-changing patterns. It is essential for both insurers and farmers to be aware of the upcoming unfavorable weather conditions in advance. While it is extremely hard to predict abrupt weather changes triggered by climate change using traditional methods, satellite-based analytics and machine learning are up for the challenge. As an EOSDA partner, Wiingou is capable of analyzing historical weather patterns to generate forecasts with more precision. To make predictions, the company's experts find out similar weather patterns in previous years for the period they want to forecast and create simulations. Using EOS Crop Monitoring data for cross-analysis further increases the precision of forecasts.
Mor Yegerman
Founder & COO of Viridix
I find EOSDA Crop Monitoring a great tool, we at Viridix use it to plan our Water potential sensors installation taking into account variability in agriculture fields.
Gaspar Aguero
Director at Agromarketing
What we find the most useful about the EOSDA Crop Monitoring platform is the NDVI maps that help us determine the areas with lower vegetative vigor so we can notify the producers and carry out the field visit (scouting). We find the technology more effective than trying to identify these areas with a naked eye. We also use productivity maps. In our opinion, EOSDA Crop Monitoring vegetation and productivity maps are very beneficial as they allow growers to see more varieties in crop health and productivity across each field, focusing on the areas with growth problems and getting a better general picture of the crop development.
André Zabini
Technical Director at Agronómico
Agriculture in South America is very dynamic and diversified, being a key economic activity of the continent's countries. Among the most important grains, soybeans are the main crop, followed by corn, wheat, and rice. However, South American agriculture faces several challenges, including soil conditions (acidity and lack of some mineral nutrients), climate (high temperatures and periods of water scarcity), infrastructure limitations (poor access to roads and lack of broad Internet coverage in rural areas), and cultural limitations (low adoption of technology). Therefore, using technology and technical advisory - like EOSDA Crop Monitoring - is essential to partly mitigate these constraints, employing knowledge of soil chemistry, climatic data, and satellite crop monitoring to achieve better yields with technical and economic efficiency.
Efrain Lechuga
Claims Manager at Der Neue Horizont RE
Using the EOSDA Crop Monitoring platform, we can more efficiently allocate the scouting resources and resolve the disputable issues faster when an insurance claim report arrives. In this regard, the company finds the platform quite helpful. Furthermore, DNHZ offers EOS Crop Monitoring as an added value product to its clients, so everyone can have access to the fields in one place.
Ingeniero Agrónomo Claudio Ochoa
Founder & CEO of Aseagro
Aseagro is the leading central pivot irrigation monitoring company in Argentina, providing services to national and international seed production companies that specialize in growing Corn, Sunflower, Sorghum and other crops for 20 years now. We use EOSDA Crop Monitoring as a complement to the irrigation monitoring services we perform through sensors, telemetry and Big Data. More specifically, we rely on NDVI, NDRE, MSAVI and RECI data to check the vegetative state of the crops in terms of whether they are developing as planned. We also use these data to get general information about the land plot. We also use the NDMI surface soil water indicator to determine soil moisture content within 5 cm from the ground. In addition, we compare EOSDA Crop Monitoring weather forecasts with the data we collect from the network of stations located in every key area to get a more precise reading of weather conditions. Comparing data from telemetric sensors with the data on EOSDA Crop Monitoring platform allows us to enhance the precision of our decision-making as to the weekly watering of crops thanks to a more precise Big data analysis of water balances.
Pablo Lobos
Agricultural Engineer at Ruas Agropecuaria S.A.
The EOSDA Crop Monitoring platform works very well for us, we are currently using it to the max because April is the harvest month. I had some doubts regarding the assignment of the crop and planting date for individual fields, but, with your help, I have changed my mind. It is very useful for us to monitor the development of the crop so closely, but only when it is in a full vegetative state. When the plant is very small I cannot identify birth problems. I also found it very useful to identify weed patches prior to planting crops.
Who can benefit from EOSDA Crop Monitoring?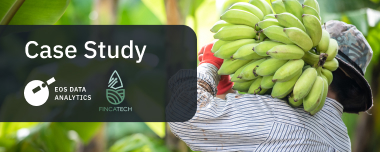 Space Monitoring For Green Plantains In Rainfall Season
A new triple-impact enterprise in Nicaragua FINCATECH has committed to promoting sustainable digital agriculture by implementing EOSDA Crop Monitoring and turning satellite data analytics into actionable recommendations.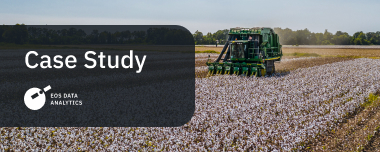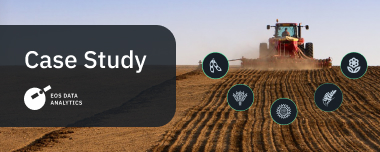 Recognition and Membership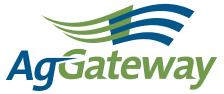 Member of International Astronautical Federation

AgTech Breakthrough Awards 2022: Yield Forecasting Solution of the Year

GEO SDG 2022 Award: Commercial category
Society for Agricultural Research & Management (SARM): 2023 Business Innovator Award