Gone are the days when farmers had to strive alone for better yields overcoming numerous challenges. With the rise of space technologies, the crop growing process becomes easier to manage and much more predictable. Satellite monitoring tools enable growers to control crop health, efficiently apply fertilizers, accurately estimate the number of seeds, prevent weeds and pests' attacks, and make the best efforts to ensure their farmland will bring the best outcome possible.
In this case study, we'll cover how EOSDA Crop Monitoring, the precision agriculture online tool, helps Complete Farmer, a demand-driven digital agriculture platform from Ghana, to cope with the problems in the farmer's journey on the way to crop yield enhancement by remote farms management, assessment of crops health, and efficient use of seeds and fertilizers.
We'll also touch upon Complete Farmer's business model and different cases of the EOSDA Crop Monitoring solution usage depending on the goals of each stakeholder on the Complete Farmer platform.
Overview: About Complete Farmer
Complete Farmer is an end-to-end digital farming platform that makes it easy for industries to source agricultural raw materials and convenient for individuals worldwide to own farms in Africa, monitor them online, and get a profit selling their farms' produce using the digital channel.
Currently, Complete Farmer is operating in Ghana and Togo with further plans to expand its business into other African countries.
The underlying question for the use of innovative processes was how to build a food production system that operates like a factory. The idea was to apply production engineering methodologies to solve the challenges that have caused the failure of many African farms – the lack of data-driven cultivation protocols that enable farmers to grow to meet international market standards. In developing our digital platform, we aimed to provide stakeholders with increased end-to-end transparency on the platform to ensure quality control and proper standards.

Desmond Koney

Chief Executive Officer at Complete Farmer
Problem: Lack Of Data-Driven Cultivation Protocols To Meet International Standards
The Complete Farmer team realized the need for modern technology, expert agronomy consulting, previous field production experience, well-researched literature, and in-house experts to obtain data-driven cultivation protocols and achieve the desired results in growing crops.
We recognize that our customers' needs are multidimensional, and as such, we are creating a system that enables us to gather information about trends in grower needs and preferences. To meet these needs and preferences would require us to scale up our Grower product.

Desmond Koney

Chief Executive Officer at Complete Farmer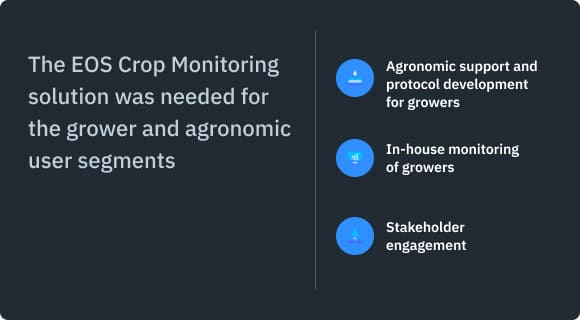 EOSDA Crop Monitoring
Performing fields analytics based on relevant satellite data to ensure effective decision-making!
Solution: Using Satellite Technologies To Collect Cultivation Data For Protocols Development
One of such innovative technologies is the EOSDA Crop Monitoring platform, a satellite monitoring tool we deploy across our products to serve the various stakeholders who interact on our platform, namely commodity buyers, food growers, digital farmers, and our partners.

Chelsea Nzenwa

Marketing Manager at Complete Farmer
Some of the benefits Complete Farmer gets from the EOSDA Crop Monitoring platform are:
Fields' satellite images.
Reliable weather forecast.
History of fields' precipitation.
Daily field temperature.
NDVI (Vegetation) and NDMI (Water Stress) vegetation indices.
Precise problematic area detection.
Activity logs, which help us as an agricultural company plan and organize necessary activities throughout the farming season.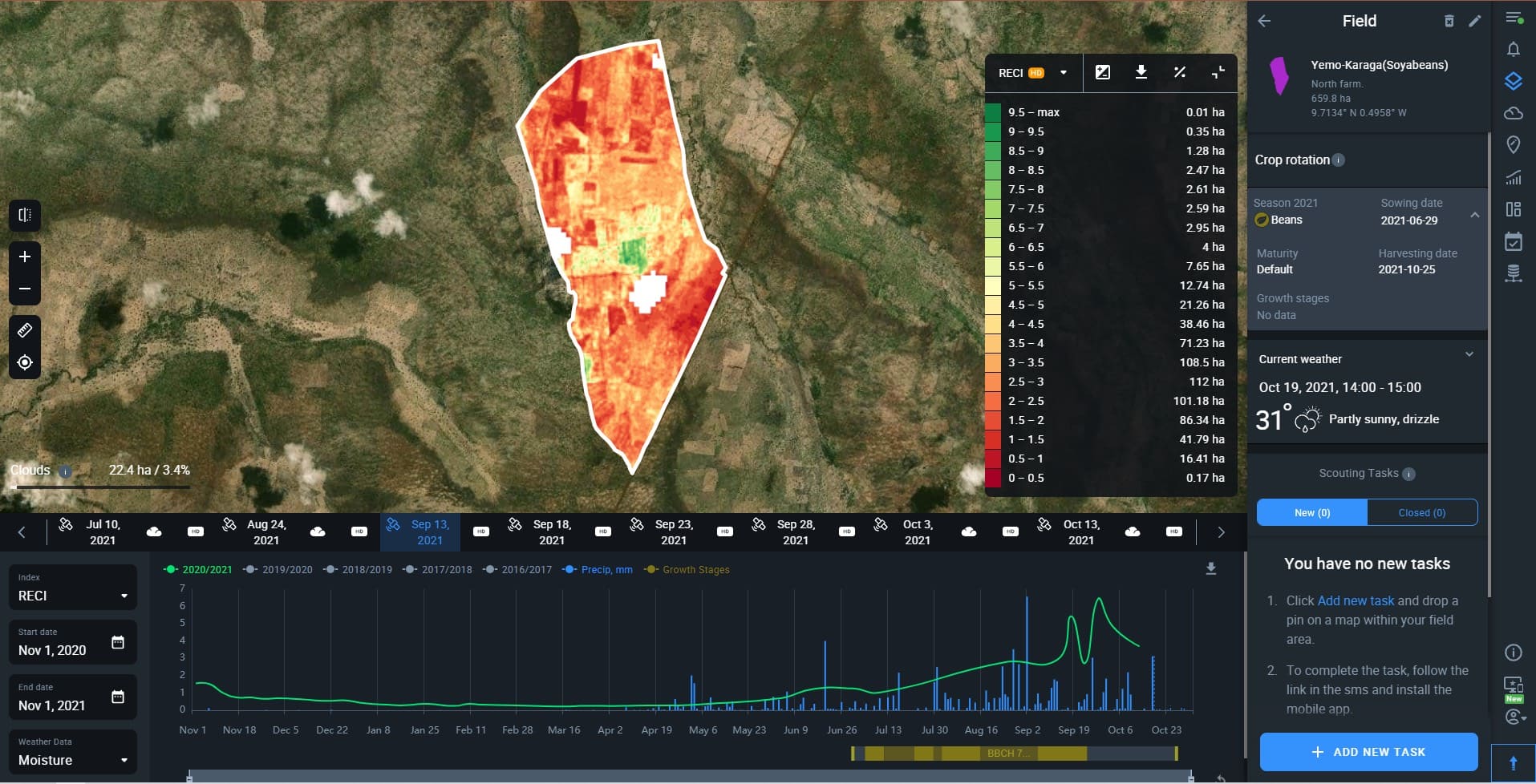 With the help of the EOSDA Crop Monitoring tool, Complete Farmer provides agronomic support and protocol development for growers on its platform. Satellite and IoT technologies collect valuable insights that are used in optimizing crop growth, supply chains, and farm management. This approach, backed up by reliable data, ensures that farm products meet strict market requirements.
EOSDA's solution assists Complete Farmer in developing farming protocols by collecting near-real-time cultivation data such as growing methods, surface and root zone soil moisture, chlorophyll content in leaves, the nutrient level of soil, and weather conditions.
Then, the acquired data is applied to an experimental field where farmers try new fertilizers and check how they affect different crops, conduct crop variety trials, trace elements in specific soils, determine crops or chemicals' response to the environment, and test any farming solution before implementing it on the actual field.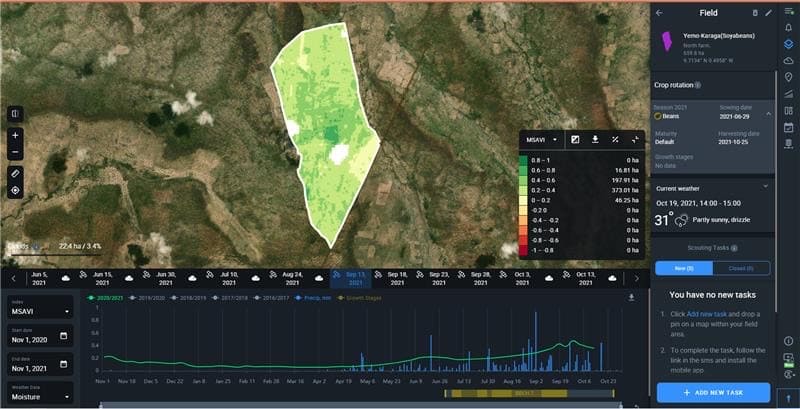 Also, the Complete Farmer team uses the platform to monitor the growers' activities. Growers are required to log their progress using the field activity log tool. Data from the field activity log tool is then passed to the central admin dashboard that a Complete Farmer's in-house team utilizes. This data flow helps quickly identify those growers who need additional agronomic support.
For collaboration with stakeholders such as crop insurance companies, Complete Farmer finds value in advanced historical weather information. This data helps the company identify high-risk areas with unstable weather patterns to avoid them when selecting lands for farming.
Outcome: Satellite Monitoring Facilitates Growing Crops To Meet Market Requirements
EOSDA Crop Monitoring is used to provide agronomic support and facilitate protocol development, ensuring a data-driven approach. This enables Complete Farmer to make informed production decisions for specific crops and be confident that precision farming delivers the expected output and the harvested produce is of the utmost quality.
Regarding the in-house monitoring of growers, they adhere to the provided cultivation protocols to meet required quality standards.
For stakeholder engagement i.e, insurance companies: insurers often require data on historic farming production as this gives an indication of the yield potential of particular land or region. With the help of EOSDA satellite imagery and EOSDA Crop Monitoring tools, we are able to better justify our farm output potential to arrive at the fairest financial terms. Satellite monitoring provides credibility to the data, which helps in settling damage assessment claims quickly and qualitatively.

Chelsea Nzenwa

Marketing Manager at Complete Farmer
Our agronomic team visits prospective grower fields to observe the edaphic, biotic, and socioeconomic factors of the site and provide an expert recommendation. The farm plan and protocol can be developed based on the results of this exercise to provide the most efficient Grower experience possible. The EOSDA Crop Monitoring platform assists our agronomic team in being successful and efficient on these farm visits by allowing them to use various aspects of the platform to derive data such as field acreage, location, weather data, crop growth stage, precipitation, and a satellite image of the field that has been added to the EOSDA solutions.

Desmond Koney

Chief Executive Officer at Complete Farmer
Using EOSDA Crop Monitoring has already brought Complete Farmer remarkable results. Since 90% of agronomical data for proper decision-making is gathered through the EOSDA Crop Monitoring dashboard, the necessity of regular field visits was reduced, which enabled the company to save 40% of the field trips' cost.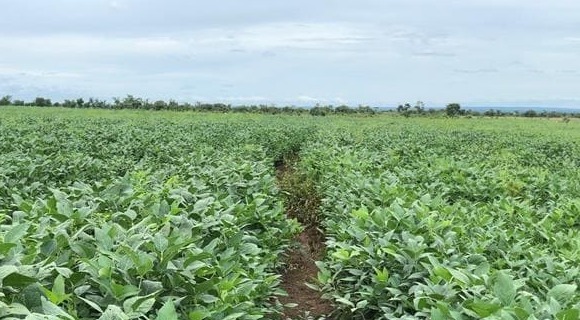 Below is a walkthrough of how Complete Farmer utilizes the EOSDA Crop Monitoring platform on one of the company's Soybeans farms at Karaga.
#1. How do I know which data to look at?
After adding a field on the EOSDA Crop Monitoring platform, you get lots of information on crops. Some of the displayed data cover field acreage, location, weather data, crop growth stage, precipitation, and satellite image of the added field. One of the crucial data to look at is your vegetation indices. These indices will give you valuable insights into your crops' condition. For example, the Normalized Difference Vegetative Index (NDVI) shows you the measure of a plant reflecting and absorbing solar radiation at different wavelengths and the vegetation level on the field.
#2. How do I interpret the data that I am looking at?
The NDVI index allows you to identify problematic areas on the field at different stages of plant growth. The image above states that the NDVI rate is high in some parts, which shows the weeds close to the soybeans. The part with low NDVI rates may indicate pest attacks around that area.
#3. How do I know what to do next?
The data derived from the platform is sent to the agronomist for further processing. Then a scouting task is set for the farm manager on the platform to investigate the problematic area and take on-site pictures. Based on the received information, the agronomist may, for example, recommend pesticides to eliminate pest infestation or control the weeds around the examined field sector.
So far, our experience with EOS Data Analytics has been great, with accurate crop data and field information assisting us in improving our farming practices. We'll be adding our out-grower fields to the platform in the coming months to help our Growers farm more efficiently.

Desmond Koney

Chief Executive Officer at Complete Farmer
About Complete Farmer
Complete Farmer is an end-to-end digital farming platform that makes it easy for industries to source agricultural raw materials and convenient for individuals anywhere in the world to own farms in Africa, monitor their farms online, and earn a profit from the sale of their farm produce through a digital experience.
Since incorporation, the company has successfully piloted a digital farming model with a total of 7,200 acres of total production serving about 55000 metric tons of commodities to buyers in Asia, Europe, and the rest of the world. Currently, the Complete Farmer platform supports over 2000 acres of farmland across six regions in Ghana.
Headquartered in Accra, Ghana, Complete Farmer recently launched a pilot of its grower model in Togo. A model which works with farmers across Africa to facilitate growing crops to meet export market demand.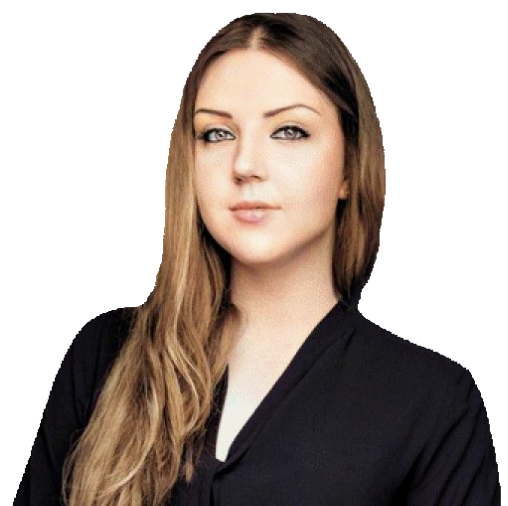 Rim Elijah joined EOSDA in early 2020. She holds a double degree in business administration and political science from Stockholm University.
Rim is VP of Sales at EOSDA. She is overseeing all aspects of business model development and implementation, maintenance of positive business & customer experience, and the growth of the company's global coverage. She is responsible for closing deals, scaling up ongoing projects, as well as the development and implementation of process control within the Sales department. Rim also regularly takes part in negotiations with important clients.
So far, Rim has managed to successfully establish a number of strategic partnerships with an emphasis on the delivery of sustainable solutions in various regions of Africa and Asia.
In addition to her main responsibilities, Rim is presently involved in the upcoming launch of the first agri-based satellite constellation by EOSDA, scheduled for mid-2022. She manages relationships with the EOS SAT investors.