Satellite Analytics For Water Use Efficiency Services
Chile has been facing a water crisis for decades. It ranks 18th among 164 countries struggling from water stress. Notably, the country's middle part has been suffering droughts of different scales for over 10 consecutive years. Insufficient rainfall due to climate change, overexploited watersheds, and water privatization are the factors behind Chile's water scarcity. Being one of the main contributing sectors to Chile's economy and the biggest consumer of water, agriculture both suffers from water scarcity and influences it. Hence, solutions to optimizing water use are in high demand among farmers and agriculturalists.
In this case study, we'll find out how Eficagua benefits from using satellite imagery analytics to help customers increase water efficiency.
Overview: About Eficagua
Eficagua is a Chilean company providing water management services in agriculture. It works with an integrative water efficiency framework applied to the sector, contributing to reducing water footprint through technology and biotech integration, assessment, and education.
In particular, the organization helps customers to improve water availability and water productivity via implementing technologies and biotechnologies in the 5 pillars of influence of its unique water efficiency framework, which helps water transportation and accumulation, improves water retention in the soil, optimizes irrigation decisions, increases water quality and boosts water absorption, in order to reduce agricultural water footprint by focusing on 2 key performance indicators: water availability and water productivity. The company's long-term goal is to contribute to a future water credits market focused on local watershed impact.
Challenge: Lack Of Data On Crop Condition For Providing Water Management Support
We've seen a higher interest in technologies that contribute to water efficiency, mostly in the agricultural sector. We use our six-year knowledge base to develop a user-friendly platform that will support an action-oriented approach to water management.
However, the company needed more relevant information on crop conditions to reinforce water efficiency solutions for the agricultural sector users.
EOSDA Crop Monitoring
Fields analytics tool with access to high-resolution satellite images for remote problem areas identification!
Solution: Satellite Monitoring as An Extra Approach To Obtaining Information On Soil, Weather, And Crops
The team concluded that satellite imagery is the missing data source. After reviewing six platforms, Eficagua preferred EOSDA Crop Monitoring, which it adopted in 2021.
We use EOSDA Crop Monitoring as an extra layer of information in our precision irrigation service. With it, we close the data gap on every crop type grown outdoors.
With its satellite monitoring features, the tool enables remote observation of client fields based on the automatic VI calculations, tracking crop growth stages according to the BBCH-scale, and detecting water stress (lack of water). That way, specialists can spot crop condition abnormalities and take necessary actions.
Eficagua uses NDVI values to measure moisture in plants, adapt water consumption estimates, and provide more accurate recommendations (the moisture in plants correlates with vegetation density, which can be defined with the NDVI index). The team performs a weekly analysis to cross NDVI values with local weather and soil information.
In addition to performing NDVI analysis on the imagery of regular resolution (e.g.,10 meters per pixel for Sentinel-2 imagery), the client uses high-resolution data (3 meters per pixel) captured by satellites daily. For instance, a client can get up to four high-resolution images of one field per day.
On average, about 80% of imagery data Eficagua uses for projects is of high resolution. It's available via the Daily high-resolution images add-on.
Outcomes: The Expanded Service List And Increased Accuracy In Precision Irrigation Recommendations
Through satellite imagery analytics implementation, Eficagua has already:
Achieved an extra 10–20% extra precision in precision irrigation advising.
Developed two new services oriented to farm water management.
Saved time spent on generating a single recommendation.
Gained experience in understanding and interpreting satellite imagery data.
We saved time on performing daily tasks, added more value to our services, and developed two new ones related to water and field evaluation: irrigation precision program, which helps users make better irrigation decisions, and Hydrological potential evaluation, on which they rely to understand how to approach a new landscape or agricultural project.
About the author:
Rim Elijah joined EOSDA in early 2020. She holds a double degree in business administration and political science from Stockholm University.
Rim is VP of Sales at EOSDA. She is overseeing all aspects of business model development and implementation, maintenance of positive business & customer experience, and the growth of the company's global coverage. She is responsible for closing deals, scaling up ongoing projects, as well as the development and implementation of process control within the Sales department. Rim also regularly takes part in negotiations with important clients.
So far, Rim has managed to successfully establish a number of strategic partnerships with an emphasis on the delivery of sustainable solutions in various regions of Africa and Asia.
In addition to her main responsibilities, Rim is presently involved in the upcoming launch of the first agri-based satellite constellation by EOSDA, scheduled for mid-2022. She manages relationships with the EOS SAT investors.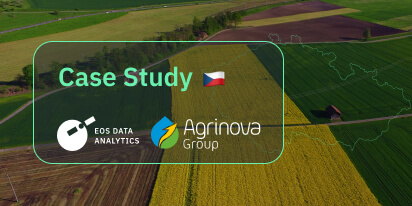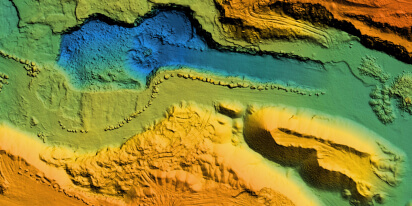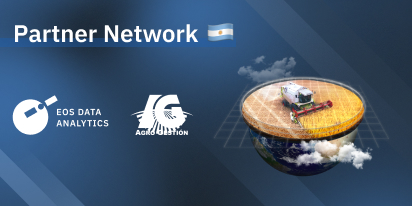 EOS Data Analytics Partners With Agro Gestión
With a focus on innovation and sustainability, EOS Data Analytics and Agro Gestión's partnership will bring cutting-edge satellite technology to more agribusinesses in Argentina, Paraguay, and Spain.