Satellite Tech To Aid Evidence-Based Agriculture
More than 10 million smallholder farmers in Nigeria make uninformed decisions on applying fertilizers and seeds, which results in over $10 billion in annual losses across the entire agricultural value chain. The situation can be explained by limited access to agronomic and weather data, absence of power or its unstable supply in rural farming communities, relatively low disposable income, and an overall preference for traditional agriculture practices.
In this case study, we'll discuss how Agroxchange Technology implemented a white-label version of EOSDA Crop Monitoring to enable satellite-based remote observation of fields within a farm loan program in Nigeria. On top of that, the company aimed to help smallholder farmers increase yield by introducing digital tools for crop production and field management.
Overview: About Agroxchange Technology
Agroxchange Technology is a Nigerian-based agritech company providing small-scale farmers with localized services and solutions that integrate satellite data and are powered by ML algorithms. Since its founding in 2018, Agroxchange Technology has been at the forefront of popularizing the usage of digital technologies among crop growers by explaining complex precision agriculture concepts. That way, the company aims to help local crop growers increase farm productivity and efficiency and, consequently, improve their livelihoods.
Challenge: The Need To Support Loan Decisions And Drive Tech Adoption Among Nigerian Farmers
In 2021, the Central Bank of Nigeria initiated the Anchor Borrowers' Program. It entails providing loans to smallholder farmers to aid them in improving yields, which would lead to increased agriculture's contribution to Nigeria's GDP and a reduced food import bill. Food production and processing companies — agricultural anchors and cooperatives — act as custodians of small-scale farmers in clusters. Credits are provided at a single-digit interest and six months of a moratorium.
Before deciding whether or not to give credit to a farmer, the government must determine the viability of farm cluster lands in terms of productivity, availability, and proximity of sufficient water sources around fields to sustain dry-season farming. Weather forecasts for a season also must be considered.
Climate and weather conditions (precipitation, temperature, etc.) change continuously, thus affecting the state of soil and crop growth and development. Authorities have been using drones to monitor changes in farm fields, but this method has drawbacks: limited coverage and relatively high equipment installation and maintenance costs. So, the need for a more cost-effective, efficient, and scalable way of earth observation arose.
At the same time, the company aimed to familiarize local farmers with digital technologies and help crop growers use them for their benefit — to adapt field activities based on constantly changing environmental conditions.
EOSDA Crop Monitoring
Fields analytics tool with access to high-resolution satellite images for remote problem areas identification!
Solution: Satellite Monitoring For Farm Productivity Assessment And Crop Management Recommendations
Agroxchange Technology transitioned to satellite monitoring for assessing changes in cultivated land use, notably validating farms in terms of productivity to support loan decisions within the Anchor Borrowers' Program.
The partner adopted the EOSDA Crop Monitoring platform by becoming EOSDA's exclusive white label partner in Nigeria. Agroxchange Technology chose the Advanced option that includes the solution's customized web version and a mobile scouting app. To meet the partner's requirement for scalability, the EOSDA team deployed the solution in a cloud environment. That way, it was possible to cut implementation costs and eliminate the need to add server hardware to meet increased workload, besides introducing the white label platform in the shortest possible time.
The customer regularly used NDVI and NDRE vegetation indices to monitor crop development dynamics at the middle and the end of the growing season and NDWI to detect soil moisture levels.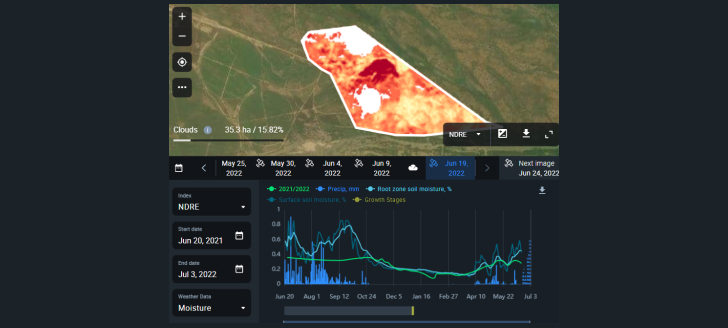 Field leaderboard, the Scouting app, zoning, and weather forecast also gave insight into the Agroxchange Technology advisory process for pre-farming to harvesting and determining farmer eligibility for credit approval and disbursement.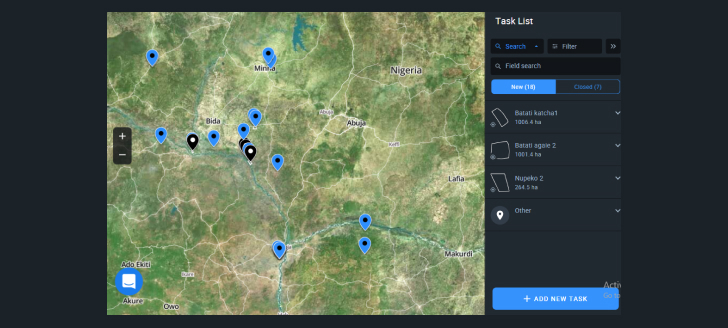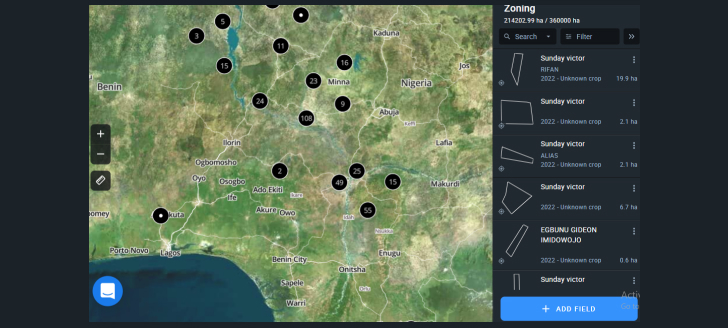 The EOSDA Crop Monitoring partner ensured end users who usually have limited access to agronomic data and weather analytics due to infrastructure constraints like lack of electricity or poor internet connectivity could easily access the knowledge from the tool. Farmers started getting SMS in their local languages with recommendations on improving crop quality and yield based on up-to-date information on fields and weather.
Agroxchange Technology operates a cost-efficient service delivery for our clients. We understand that the key task of our clients is to produce food. And we, as vendors, help them optimize farming practices by providing localized technical advisory. This guidance allows farmers to increase yield and reduce the food production cost as no additional overhead expenses on remote sensing training or hardware are needed.
Outcome: Validation Of Decisions Within The Farmer Loan Program and Increased Competitiveness Among Agritech Companies
By launching the white labeled EOSDA Crop Monitoring platform, Agroxchange Technology introduced satellite monitoring for assessing the productivity of farmlands to support decision-making in the Anchor Borrowers' Program by the Central Bank of Nigeria (CBN).
The client now has access to crop health information and weather forecasts to properly analyze a farm and its operations and decide on a loan. Additionally, the customer was able to forecast irrigation practices for farms during a dry season by using the EOSDA Crop Monitoring platform and other GIS tools.
As of today, 4.8 million smallholder farmers received loans.
The partner also has become more competitive and increased its market share in the agritech sector in Nigeria. The area of mapped lands is one of the metrics illustrating growth: 100,000 hectares were monitored before adopting EOSDA technologies, while after the platform implementation, the area increased to 450,000 hectares.
The company has strengthened strategic relationships with service providers from such verticals as fintech, financial services, and intermediates. By combining EOSDA solutions with Agroxchange Technology's smart farming advisory and technical center's capabilities and expertise, Agroxchange was able to achieve consolidation with partners in the third quarter of 2021.
Positive changes were seen in customer relations as well. From the first quarter of 2021 to date, Agroxchange Technology expanded its customer base by onboarding new farmers and increasing the loyalty of existing users.
We saved 70% of our time and money using the platform and achieved over 76% in yield for specific crops via monitoring compliance with Good Agricultural Practices, such as sowing, fertilizing, soil and water management. The partnership has also created the premises for our long-term expansion plan across Sub-Saharan Africa.
About the author:
Rim Elijah joined EOSDA in early 2020. She holds a double degree in business administration and political science from Stockholm University.
Rim is VP of Sales at EOSDA. She is overseeing all aspects of business model development and implementation, maintenance of positive business & customer experience, and the growth of the company's global coverage. She is responsible for closing deals, scaling up ongoing projects, as well as the development and implementation of process control within the Sales department. Rim also regularly takes part in negotiations with important clients.
So far, Rim has managed to successfully establish a number of strategic partnerships with an emphasis on the delivery of sustainable solutions in various regions of Africa and Asia.
In addition to her main responsibilities, Rim is presently involved in the upcoming launch of the first agri-based satellite constellation by EOSDA, scheduled for mid-2022. She manages relationships with the EOS SAT investors.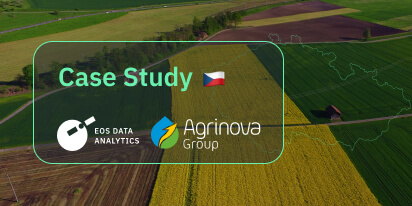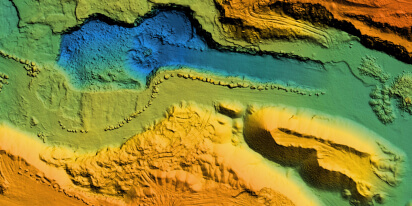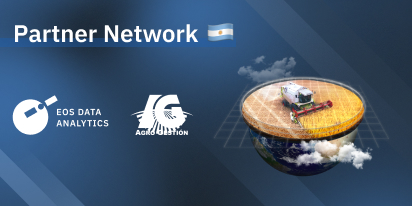 EOS Data Analytics Partners With Agro Gestión
With a focus on innovation and sustainability, EOS Data Analytics and Agro Gestión's partnership will bring cutting-edge satellite technology to more agribusinesses in Argentina, Paraguay, and Spain.