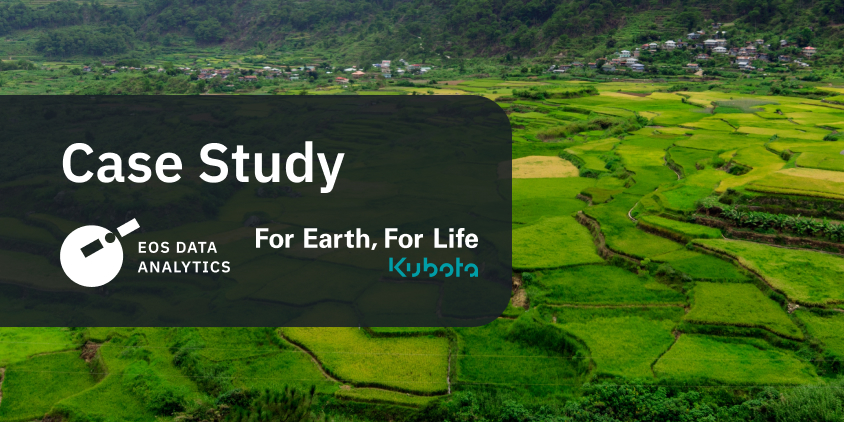 Kubota Uses EOSDA Crop Monitoring API In K-iField App
The projected growth of the population, followed by inevitable climate change, is raising global food security concerns. Thankfully, advanced technologies like remote sensing analytics become increasingly available, both in terms of user experience and cost.
Kubota Group is one of the enterprises that embrace pioneering solutions by developing consumer-facing applications for agricultural use. They reached out to EOS Data Analytics to employ the EOSDA Crop Monitoring API for introducing their own agri-focused mobile app K-iField to the farmers of Thailand. Now that any agrarian can practice precision agritech regardless of prior tech experience, a collective effort in the adoption of such tools makes the possibility of a sustainable future more viable than ever.
Overview: About KRDA (Kubota Research And Development Asia)
K-iField application is a step towards Kubota's visionary concept of a Smart Village that utilizes cutting-edge technological solutions to build sustainable rural infrastructures.
In order to contribute to the mechanization of agricultural practice throughout the ASEAN region (Southeast Asia), SIAM KUBOTA Corporation Kubota Research & Development Asia was established in 2016. It is devoting the utmost effort to reinforcing its product line by accelerating the drive to develop agricultural machinery customized for the local crops, field conditions, and work processes.
For neighboring countries of Thailand and other members of ASEAN including Vietnam, Indonesia, and the Philippines, Kubota holds the mission to accomplish the integrated system of agricultural mechanization from soil making, planting, and maintenance to harvesting their main crops such as rice, sugarcane, cassava, maize, etc.
SIAM KUBOTA Corporation Kubota Research & Development Asia is engaged in developing implements and attachments for agricultural machinery and excavators along with developing harvesting machines for the main crops. Through such R&D, Kubota intends to gain its presence in the agricultural machinery business in the region.
K-iField application created by Smart Farm Team, Innovation Unit HQ division has a lot of features for straightforward and sustainable farm management, focusing on target customers under the age of 45 that are embracing innovation, primarily with regard to farming rice and sugarcane. The application allows users to download more than 1,500 users based on descriptions at exhibitions and other events, not on large advertisements.
Currently, the application development team has collected user requirements and presented the features in phase 2 that are useful to the needs of farmers. Accurate yield forecasts and plant growth stages according to the appropriate periods that adjust according to each cultivation area are among Crop Calendar Dynamics features, making the latter a top competitive advantage of K-iField app.
One of the practical ways to reach the strategic goals for Kubota was to start embracing remote sensing analytics – a technology that allows farmers to remotely assess crop health and plan their seasonal activities accordingly. The EOSDA Crop Monitoring API powered by EOS Data Analytics became a solution that matched their strategic goals and functional requirements as well.
Challenges: Innovation, Reliable Data, Development Pipeline
Kubota specializes in strategic environmental innovation by uniting trusted providers of highly specific tech solutions. This time, they were looking for a source of satellite imagery and analytics data. The main requirement was to obtain data with the highest level of accuracy so that their mobile application can deliver consistent, timely, and precise insights to farmers in Thailand. To optimize resources for API maintenance, Kubota was also looking for a data provider that would ensure a customer support service upon request of their development team.
All of these requirements were met by EOSDA Crop Monitoring API. In terms of input data, EOS Data Analytics collects and processes satellite imagery from 16+ sources. On top of that, the company adds advanced analytics based on proprietary machine learning algorithms that are delivered in the form of easy-to-use features. Developers can choose whichever feature they want to plug straight into their interface without having to extensively code for every single detail.
Another challenge is that with EOSDA-powered API Kubota needed agri-focused solutions which would be beneficial for their development pipeline. For example, instead of importing a regular weather API and then having to code the agri-specific components (like graphs of weather impact on a predefined field) on top of that, Kubota could implement an out-of-the-box weather solution for crops from EOSDA Crop Monitoring API.
Beyond weather forecasts, Kubota needed a range of other precision agritech data analytics like yield prediction, estimated fertilization periods, etc, that they wanted to include in their app. All of these resources were available from a single solution catered by EOS Data Analytics, so Kubota didn't have to train their own ML models and therefore, could avoid technical compatibility risks, as well as additional rounds of testing and code refactoring.
Companies that choose an ESG development strategy are pressured to innovate nowadays. R&D consumes a sizeable budget and time while taking your inventions to market might take additional years of developing products for end users before you even see any revenue. Exploring API opportunities allows you to skip reinventing the wheel and take advantage of solutions that have already proved their efficiency and are much easier to implement.
Solution: API Resources, Branded Interface, Accurate Data
Kubota developed a mobile app called K-iField to help farmers manage their agricultural activities, thereby facilitating precision agritech adoption in Thailand. By using EOSDA Crop Monitoring API, Kubota could significantly reduce their time-to-market period, as well as software development costs, because they didn't have to code the whole functionality from scratch.
By implementing EOSDA Crop Monitoring API, Kubota gained access to satellite imagery data, enhanced by analytics such as vegetation indices, weather forecasts, historical data, productivity maps, and much more.
K-iField app offers the following features:
Analysis of plant health in the field
Analysis of the plant density in the agriculture area that affects plant growth
Follow up on crop problems in the field to plan for farming
Calendar of farm activities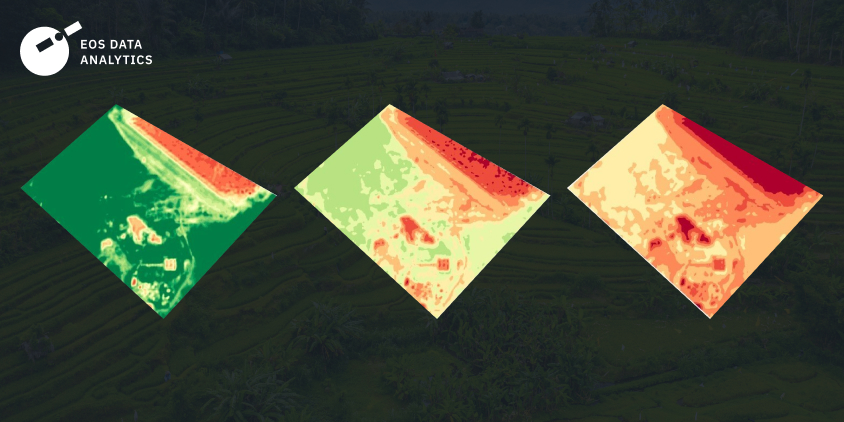 K-iField application helps both beginner and professional farmers to have precision agritech tools at their fingertips. It is suitable for a variety of audiences. Agricultural producers can improve their yields and achieve sustainable profits. Meanwhile, food industry enterprises receive tools for creating production standards to maintain a stable quantity of raw materials and increase the value of their end products.
K-iField helps record the farm information easily by registering the cultivation plots and specifying the location of every plot on a digital map. Users can measure the size of each plot to plan investment and land utilization, record important activity data to use as a work plan, and collect technical data for each plot. Along with that, they can make use of historical statistics to improve the farm in the next season.
Planting calendars for each plot help plan activities in advance throughout the season in accordance with plant types, plant ages, and weather conditions, along with recommended activities from KAS and an activity alert system.
Weather data by the plot is powered by an EOSDA Crop Monitoring API for planning precision agriculture activities. It includes data on rainfall, wind speed and direction, and air temperature.
Vegetation indices allow farmers to assess preliminary plant health from satellite images, reducing survey time in the plot.
Features for recording income and expenses are also available in the K-iField app. Costs can be tracked and controlled in order to achieve the desired results. Farmers can also post, share their achievements, and find friends within the app.
Crop prices. Important crop price information is also available in the app for decision-making and event planning.
Outcomes: Features Implementation, Mobile App Release
Kunsiya Thammachotika admits that with the API solution on board Kubota obtained the whole spectrum of functionality they needed to achieve their main business goal, which was using technology to precisely diagnose and resolve crop problems will lessen the workload of farmers.
On top of that, they are satisfied with the quality of the data:
90% accuracy in remote sensing analytics is the factor that has the most influence since it enables our users to practice immediate problem-solving when the crop issue is identified, hence avoiding time-consuming and costly charges.
The API solution allows requests for multiple data points from a single source, that's why Kubota didn't have to implement separate API solutions for weather forecasting, crop monitoring, and field maintenance scheduling. K-iField is already available at major mobile app stores and shows stable growth in downloads and average daily users. Kubota firmly believes that by introducing this highly functional, yet easy-to-use app for farmers in Thailand, they established a positive dynamic in the local movement towards sustainable development and precision agritech that is available for everyone, from small farms to large producers.
In the long-term perspective, Kubota Group envisions building a new food value chain by introducing a data-linking platform that will provide a more efficient and flexible relationship between stakeholders. This solution will unite every part of the value chain from crop production and food distribution, to consumption, supplying an automatic management system that uses AI. The pipeline activities will be possible to adjust based on data-driven decisions that will depend on demand trends, promoting a shift to "market-in" agriculture where production and sales are conducted in response to demand. At the same time, it would deliver safe, secure crops with a high level of freshness to consumers, thereby helping to reduce food losses.
About the author:
Rim Elijah joined EOSDA in early 2020. She holds a double degree in business administration and political science from Stockholm University.
Rim is VP of Sales at EOSDA. She is overseeing all aspects of business model development and implementation, maintenance of positive business & customer experience, and the growth of the company's global coverage. She is responsible for closing deals, scaling up ongoing projects, as well as the development and implementation of process control within the Sales department. Rim also regularly takes part in negotiations with important clients.
So far, Rim has managed to successfully establish a number of strategic partnerships with an emphasis on the delivery of sustainable solutions in various regions of Africa and Asia.
In addition to her main responsibilities, Rim is presently involved in the upcoming launch of the first agri-based satellite constellation by EOSDA, scheduled for mid-2022. She manages relationships with the EOS SAT investors.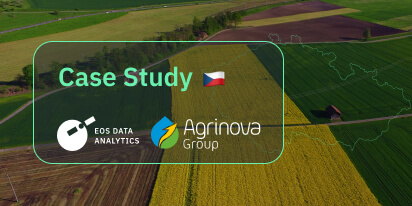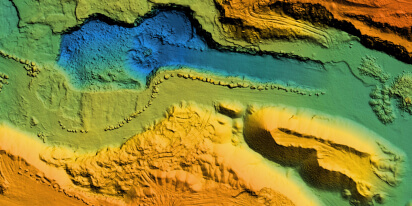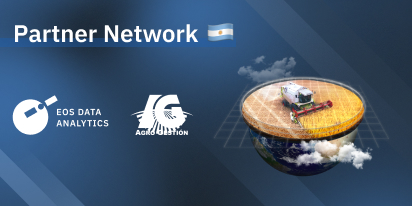 EOS Data Analytics Partners With Agro Gestión
With a focus on innovation and sustainability, EOS Data Analytics and Agro Gestión's partnership will bring cutting-edge satellite technology to more agribusinesses in Argentina, Paraguay, and Spain.