Satellite Crop Monitoring For Farm Consultants
EOS Data Analytics is one of the top global providers of geospatial analytics in agriculture and forestry, with a number of successfully developed and deployed products and years of experience. Our tested digital precision agriculture platform for remotely managing crop production – EOSDA Crop Monitoring – is an indispensable tool for farmers, agronomists, insurers, agriculture consultants, and other market players. We also offer AI-powered custom solutions on request.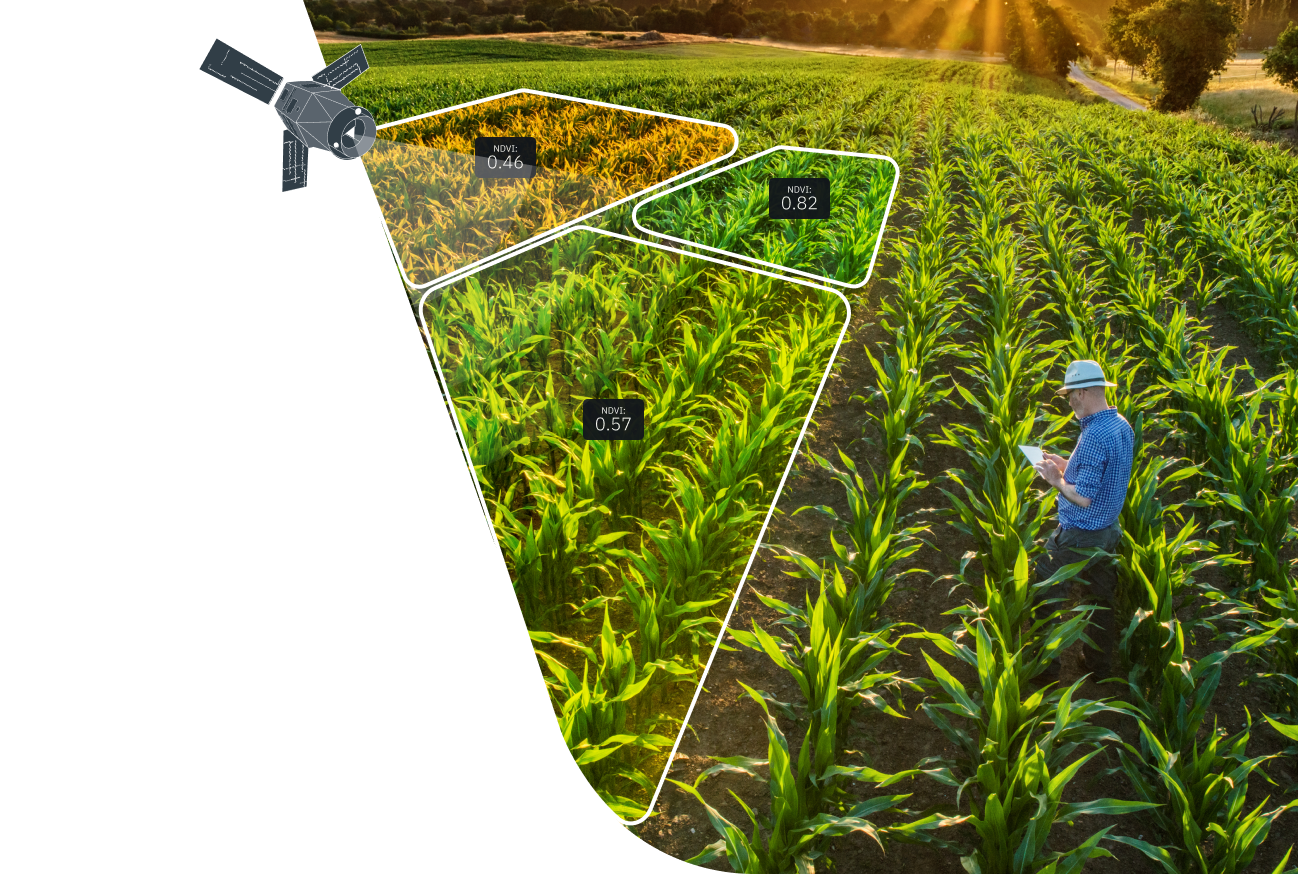 PROBLEMS & SOLUTIONS
How We Help Agriculture Consultants
We understand the most common challenges the agriculture consulting companies are dealing with. Remote sensing technologies have already transformed agriculture in every country of the world – they're cost-effective, time-efficient, and sustainable. EOSDA technologies will help you with:
Difficulty collecting and processing large volumes of data
On the EOSDA Crop Monitoring platform, agriculture consulting firms will get fast and easy access to large volumes of data from sources like satellite imagery, weather data providers, and ground stations. Having all the data in one place will save you lots of time and money.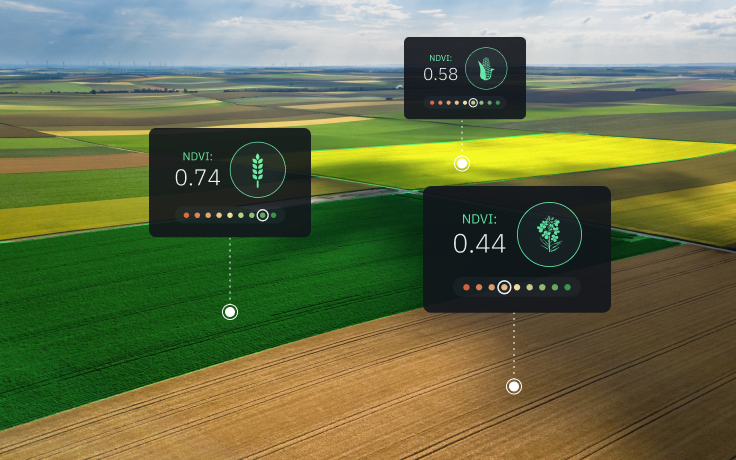 Lack of fact-checked information for decision-making
The impressive array of tools and data types available on the EOSDA Crop Monitoring platform - vegetation indices, vegetation & productivity maps, historical data, 14-day weather forecast, and many more - will allow agriculture strategy consulting players to easily make fact-checked financial, and organizational recommendations on the farm activities for the maximum profit.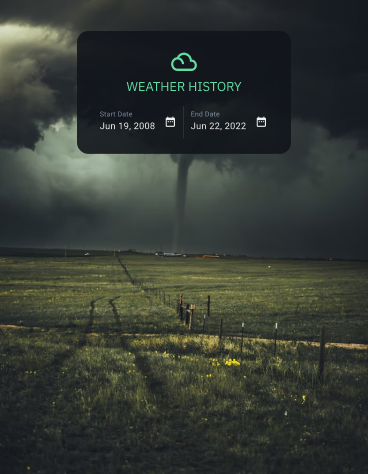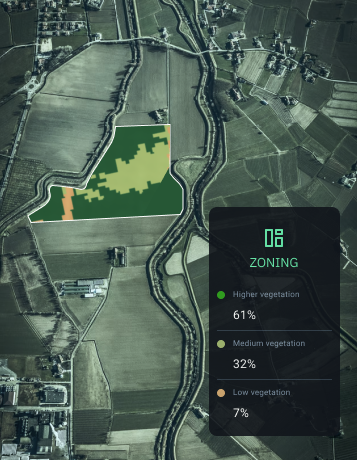 Inefficient scouting: lack of precision builds up to blind spots and time loss.
Thanks to satellite monitoring and remote sensing tech, farm consultants can remotely assess the state of crops in large numbers of fields in minutes and send the scouts to pre-analyzed geo-tagged locations.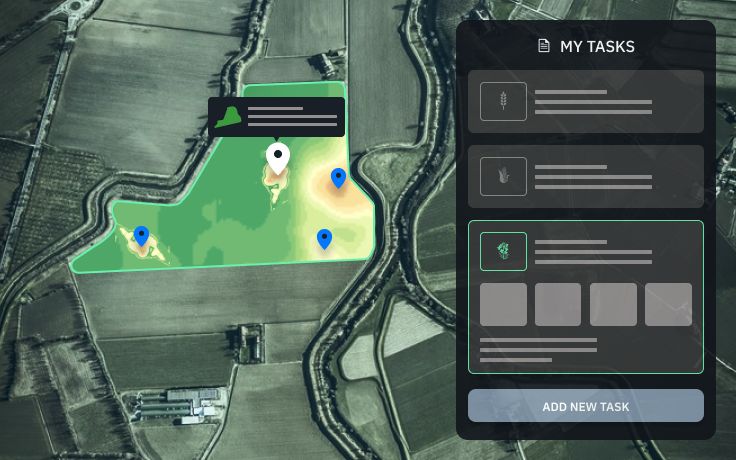 Being on the same level as your competitors does not take you far
With EOSDA Crop Monitoring, agricultural advisors decidedly increase their competitive advantage thanks to 24/7 access to current and historical data, notifications on NDVI drop signalizing crop stress, and other crucial information at your fingertips.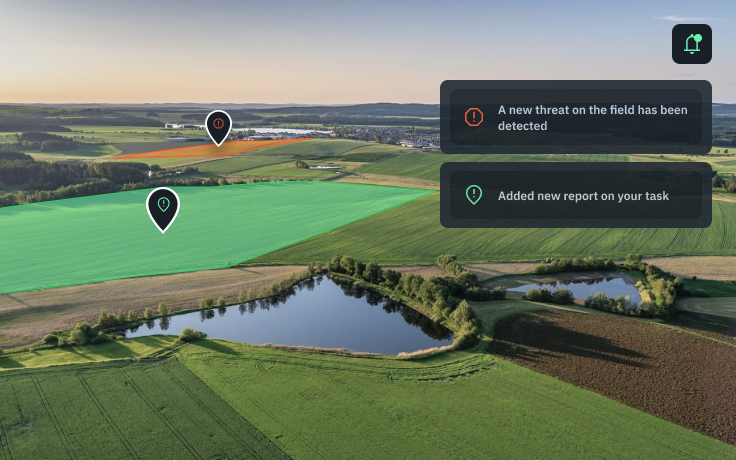 Slow business growth and difficulty with reaching new markets
The capabilities of EOSDA Crop Monitoring provide every opportunity for the agriculture consulting businesses to rapidly expand covering a wider range of croplands, growing client base exponentially, and winning over new markets.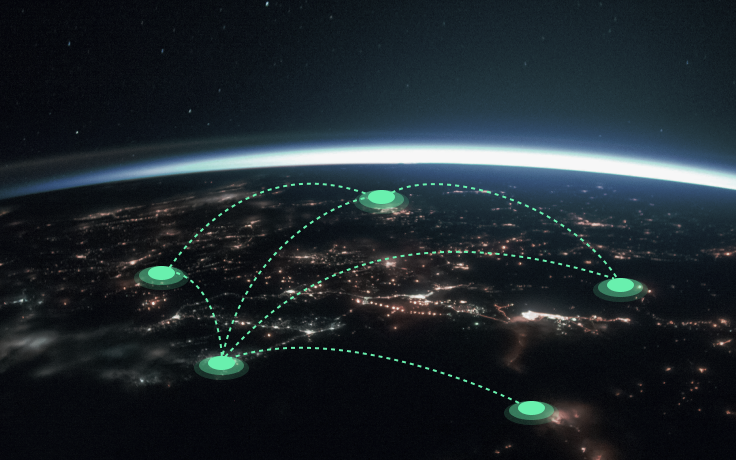 Lack of one unified platform to monitor customers occupied in different areas of the agro industry.
EOSDA White Label Solution is a one-stop platform that can unite all of your clients regardless of their area of work within the agricultural industry.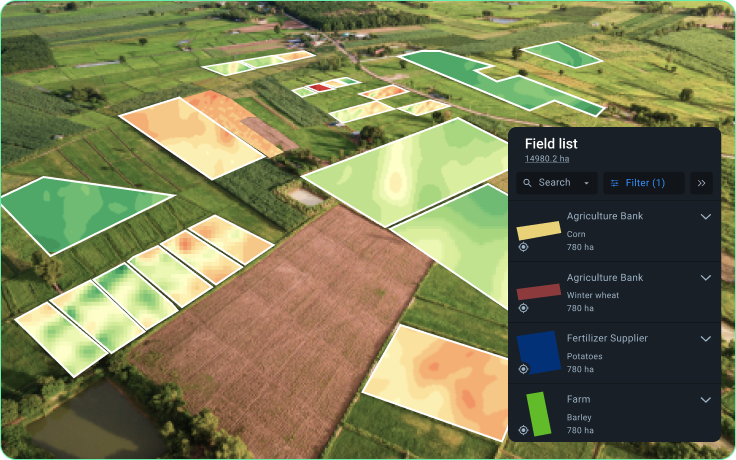 KEY FUNCTIONALITY
Features Of EOSDA Crop Monitoring For Agricultural Consultants
Our platform is equipped with a broad choice of tools each of which has been tested and perfected to solve a specific agricultural problem. The end goal of the platform and it's features for farm consultants is to eliminate guesswork, reduce expenses, enhance time and resource allocation, and endorse sustainable agriculture practices.
Advanced Vegetation Indices
An impressive array of vegetation indices beyond NDVI to remotely measure multiple different aspects of vegetation development.
Use the right index at the right time and for the right purpose for maximum effect.
Build cost-effective variable fertilizer application maps based on vegetation index values.
Spot the issues with the crops even at the earliest and latest stages of development and take the appropriate measures in time, thus preventing unnecessary yield losses.
Develop the most efficient strategies by accessing custom vegetation indices tailored to specific region, crop type, and more.
Weather Analytics
Advanced weather analytics based on historical data, current measurements, and accurate forecasts.
Enhance planting strategies by taking into account potential adverse weather conditions (cold stress, heat stress, water stress, drought, etc.).
Reduce financial risks related to unexpected changes in temperature and rainfall patterns based on both historical data and hyper-local 14-day forecast.
Improve field activity planning based on 5-year average temperature and precipitation data.
Predict yields based on the historical weather data for a particular field/area.
Prevent yield loss by getting notified on critical weather conditions.
Reveal the hidden trends of the reccuring weather patterns based on data amassed since 1979.
Mobile Scouting App
Mobile assistant for scouts in the fields with multiple benefits.
Higher transparency between agricultural consultants and their customers via shared access to the accounts.
Allocate scouts more efficiently by managing them online in one place.
Easily assign tasks in just a few taps.
Track completion of all scout tasks on one screen.
Scouts can easily use the app in offline mode, take snapshots, add data on crop threats, and more.
Get notified of any scout activities (completion, reports, assigning or reassigning tasks).
Eliminate paperwork with the detailed online scout reports generated directly in the application.
Prevent crop failure and yield losses by sending scouts to the exact locations without delays.
Team Management
Shared account for accessing all data in one place and delegating tasks.
Bring the management of your clients to a new level with quick access to data about every client's field.
Control the amount of data you are sharing with customers and/or colleagues by adjusting permission settings in the account.
Instant access to all the necessary information for agronomists, agricultural consultants, scouts, and other team players.
Build trusted relationships with customers thanks to shared access to objective data.
Showcase the effectiveness of your recommendations to your customers.
Zoning
Breaking a field into zones for a more in-depth analysis to eliminate guesswork.
Provide recommendations on maintaining day-to-day crop health based on accurate in-zone field analytics.
Build a competitive strategy to improve crop performance based on the data retrieved for each individual zone of a field.
Advise your clients on more time-efficient and cost-effective methods of fertilizer application.
Increase your competitive edge by demonstrating total savings on fertilizer application using our savings calculator.
Vegetation and Productivity maps can be downloaded to the agricultural machinery.
Enhance agricultural inputs strategies with productivity maps based on years of data collected and available on the platform.
Save money while conducting land valuations by taking soil samples in pre-analyzed areas of the field.
Split View
Tool for comparing different types of data or similar data for different dates on one screen.
Demonstrate the effectiveness of your recommendations (before and after).
Discover true causes of low crop performance by comparing multiple layers of data, such as vegetation maps, slope maps, elevation maps, and more.
Analyze the state of crops using several vegetation indices in one screen.
SPECIAL OFFER
ON-DEMAND SOLUTIONS
OUR PARTNERS
Global enterprise partners
ENVIRONMENTAL PROJECTS
Open Up The World Of Satellite Technologies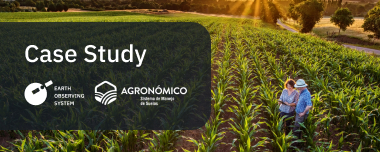 Satellite Monitoring: Trump Card Of Agri Consultants
Utilizing satellite analytics in diagnostics and addressing crop development issues help agri consultants achieve farm productivity and profitability growth for their clients, optimizing the use of human resources and agricultural inputs.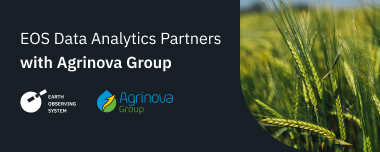 EOS Data Analytics Partners With Agrinova Group
EOS Data Analytics, a global provider of satellite imagery analytics, partners with Agrinova Group, an agricultural consultancy company, to boost satellite monitoring technologies in the Central and Eastern European countries.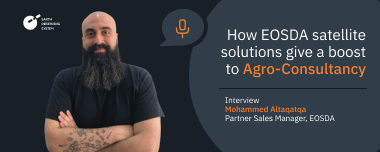 How EOSDA Satellite Solutions Serve Agro-Consultancy
Mohammed Altaqatqa, Partner Sales Manager at EOSDA, shares the company's plans for partnerships with agro-consultancies in the US, Canada, Australia, and New Zealand to help them achieve higher yields for their clients by using satellite technology.