EOS Data Analytics Partners With Agrinova Group
EOS Data Analytics (EOSDA), a global provider of AI-powered satellite imagery analytics, has signed a partnership agreement with Agrinova Group that delivers agricultural consulting and business services in the Central and Eastern European countries, namely the Czech Republic, Slovakia, Poland, and Ukraine.
The companies aim at promoting the value of satellite-based technologies for precision farming and hope for mutually beneficial collaboration.
The global smart agriculture market was valued at $15.3 billion in 2020 and is expected to reach $22.5 billion by 2026. The increasing demand for agricultural production induced by continuous world population growth leads to a higher cost of fertilizers, pesticides, herbicides, and other agricultural resources. Also, the greenhouse effect — and global warming as its consequence — provokes severe droughts and soil degradation. All of the above mentioned makes precision agriculture critically important for the sustainable development of humanity. Based on measurable data, smart agriculture seeks to streamline crop management processes such as sowing, fertilization, weed management and pest control, irrigation, and harvesting.
The implementation of data-driven tools in farming activities helps make informed business decisions and meet the requirements of environmentally friendly crop production. Agrinova Group's objective is to improve crop growing by offering clients effective, innovative technologies within the company's business services.
The partnership with EOS Data Analytics enables Agrinova Group to include satellite-powered imagery analytics into their offerings for farms in the Czech Republic, Slovakia, Poland, and Ukraine.
EOSDA platform has been selected for its innovative technologies and professional team that perfectly fit Agrinova Group's ultimate goal to cover 100.000 ha of farms with EOSDA Crop Monitoring services by 2025.
EOS Data Analytics is delighted to enter a partnership with Agrinova Group. We believe that introducing growers to smart agriculture technologies will help optimize crop production and increase farm productivity and profitability. Satellite analytics provides farmers with valuable insights for better decisions regarding, for example, the use of fertilizers, irrigation, or crop rotation. We're more than happy that now more farmers in Central and Eastern Europe will have a chance to take advantage of smart farming technologies.
Agrinova Group will integrate the EOSDA Crop Monitoring platform capabilities, including VRA (Variable Rate Application) maps for differential seed planting and fertilizing, into the company's service offerings. Also, Agrinova Group expects EOSDA to further enhance field monitoring functionality and develop two-way data transfer to agricultural vehicles.
Agrinova Group has been screening and evaluating various solutions to improve the efficiency of consulting services in the CEE region for better crop production. The EOSDA products' quality and professionalism combined with Agrinova Group's vision have resulted in a business partnership between the global satellite imagery analytics provider and the agricultural consultancy company.
Moreover, Agrinova Group has a broad business network across Europe and may introduce partners to EOSDA products.
Agrinova Group and EOS Data Analytics believe that implementing satellite monitoring tools in agricultural activities will substantially increase crop yield, improve its quality, and take farming to a principally new level.
About Agrinova Group
Agrinova Consulting, s.r.o., the first company of Agrinova Group, was established in 2014 by the Group founder Luděk Novák. Agrinova Consulting provides consulting and business services in agriculture in the Central and Eastern European countries.
Recently, Agrinova Trading, s.r.o., the youngest company in the Group, has been established. Agrinova Group's network companies operate in the Slovak Republic, Poland, and Ukraine.
About the author:
Rim Elijah joined EOSDA in early 2020. She holds a double degree in business administration and political science from Stockholm University.
Rim is VP of Sales at EOSDA. She is overseeing all aspects of business model development and implementation, maintenance of positive business & customer experience, and the growth of the company's global coverage. She is responsible for closing deals, scaling up ongoing projects, as well as the development and implementation of process control within the Sales department. Rim also regularly takes part in negotiations with important clients.
So far, Rim has managed to successfully establish a number of strategic partnerships with an emphasis on the delivery of sustainable solutions in various regions of Africa and Asia.
In addition to her main responsibilities, Rim is presently involved in the upcoming launch of the first agri-based satellite constellation by EOSDA, scheduled for mid-2022. She manages relationships with the EOS SAT investors.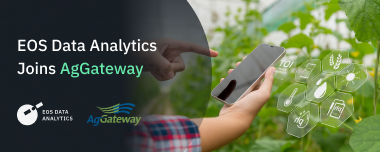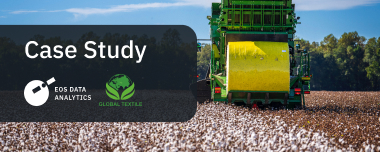 Stimulating Cotton Growth In Uzbekistan
Global Textile has been successfully utilizing EOSDA Crop Monitoring for over two years to obtain information about the vegetative development and help take care of their farmers' cotton fields.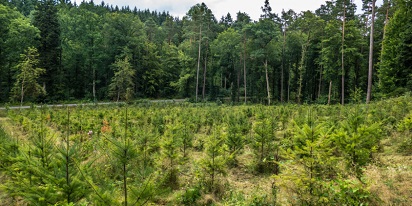 Reforestation: Pros, Cons And Effects On Planet
Reforestation has far-reaching benefits, from enhancing ecosystem services to fostering a more sustainable future. But we can only reap these rewards if we start well-planned reforestation right away.