EOS Data Analytics Partners With StarkSat
EOS Data Analytics, a recognized industry leader in cutting-edge satellite imagery analytics, has announced its cooperation with StarkSat, a premier provider of precision farming solutions in LATAM, to distribute satellite monitoring technology in South America. Thanks to this partnership, farmers in Brazil, Argentina, and Paraguay will have better access to state-of-the-art precision agricultural innovations, with the goal of improving farming productivity in the region.
The EOS Data Analytics monitoring platform provides the following services to foster precision agriculture:
crop health monitoring;
soil moisture assessment;
precise weather forecasting;
change detection;
vegetation & productivity assessment
and other analytical data collection operations for better field management.
"The implementation of EOS Data Analytics solutions by StarkSat will help farmers in the LATAM region make better use of technological innovations such as precision agriculture and sustainable farming. These technologies improve food security and profitability for farmers, allowing them to expand, raise revenues, yet minimize their developmental impact on the surrounding ecosystem. With StarkSat's greater coverage, farmers can now access an expansive suite of tools that allow for remote field monitoring and top-notch harvest forecasting," said Max Polyakov, founder of EOS Data Analytics.
"The strategic partnership with EOS Data Analytics comes in a moment where StarkSat is launching a revolutionary platform called the War Agriculture Room for Unified Monitoring or WARUM. With part of the analytics provided by EOS plus StarkSat in-house tropical and sub-tropical ultra-precise (more than 90% accuracy) weather forecasting, farmers can get insights of the sustainability and zoning of their fields, as well as the content of organic carbon in their soil," said Bernardo Arnaud, founder and CEO of StarkSat.
EOSDA Crop Monitoring
Manage your fields with high-resolution satellite images for the most accurate and timely changes detection!
Satellite monitoring allows farmers to oversee their fields while cutting down on travel time and in-person visits. The field-by-field breakdown offered by EOS Data Analytics also lets farmers make precise and detailed adjustments to individual field parcels, raising agricultural efficiency and improving harvest yields. Both smallholder and large-scale agricultural operations can take advantage of advanced analytics to improve their risk mitigation, optimize resource and water allocation, and reduce waste.
"The variable rate application of NPK and that of biologicals – defined by the productivity increase algorithm (PIA) – can be obtained in a shapefile that is uploaded into the farmer's machinery, making the application and the precision of such activity much higher – and this service is included for free in the annual subscription.", declared Yuri Maggi, founder and COO of StarkSat.
Implemented globally, satellite EOSDA Crop Monitoring as a part of precision agriculture may present a way to decarbonize current resource-intensive agricultural trends and pave the way for a more sustainable future.
About StarkSat: StarkSat specializes in satellite image acquisition and processing technologies. The company's main service – Agro-Eye Basic provides NDVI vegetation assessment, soil temperature and moisture content, and historical data analytics. For more information, visit starksat.com.
About the author:
Rim Elijah joined EOSDA in early 2020. She holds a double degree in business administration and political science from Stockholm University.
Rim is VP of Sales at EOSDA. She is overseeing all aspects of business model development and implementation, maintenance of positive business & customer experience, and the growth of the company's global coverage. She is responsible for closing deals, scaling up ongoing projects, as well as the development and implementation of process control within the Sales department. Rim also regularly takes part in negotiations with important clients.
So far, Rim has managed to successfully establish a number of strategic partnerships with an emphasis on the delivery of sustainable solutions in various regions of Africa and Asia.
In addition to her main responsibilities, Rim is presently involved in the upcoming launch of the first agri-based satellite constellation by EOSDA, scheduled for mid-2022. She manages relationships with the EOS SAT investors.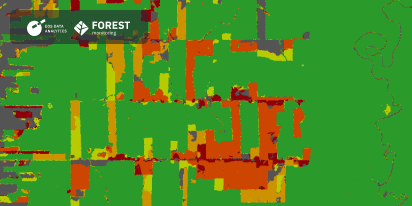 EOSDA Custom Neural Net: Deforestation Detection
The Science team at EOS Data Analytics has developed a custom algorithm for intelligent detection and tracking of deforestation in tropical regions using LEO satellite images as a data source.