New Partners, Cases, Awards! EOSDA 2022 In Recap
What a year 2022 was! Despite the pandemic after-effects on the world economic environment and extreme geopolitical tensions, the global space market grew by 8%. Moreover, with 180 rockets successfully lifted off, 2022 became a record year for space launches!
EOS Data Analytics (EOSDA), a global provider of AI-powered satellite imagery analytics, had also been racing to new heights. Meeting the increasing demand for technological solutions helping to address the consequences of the food supply chain crisis, climate change, and natural disasters in 2022, the company started monitoring more fields, prepared an agri-focused satellite for launch, and gained new users and partners.
Let's take a closer look at 2022 for EOSDA.
EOSDA In 2022: Achievements In Numbers
2022 was one of the most successful years for EOSDA across all its platforms.
The amount of EOSDA users worldwide has grown by 222,532 accounts and reached 976,733 people. The customer retention rate reached ~96.5% in 2022.
In total, the company now processes 64 million satellite images (including historical images!) on a monthly basis.
Our leading solution, the online satellite-based precision agriculture platform for field monitoring EOSDA Crop Monitoring, gained 60,195 users in 2022 and now serves the requests of 173,825 clients.
In 2022, the EOSDA Crop Monitoring users started observing 28 million hectares of new areas of interest through this platform, and the total area of fields monitored now is almost 66 million hectares. Overall, by now more than 6 billion hectares of land have been processed with EOSDA solutions. Astonishing numbers!
EOSDA LandViewer, a satellite observation imagery tool, has also shown great dynamics with 183,195 new users in 2022.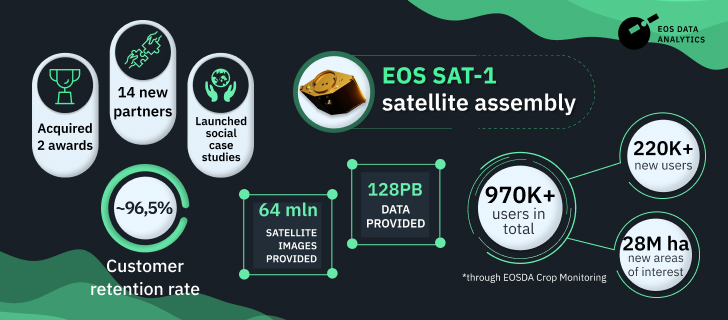 As a result, in 2022 EOSDA Crop Monitoring was recognized as "Yield Forecasting Solution of the Year" in the AgTech Breakthrough Awards program, and EOS Data Analytics received the GEO Sustainable Development Goal Award from EO4SDG.
In 2022, nature and politics caused a lot of distress to numerous people on our planet. Humanity suffered from floods, droughts, wildfires, typhoons, tornadoes, hurricanes, heatwaves, earthquakes, and, on top of that, the biggest war since World War II that caused a food supply chain crisis and soaring fertilizer costs. Yet for us, it has become another reason to keep working even harder. Since we want to make space tech a driver of sustainability on Earth, we need to continuously ramp up our efforts and build solutions that help people be ready for any kind of crises and natural disasters. 2022 was no different in this regard for us.
Join the EOSDA Partner Program
EOS SAT-1: Ready For Launch!
The most exciting thing that happened to EOS Data Analytics in 2022 was the preparation of the EOS SAT-1 satellite for launch. Throughout the year the company was finalizing the assembling process, and on January 3, 2023, the spacecraft finally lifted off.
This whole project would not have been possible to bring to life without the help of vertical integration via the Noosphere group of Dr. Max Polyakov, especially Dragonfly Aerospace, which helped design and assemble the satellite.
Currently, the satellite is going through a 3-month testing period and is planned to be ready for commercial use in April 2023. Monitoring one million square kilometers of land on a daily basis with its 11 agri-related bands, it will help EOSDA customers unlock new possibilities to implement precision agriculture practices and tackle modern farming challenges more effectively.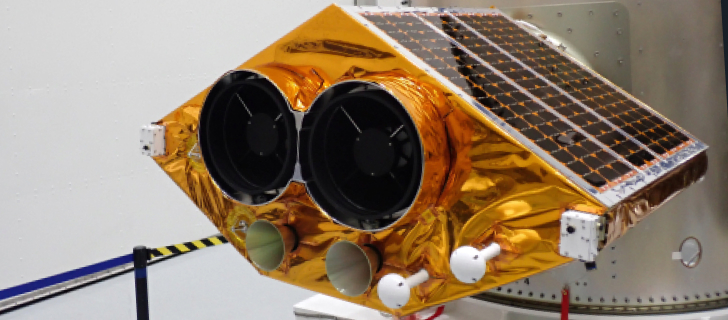 EOS SAT-1 is only the first out of seven satellites that will make the
EOS SAT constellation
. Created to assist agribusinesses in monitoring crop growth and detecting various issues threatening crops, it will be fully operational by 2025 and will allow covering up to 12 million square kilometers of farmlands and forests across the globe on a daily basis.
The EOS SAT constellation project has come a long way so far, but even bigger challenges lay ahead of us. EOS Data Analytics becomes the first company in the industry to have complete control over the full cycle of data collection, analysis, and provision for agriculture businesses. For us, it means taking more responsibility in helping the world fight the food crisis, tackle climate change, and reach sustainability in farming.
EOSDA Partner Network Grows: New Industries, New Markets
EOS Data Analytics expanded its efforts on building partnerships. The company's partners all around the world help bring space technologies and modern sustainability practices to local businesses by reselling EOSDA solutions.
Within 12 months of 2022, 14 new companies joined EOS Data Analytics Partner Network. Two partners worth mentioning here are TelOne and REDtone – both come from the telecom industry which is in need of smart farming solutions that can be deployed easily and quickly. And with AgriProve joining our partnership network, EOSDA solutions now also assist with carbon sequestration in agricultural soils.
EOS Data Analytics supports its partners at every step of the way, from onboarding to marketing publications. In 2022, webinars appeared to be the most effective way to show the possibilities of the company's solutions. In total, 9 webinars were conducted covering the topics of neural networks, sustainability practices, precision agriculture, vegetation indices, and field assessment methods. The speakers from EOSDA and other companies and organizations including Greenpeace Global Mapping Hub were targeting the agriculture businesses, insurance companies, investors, and government and environmental entities of North America, Mexico, the UK, Kazakhstan, and other countries.
Promoting satellite technologies around the world through a partnership network proves to be extremely effective. Thanks to our partners, EOSDA solutions are utilized literally all around the globe. However, the world is not even close to reaching food security, which means there's still a lot of work for all of us. Hopefully, the 2023 year will be even more fruitful in terms of making space tech a global driver of sustainability on Earth.
2023: What's Next In The Store
Despite the increasing number of the company's partners and clients and the overall popularity of the space topic in the world, many agribusinesses, nature agencies, and even governments around the world still hesitate if remote-sensing based platforms for agriculture are actually useful, effective, and easy-to-use.
That's why in 2022 EOS Data Analytics increased its focus on space tech usage for environmental challenges. Oil spills in the Amazon, the mapping project in Chad, and the sinking of Tangier Island are just a few of the stories the team has been working on lately. In 2023, there will be more, so be sure to follow the company's social networks to be notified of them.
EOS Data Analytics also expands its Academic Outreach Program. Universities and individual students, independent researchers, non-profit organizations, and scientists are now welcome to contact the company and get access to its AI-powered geospatial data analytics tools if their research and innovation projects are aimed at addressing the most pressing challenges of humanity.
And, of course, the company will be working on increasing the number of its satellites in the sky, and, ultimately, the yields all over the world!
About the author:
Rim Elijah joined EOSDA in early 2020. She holds a double degree in business administration and political science from Stockholm University.
Rim is VP of Sales at EOSDA. She is overseeing all aspects of business model development and implementation, maintenance of positive business & customer experience, and the growth of the company's global coverage. She is responsible for closing deals, scaling up ongoing projects, as well as the development and implementation of process control within the Sales department. Rim also regularly takes part in negotiations with important clients.
So far, Rim has managed to successfully establish a number of strategic partnerships with an emphasis on the delivery of sustainable solutions in various regions of Africa and Asia.
In addition to her main responsibilities, Rim is presently involved in the upcoming launch of the first agri-based satellite constellation by EOSDA, scheduled for mid-2022. She manages relationships with the EOS SAT investors.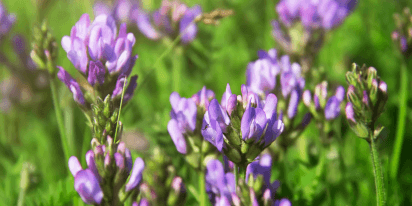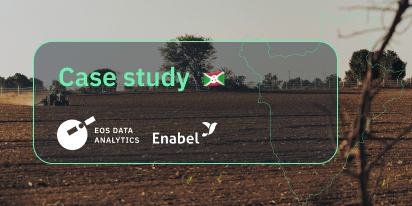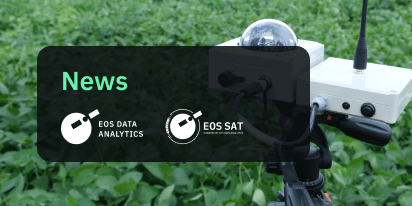 EOSDA Confirms EOS SAT-1 Satellite Data Validity
Ground measurements in Ukraine have confirmed the data validity of EOSDA's EOS SAT-1 satellite. The tests used the SunScan device and showed a strong correlation between ground and satellite data, validating the satellite's capabilities.