EOS Data Analytics Launches Academic Outreach Program
EOS Data Analytics (EOSDA), a global provider of AI-powered satellite imagery analytics, establishes its Academic Outreach Program designed to help scientists worldwide accomplish their research projects by providing an opportunity to use geospatial data analytics tools.
This initiative aims to support the academic community in its aspiration to create solutions to the most topical problems humanity faces.
The EOSDA Academic Outreach Program will benefit academic and scientific researchers, students and universities, GIS specialists, non-profit organizations, and companies focused on protecting the natural environment.
The program idea was inspired by regular requests EOS Data Analytics receives as to the usage of the company's products — satellite imagery and analytics — for scientific purposes and research. Thus, the company decided to develop a special program enabling all the participants to access high-quality remote sensing data.
The project aligns with the company's mission to bring space closer to humankind, leveraging the power of satellite-monitoring technologies for smart data-driven decisions in various industries. Actively supporting environmental protection initiatives, EOS Data Analytics believes that innovative space technologies will help people leave a more sustainable Earth for future generations.
We're excited to start 2022 with launching the EOS Data Analytics Academic Outreach Program and contribute in promoting the usage of satellite-driven analytics among researchers, students, non-profits, and any other individuals and organizations interested in space technologies. Since 2015, here at EOSDA, we've been working on tech solutions that provide accurate and reliable data for thoughtful and better-informed decisions. Thanks to a newly-launched program, our AI-powered analytics tools have become more admissible to all of those who are willing to utilize satellite technologies in their practical challenges. Waiting for you in the EOSDA Academic Outreach Program's ranks!
Who Can Apply To The Program?
The following categories of participants can apply to the program:
Students
Researchers
GIS specialists
Scientists
What Benefits Does The Program Offer?
The program enables participants to access the company's core products — EOSDA LandViewer, a satellite images processing tool, or EOSDA Crop Monitoring, an online satellite-powered platform for remote field management — and optimize academic and scientific research processes by using high-quality satellite data. Moreover, the researchers who joined the program will have a chance to promote their projects in the EOSDA online events and blog.
EOSDA's scientific team regularly participates in research and environmental protection projects uniting enthusiasts around the globe. I'm happy to admit that thanks to the EOSDA Academic Outreach Program, a greater number of scientists and GIS specialists worldwide will be introduced to innovative tech solutions powered by satellite analytics. Join our program, and let us create more value for humankind with space-driven technologies!
Program Offerings For Single Users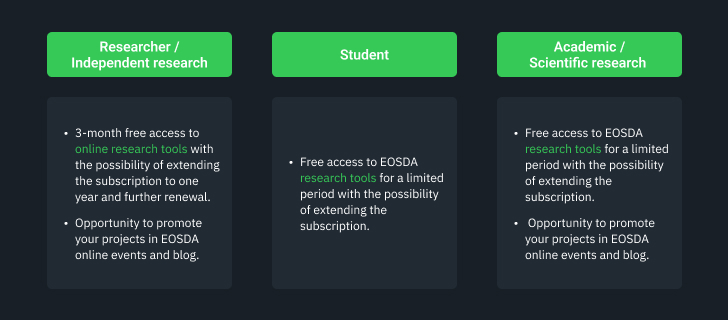 Program Offerings For A Group Of Researchers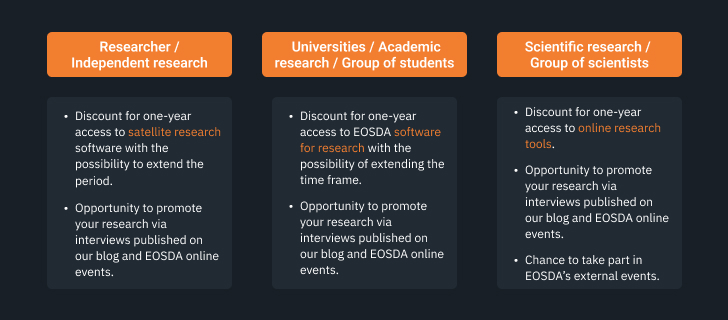 The program is available worldwide. Therefore, applicants from all over the globe are encouraged to join the program by filling out a free registration form. It will take up to 20 minutes to complete registration and 7 working days to receive feedback upon the submitted application.
About the author:
Natalia Borotkanych has been working in the space sector for more than 15 years now. Her experience includes working in business, science, education, and government projects.
Natalia has a PhD in space history, Master's Degree in Foreign Policy from the Diplomatic Academy of Ukraine, as well as Master's Degree in Public Management and Administration from National Academy for Public Administration under the President of Ukraine.
Building upon her experience of working in the State Space Agency of Ukraine, Natalia now specializes in helping the state bodies and NGOs to implement the satellite monitoring technologies for solving real-world problems and for smart decision-making.
Natalia is an active science communicator. She is a scientific editor at The Universe. Space. Tech magazine. She also teaches a "Space diplomacy" course at the National Aviation University.
Natalia's experience in project coordination and scientific expertise in the space sector are much appreciated at EOS Data Analytics.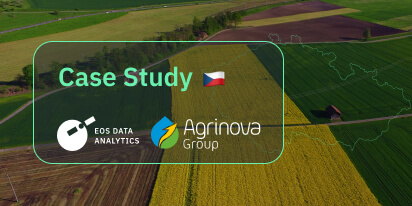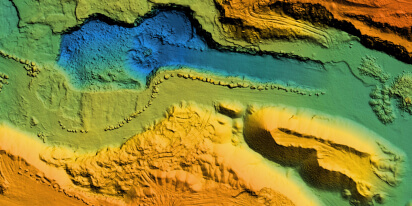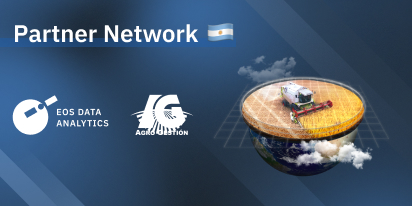 EOS Data Analytics Partners With Agro Gestión
With a focus on innovation and sustainability, EOS Data Analytics and Agro Gestión's partnership will bring cutting-edge satellite technology to more agribusinesses in Argentina, Paraguay, and Spain.