EOSDA Partners With NE Services Global
EOS Data Analytics (EOSDA), a global provider of AI-powered satellite imagery analytics, and NE Services Global Ltd., a precision farming service based in South Africa, have announced a partnership to enhance agricultural development in South Africa.
NE Services Global will use EOSDA Crop Monitoring for its agri consultancy services. At the same time, EOS Data Analytics will be able to increase awareness of its primary solution among the South African target audience and possibly establish relationships with agricultural entrepreneurs in neighboring countries.
NE Services Global provides agricultural consultancy based on insights from satellite-based remote observation of farmlands. Clients get reports supplemented with processed satellite images of fields, pinpointed issues requiring their attention, and recommended actions. The company also works with the government and the University of South Africa, promoting sustainable crop production among agricultural entrepreneurs in the region.
Through the cooperation, NE Services Global aims to solidify its position in the South-African precision farming market as a competent advisor helping small-holding farmers to maximize profits while avoiding overuse of resources (e.g., inputs, water, fuel) and unnecessary expenses.
EOS Data Analytics, for its part, will grant NE Services Global access to the EOSDA Crop Monitoring platform with a clientele management tab for providing agronomic and operational support services to farmers. The tab will enable the partner to distribute the smart farming tool among customers on the specified terms — a certain number of hectares for monitoring, cost, and expiry date.
Our immediate goal is to assist NE Services Global to transform its current agro consultancy services with our precision agriculture solution. We are ready to share our knowledge and keep the team abreast of all technological developments. As the company also engages with small-scale farmers and universities, the partnership can help us increase their awareness of our solution and its benefits. In the long term, the cooperation can allow us to gain more market share in South Africa, a competitive and established market.
South Africa is the continent's largest agricultural producer and a net food exporter. Climate conditions allow producing all major grains (including oilseeds but excluding rice), wine, deciduous and subtropical fruits, and vegetables.
Around 40,000 commercial farmers, 200,000 smallholder farmers, and 2 million subsistence farmers work in the sector. About 13% of South Africa's land (14 million hectares) is suitable for growing crops.
Before sealing the deal with EOSDA, I researched satellite imagery and analytics providers and concluded that this company was ahead of other vendors in the niche. I want to point out the user-friendliness of EOSDA Crop Monitoring and the quality of training we received: The team got answers to all of their questions. I vision our partnership as a relationship built on ethics and assistance in marketing promotion. We will do our best to ensure the platform is well represented in South Africa's precision farming industry.
Once securing its place among South African precision farming businesses, NE Service Global aims to expand its customer base in the African continent's southern region. In turn, the success in South Africa will give EOSDA and NE Services Global the impetus to establish credible relationships in other Southern African markets, such as Angola, Botswana, Mozambique, Namibia, Zambia, and Zimbabwe.
Join the EOSDA Partner Program
About NE Services Global
NE Services Global is a precision farming service that utilizes satellite imagery to detect deficiencies on farmers' fields and offer cost-effective solutions to sustain one's operations and maximize yields.
About the author:
Rim Elijah joined EOSDA in early 2020. She holds a double degree in business administration and political science from Stockholm University.
Rim is VP of Sales at EOSDA. She is overseeing all aspects of business model development and implementation, maintenance of positive business & customer experience, and the growth of the company's global coverage. She is responsible for closing deals, scaling up ongoing projects, as well as the development and implementation of process control within the Sales department. Rim also regularly takes part in negotiations with important clients.
So far, Rim has managed to successfully establish a number of strategic partnerships with an emphasis on the delivery of sustainable solutions in various regions of Africa and Asia.
In addition to her main responsibilities, Rim is presently involved in the upcoming launch of the first agri-based satellite constellation by EOSDA, scheduled for mid-2022. She manages relationships with the EOS SAT investors.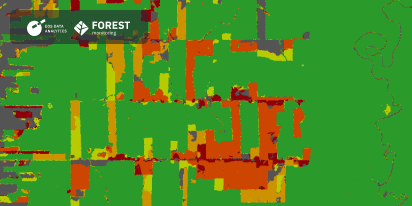 EOSDA Custom Neural Net: Deforestation Detection
The Science team at EOS Data Analytics has developed a custom algorithm for intelligent detection and tracking of deforestation in tropical regions using LEO satellite images as a data source.