Smart Farming: Technologies & Benefits For Agriculture
The development of modern technologies impacts all spheres of human activity, including the agricultural sector. Smart farming is a relatively new concept of advanced farm management. Smart farming in agriculture involves using various software and equipment to optimize and automate routine processes. With the spread of the Internet and mobile devices, such technologies have become available not only for large companies but also for small private farms. It helps growers optimize production and compete with larger agro companies. Since smart agriculture practices have undeniable advantages for businesses over conventional methods, it is worth exploring the features of this approach in more depth.
What Is Smart Farming?
The essence of smart farming is the introduction of new technologies in agricultural activities. The use of drones, artificial intelligence, big data, IoT, satellites, and so on makes farming and agriculture "smart," allowing growers to optimize their work and get better results. All this reduces the percentage of manual labor, lower financial costs, and increases production volumes, making agribusiness more cost-effective.
Now the use of advanced technologies in farming is more relevant than ever. According to forecasts, the world's population will grow by 34% by 2050. It requires higher crop yields and optimized use of natural resources. Climate change is exacerbating the situation. All this makes the introduction of effective methods into the work a necessity. How could smart farming help local farming? Today's service and technology providers offer growers access to tools and techniques to optimize literally every step of their activities, from monitoring fields and using drones for pesticide delivery to creating the perfect greenhouse climate and harvesting. Climate smart agriculture is a separate approach that focuses specifically an impact of weather conditions on agricultural decision-making.
At the same time, growers should know the difference between smart farming and precision agriculture. While the first approach uses advanced tools to make farming a more predictable and efficient process, the technologies of the last one focus on obtaining the most accurate measurements.
Smart Farming Benefits
The technical breakthrough that the agricultural sector has been experiencing in recent years can radically change the format of work for both small farms and large enterprises. The introduction of modern farming technologies is taking place at such a rapid pace that they are becoming available not only in developed but also in developing regions.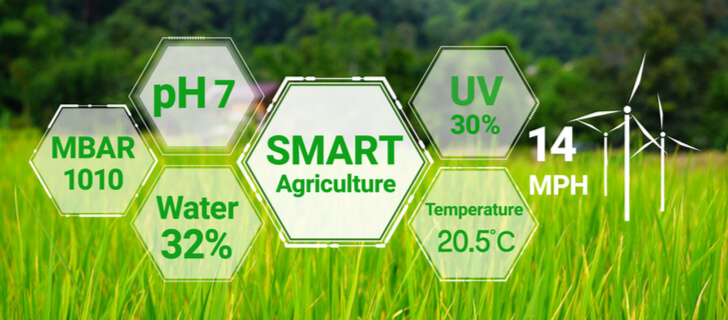 Just as digital technology makes many tasks more straightforward in the office, it can significantly improve work in the field. In general, smart farming provides growers with the following advantages:
speeding up data collection and processing;
increasing accuracy and precision level;
enhancing production efficiency;
reducing production costs;
lowering the need for manual labor;
minimizing driver stress;
simplifying risk forecasting;
streamlining task recording and reporting;
Robotic systems, drones, mobile apps, satellite images analysis, and other modern smart farming practices can be effective not only directly for farmers. They can be used by insurance agents, input suppliers, financial institutions, agriculture cooperatives, and so on.
EOSDA Crop Monitoring
Fields analytics based on high-resolution satellite images to track all the changes on-the-spot!
Smart Farming Technologies
The term "smart farming" is quite broad and includes various tools and technologies to optimize agricultural activities. Among the most effective and convenient smart farming tools are the following:
Machine learning. Self-learning technologies give you the power to predict changes in climate, soil and water parameters, carbon content, disease and pest spreading, and more.
Smart farming sensors. Sensitive sensors help farmers to monitor the slightest changes in the state of the environment and fields in real-time.
Drones and satellites with cameras. With their help, growers can create regularly updated maps and monitor the territory remotely without the need to go to the field.
Big data. Without them, it is impossible to imagine the possibility of accurate forecasts, activity planning, and designing more efficient business models. Smart farming and big data allow you to make long-term decisions and take action right now.
Internet of Things (IoT) gives you the opportunity to combine all the tools and solutions into a single system. All devices and software can exchange data and perform specific actions based on patterns.
Smart farming technologies compare favorably with older analysis methods, as they can take into account many parameters simultaneously and minimize the likelihood of error.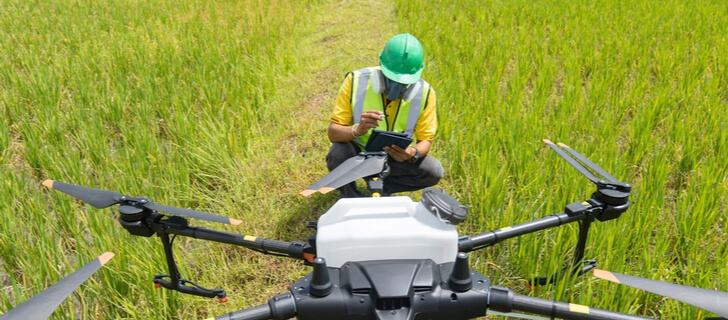 IoT Smart Farming Solutions
A huge network of sensors, drones, applications, and other agriculture software and equipment is not easy to manage. Smart farming IoT in agriculture solves this problem by connecting all available data sources into a single functional system using the Internet and wireless connections. Thanks to it, farmers can see and manage all data and equipment using one device in real-time without going on the field.
This smart farming approach improves overall plant productivity, reduces waste, and optimizes electricity, fuel, water, and fertilizer use. Moreover, depending on the characteristics of the business and sensor data, farmers can decide which processes should remain in manual mode and which tasks are best automated. Among the leading solutions that IoT based smart farming can offer are:
smart greenhouses with unique microclimates;
remote management of pastures and livestock;
monitoring of the territory with the help of drones;
long-term forecasts and financial analytics;
precise watering;
smart pest and disease control;
monitoring of crops and harvest;
tracking and predicting the weather in agriculture.
Smart farming IoT solutions are complex projects that can be quite expensive to implement, but in the long run, they are more cost effective than traditional farming methods.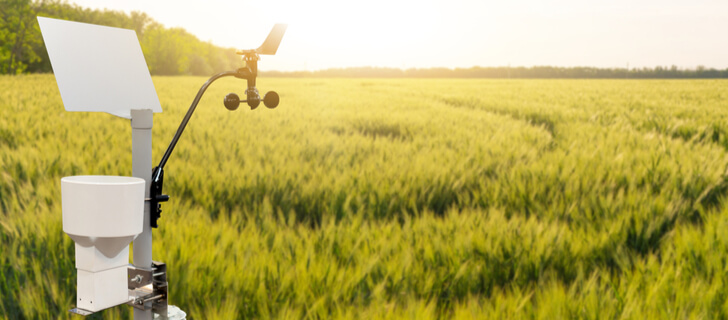 Smart Farming Software And Mobile Apps
Smart farming systems combine both machinery parts like sensors and drones and software segments like programs and mobile applications. The second part of this complex gives farmers access to the data received from the devices they use and allows them to configure and manage equipment. Properly selected smart farming platform allows specialists to process the received data quickly, make the most effective decisions, and adjust their actions in real-time. For example, programs and mobile applications can recommend the most profitable planting plan based on crop rotation historical data, gathered from satellite images and technical recommendations for growing specific types of crops.
Smart farming apps and platforms take agricultural analytics to a whole new level. With their help, farmers optimize their processes throughout each season, increasing the enterprise's profitability, reducing labor costs, and contributing to protecting the environment.
Smart Farming Challenges
Despite all the advantages of smart farming and the use of advanced technologies, this concept faces some challenges:
Lack of Internet. To implement smart ag technologies, you need a stable Internet connection. Unfortunately, it is not available in all regions of the world.
Low awareness. Modern systems require fine-tuning and knowing the features of their operation. Some farmers do not fully understand the benefits of using smart farming technologies or do not know how to work effectively with them.
Lack of unification. Many suppliers and machinery manufacturers make it difficult to arrange a single system since their equipment may not be compatible. Smooth integration of equipment and software requires standardization of the technologies used.
Lack of scalability. Both small farmers and large corporations should be able to use the same technologies, just at different scales. Easily scalable solutions would mean easier and faster production expansion.
When implementing intelligent systems, farmers and service providers should take into account the described challenges for smart farming and do everything possible to minimize their impact on production.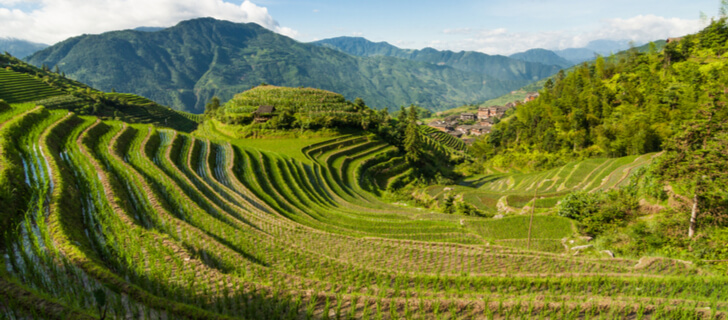 Satellite Smart Farming Solutions From EOSDA Crop Monitoring
EOSDA Crop Monitoring is an advanced satellite data-driven platform for crop monitoring. It allows users to process satellite imagery data, significantly increasing agricultural management efficiency. EOSDA Crop Monitoring is suitable not only for farmers but also for other agro-industry participants, such as insurance companies, input suppliers, banks, and so on. Here are its main features to implement effective smart digital farming techniques.
Using Satellite Data
All analytical information presented on the platform is based on satellite data. The received data is processed and interpreted in such a way as to give users a deep understanding of their fields' state. The old methods, when a huge staff of scouts was required to monitor the territory, are being replaced by modern satellite analytics. With EOSDA Crop Monitoring, one manager can study vegetation indices and other indicators on several fields at once, spending much less time on this task. While using aerial data is not a new approach, satellites are taking it to the next level. With the help of smart farming methods, agricultural companies can cover larger areas, save time on information processing, reduce the cost of using drones, and monitor the territory around the clock.
Satellite monitoring is especially useful for large farmer cooperatives that have to monitor the condition of large areas. These highly scalable technologies allow them to expand from a single field to a vast region. The Global Layers feature of EOSDA Crop Monitoring makes it easy to track vegetation in all sites within the same region.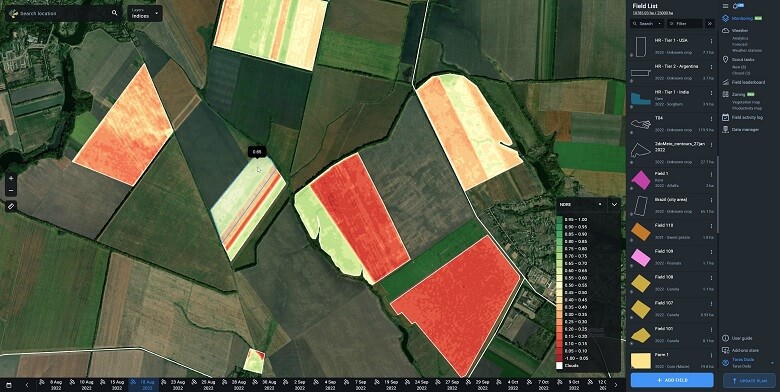 Data Mapping
A distinctive feature of high-efficiency smart agriculture is that such technologies use accurate terrain data and visualize it, so farmers can quickly assess the work done and plan further actions. Of course, when you have to deal with many fields and huge amounts of incoming information, it is essential that all measurements are presented in a convenient way, have a unified format, and are easy to process and analyze.
Farmers can upload to the EOSDA Crop Monitoring Data Manager all the data they need to work with: the type and amount of fertilizer applied, spraying, harvesting, and much more. This information can be visualized in the form of maps. The visualization parameters may depend on the settings of the onboard computer of the used vehicle (tractor or car). In any case, such maps help farmers quickly assess the efficiency and quality of work performed.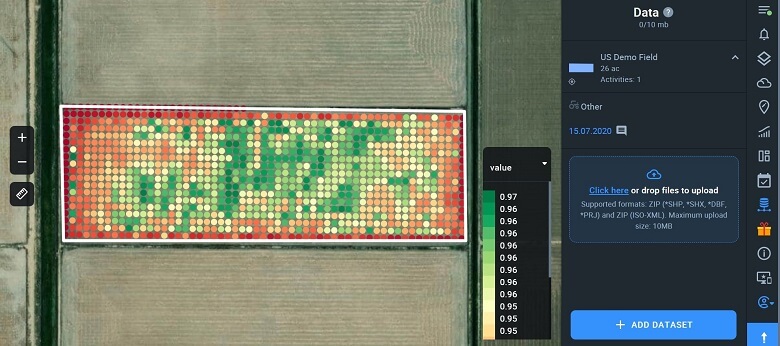 Historical Data And Forecasting
Satellite monitoring can also be used to provide preliminary information to field-installed sensors. The fact is that installing sensors and taking samples are quite expensive and resource-intensive tasks. It is best to perform them in areas where some problems have been found. EOSDA Crop Monitoring vegetation indexes allow you to obtain such preliminary data and, based on it, control sampling and conduct predictive analytics for smart farming.
Besides, this smart software provides farmers access to extensive historical data on soil moisture, temperature fluctuations, vegetation indexes, precipitation, and other parameters. All this allows them to assess the prospects and potential of the picked site, calculate risks, plan additional precision irrigation, and much more, even before the start of any work.


Using App On Portable Devices
The mobile version provides access to the tools and features of EOSDA Crop Monitoring on portable devices. Thus, farmers have all the necessary information "in their pocket" to monitor vegetation, weather conditions, and even scouting. The latter function is available in both online and offline modes, making it an excellent solution for areas with an unstable Internet connection. This smart farming monitoring solution allows managers to send scouts to survey problem areas and instantly access reports.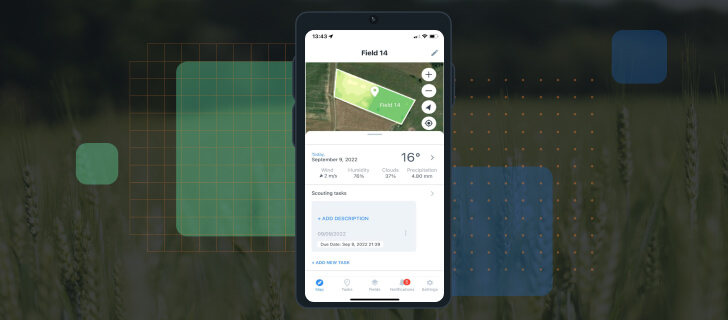 Future Of Smart Farming
Smart farming is the future of all agricultural production. Its implementation allows growers to arrange effective production management, meeting the population's growing demands and, at the same time, creating a humane and eco-friendly environment. Modern technologies can offer farmers extensive control, monitoring, planning, and exploration capabilities.
The spread of smart farming is inextricably linked with the development of technology, especially satellite solutions. Modern and multifunctional satellites can significantly contribute to optimizing agricultural activities and become a key link in making production decisions. Platforms such as EOSDA Crop Monitoring can participate in the transfer of information between each IoT link and simplify the integration of processed satellite images into specialized platforms. The future of smart farming and agriculture on Earth is in space.
About the author:
Vasyl Cherlinka has over 30 years of experience in agronomy and pedology (soil science). He is a Doctor of Biosciences with a specialization in soil science.
Dr. Cherlinka attended the engineering college in Ukraine (1989-1993), went on to deepen his expertise in agrochemistry and agronomy in the Chernivtsi National University in the specialty, "Agrochemistry and soil science".
In 2001, he successfully defended a thesis, "Substantiation of Agroecological Conformity of Models of Soil Fertility and its Factors to the Requirements of Field Cultures" and obtained the degree of Biosciences Candidate with a special emphasis on soil science from the NSC "Institute for Soil Science and Agrochemistry Research named after O.N. Sokolovsky".
In 2019, Dr. Cherlinka successfully defended a thesis, "Digital Elevation Models in Soil Science: Theoretical and Methodological Foundations and Practical Use" and obtained the Sc.D. in Biosciences with a specialization in soil science.
Vasyl is married, has two children (son and daughter). He has a lifelong passion for sports (he's a candidate for Master of Sports of Ukraine in powerlifting and has even taken part in Strongman competitions).
Since 2018, Dr. Cherlinka has been advising EOSDA on problems in soil science, agronomy, and agrochemistry.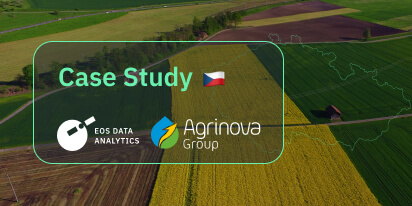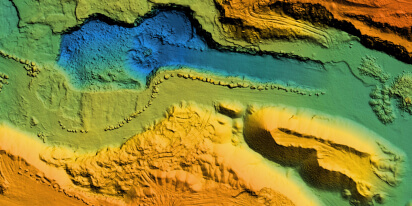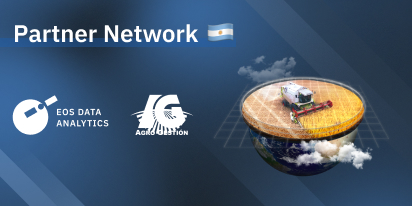 EOS Data Analytics Partners With Agro Gestión
With a focus on innovation and sustainability, EOS Data Analytics and Agro Gestión's partnership will bring cutting-edge satellite technology to more agribusinesses in Argentina, Paraguay, and Spain.