Regenerative Agriculture: Practices For Secure Future
Fertile soil is the primary condition not only for human wellbeing but also human existence as well. This is why regenerative agriculture, alongside other sparing agricultural practices (no-tilling, soil conservation, organic farming), turns into an ultimately important question. Soil degradation causes food scarcity in the long term by significantly reducing nutritional value, biodiversity, and suitable areas for planting. Regenerative agriculture benefits soil, revitalizing and maintaining its fertility with the future and the next generations in mind. Regenerative agriculture techniques aim at mitigating negative consequences of farming activities, including erosion, depletion, pest invasions, desertification, salinization, decarbonization, chemical contamination, among others.
What Is Regenerative Agriculture?
As the name suggests, regenerative agriculture is a farming concept to rehabilitate soil and keep it productive as long as possible to avoid expansion to new areas at the cost of forest cuts, for example. Soil fertility is required not only to grow crops to support human needs but to provide forage for cattle as well. This is why the more fertile pasturelands are, the more food animals will have.
Apart from maintaining the fertility of currently cultivated areas, regenerative agriculture practices embrace abandoned territories beyond farming activities or in use no longer. In particular, this comprises reforestation, restoration of peatlands, fortification of buffer zones, ecological aquaculture, etc.
Regenerative Agriculture Principles
Regenerative agriculture prioritizes environmental sustainability and human health. It means that any farm should contribute to nature protection, apart from growing salable crops. The main advantages are improved biodiversity, soil properties, and the environmental state.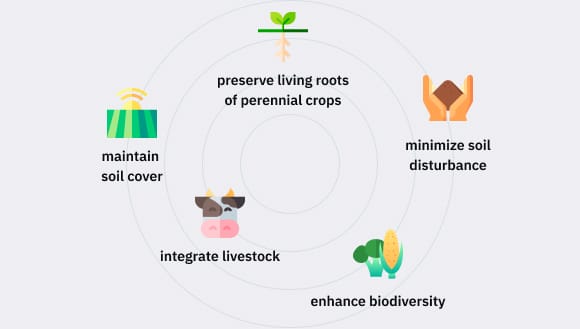 A farmer practicing regenerative agriculture recognizes five main principles defined by Gabe Brown that imply the following:
Elimination of mechanical, chemical and physical field treatment. This regenerative agriculture principle echoes with pre-industrial techniques.
Use of all-year-round cover crops to avoid bare soils and thus mitigate erosion. Furthermore, this regenerative farming method provides forage and grazing material for poultry and cattle.
Enhancement of biodiversity (e.g., with crop rotation, agroforestry and silvopasture techniques).
Incorporation of livestock into crop production.
Preservation of live roots of perennial crops.
All these principles aim to ensure a cycle of regenerative agriculture season by season, year by year. They are not universal, however, and their combinations and applications depend on the specifics of each particular farm.
Regenerative Agriculture Practices
Regenerative farming is not limited to saving or restoring woods, adding organic matter, and boosting soil fertility. Environmental impacts of regenerative agriculture comprise carbon sequestration in order to eliminate its emissions to the atmosphere, reduction of water and soil pollution with reduced chemical inputs, enhancing biodiversity, and others. With more forests saved and soil carbon stored, we get purer air to breathe and mitigate the greenhouse effect. Furthermore, spared natural habitats are a necessary condition to preserve biodiversity.
The list of regenerative agriculture practices is quite extensive.
No-Till And Pasture Cropping
No-till farming propagates as little soil disturbance as possible, which reduces soil erosion and carbon dioxide emissions. In this case, seeding is carried out with specialized drillers or disc planters. Pasture cropping is an integral part of the regenerative agriculture technique when grains are used as grasses for grazing. Additionally, it helps agriculturalists avoid bare soils and thus tackle erosion.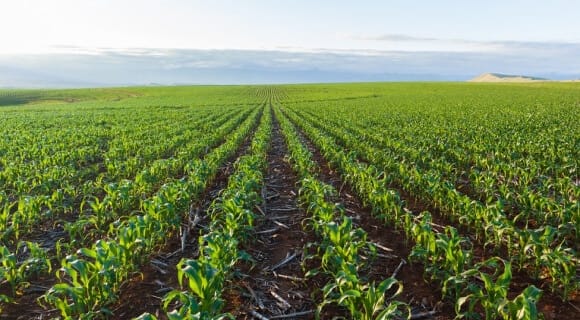 Annual Organic Cropping
Organic annual cropping advocates the use of non-chemical fertilizers and pesticides to mitigate the negative impact on nature and humans. This regenerative agriculture method is more expensive, less profitable, and more labor-consuming compared to stronger industrial practices. However, agro-related businesses will reap considerable benefits from regenerative agriculture implementations in the long-term perspective with a healthier population and environment.
Compost And Compost Tea
Compost provides organic matter and restores soil fertility that is a key goal in regenerative agriculture. The optimal concentration of organic matter in the top earth layers varies from 3-5% and should be incorporated into the soil profile for at least six inches . Compost tea is a brewed liquid (hence, the name derives) that supplies microorganisms and soluble nutrients vital for plant growth.
Biochar And Terra Preta
Biochar is a healthier alternative to natural charcoal and is made via burning forestry and farming wastes. The term "terra preta" is borrowed from Spanish for anthropogenic black Indian soils with high charcoal content in the Amazon basin. Black carbon conditions the presence of organic matter and nutrients in the ground and is relatively immune to chemical and microbial impacts. This explains its ability to maintain fertility for long and is of great interest to regenerative agriculture practitioners. In fact, researches show that black carbon content in terra preta exceeds its content in the infertile neighboring soils of the region up to seventy times .
Holistically Managed Grazing
Holistically planned grazing as regenerative farming practice suggests rotational use of pastures similar to animals' natural behavior. While moving from area to area, cattle eat up fresh grass, incorporate green and animal manure, boosting pastureland fertility and allowing the grass on the other terrains to re-grow.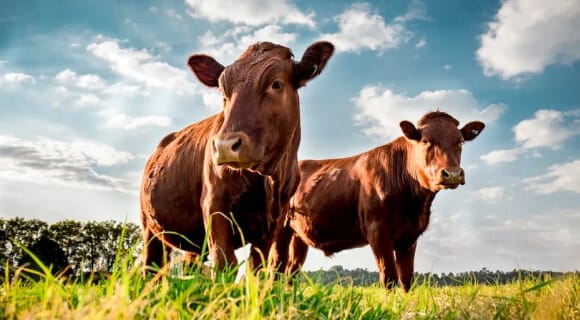 Animal Integration Into Crop Production
Such a combination promotes soil fertility, assists in weed and pest management via introducing biological enemies to unwanted species and is beneficial for livestock itself since this regenerative agriculture approach is closer to wildlife conditions compared to indoor breeding.
Ecological Aquaculture
The eco-friendly regenerative agriculture approach to fishery and aquaculture encourages planting riparian buffer strips to decrease sedimentation, water run-offs, give shadow and extra food for aquatic inhabitants with tree leaves. It demands a reduction of chemical agricultural inputs that pollute water bodies due to leakage from farmlands.
Perennial Cropping
Perennial crops in regenerative farming protect the earth from wind and water erosion by covering it and holding in place with their strong roots, accumulate moisture, save farming costs with reduced tilling operations and weed control treatments.
Silvopasture
This regenerative agriculture technique introduces trees to pastures or grasses to woodlands targeting an extra benefit: trees on grazing areas provide shelter for animals on hot sunny days and serve as windbreaks. Furthermore, they are an alternative source of food for cattle and provide organic matter with their foliage.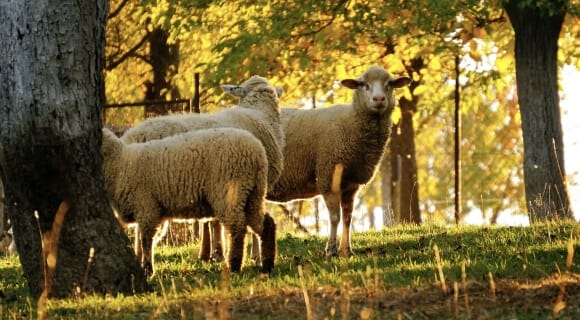 Agroforestry
The regenerative agriculture method combines agricultural crops with trees or bushes, which prevent soil erosion with vigorous root systems and shield cash species from winds and heavy rainstorms with abundant canopies.

EOSDA Crop Monitoring
Fields analytics tool with access to high-resolution satellite images for remote problem areas identification!
Why Is Regenerative Farming Worth Implementing?
One of the biggest challenges of regenerative agriculture is less profit compared to the industrial approach. Nonetheless, farmers switch to the practice globally for the sake of a sustainable future. The main motives of regenerative agriculture followers are as follows:
Support global food needs. Small agricultural enterprises supply food products to the world. The farms of less than 1 ha to 2 ha account for 84% of all farms controlling only 12% of global agricultural lands. At the same time, large-scale farms comprise only 1% of all farms, controlling 65% of farmlands.
Eliminate greenhouse emissions. Greenhouse gases are one of the major drivers of global warming, and industrial food production releases approximately 26% of these emissions nowadays. Regenerative agriculture addresses the issue.
Combat climate change. Sole decrease of GHG emissions is not sufficient to mitigate climate change, yet it can work well together with soil carbon sequestration that is achieved through the implementations of regenerative farm management.
Boost yields. Regenerative agriculture strongly encourages organic farming. Organic farms suffer less from weather extremities, producing more crops under unfavorable weather conditions than traditional agricultural enterprises.
Tackle droughts. Organic matter accumulates soil moisture and improves water retention and infiltration. Building it is one of the central regenerative agriculture techniques.
Help local economies. Local farming contributes to the development of local economies and is supported in regenerative agriculture.
Regenerate grasslands. 70% of grasslands are currently out of use due to degradation. The situation can be improved with holistically managed grazing , which is an efficient regenerative agriculture technique.
Study the indigenous farming concept. Empowered with traditional knowledge, farmers can handle relevant regenerative agriculture issues.
Contribute to biodiversity. Versatile species are beneficial not only to the farming business but environmental sustainability as well, which is ultimately important in regenerative agriculture.
Raise nutritional value. The diversity of cultivated crops ensures more balanced nutrition.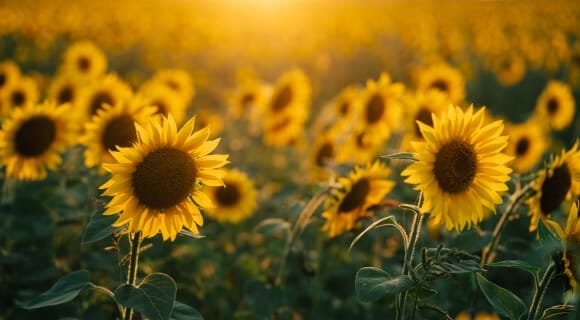 Regenerative Agriculture And Climate Change
Maintaining soil vitality is the ultimate priority for each farming business regardless of its size, which appears to be a very complicated task nowadays, and a top objective of regenerative agriculture.
Recently, farming has been strongly impacted by climate change, and regenerative practices struggle to reverse it. The U.S. farmers endure tremendous losses due to floods and droughts, high temperature hits and severe frosts, wildfires, tornadoes, storms, hurricanes. Nature calamities cast a serious threat to agribusiness and necessitate adaptation strategies.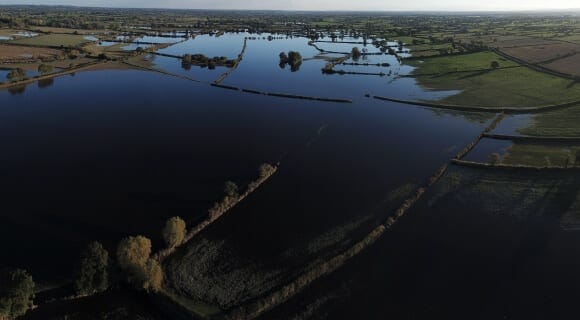 Abnormal heat in some African regions forces landowners to abandon their businesses since vegetation cannot survive burning sun rays and droughts. Furthermore, severe droughts cause severe evaporation, and in its turn, strong evaporation causes abnormally heavy rainfalls or even more severe droughts.
Climatic patterns change, compared to historical weather data, and while in some regions precipitations are scarcely lower than the average ones, in other areas they are excessively high and lead to floods. Plants can cope neither with droughts nor waterlogging and die. Other negative consequences of extreme downpours include erosion and water pollution because soils cannot absorb high amounts of water within short periods of time.
Regenerative agriculture tackles droughts with organic matter, famous for its water-retention capacity and boosting soil fertility. No-till farming contributes to carbon sequestration.
How EOSDA Crop Monitoring Assists In Regenerative Agriculture Implementation
EOSDA Crop Monitoring helps to maintain a healthy state of fields, including crops and soil, and the soil vitality is of major concern in regenerative agriculture practices.
To identify the areas with unhealthy vegetation or ones where plant development is slowed down, EOSDA Crop Monitoring provides a number of vegetation indices – NDVI, MSAVI, NDRE, and ReCl. Each of these indices is more useful at a certain stage of crop development, and a low index value can signal crop diseases and pests infestation, including insects, harmful bacteria, fungi, etc. Besides, excessive irrigation or lack of required water amounts affects plant growth.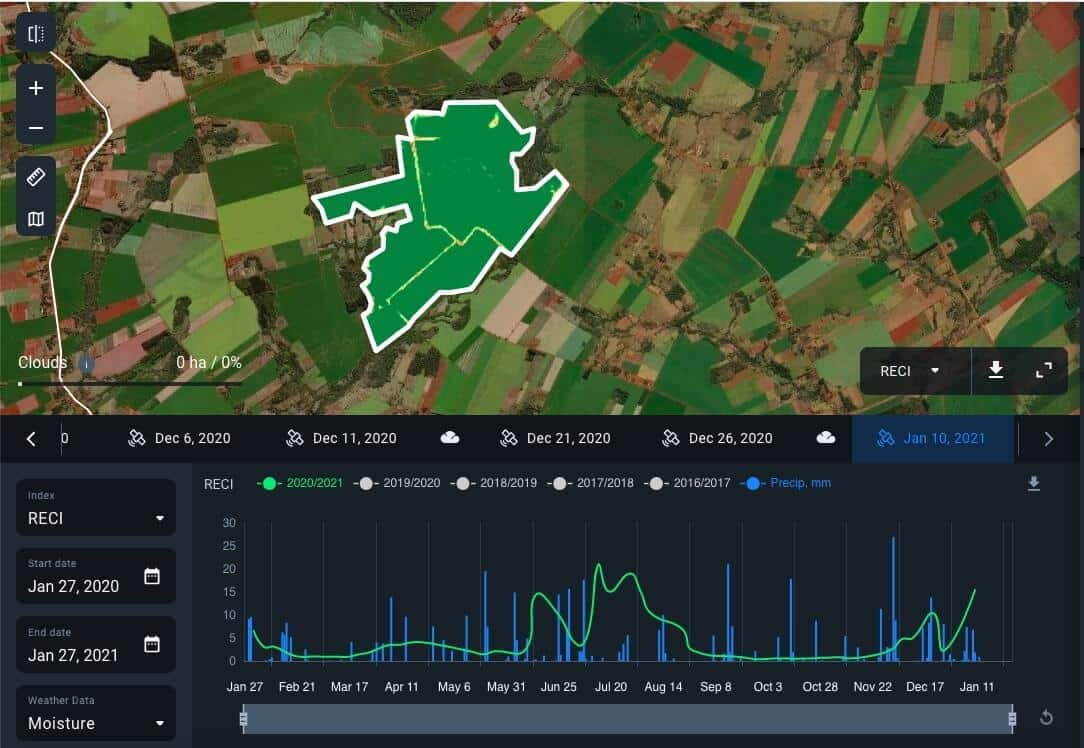 Atypically high values of a vegetation index that correlates with a certain stage of plant development (available on EOSDA Crop Monitoring) may be a sign of weeds.
Once agronomists review index data, they can set a scouting task on EOSDA Crop Monitoring to check the possible problem areas by human scouts. And only when the scout inspects the critical area and confirms the issue, agronomists can develop a plan to resolve it. Such an approach enables a regenerative agriculture supporter not to inspect the whole territory of their fields, as it is resource- and time-consuming, but focus solely on the areas of concern which are identified remotely via satellite monitoring.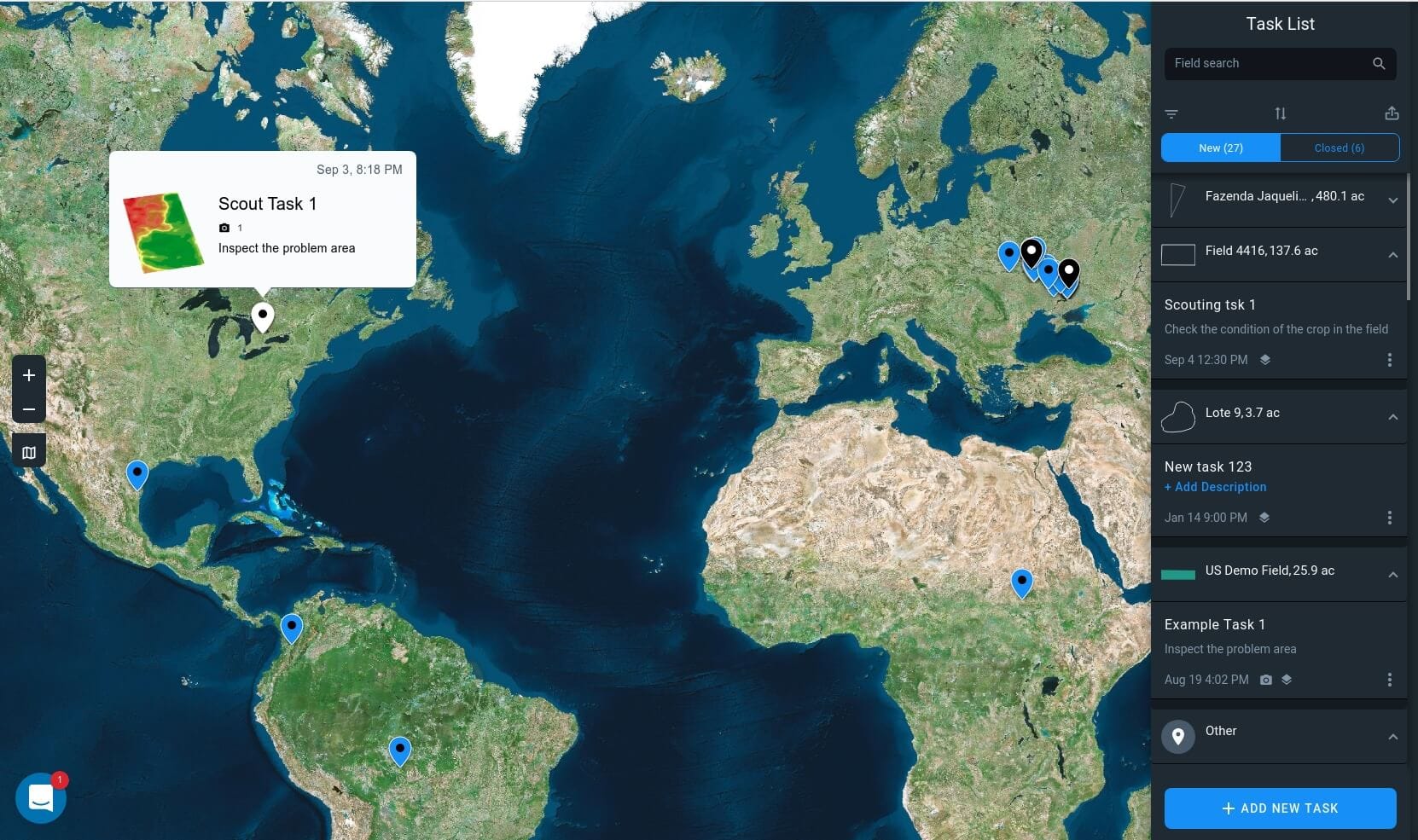 Also, the smart zoning feature enables agriculturalists to use fertilizers more efficiently, applying them only to the areas that lack the vital compounds (nitrogen, phosphorus, potassium, etc.) for healthy plant development. The differentiated approach is helpful in regenerative agriculture in regard to fertilizing or herbicides application and inputs distribution, too. It allows reduction of soil contamination and water pollution, promoting the rehabilitation of land and water resources as a consequence. In this regard, the zoning feature contributes to beneficial effects of regenerative agriculture on the environment, saving resources for a farmer.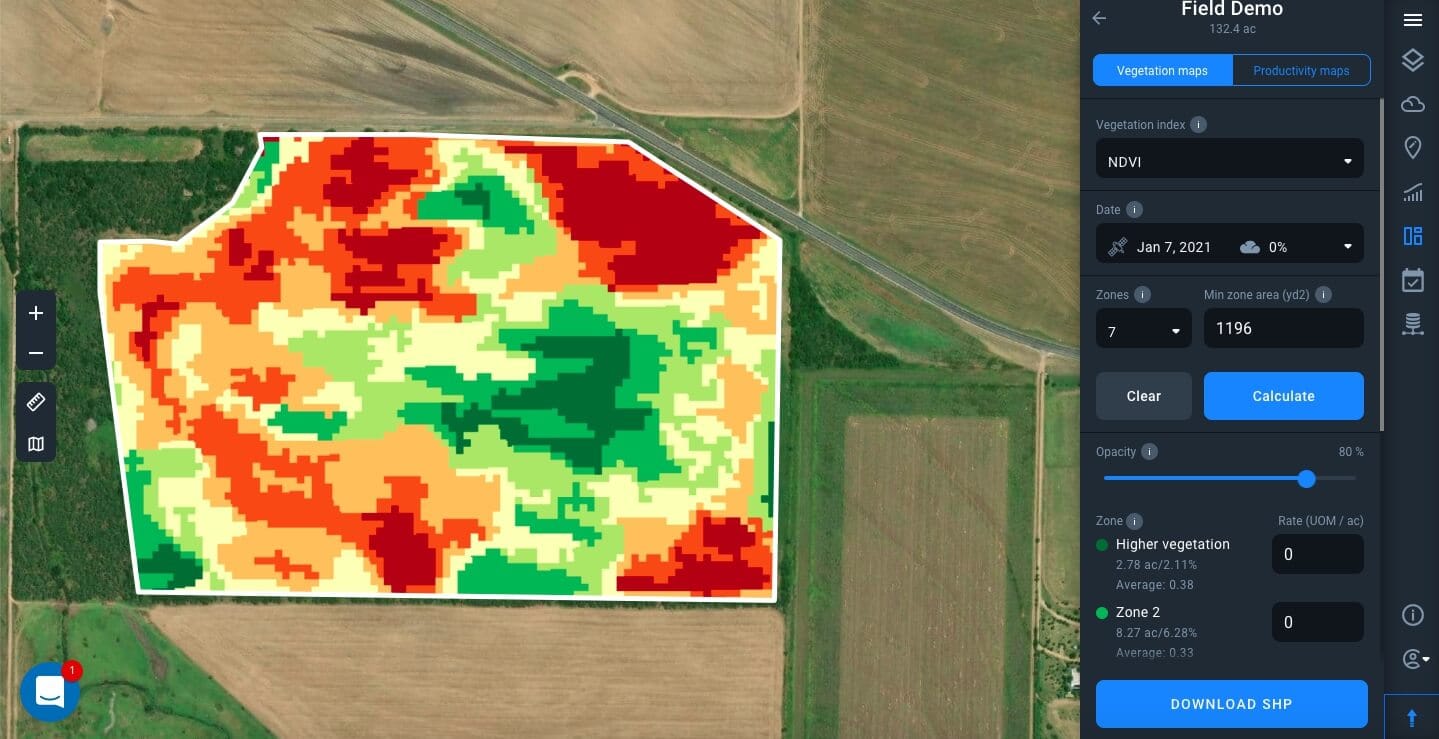 Satellite data-based vegetation index maps of a field enable farmers to monitor vegetation coverage throughout the season, and one of the most popular regenerative agriculture tasks is to maintain all-year-round land cover. On EOSDA Crop Monitoring, vegetation maps can illustrate the farmland state: areas with dense vegetation, areas with poor vegetation, and areas without vegetation or any cover (bare soils). Once bare soils are detected, regenerative agriculture demands their instant addressing to avoid erosion and improve water-holding capacity.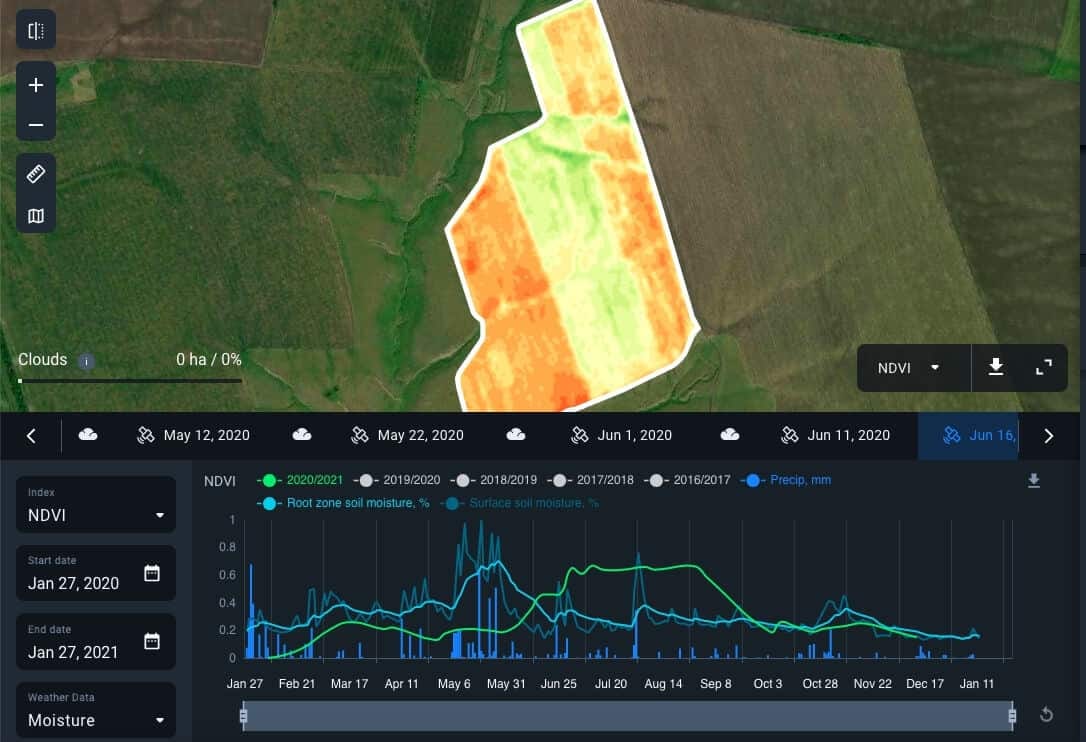 This way, EOSDA Crop Monitoring not only assists in optimizing field treatment tasks and processes in regenerative farming. It also helps to minimize the negative impact of agricultural practices that affect soil and nature in general. It can be a great tool to facilitate field operations for farmers committed to the regenerative principles.
About the author:
Natalia Ivanchuk holds a Master's degree in Applied Mathematics (2013) from the National University of Water and Environmental Engineering. She is an author of 60+ scientific publications, monographs, and other scientific works.
In 2019, she successfully defended a thesis, "Mathematical modeling of filtration processes in soil environments taking into account the influence of elements of engineering structures" and earned the Candidate of Technical Sciences degree.
Currently, Natalia is an Associate Professor at the Department of Computer Sciences and Applied Mathematics at the National University of Water and Environmental Engineering in Rivne, Ukraine. She teaches different programming languages (C++, C#, JS, among others) at the said university.
Natalia is actively engaged in scientific research related to the practical application of new programming algorithms. Programming is also something she likes to do in her spare time.
Her expertise and constant desire to learn and perfect her programming skills, especially in working with Python, has been most beneficial for EOS Data Analytics.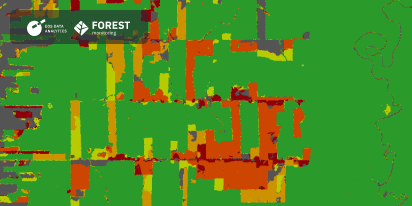 EOSDA Custom Neural Net: Deforestation Detection
The Science team at EOS Data Analytics has developed a custom algorithm for intelligent detection and tracking of deforestation in tropical regions using LEO satellite images as a data source.