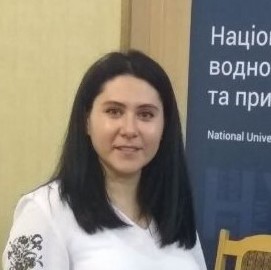 Nataliia Ivanchuk
Scientist at EOS Data Analytics
Natalia Ivanchuk holds a Master's degree in Applied Mathematics (2013) from the National University of Water and Environmental Engineering. She is an author of 60+ scientific publications, monographs, and other scientific works.
In 2019, she successfully defended a thesis, "Mathematical modeling of filtration processes in soil environments taking into account the influence of elements of engineering structures" and earned the Candidate of Technical Sciences degree.
Currently, Natalia is an Associate Professor at the Department of Computer Sciences and Applied Mathematics at the National University of Water and Environmental Engineering in Rivne, Ukraine. She teaches different programming languages (C++, C#, JS, among others) at the said university.
Natalia is actively engaged in scientific research related to the practical application of new programming algorithms. Programming is also something she likes to do in her spare time.
Her expertise and constant desire to learn and perfect her programming skills, especially in working with Python, has been most beneficial for EOS Data Analytics.