More Data Formats And Modes: New In EOSDA Solutions
As the expectations and needs of EOSDA's customers evolve, we continue to come up with new features improving EOSDA solutions even more.
This time most of the updates are related to EOSDA Crop Monitoring, an online satellite-based precision agriculture platform for field monitoring, and one essential update was implemented in EOSDA Forest Monitoring, an online satellite-based platform for forestry management.
First and foremost, during the last three months, 38 new crop types had been added to the platform, including cranberry, peppermint, olive, and more. And below are the top five features added by the EOS Data Analytics product team lately to make the software even more effective and easy to use.
ISO-XML Format For Zoning
Now users can download Vegetation and Productivity maps not only in the SHP format but also in the ISO-XML format. This feature is helpful for those clients with machinery terminals supporting ISO-XML who want their vehicles to carry out the variable-rate seeding and variable-rate application of fertilizers.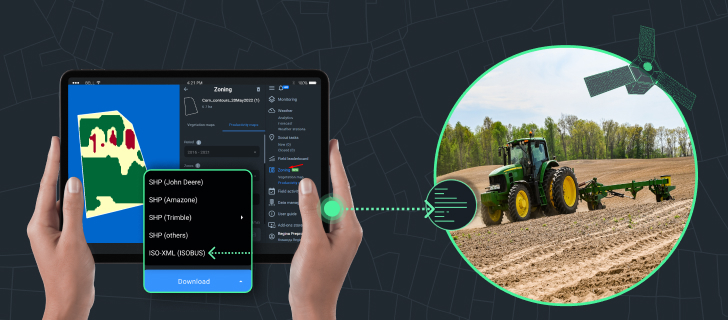 A quick reminder:
zoning is a tool that helps
apply variable rates
of fertilizer, and define areas for seeding or soil sampling. Based on these zones, a map is created that can be uploaded into agricultural machinery. This means that by defining the zones, it is possible to apply a specified amount of fertilizer and seeds on specified areas, as well as highlight the optimal points for soil sampling, and thus optimize resource usage.
ISO-XML Format For Data Manager
It now becomes possible to import data from the machinery to the EOSDA Crop Monitoring platform in the ISO-XML format.
If the users' terminals support ISO-XML only, now it is possible to view the data about the activities their machinery performed using the Data Manager feature in EOSDA Crop Monitoring. Most often, this feature can be used to upload yield maps from the machinery and monitor the harvesting process.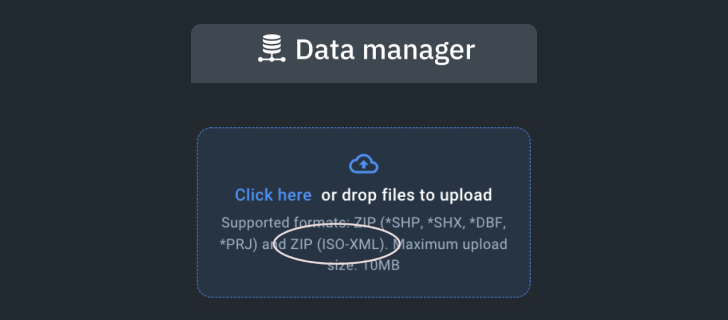 EOSDA Crop Monitoring
Fields analytics based on high-resolution satellite images to track all the changes on-the-spot!
Variable Detail Level For Vegetation Maps
Users can now select the level of detail when calculating a vegetation map for variable-rate application of nitrogen fertilizers.
To get higher accuracy of vegetation maps, users are recommended to adjust the detail level to their field sizes: select high detail for small fields and minimum to medium detail for large ones.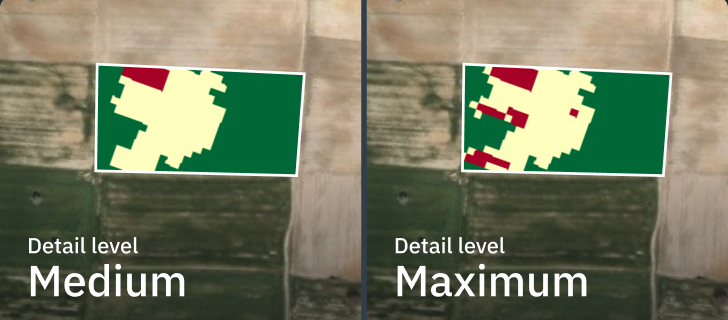 Zoning SHP Files For John Deere, Amazone, And Trimble
Variable-rate application of seeds and fertilizers is known as an effective way to increase the productivity of fields at lower costs. Because of that, variable-rate seed and fertilizer application maps are now available for exporting as SHP files compatible with John Deere, Amazone, and Trimble.
JohnDeere, Amazone, and Trimble are one of the top manufacturers of agro machinery, and we're excited to announce it is now compatible with EOSDA Crop Monitoring. By exporting zoning maps from the platform, users can both improve the effectiveness of their machines and increase the productivity of their fields.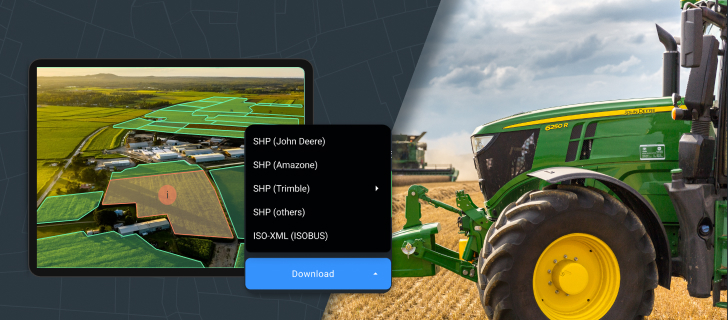 Full Screen In Monitoring Mode
To provide a clearer view of remote sensing indices, a full-screen option has been introduced in the Monitoring mode.
To enable it, the user should proceed to the Monitoring mode, select the desired field and find the Full Screen icon in the lower right corner of the map.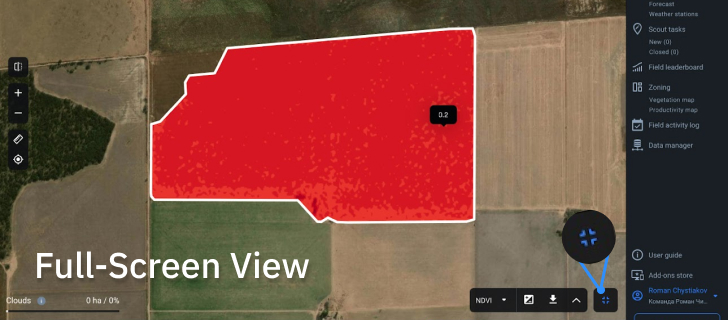 Greenhouse Gas Monitoring
This new feature has appeared in EOSDA Forest Monitoring.
When selecting layers, the user can now notice the new Greenhouse Gases category and select one of four gases: carbon monoxide, methane, ozone, and nitrogen dioxide. Such gas tracking is available for every country, with the time period slider allowing users to see historical data as well.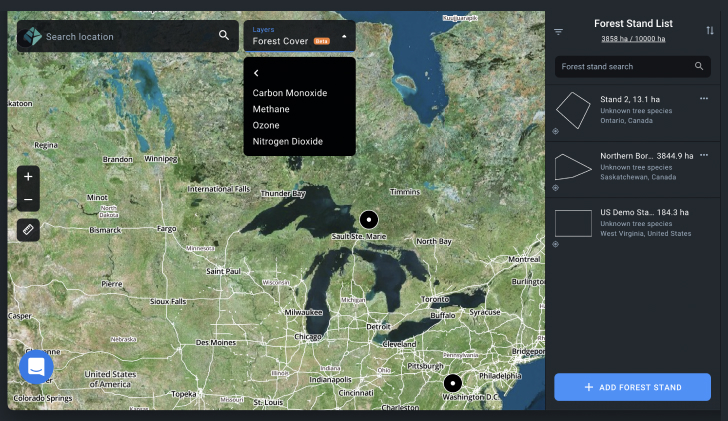 Should you have any questions regarding the features of EOSDA solutions, feel free to get in touch with our support team. Any comments and suggestions on improving our platforms are also much appreciated.
About the author:
Natalia Ivanchuk holds a Master's degree in Applied Mathematics (2013) from the National University of Water and Environmental Engineering. She is an author of 60+ scientific publications, monographs, and other scientific works.
In 2019, she successfully defended a thesis, "Mathematical modeling of filtration processes in soil environments taking into account the influence of elements of engineering structures" and earned the Candidate of Technical Sciences degree.
Currently, Natalia is an Associate Professor at the Department of Computer Sciences and Applied Mathematics at the National University of Water and Environmental Engineering in Rivne, Ukraine. She teaches different programming languages (C++, C#, JS, among others) at the said university.
Natalia is actively engaged in scientific research related to the practical application of new programming algorithms. Programming is also something she likes to do in her spare time.
Her expertise and constant desire to learn and perfect her programming skills, especially in working with Python, has been most beneficial for EOS Data Analytics.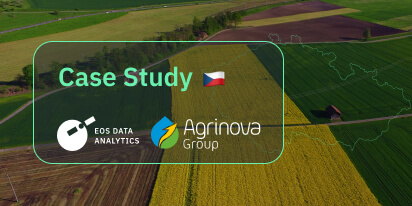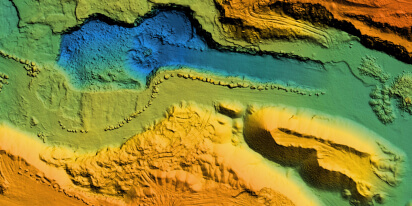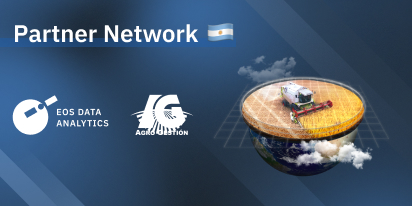 EOS Data Analytics Partners With Agro Gestión
With a focus on innovation and sustainability, EOS Data Analytics and Agro Gestión's partnership will bring cutting-edge satellite technology to more agribusinesses in Argentina, Paraguay, and Spain.