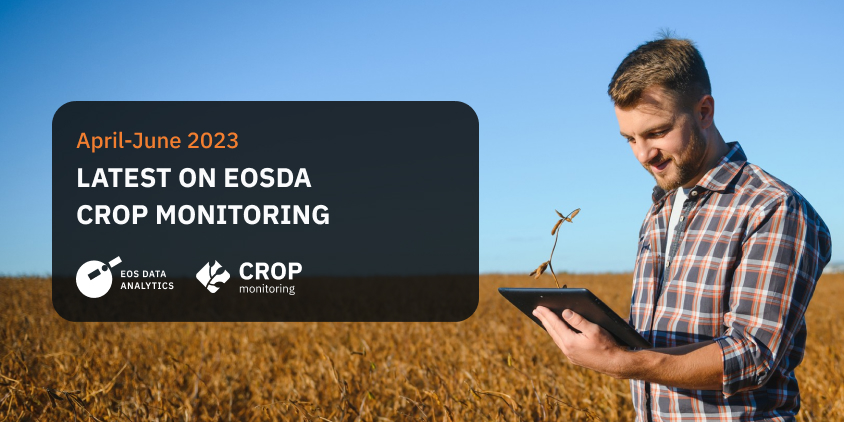 Geotags, Seasons & More: New In EOSDA Crop Monitoring
The full potential of precision agriculture is continually harnessed through ever-developing EOSDA Crop Monitoring, which introduces new features on a regular basis. As the second quarter of 2023 has come to a close, we would like to share our significant progress over the past three months. Check out our quick update on the latest highly demanded features that are already implemented on the platform.
Scout Coordinates
To enrich remote sensing data with insights from on-the-ground measurements, we enabled viewing photo coordinates in Scouting Tasks. Users who are responsible for managing those tasks can copy the geolocation to use it on a map and check the actual place on the field where the photo was taken, which makes it easier to ensure that the task's objective was completed correctly and follow through with appropriate action. The coordinates are displayed in the photo preview as well as the full-view image.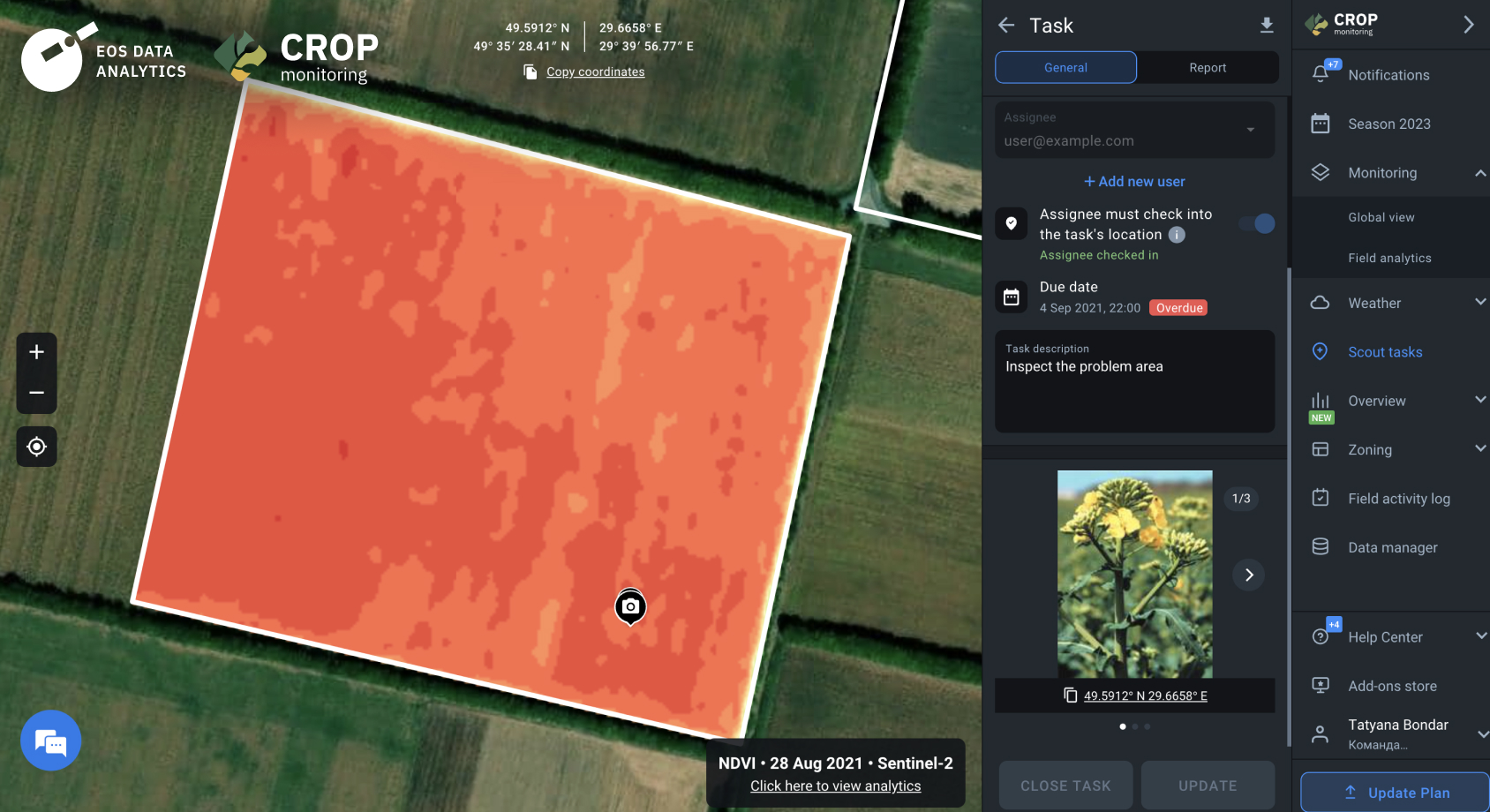 What's New Tab In Menu
With the 'What's New' tab, users can easily keep up with the latest EOSDA Crop Monitoring product updates. Notifications about updates become available right after new functionality is released, so that users can easily find those updates, learn how to use the new functionality for business, and what are the benefits.
The following elements have been added to the Crop Monitoring interface: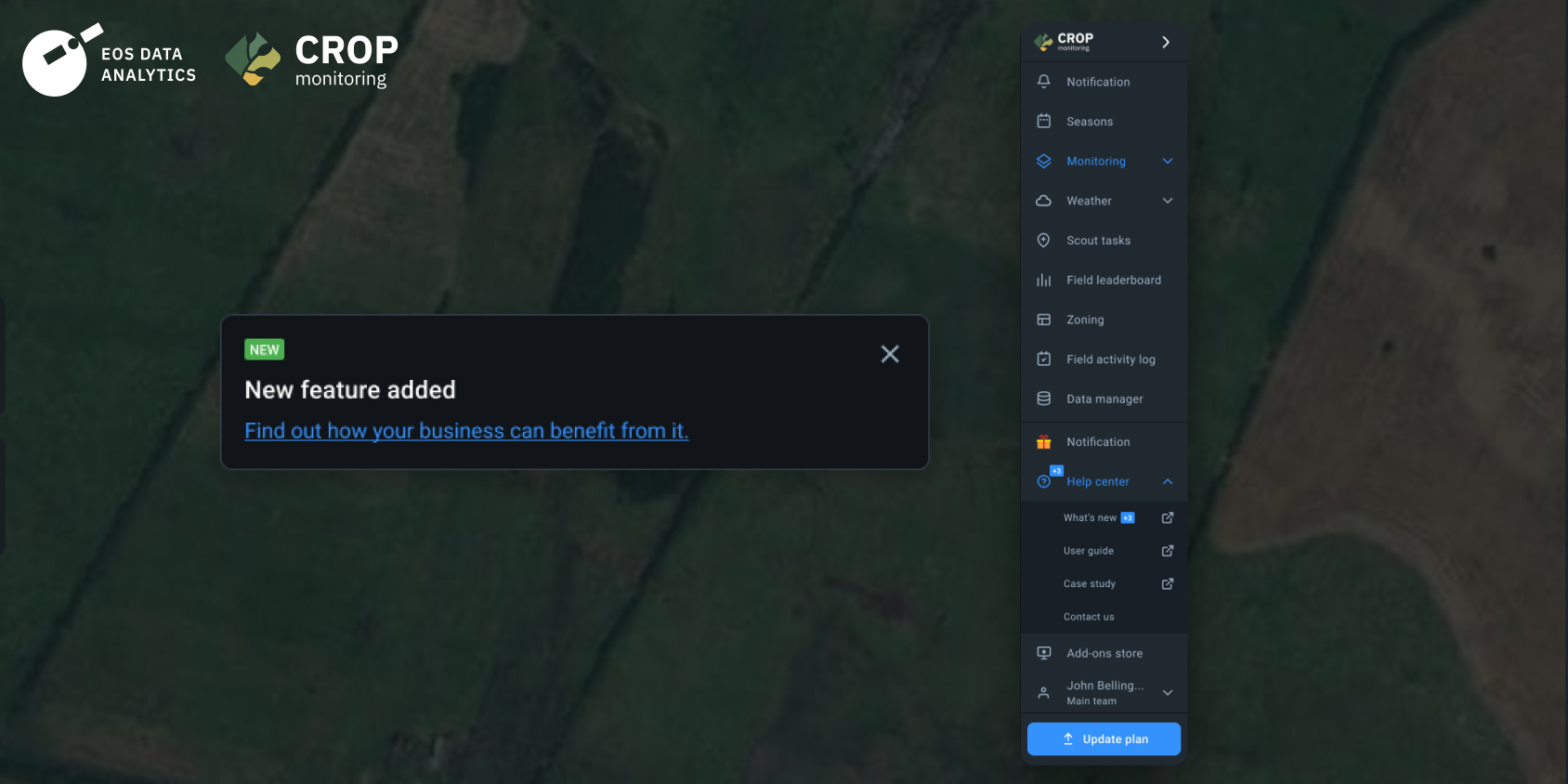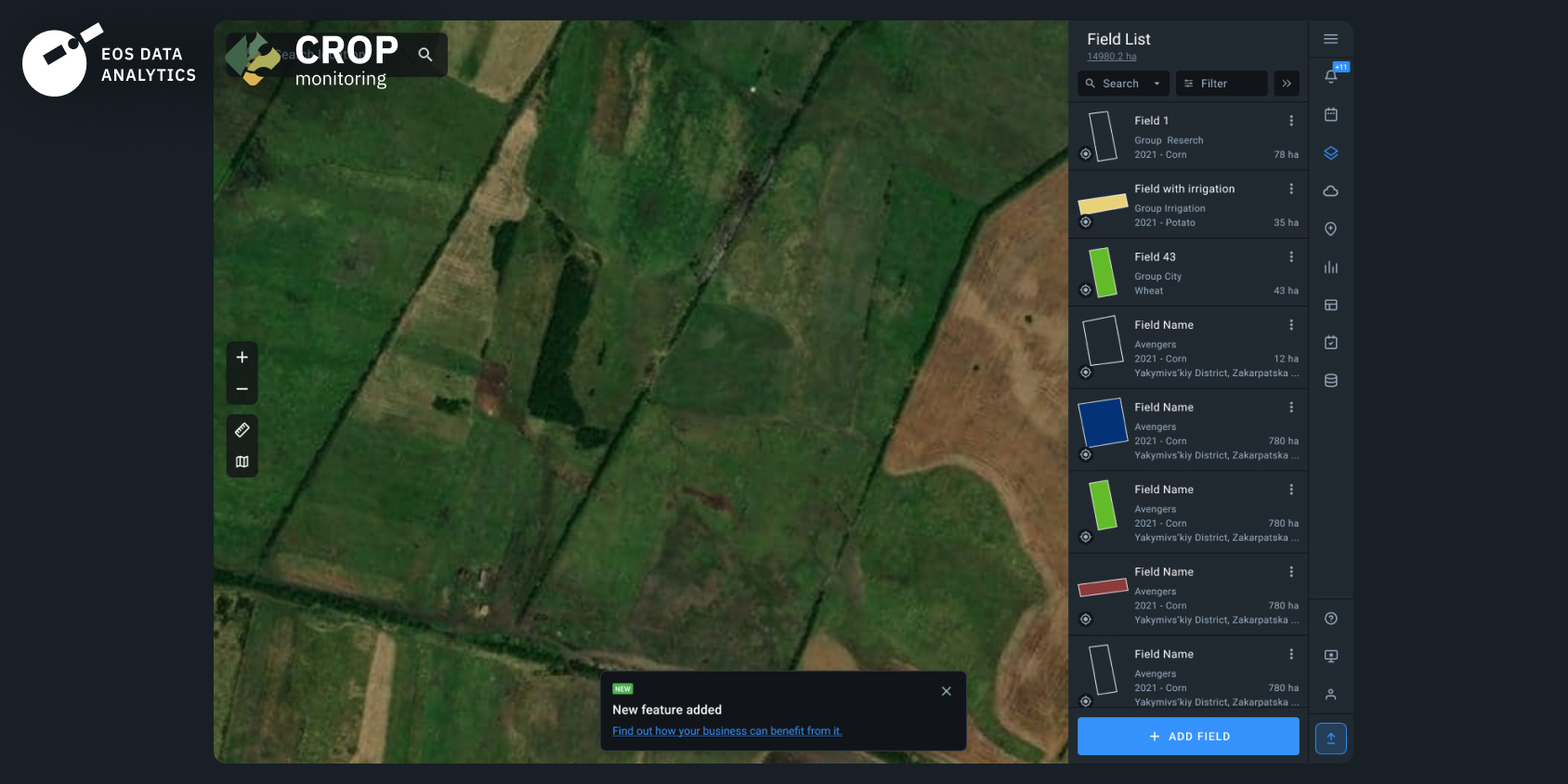 EOSDA Crop Monitoring
Performing fields analytics based on relevant satellite data to ensure effective decision-making!
Global Filter By Season Aka Seasonality
To manage agricultural practices considering the seasonality of crops in particular climate conditions, users can now create and edit Seasons.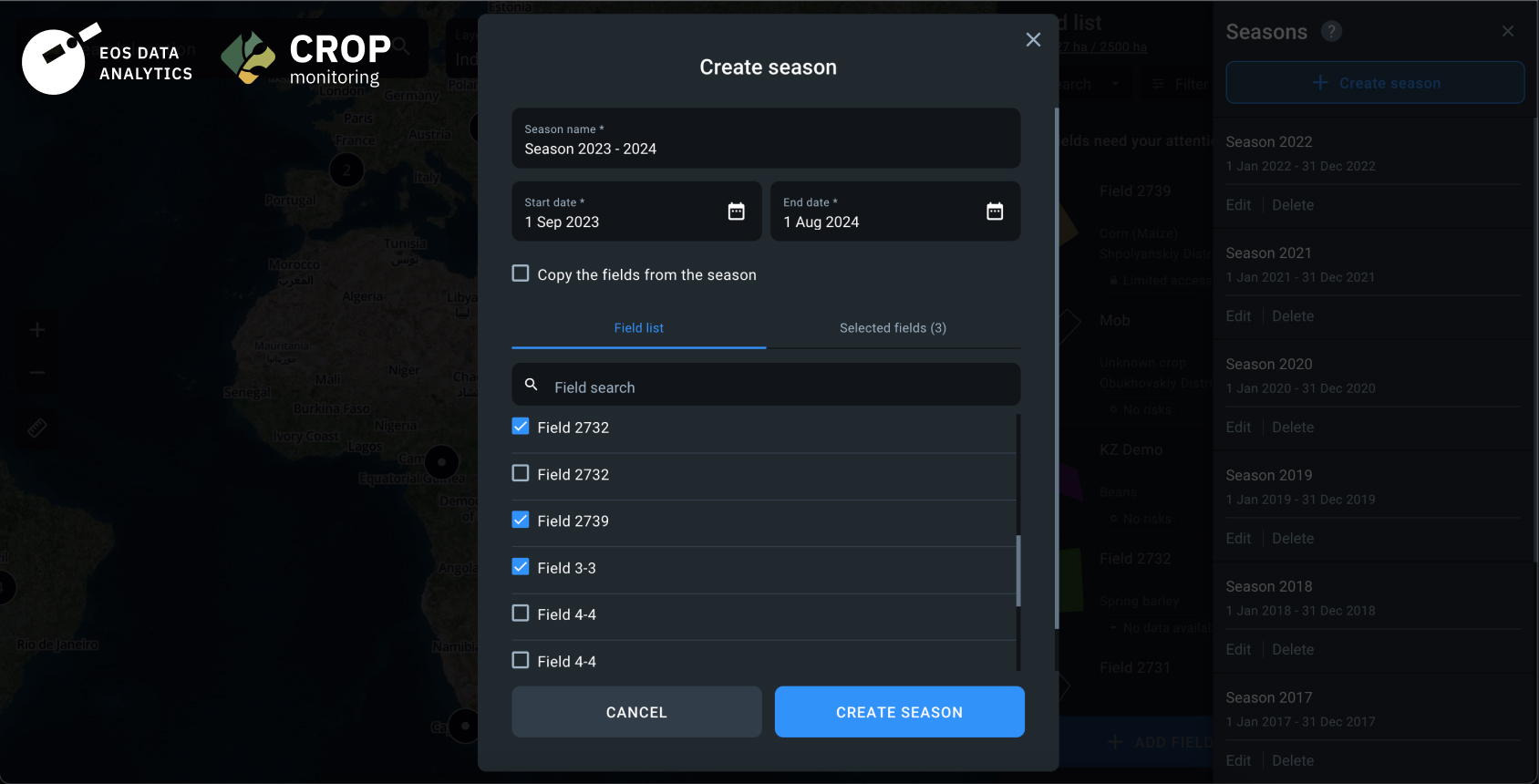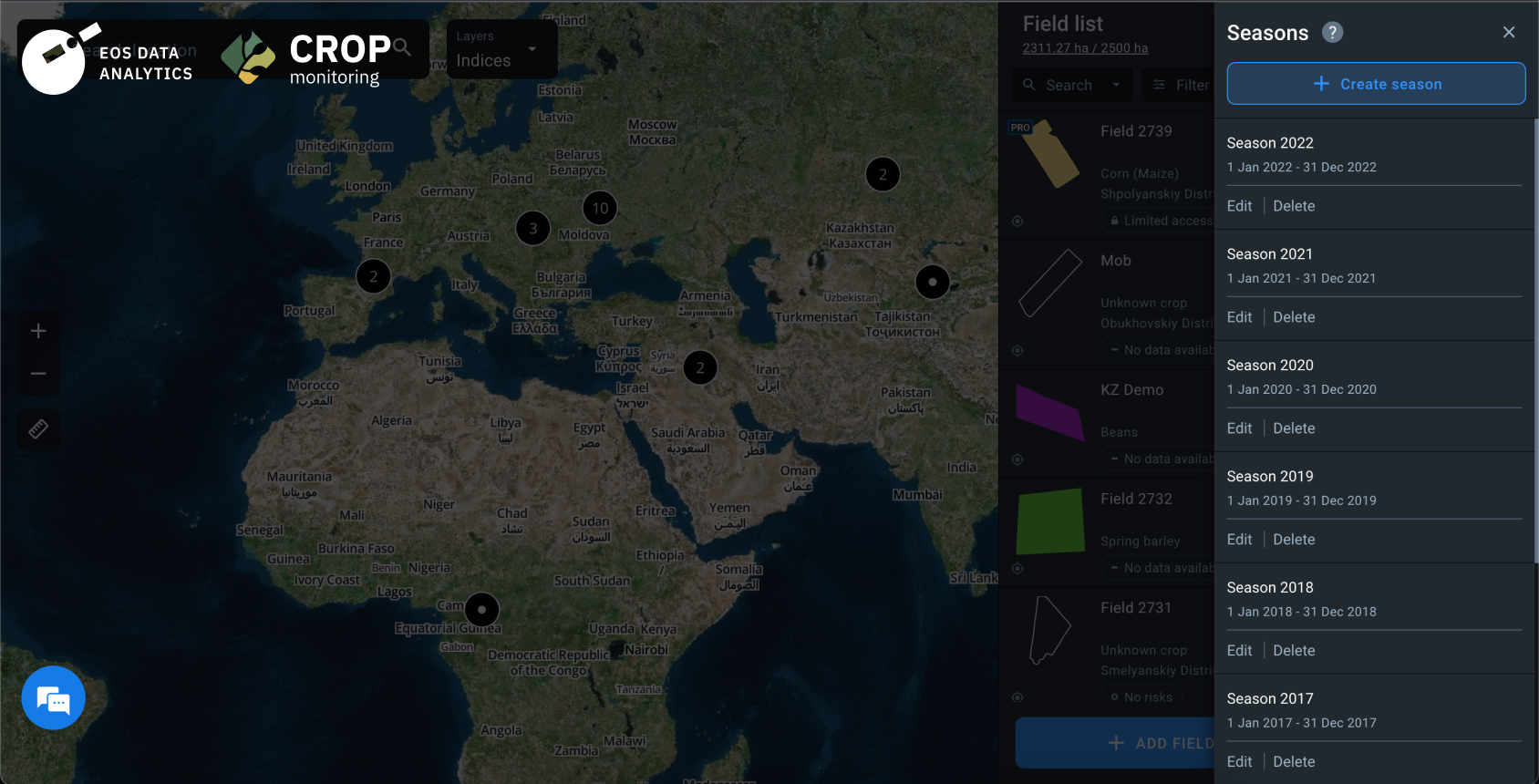 Once a user creates a Season, they will be able to see and manage it from the sidebar Menu. The Season will include the fields to monitor that the user will add or copy from the previous Season. Every Season is like a one-stop-shop for field management activities – users will be able to set up the sowing and harvesting dates for every crop type, perform crop rotation, adjust input usage, and more.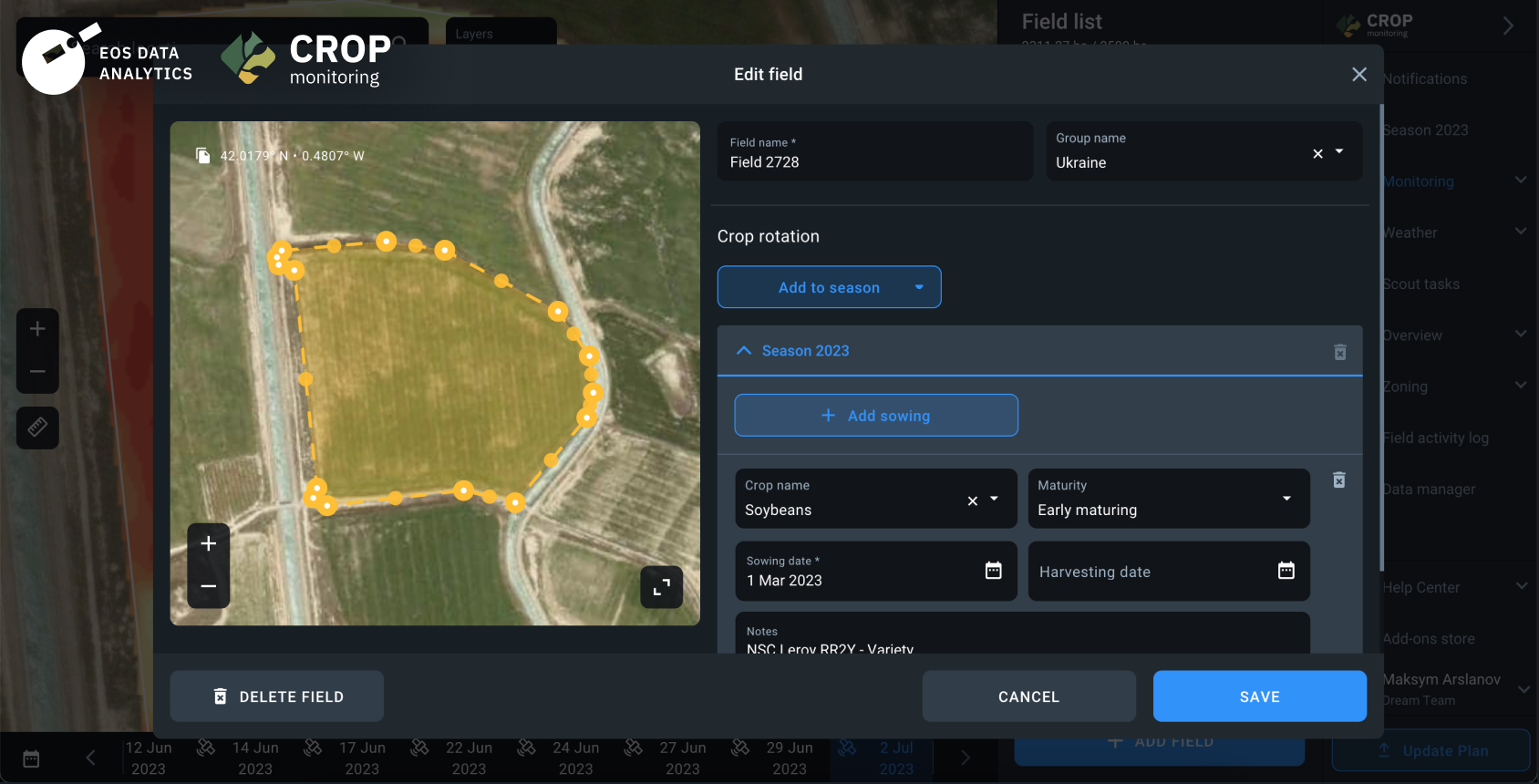 High-Resolution Imagery In The Mobile App
For users who have subscribed to high-resolution imagery, it is now available in a mobile app of EOSDA Crop Monitoring for diving into remote sensing data on the go. Field management activities can be conducted with higher precision once users obtain the data from high-resolution satellite imagery, thereby enhancing the positive outcome of their agricultural operations.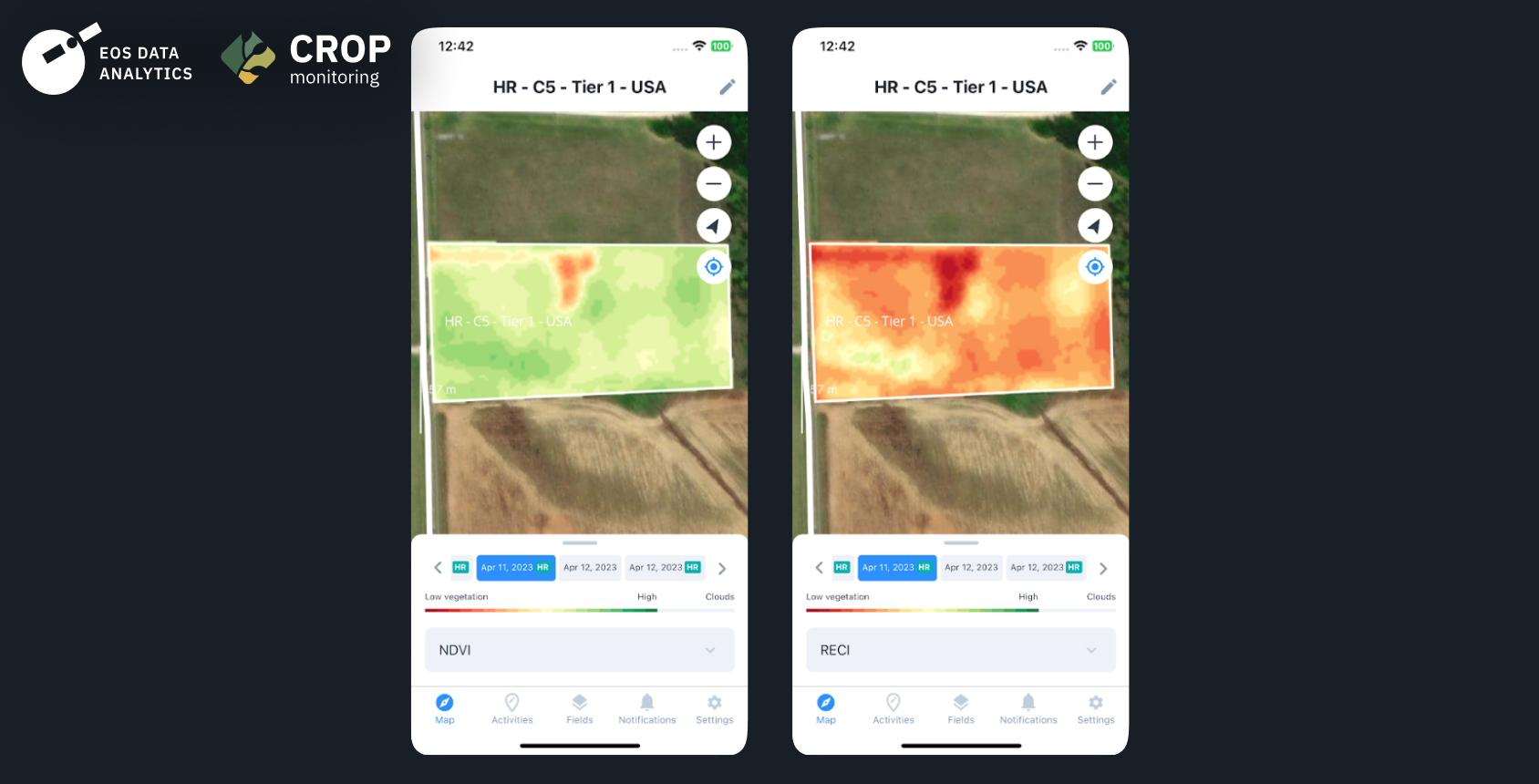 Season Analytics
To enable efficient agricultural analysis, our new section Season Analytics in the Menu allows users to see the overall crop statistics of the season by the number of operations in the field and by crop area.
Upon expanding the window, a dashboard with widgets will display the summary information about the Season. This will enhance the ability to analyze the vegetation of the crop for all fields from season to season, especially for users who have to monitor multiple fields.
Some of the values that will be aggregated for analytics in future iterations are as follows:
Distribution of sown areas by season
Overview of critical vegetation changes by crop
Summary of field activities' progress by crop
Crop growth curve for crops of interest
Peak vegetation index values in the fields
Fields with the best and worst crop performance by vegetation index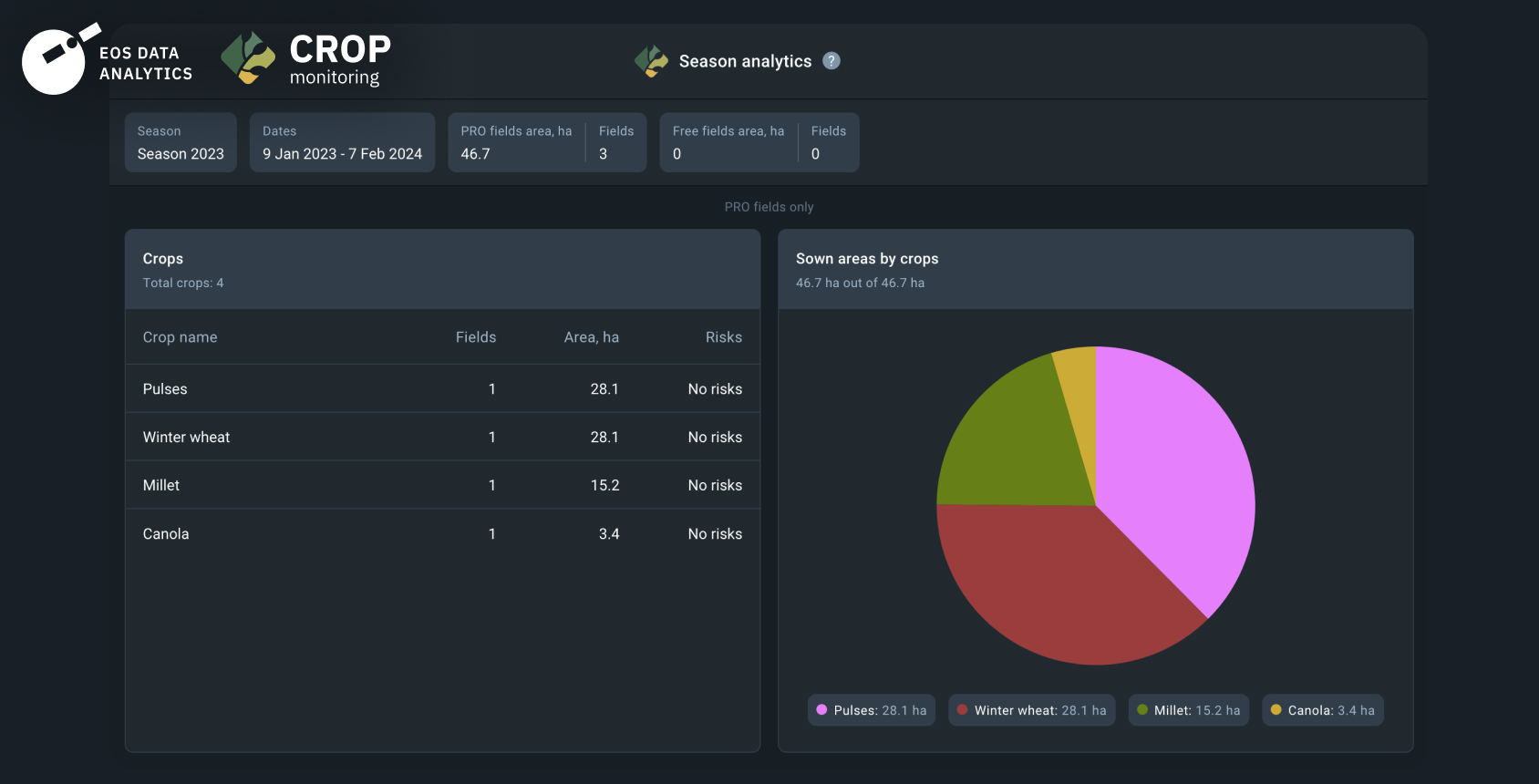 We value your contribution and feedback. If you have any suggestions, queries, or comments about EOSDA Crop Monitoring, please do not hesitate to contact us using our contact form. Our platform keeps growing and evolving with the needs of our users, so we would like to hear your experiences, as these help us progress forward and make precision agriculture more approachable.
About the author:
Rim Elijah joined EOSDA in early 2020. She holds a double degree in business administration and political science from Stockholm University.
Rim is VP of Sales at EOSDA. She is overseeing all aspects of business model development and implementation, maintenance of positive business & customer experience, and the growth of the company's global coverage. She is responsible for closing deals, scaling up ongoing projects, as well as the development and implementation of process control within the Sales department. Rim also regularly takes part in negotiations with important clients.
So far, Rim has managed to successfully establish a number of strategic partnerships with an emphasis on the delivery of sustainable solutions in various regions of Africa and Asia.
In addition to her main responsibilities, Rim is presently involved in the upcoming launch of the first agri-based satellite constellation by EOSDA, scheduled for mid-2022. She manages relationships with the EOS SAT investors.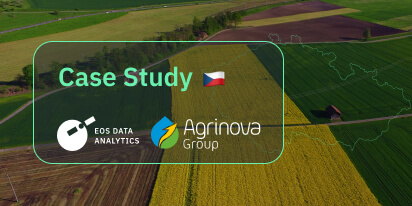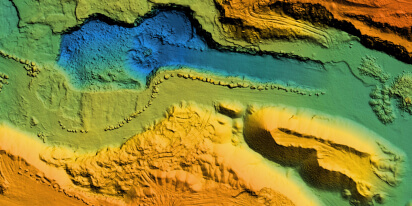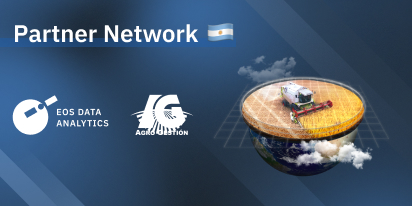 EOS Data Analytics Partners With Agro Gestión
With a focus on innovation and sustainability, EOS Data Analytics and Agro Gestión's partnership will bring cutting-edge satellite technology to more agribusinesses in Argentina, Paraguay, and Spain.