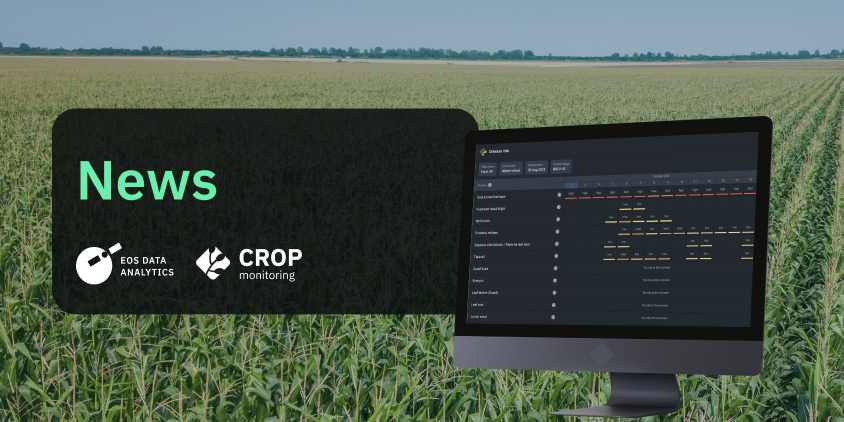 EOSDA Crop Monitoring Gets Disease Risk Analytics
EOS Data Analytics, a global provider of AI-powered satellite imagery analytics founded by Dr. Max Polyakov, releases a new feature of EOSDA Crop Monitoring, an online satellite-based software facilitating agritech adoption.
In response to multiple requests and driven by the vision to make space tech a global driver of sustainability of Earth, EOS Data Analytics developed a predictive algorithm estimating crop disease risk that works behind intuitive UI on their platform.
The new feature is aimed at revolutionizing sustainable plant health management, helping to continuously monitor disease risk in advance as opposed to disease detection ex post facto. Now, by using the EOSDA Crop Monitoring platform, it will be possible to take timely action before the disease spreads, thereby improving yield stability and minimizing field management expenses.
Agricultural plant diseases, caused by prolonged exposure to biotic or abiotic disease agents, are estimated to cause worldwide crop loss equal to $220 billion USD annually . The growing spread is exacerbated by climate change and pathogen surplus, as well as the evolution of new lineages.
Beyond reduced yields, the systemic crop health decrease can cause lower nutritional value and shelf-life, which, along with diminished aesthetics, will render some crops unmarketable. The demand for advanced tools in pathogen risk estimation has been expressed not only by agricultural businesses but also by neighboring sectors such as financial institutions, insurance, and consultancy providers. EOS Data Analytics now offers the Disease Risk feature, powered by EOSDA's in-house R&D expertise of 60+ scientists within the team in the biology of disease-causing agents and environmental factors.
The feature comes as an add-on to the general functionality of the EOSDA Crop Monitoring platform. A predictive data analytics algorithm has been developed by EOSDA's science team and implemented in a cloud-native environment which makes the advanced mathematical model highly scalable and readily accessible in a web-based interface to their global user base. The Disease Risk feature is designed to provide analytical data for preventing future outbreaks.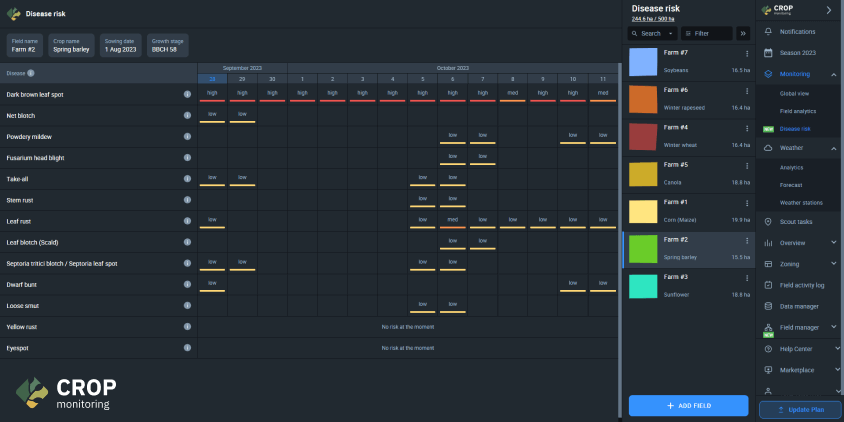 EOSDA Crop Monitoring development goes hand in hand with the synergy of sustainability and efficiency in EOSDA's products.
Disease Risk is a new cutting-edge feature of EOSDA Crop Monitoring that we introduce as part of our vision of developing an all-in-one crop management system. Evidently, it is impossible to compensate for disease damage by using fertilizers and irrigation, that's why the importance of preventive measures is pivotal. We developed an algorithm that dynamically analyzes the current state of factors contributing to crop diseases instead of detecting crop loss when it's too late.
As for upcoming updates, the Disease Risk feature will be extended to neighboring fields for a more comprehensive risk assessment. Future integration with other EOSDA Crop Monitoring features and EOS SAT-1, the initial satellite of EOS SAT (the company's upcoming satellite constellation designed in a way that allows multispectral crop dynamics monitoring from space) will allow for enhanced precision in managing plant health.
EOSDA plans to expand its crop disease database, thus enriching its core integrative methodology with valuable feedback. In addition, the company is considering partnerships with both local and global manufacturers and suppliers of disease prevention agents.
About the author:
Vasyl Cherlinka has over 30 years of experience in agronomy and pedology (soil science). He is a Doctor of Biosciences with a specialization in soil science.
Dr. Cherlinka attended the engineering college in Ukraine (1989-1993), went on to deepen his expertise in agrochemistry and agronomy in the Chernivtsi National University in the specialty, "Agrochemistry and soil science".
In 2001, he successfully defended a thesis, "Substantiation of Agroecological Conformity of Models of Soil Fertility and its Factors to the Requirements of Field Cultures" and obtained the degree of Biosciences Candidate with a special emphasis on soil science from the NSC "Institute for Soil Science and Agrochemistry Research named after O.N. Sokolovsky".
In 2019, Dr. Cherlinka successfully defended a thesis, "Digital Elevation Models in Soil Science: Theoretical and Methodological Foundations and Practical Use" and obtained the Sc.D. in Biosciences with a specialization in soil science.
Vasyl is married, has two children (son and daughter). He has a lifelong passion for sports (he's a candidate for Master of Sports of Ukraine in powerlifting and has even taken part in Strongman competitions).
Since 2018, Dr. Cherlinka has been advising EOSDA on problems in soil science, agronomy, and agrochemistry.