How EOSDA Helps Input Suppliers In Ukraine Boost Sales
Because of the war and the crisis it brings, Ukrainian producers seek new ways to optimize their expenditures and reach their business goals. In the case of the fertilizer and seed industry, businesses are currently interested in expanding their markets.
Since EOSDA has a significant impact on the industry thanks to its satellite technologies, the team behind it wants to share their insights on how to address this problem.
We talked to Vitalii Vyshniak, Account Executive at EOS Data Analytics, about the current state of the seed and fertilizer industry in Ukraine, the challenges input suppliers are going through, and how EOSDA helps cope with them.
Vitalii, What Is The State Of The Market For Agricultural Input Manufacturers In Ukraine?
Prior to the war, several trends were affecting the market negatively.
For instance, various kinds of nitrogen fertilizers have been going up in prices by 30%-100%. The supply of potash fertilizers dropped by 38% in 2021.
In 2022, the war has crashed the industry. The import amount of nitroammophoska (NPK), the most widely used fertilizer in Ukraine, has dropped from 700 thousand tons within the first six months of 2021 to 250 thousand tons within the first six months of 2022.
One of the biggest reasons is that significant amounts of gas are required to produce those fertilizers, and the cost of gas has also seen a massive increase throughout 2022 in Europe.
The activity of seed producers in recent years has been affected by climate change. Because of them, seed companies have been expanding their lines of seed types to adapt to new conditions and cultivation in certain regions. In the midterm perspective, it should have a positive effect on the export potential, but in the meanwhile, it requires resource stretching and extra financing.
And in the draft law on the State Budget of Ukraine for 2023, the government does not plan to subsidize agribusinesses.
What Is The Role Of EOSDA On The Ukrainian Market? What Makes It Attractive For Agribusinesses?
Our global goal is to become a reliable satellite data and analytics provider for input supplier companies. Ukraine is also the home country for EOSDA since its very foundation, making it one of the key areas in clientele. This is why the number of clients in Ukraine keeps growing even during the war.
Input suppliers use EOSDA Crop Monitoring, an online satellite-based precision agriculture platform for field monitoring, to:
get valuable data regarding how their seeds grow in these or those conditions;
identify potential problems and find ways to solve them;
improve their products in the future;
get risk notifications and valuable data for sales representatives to manage the market demand and promote sales;
increase customer loyalty and transparency through data-driven decisions.
In addition, fertilizer suppliers create an extra wow effect for their clients by using EOSDA Crop Monitoring to demonstrate how their products affect the crop. And such a demo does not require anybody to leave their offices as they can see it on the screens of their laptops or tablets.
EOSDA Products Bring Numerous Benefits, But How Exactly Do They Help Input Suppliers Improve Their Business Operations In Ukraine?
Input suppliers leverage EOSDA Crop Monitoring to track demo fields for their customers and show them how the plants grow after applying certain biostimulants, how they get affected by herbicides, why certain plant seeds are better than the others in terms of crop productivity, and so on.
For instance, here are the features of the EOSDA Crop Monitoring platform one of the world leaders in the plant input supply industry from Ukraine uses most often:
Vegetation indices comparison on the nearby fields to demonstrate customers how crops differ on a field that was treated with fertilizers and on a field that wasn't. This way, they zero out the effects of different climates, slopes, and crop amounts of the past seasons.
Split view to show how fertilizers affect the vegetation and crops on the same field over time.
Field rating to monitor the status of demo fields internally.
Height maps to understand the specifics of terrain and fertilizer application planning.
Weather forecasts and historical data to understand the best times for seeding.
Field monitoring to track vegetation in general.
The most critical period input suppliers are tracking is if the NDVI index – the basic vegetation index showing the density and greenness of vegetation – has risen in 14 and in 21 days after biostimulators have been applied. Another important index for them is NDMI, Normalized Difference Moisture Index, which is used to track water stress for plants.
All these features are leveraged by input suppliers to prove to their clients that their production is of high quality using real-world data.
Join the EOSDA Partner Program
How Do Satellite Technologies Help Boost Sales Of Fertilizers And Seeds?
The short answer is that satellite monitoring for agricultural input suppliers helps verify the highest quality of seeds and fertilizers they produce and sell.
Using weather and vegetation indices analytics in the EOSDA's platform, seed producers and protection product manufacturers validate the crop germination processes, assess seed resistance to biotic and abiotic stresses, avoid reclamation by improving quality assessment, demonstrate sprout health and plant growth speed, and ultimately, predict yield volumes.
In addition, EOSDA Crop Monitoring provides ways to zone fields and create vegetation and productivity maps. This feature brings key insights on how to apply fertilizers precisely and what effect it brings on crop productivity, a key selling point for input suppliers.
Which Major Factors Stop Agribusinesses From Using Satellite Technologies, And What Can Be Done About It?
Input suppliers have a great understanding of the importance of analytics. The problem is that many of them think satellite monitoring is expensive and complicated, and retrieving valuable data in this way requires hiring extra personnel.
In reality, with EOSDA Crop Monitoring, businesses get ready-to-use analytical data that are easy to interpret. In addition, the company has a support program for every new client, including online training for clients' employees and videos on how to use the EOSDA Crop Monitoring tool. The interface is intuitive for everyone who browses the Internet actively.
What Are The Plans Of EOSDA To Further Assist Agribusinesses?
Technologically, EOSDA plans to further increase the amount and quality of data it collects by launching new satellites. New levels of precision will help extract more actionable insights on seed treatment and fertilizer effectiveness, as well as demonstrate their quality to end customers.
In terms of business, EOSDA will continue helping input suppliers in Ukraine overcome the war's hardship and the consequences it will bear in every way accessible.
If An Agribusiness Would Like To Consider Leveraging Sattech, What Would Be Its First Steps?
They should visit eos.com and press "Request a demo." Then, the EOSDA manager will present our solutions for them to learn its benefits for their businesses.
About the author:
Natalia Ivanchuk holds a Master's degree in Applied Mathematics (2013) from the National University of Water and Environmental Engineering. She is an author of 60+ scientific publications, monographs, and other scientific works.
In 2019, she successfully defended a thesis, "Mathematical modeling of filtration processes in soil environments taking into account the influence of elements of engineering structures" and earned the Candidate of Technical Sciences degree.
Currently, Natalia is an Associate Professor at the Department of Computer Sciences and Applied Mathematics at the National University of Water and Environmental Engineering in Rivne, Ukraine. She teaches different programming languages (C++, C#, JS, among others) at the said university.
Natalia is actively engaged in scientific research related to the practical application of new programming algorithms. Programming is also something she likes to do in her spare time.
Her expertise and constant desire to learn and perfect her programming skills, especially in working with Python, has been most beneficial for EOS Data Analytics.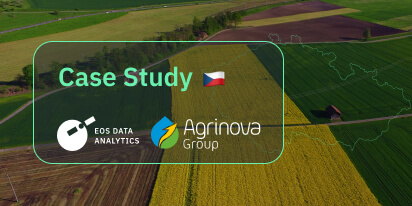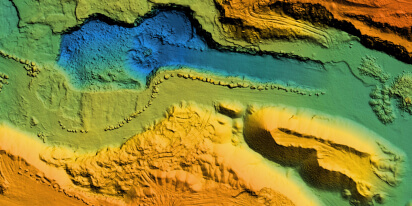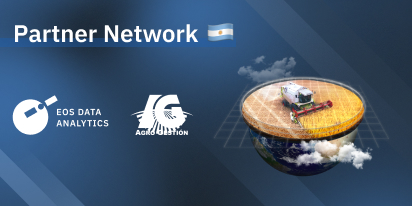 EOS Data Analytics Partners With Agro Gestión
With a focus on innovation and sustainability, EOS Data Analytics and Agro Gestión's partnership will bring cutting-edge satellite technology to more agribusinesses in Argentina, Paraguay, and Spain.