EOSDA & Agrinova: A Powerful Agri-Tech Alliance
To provide our readers with a richer understanding of the subject matter, EOS Data Analytics introduces a new interview format featuring not just one, but two distinguished speakers. By inviting external representatives and industry experts to share their insights, EOSDA aims to delve deeper into the topics at hand and offer a more comprehensive discussion.
In today's interview, Brijesh Thoppil, the Strategic Partnerships Lead at EOS Data Analytics, a global provider of AI-powered satellite imagery analytics, and Luděk Novák, Founder & CEO of Agrinova Group, a leading agricultural consulting and business services provider in Central and Eastern Europe, will talk about a remarkable journey of Agrinova Group. Beginning with a modest plan covering 5,000 hectares of fields in October 2021, Agrinova Group has since increased its EOSDA Crop Monitoring subscription sixfold, demonstrating the immense potential of the partnership.
This conversation will also revolve around the secrets behind the astonishing growth of a one-person company and explore the promising future that lies ahead. We will also examine how small and medium local agribusinesses can expand their market with the help of EOSDA and discuss ways to further extend and strengthen this fruitful partnership.
Let's Start With Outlining EOSDA's General Approach To Working With Small And Medium Agribusinesses.
Brijesh Thoppil: We focus on providing agribusinesses with valuable insights derived from our technology and AI-powered satellite imagery analytics. These insights help make better decisions, optimize operations, and increase crop yields. And the information we provide – like crop health status, yield estimation, soil moisture analysis, fertilizer optimization, and weather forecasting – allows agribusinesses to track crop production, compare analysis with market trends, and make informed decisions about when and where to sell their crops.
To identify challenges faced by small and medium-sized companies in different regions, we rely heavily on the local knowledge and expertise of our partners. They help us understand prevailing conditions and identify issues and potential solutions. By tailoring our solutions to the specific needs of each region, we aim to empower agribusinesses and contribute to their growth and success.
On To The Partnership Between Agrinova Group And EOS Data Analytics. How Did It Start?
Brijesh Thoppil: Our partnership with Agrinova Group began in October 2021 when Luděk opted for a subscription to our out-of-the-box crop monitoring platform, which had a monitoring limit of 5,000 hectares. Prior to formalizing the partnership, we had been in communication with Luděk on various projects in the Czech Republic, Slovakia, Poland, and Ukraine.
The goals of our partnership were diverse: first, to help Agrinova Group familiarize themselves with the platform and its features; next, to enrich the platform data by providing additional services such as extra vegetation indices and high-resolution imagery analytics. This would help Agrinova Group stand out in the market and bolster their efforts to improve fertilization practices, initially in Czechia and later extending to Slovakia, Poland, and Ukraine.
We had high expectations for this partnership to help us expand our services in the European market. Given Luděk's background and expertise in agricultural engineering, the onboarding and training process was smooth and efficient. This allowed us to swiftly focus on the long-term objectives of our partnership.
How Have EOSDA's Technologies Impacted Agrinova Group's Business?
Luděk Novák: I lead a consulting business, and what we did is we integrated the EOSDA Crop Monitoring platform into remote field services offering for clients in the region of Agrinova Group operation.
I can confidently say that EOSDA's technologies have had a profound impact on Agrinova Group's business in several ways.
Their solutions seamlessly align with our 21st-century strategy, mission, and vision, empowering us to deliver top-class services. As a result, we have experienced a significant improvement in operational profit across the entire value chain, driven by cost reductions and double-digit growth.
Our partnership with EOSDA has also enabled us to reduce the application volumes of mineral nitrogen fertilizers, saving up to 150 kg N/ha depending on the crop and local conditions.
The platform has eliminated operational barriers due to travel distances and decreased our workload by optimizing working time utilization. Today, we make more informed decisions in crop nutrition and protection management, moving away from intuition-based decision-making and reducing nitrogen losses.
As for the growth in monitored hectares, I attribute it to several strategies, such as focusing on innovation-driven customers, keeping things simple and hands-on, providing regular feedback, and establishing partnerships with key stakeholders and market influencers to create a snowball effect.
Join the EOSDA Partner Program
Brijesh Thoppil: We also have an excellent case study done in collaboration with Agrinova Group, revealing how the implementation of the EOSDA Crop Monitoring platform has helped improve land productivity and increase yields for Agrinova's customers. It showcases how our partnership has enabled Agrinova Group to become a trusted advisor on the EU Nitrate Directive for Czech farmers.
And What About Challenges, Have You Had Any When Using And Promoting EOSDA's Solutions To Your Clients?
Luděk Novák: Our biggest business challenge is the conservatism of farm agronomists, their doubts, concerns of overcontrol with data, and the high cost of risk-taking by stepping out of their comfort zone. In other words, without taking meaningful risks, there are no reasonable gains.
Another challenge is the language barrier, as Central European languages have limitations in terms of available language versions. While Google Translate can help with the platform, YouTube training would benefit from language localization rather than subtitles.
Of course, there are always introductory challenges when adopting a new service, but we have managed to overcome these thanks to the strong commitment and support from the EOSDA team, who have been dedicated to our progress and success.
Brijesh Thoppil: I also believe that our excellent EOS Data Analytics Partner Program has played a significant role in providing systematic and resourceful support to Agrinova Group, helping them address their clients' challenges and scale up their business with us.
Several key factors make this program so helpful for all our partners:
Comprehensive training on our products and how they work, including technical and sales aspects.
Provision of marketing materials such as presentations, whitepapers, case studies, videos, logos, and templates.
Competitive pricing with discounts for critical projects.
Effective partner account management support and exceptional customer service through our Customer Success Managers.
A well-structured communication plan to understand the partner's needs, along with regular updates on products and check-ins.
Speaking Of Success, Can You Reveal How Exactly Have You Benefited From Partnering With EOS Data Analytics? Is Such Success Replicable?
Luděk Novák: By using the EOSDA platform for vegetation monitoring, we've been able to reduce the application rate of mineral granulated fertilizers such as urea, ammonium nitrate, or UAN. The ability to monitor crops almost in real-time and understand chlorophyll/photosynthesis levels has fostered trust and mutual respect between our customers and suppliers. This has paved the way for the implementation of change and innovation, replacing the nearly 100-year-old mineral nitrogen fertilization technology.
Without a doubt, our partnership with EOSDA is an essential piece of Agrinova Group's innovation-driven offering. It significantly differentiates us from our rivals in the region and accelerates our development towards regenerative and sustainable crop production, with the top-class and user-friendly EOSDA platform.
For the upcoming season, we are expanding our partnerships in Slovakia, Ukraine, and Poland through partner accounts, which will increase overall efficiency and expedite the implementation of consulting services, including EOSDA's offerings.
In general, I believe the key to success lies in having the will and a certain level of hunger to lead and create. This approach is always connected with some risks, and while it's often cheaper to learn from others' mistakes, partnering with experts significantly reduces those risks, including sunk costs.
By collaborating with experienced professionals, we navigate the challenges more effectively and ensure a higher likelihood of success in our endeavors.
Brijesh Thoppil: To replicate the successful partnership we've had with Agrinova, it's essential to have a standardized process for onboarding and training new partners. This process should include the provision of training materials, marketing materials, and pricing information. Establishing a regular communication plan or schedule with on-demand support and training also helps our partners succeed.
Finally, it's also crucial to regularly evaluate the success of the partnership and make necessary adjustments to improve performance and achieve planned goals.
What Are Your Further Plans In The Central And Eastern European Region?
Luděk Novák: Our plans are ambitious and growth-oriented. We aim to double the monitored acreages in Central Europe in 2024 and, in alignment with EOSDA, penetrate "ad hoc" regions through the partners of our suppliers, following a cross-selling model.
The needs of growers are more or less the same: to better understand vegetation development, reduce manageable risks, and eliminate unnecessary nitrogen costs arising from over-fertilization practices. Our goal is to make better use of the existing technologies in agriculture 4.0 and, later on, 5.0 to achieve higher profits with a smaller environmental footprint. Through our partnership with EOSDA, we will continue to push the boundaries of innovation and sustainable practices in the agriculture sector.
Brijesh Thoppil: Currently, we're focused on leveraging the business connections and local knowledge of our partners in the area. Agrinova Group has a strong presence in Poland, Slovakia, and Ukraine through their local offices and representatives. By extending our partner program support to other Agrinova Group stations, I firmly believe we will achieve revenue diversification with the same partner across different parts of the region.
In addition, to establish new partnerships in the broader central and eastern European region, we conduct regular market research to identify potential resellers or partners who either have a strong presence in the region or come from an agricultural services background, selling products complementary to ours and having a solid business track record.
So far, we have been successful in onboarding more partners such as Iva Balte from Lithuania, Dr. Szabo Agrokemiai from Hungary, and Susanne Schödel GmbH from Germany.
It's essential to recognize that each partnership is unique, and we may need to make adjustments to our partner program based on the specific needs of individual partners.
Let's Finish Off By Talking About Current And Upcoming Innovations And Technologies. How Do You Expect They Will Change Your Business And The Agriculture In General In The Nearest Future?
Luděk Novák: I see that fewer people will be actively working in crop production, making satellite imagery and AI natural directions for the industry.
There will likely be small and medium farms that continue to operate using their historical processes and crop management methods. At the same time, there will be farms that adapt more quickly to new situations, reaping the benefits of innovation and increased productivity sooner.
In addition, we're seeing innovations arising from biotech-based solutions, where crop monitoring will become even more crucial for successful crop management. In response to these developments, we are actively exploring market opportunities alongside our existing partnership with biotech, searching for niches to expand our portfolio without jeopardizing our current partnerships. This approach will help us stay at the forefront of the industry and ensure that our business continues to grow and adapt to the ever-evolving agricultural landscape.
Overall, I believe that selecting business partners, products, and services that embody the spirit of the 21st century is crucial in building our company portfolio. We focus on partnering with suppliers who share similar values, as this fosters a synergistic relationship that accelerates growth and innovation. In the world of agriculture, there are two races unfolding: one driven by the inevitable changes in crop production and the other fueled by satellite imagery, artificial intelligence, and machine learning. The best position for success is at the intersection of these races, standing alongside a strong, reliable, and innovative technology leader, ready to embrace the future and inspire positive change in the agricultural sector.
Brijesh Thoppil: The recent successful launch of our first agro-focused satellite, EOS SAT-1, has opened up new opportunities for enhancing the data quality of our existing solutions and developing unique features and datasets. Staying ahead of the competition requires continuous learning and development, as well as constant communication with our customers to better understand their needs and preferences. Our in-house scientists and R&D department work on custom agricultural solutions to meet specific customer needs, setting us apart from competitors and providing a unique value proposition.
Our focus has always been on sustainability and addressing global issues such as climate change, food security, and hunger. We believe that satellite imagery and AI will play a critical role in the future of precision agriculture, offering solutions like crop monitoring, weather monitoring, and pest detection. Once the EOS SAT constellation becomes fully operational, we will provide high-resolution imagery to monitor crop health more frequently and accurately, cover almost 100% of farmlands and forest areas globally, and apply new algorithms for measuring carbon stored in the soil, fertilizer application recommendations, and effective water management.
We are confident that our commitment to innovation and partnership will ensure our continued success in the rapidly evolving agricultural technology market.
About the author:
Brijesh Thoppil is the Strategic Partnerships Lead at EOS Data Analytics, a global provider of AI-powered satellite imagery analytics.
Brijesh joined EOS Data Analytics in April 2021. He is primarily responsible for the management, growth, and development of the company's strategic partnerships, both existing and new.
Brijesh holds a Bachelor of Technology in Mechanical Engineering from Anna University (Chennai). He has over 11 years of experience in various roles, including business development, implementation of technical projects, and management.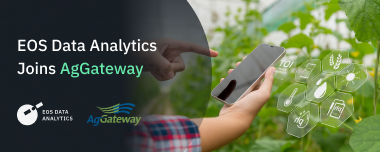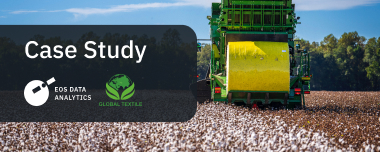 Stimulating Cotton Growth In Uzbekistan
Global Textile has been successfully utilizing EOSDA Crop Monitoring for over two years to obtain information about the vegetative development and help take care of their farmers' cotton fields.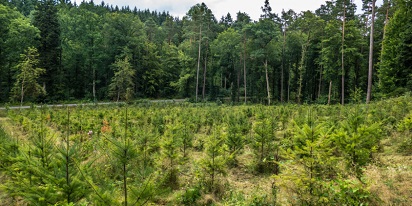 Reforestation: Pros, Cons And Effects On Planet
Reforestation has far-reaching benefits, from enhancing ecosystem services to fostering a more sustainable future. But we can only reap these rewards if we start well-planned reforestation right away.