Streamlining Farming: EOSDA Solutions For Agri-Coops
The beginning of agricultural cooperatives is rooted in the past. These formations appeared in response to farmers' need to secure farmlands and get the necessary supplies to maintain their businesses. All members of the same cooperative benefit from being part of the community. Farms collaborate to purchase agricultural services, improve crop yields, distribute and sell the produces, and eventually increase income. With the rise of space technologies, agri-coops got a chance to boost their effectiveness by leveraging satellite monitoring data.
In this interview, Brijesh Thoppil, Director of Strategic Partnerships at EOS Data Analytics, shared the company's strategy on developing partnerships with the US and Canada agricultural cooperatives and named the benefits farming coops will get from implementing EOSDA satellite-powered solutions.
Why Did We Decide To Enter The Agri-Coop Market In The US And Canada?
With its traditionally strong individual farming, North America is now demonstrating the growth in agricultural cooperatives. In a nutshell, the agri-coops aim at helping their members increase yields and profit. They connect farmers to distributors that put agricultural produce on the international market, assist in purchasing supplies, and provide agrarian services at a lower cost than third parties can offer. Moreover, with the rise of precision agriculture promoting a sustainable approach to farming practices to avert climate change and preserve natural resources, agricultural cooperatives started to express interest in remote sensing technologies for crop management. And this is where EOS Data Analytics can show its expertise.
The same factors have driven the growth of agri-coops in Canada. Additionally, there is an intent to understand agricultural landscape biodiversity and modeling using satellite tech and big data. Since Canadian farming coops have realized that space technology may bring them substantial benefits in crop development and productivity growth, it's time for EOSDA to come into the spotlight.
What Is The Value Of EOSDA Solutions For Agricultural Cooperatives?
Our satellite-based EOSDA Crop Monitoring platform is capable of providing information over large spatial areas that can be used to identify and quickly respond to any issues threatening normal crop development — crop diseases, nutrients deficiency, heat and cold stress, weed spread, pest attacks, excessive irrigation or water scarcity, etc. This investigative approach is vital for increasing crop yields and reducing input costs. Additionally, the platform allows farmers to save time and money by tracking all field activities, detecting problem zones, and sending scouts for on-site inspection.
What Is The Capacity Of The US And Canadian Agri-Coop Markets?
The data proves that the US agri-coop market is steadily growing. If in 2015 it was generating $6.5 billion income, the latest estimations are as high as $200 billion in net sales made by the US farming cooperatives in 2020.
Canada has over 1,200 agri-coops uniting 500,000+ members and retaining approximately 20% of the agricultural market.
What Are The US And Canada Portions In The Overall EOSDA Clients Portfolio?
The US makes up 18.30% of all global EOSDA user base employing the EOSDA Crop Monitoring platform. The absolute number of users is 174 — these are small and medium clients and partners (resellers) that have collectively monitored more than 58,000 ha as of March 2022.
In Canada, we currently have 21 clients, which have covered 2,000+ ha with our EOSDA Crop Monitoring software up to now. So we're actively expanding our partnership considering the fairly big volume of the Canadian agri-coop market.
What Are The US And Canada Regions With The Highest Concentration Of Farming Coops?
Regarding the US, most of the leading agricultural cooperatives are located in Iowa, Minnesota, and California. Iowa has 33 out of the Top 100 agri-coops that made $12.7 billion of net sales as of 2019. California amounts to $10.7 billion of revenue generated by 20 Top coops, and, finally, 28 best cooperatives of Minnesota report to have $9.1 billion of sales. One of our partners in California, Epik Systems, aims to monitor 250,000 ha by the end of 2022 under our collaboration. We also plan to develop more partnerships in the US with our special program that gives an impetus to our partners' growth and scales up activities.
In Canada, Saskatchewan, Ontario, Alberta, Manitoba, and British Columbia are the most abundant provinces in terms of agricultural cooperatives, and we surely plan on delivering our satellite monitoring solutions to these regions.
Do Agricultural Cooperatives Fall Into Top-3 Sectors Currently Using Satellite Tech Solutions In The US And Canada?
For the time being, neither in the US nor Canada, agri-coops are one of the Top-3 sectors using satellite-driven solutions. Conventionally, satellite technology is used mostly by governments and large enterprises for communications and collecting intelligence data. However, since earth observation technology is advancing, many commercial and non-profit organizations from different industries, including agricultural cooperatives, have started leveraging space-based data.
Moreover, in the context of climate change and swell in the world's population resulting in growing global food demand, farming coops are set to be in the Top-3 sectors that will utilize the processed satellite imagery to increase productivity. The key argument for employing satellite technology should be the use of AI and data analytics to power decision-making — that's why leading agri-coops are willing to invest in agtech solutions.
What Challenges Do Agri-Coops Have In Working With Data That We Can Help With?
The biggest problem agri-coops face is a lack of data for making informed decisions. They simply don't have any data-backed grounds to predict, for example, crop disease or yield loss. Thus, to gather bites of information from fields, coop members have to arrange on-site investigations and spend lots of time and resources on scouting.
Another issue is the misestimation of the need for fertilizers, herbicides, and pesticides, leading to unjustified expenses, waste of agricultural inputs, and low yields. Also, the members of one cooperative often use different farm management software, which evokes miscommunication that complicates decision-making. With this being said, the solution to these problems may be implementing the data-rich platform enabling agricultural cooperatives to provide advisory services to the members.
Join the EOSDA Partner Program
What EOSDA Crop Monitoring Features Are The Most Beneficial For Farming Coops?
The four features that come top of mind are crop monitoring, weather analysis, field leaderboard, and team management. Yet EOSDA Crop Monitoring offers even more functionalities that may be especially valuable for farming coops, so let's go through all of them.
Indices analysis — vegetation indices built with the help of mathematical algorithms deliver critical insights on crop growth and help detect and prevent various anomalies such as nutrient deficiency, pest infestations, crop diseases, cold or heat stress, etc.
Weather data — a 14-day weather forecast allows farmers to plan the field activities. At the same time, historical data demonstrates weather patterns giving presumptions on what climate conditions to expect during a particular season.
Scouting — scouting tasks enhance detecting problematic field areas and minimize the time to address them. The team account feature allows landowners and assigned scouts to be in touch during the on-site inspection. Moreover, all cooperative members can monitor each other's fields in the shared account.
Team management — this feature ensures easy information sharing between coop members, agronomists, and scouts, keeping data trustworthy and transparent.
Field leaderboard — simply put, it's a dashboard showing the overall state of fields that can be sorted by vegetation index value, crop, field size, sowing date, etc.
Zoning — this functionality creates maps for differential seed planting and fertilizing and identifies field plots with higher and lower productivity.
What Partnership Options For Agri-Coops Do We Offer?
We have several options to partner with agri-coops:
The out-of-the-box EOSDA Crop Monitoring platform with a subscription plan starting from 5,000 ha. Once this option is activated, a partner will be assigned a dedicated account manager.
Simple (Basic) or Advanced White Label — a fully customized EOSDA Crop Monitoring platform. The advanced solution covers agri-coops corporate branding, the mobile application for scouting, admin panel setup for user management, and a custom reporting scheme. A dedicated account manager is provided here as well.
Custom solutions include crop classification, field boundaries detection, and yield prediction using multi-resolution and multi-temporal satellite images and AI/ML models.
How Is The EOSDA Solutions Implementation Going?
The out-of-the-box product can be used right away after a subscription is purchased. The white label products normally take up to 2–3 months from the moment a customer contacts our sales and partnership team till the platform's purchase. The implementation team discusses a platform development process with a client considering all customization requests. As to the deployment terms, a simple white label solution can be rolled out in 4–6 weeks, whereas an advanced white label platform takes 8–10 weeks to be up and running. So, it wouldn't be an overstatement that with EOSDA turnkey white label solutions offer, our customer saves up to two years of platform development time.
What Outcome Will Agri-Coops Get Once They Implement The EOSDA Solutions?
We offer our clients products based on top-notch satellite-driven technologies and packed in an AI-powered analytics platform to help obtain comprehensive information about their farmlands. The user interface and functions of the EOSDA Crop Monitoring out-of-the-box and white label solutions are designed to ensure the best user experience.
Vegetation indices, weather history and forecasts, zoning, scouting — all these functionalities aim to arm agri-coops with the most accurate actionable insights for smart field management. Agricultural cooperatives will be able to regularly check crops' state, track vegetation changes, and detect the risks early on. In the long run, our solutions will help agri-coops become more productive and profitable, producing more with less and staying aware of the state of their fields.
About the author:
Rim Elijah joined EOSDA in early 2020. She holds a double degree in business administration and political science from Stockholm University.
Rim is VP of Sales at EOSDA. She is overseeing all aspects of business model development and implementation, maintenance of positive business & customer experience, and the growth of the company's global coverage. She is responsible for closing deals, scaling up ongoing projects, as well as the development and implementation of process control within the Sales department. Rim also regularly takes part in negotiations with important clients.
So far, Rim has managed to successfully establish a number of strategic partnerships with an emphasis on the delivery of sustainable solutions in various regions of Africa and Asia.
In addition to her main responsibilities, Rim is presently involved in the upcoming launch of the first agri-based satellite constellation by EOSDA, scheduled for mid-2022. She manages relationships with the EOS SAT investors.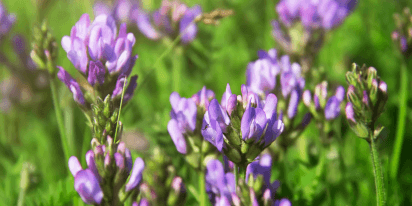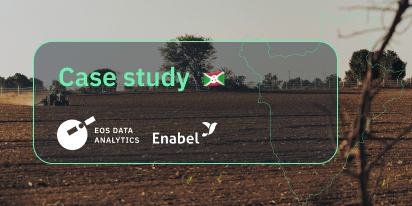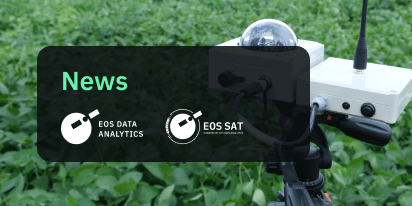 EOSDA Confirms EOS SAT-1 Satellite Data Validity
Ground measurements in Ukraine have confirmed the data validity of EOSDA's EOS SAT-1 satellite. The tests used the SunScan device and showed a strong correlation between ground and satellite data, validating the satellite's capabilities.