Input Suppliers: Driving Business Growth With EOSDA
For some time, agricultural input manufacturers have been focusing on staying afloat and increasing profits amid factors that make it difficult to reach these goals. It's that simple: input suppliers want to sell more to customers, smallholding farmers and agriculture businesses, who can't afford to buy more because of ever-increasing prices on seeds, fertilizers, and crop protection products.
Besides this conflict of interest, both sides struggle with a lack of up-to-date data and analytics to optimize daily operations, derive trends (land productivity, demand for specific inputs, etc.), and plan or adjust activities. That's information about weather, the state of soil and crops, and farming activities.
Luckily, these challenges can be solved via implementing satellite imagery analytics. Yevhenii Marchenko, Account Executive at EOS Data Analytics, talks about turning input suppliers' pain points into growth opportunities while helping input supplier customers build next-generation sustainable food production systems.
Why Does EOS Data Analytics Plan On Targeting The U.S., Canada, New Zealand, And Australia Input Supplier Sectors?
Although these countries are located in two different parts of the world, we follow the same goal: to become a reliable satellite data and analytics provider for input supplier companies to help them better determine the market potential for new and existing input products. I'm talking about knowing what environmental conditions in a given region are, what difficulties in growing healthy crops they cause, what crops are cultivated there, and how farmers can use inputs to diminish these negative factors and increase yields.
Access to relevant information will allow their commercial and marketing teams to match offerings with grower needs.
How Can Input Manufacturers Benefit From Satellite Imagery Data Analytics?
They can benefit from interpreting satellite imagery data in numerous ways. Let me break it down for you.
First, input suppliers get objective data to identify market demand for crop protection products and seeds. Small and mid-size input manufacturers generally don't engage with their customers directly as managing teams of sales managers backed up by agronomists and advisors require significant resources. Agents and distributors do this job and have the privilege to learn about farmer needs directly. So, satellite imagery tools for agricultural remote sensing, such as EOSDA Crop Monitoring, can be those sources of knowledge about end users' operations and, of course, pain points.
Input suppliers can obtain data about farm locations, grown crops and the amount of harvested products, recent weather extremes, soil moisture levels, or NDVI reports for areas of interest.
You Mentioned NDVI And Other Indicators Of Soil And Crop Condition. Does That Mean One Can Compare The State Of Crops And Soil Before And After Applying Crop Protection Products To Check How Effective They Are, For Example?
Yes, exactly. Input suppliers can use EOSDA Crop Monitoring to evaluate how their products work to ensure they bring competitive products to the market.
Specialists can compare crop and soil conditions before (by accessing historical data on fields' productivity) and after applying inputs. The findings can be used as proof of product efficiency in descriptions or for selecting the product that works best. Moreover, remote sensing enables thorough and relatively fast input testing: Manufacturers can apply pesticides and fertilizers on a test field and monitor how they affect crop health day by day. So, waiting for the end of the harvesting season to evaluate input effectiveness is no longer needed.
For instance, one of our customers analyzed the productivity of fields for the past three years with NDVI (Normalized Differential Vegetation Index). Then a manufacturer sorted fields by crop yield and tested new seeds on the most productive ones. Agroholdings and smallholder farmers, on the other hand, can track crop vegetation and experiment with the efficiency of various products.
Another room for improvement is in customer experience, notably consultancy services. Nowadays, it's not enough to sell crop protection products, seeds, or fertilizers to end customers. Clients ask for advice, and they need a consultant in their corner who will help identify a problem within their fields and offer an effective solution. And input suppliers can do that by relying on insights from EOSDA Crop Monitoring.
So, agro input manufacturers or distributors who provide products and access to remote sensing tools can engage more with their clients and change their reactive approach to proactive: offer solutions to end users even before they ask for it. And all those offers are supported by data.
Join the EOSDA Partner Program
What EOSDA Crop Monitoring Features Are The Most Critical For Input Suppliers?
The NDVI mentioned above is one of the platform's 18 available indices — numbers quantifying a plant's vegetation state for each pixel in an image taken remotely by satellites with optical sensors. NDVI shows plant health based on the correlation between reflected and absorbed near-infrared light by the plant. Besides delivering critical insights on crop growth, indices help detect and prevent various anomalies, such as nutrient deficiency, pest infestations, crop diseases, cold, heat stress, etc. The NDVI index is also commonly used to track drought, predict agricultural production, help in forecasting fire zones and desert offensive maps.
Another index-related feature is layers indices. It gives users the ability to see NDVI or other index values in the global Layer for multiple adjacent fields simultaneously. That way, one can estimate the state of crops quickly.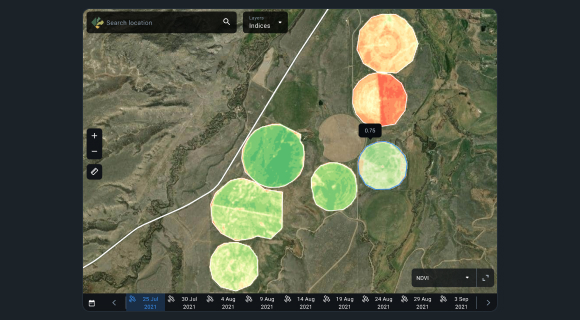 Split view also simplifies the farmers' work. With it, users compare two images of the same field made on different dates to detect changes in crop conditions over time. There are three split-view modes: vegetation and custom indices, field monitoring, and water stress detection (NDMI).
Input suppliers can help farmers and agro companies optimize the use of their products based on the productivity levels of field plots to save money. The zoning feature used to create vegetation and productivity maps makes differential seed planting and fertilizing possible.
The precision agriculture tool is a reliable source of environmental data, so customers monitor factors that influence plant growth. EOSDA Crop Monitoring provides soil moisture data, and I'm proud to say that only another vendor on the market offers this data. Also, the platform lets users view 14-day forecasts, access historical weather data since 2006, and compare 5-year average weather data with a current year to define trends in crop development.
Finally, what's the point in remote monitoring of fields if you can't organize a team to react to detected issues promptly? For this purpose, EOSDA Crop Monitoring developers built a mobile scouting app. It notifies users about problem areas and allows for assigning tasks to scouts who can add notes and photos about a spot during an on-site inspection. The app has team management capabilities meaning one can assign user roles based on their responsibilities (admin, scout, or observer). The feature ensures easy information sharing between agents, agronomists, farmers, and scouts, keeping data trustworthy and transparent. At last, it's possible to add as many users to the platform as needed without paying fees.
What Partnership Options Are Available For Input Suppliers?
Input manufacturers can choose among three options.
Off-the-shelf EOSDA Crop Monitoring with a subscription starting from 5,000 ha. A dedicated account manager will assist a partner once they activate the option.
Basic or Advanced white label — a branded EOSDA Crop Monitoring platform with selected feature set. The Basic option includes the EOSDA Crop Monitoring's desktop version. The Advanced option has a mobile scouting app and an admin panel for user management that can be hosted on a partner's domain. A partner becomes the EOS Data Analytics Partner Program member and gets the right to resell the platform.
By enrolling in the reselling program, input suppliers can expand their portfolios, reach new markets, and start competing with companies like Syngenta, Bayer, BASF, and Corteva. They already have analytics platforms for agriculture clients.
Services of an account manager get technical support and development are also at the partner's disposal.
Custom solutions to solving a specific problem include land coverage and field boundary classification, crop and soil classification, field boundaries detection, harvest dynamics monitoring, access to soil moisture data starting 2002, and yield prediction.
What Are Long-term Outcomes For Input Suppliers Using EOSDA Solutions?
Input suppliers with access to data about farming operations and weather in a specific region will hold all the cards: they will know what prospects to target and how to tailor offers to turn them into customers. Moreover, manufacturers will be able to test their products and shortlist the most effective ones for bringing to market.
Agro input suppliers and distributors will also be able to advise customers on optimal use of seeds, fertilizers, and crop protection products while supporting their recommendations on insights from the EOSDA Crop Monitoring platform. That way, suppliers will not only develop a reputation as those helping farmers get maximum yields while applying inputs and spending budgets wisely but also as those pushing agricultural innovation forward.
About the author:
Rim Elijah joined EOSDA in early 2020. She holds a double degree in business administration and political science from Stockholm University.
Rim is VP of Sales at EOSDA. She is overseeing all aspects of business model development and implementation, maintenance of positive business & customer experience, and the growth of the company's global coverage. She is responsible for closing deals, scaling up ongoing projects, as well as the development and implementation of process control within the Sales department. Rim also regularly takes part in negotiations with important clients.
So far, Rim has managed to successfully establish a number of strategic partnerships with an emphasis on the delivery of sustainable solutions in various regions of Africa and Asia.
In addition to her main responsibilities, Rim is presently involved in the upcoming launch of the first agri-based satellite constellation by EOSDA, scheduled for mid-2022. She manages relationships with the EOS SAT investors.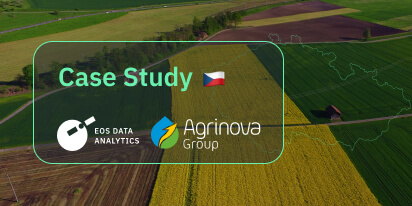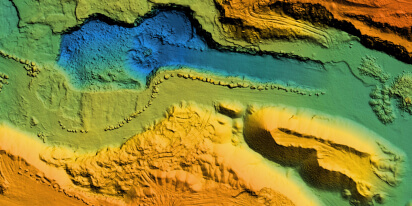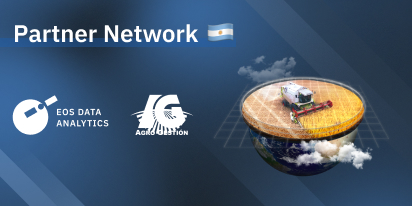 EOS Data Analytics Partners With Agro Gestión
With a focus on innovation and sustainability, EOS Data Analytics and Agro Gestión's partnership will bring cutting-edge satellite technology to more agribusinesses in Argentina, Paraguay, and Spain.