EOS Data Analytics Provides Data On Sowing In Ukraine
EOS Data Analytics (EOSDA), a global provider of AI-powered satellite imagery analytics and a precision agriculture expert in Ukraine, launches a custom project to deliver data analysis on the Ukrainian sowing season in 2022.
Upon the clients' specific requests from Europe to South America, EOSDA offers custom solutions that could be provided on a field, regional, state or country level. The project will benefit not only farmers but all agriculture-engaged businesses and institutions, including agri-banks, food producers, commercial growers, and input suppliers.
EOSDA Crop Monitoring
Access high-resolution satellite images to ensure effective fields management!
Ukraine is one of the world's largest producers and exporters of wheat and corn — the country accounts for about 10% and 16% of these crops, correspondingly, in the global export. More than 400 million people worldwide depend on Ukrainian grain supplies. Normally, Ukraine exports 4–5 million tons of grain monthly, but as of now, this volume has almost tenfold dropped. In 2022, considering that at least a third of the country's agricultural areas won't be planted, Ukraine is projected to produce as little as 63 million tons of grain and oilseeds, significantly impacting the world food market.
The company has been carrying out crop classification in Ukraine, on regions and country level each year since 2016, utilizing a proprietary model based on AI and neural network.
During this time, EOSDA achieved more than 90% classification accuracy.
Crop classification results from 2016 onward are available on the EOSDA Crop Monitoring satellite-based precision agriculture platform.
Under the sowing season uncertainty, global agricultural market players — agri-banks, food producers, input suppliers, and farming cooperatives — critically need reliable data on the sowing campaigns in Ukraine to understand what to expect in 2022–2023. Here at EOSDA, our R&D team led by professors and PhDs has been working on processing the satellite data and building the analytics reports to help individuals and businesses make prompt data-driven decisions.The beauty here is that businesses won't need to provide us with any ground truthing, nor historical data, as we got data worth of years on Ukrainian lands. All they have to do is specify their areas of interest then contact us.
The functionality of the sowing campaign monitoring project encompasses:
№1. Sowing Progress Evaluation Based On Vegetation Indices
In the early crop growth stages, this function will help distinguish crops from weeds and track the vegetation progress.
Recommended for May–June period;
Project duration (including data collection, analysis, calculation, modeling, and report preparation) — 2–3 weeks for a region and about one month for the entire country;
Output — a raster/vector mask (.shp/.geojson) that displays a field's metadata, a parameter indicating the presence or absence of crop on the field.
The data is visualized with a mask looking like a field grid, painted in different colors depending on the presence of crop vegetation.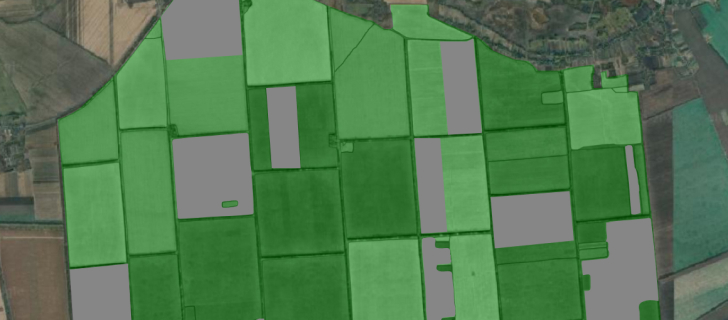 №2. Early Crop Classification
As the name suggests, this feature allows identifying the crop type in early vegetation development stages with up to 70% accuracy.
Recommended in late June;
Project duration — three weeks for a region and about one month for the entire country;
Output — a raster/vector mask (.shp/ .geojson) that displays a field's metadata, a parameter indicating the presence or absence of crop on the field.
№3. Standard Crop Classification
Crop classification in later growth stages enables to receive high data accuracy — up to 80% and more.
Recommended in late August;
Project duration — three weeks for a region and about one month and a half for the entire country;
Output — the same as in the early crop classification option.
Regardless of the option a customer chooses, they will receive the result of modeling in the above-mentioned formats and a detailed report with the output interpretation elaborated by seasoned EOSDA scientific team experts.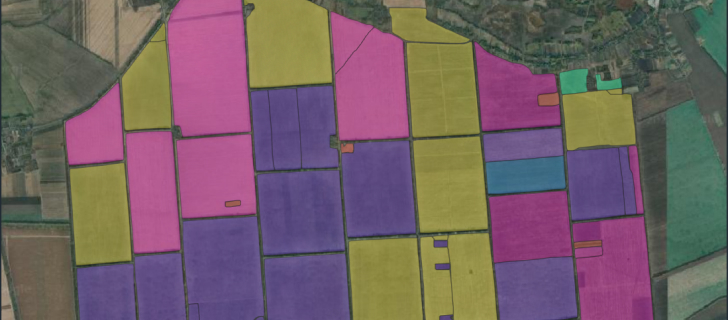 We believe that each vertical whom we have been working with will find value in this newly-launched initiative. For example, crop growth monitoring in the early stages enables food producers and commercial growers to timely recognize and eliminate factors threatening crops, prevent yield loss, and, consequently, avoid food shortage. Agro-input suppliers, tracking crop vegetation, can experiment with the efficiency of various products. While agri-banks will get reliable data for risk assessment, making sure farms are capable of paying their loans back.
EOS Data Analytics is confident that space-based technologies play a key role in modern agriculture, making it easier to adapt to any unexpected and unfavorable changes the world may face.
About the author:
Natalia Borotkanych has been working in the space sector for more than 15 years now. Her experience includes working in business, science, education, and government projects.
Natalia has a PhD in space history, Master's Degree in Foreign Policy from the Diplomatic Academy of Ukraine, as well as Master's Degree in Public Management and Administration from National Academy for Public Administration under the President of Ukraine.
Building upon her experience of working in the State Space Agency of Ukraine, Natalia now specializes in helping the state bodies and NGOs to implement the satellite monitoring technologies for solving real-world problems and for smart decision-making.
Natalia is an active science communicator. She is a scientific editor at The Universe. Space. Tech magazine. She also teaches a "Space diplomacy" course at the National Aviation University.
Natalia's experience in project coordination and scientific expertise in the space sector are much appreciated at EOS Data Analytics.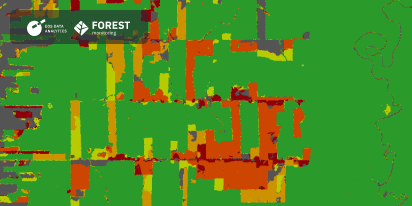 EOSDA Custom Neural Net: Deforestation Detection
The Science team at EOS Data Analytics has developed a custom algorithm for intelligent detection and tracking of deforestation in tropical regions using LEO satellite images as a data source.