How EOSDA Satellite Solutions Serve Agro-Consultancy
The demand for agricultural products has been continuously growing during the last decades, fueled by the rising world population. The countries with traditionally strong agricultural markets keep ramping up their farming potential.
According to the US department of agriculture, the industry contributed $1.055 trillion to the nation's GDP in 2020. New Zealand's US agricultural exports totaled $528 million the same year. Australia's GVA (the gross value added) amounted to 26.2 billion Australian dollars as of June 2021, and Canada has ambitious plans to reach $75 billion annually with agri-food export by 2025.
Agricultural consultancy delivering value-added services is also growing along with the agricultural market. Agri-consultants advise clients on traditional farming practices and modern technologies capable of streamlining crop production.
We asked Mohammed Altaqatqa, Partner Sales Manager at EOS Data Analytics, about the company's plans on building partnerships with agricultural consultancies in the US, Canada, Australia, and New Zealand and the value of satellite-based technologies for farming.
What Goals Does EOSDA Set Entering The Agro-Consultancy Sector In The US, Canada, Australia, And New Zealand?
We have one ultimate goal for all these regions — introducing more agro-consultancies to cutting-edge satellite technologies, which will help them achieve better results with their clients.
Leveraging satellite-driven analytics in identifying and resolving crop cultivation problems will help agri-consultants demonstrate the significant outcome in farms' productivity and profitability. Also, successful cases will serve as a visit card for the consultants and bring more clients over time.
What Is The Agricultural Markets' Capacity Of The Regions We Target?
The specific feature of the US, Canada, Australia, and New Zealand regions is vast territories with fertile soils suitable for growing various crop types.
Australian agriculture accounts for 55% of the country's lands, which is as much as 427 million ha. It also takes 1.9% of value-added GDP and employs 2.5% of the country's population. Canadian agricultural sector brings $139.3 billion to the nation's economy and makes up around 7.4% of Canada's gross domestic product. New Zealand's farming contributed $12.653 billion to the national GDP in 2020 and employed 143,000 people. And finally, the US will house more than two million agribusinesses, including agro-consultancies, in 2022.
These figures give us firm grounds to assume that consultant services are in demand not only with smallholding farmers and agri-cooperatives but also with governments, banks, and insurance companies. Moreover, given EOSDA solutions can benefit all mentioned verticals, the agro-consultancies will have a chance to enforce their service offerings with high-end satellite technologies and win more clients.
Why Did We Decide To Enter The Agro-Consultancy Market In The Countries Mentioned Above?
In fact, we are already present in the market — we have direct agro-consultancy customers who use our EOSDA Crop Monitoring platform to advise their clients on crop's state, weather data, soil moisture, and field productivity. This approach works perfectly for smallholding farmers. However, it might be rather cumbersome and time-consuming for agribusinesses, governments, banks, or insurance companies resulting in less profit for the consultancy. The thing is, with larger commercial clients, consultancies will require more staffing and invest more time and resources, which might, eventually, affect their profitability.
When becoming a partner, the consultancy will have an opportunity to give clients access to EOSDA Crop Monitoring to make analytics and then charge them for this value-added service. Thus, agro-consultants will save time and gain more profit — and these are the ultimate goals we pursue by expanding our partnership program.
How Many Hectares Of Farmlands Are Covered By EOSDA Products In Australia, Canada, New Zealand, And The US?
Australia is the leader in our portfolio — more than 1,000 users have monitored 200,000+ ha there as of March 2022.
New Zealand's part makes up around 37,000 ha monitored up to now.
The users in the US have covered 58,000+ ha since 2019, and in Canada, where we're actively scaling our business presence, 2,100+ ha have been already monitored.
Join the EOSDA Partner Program
What Pains Do Agro-Consultancies Currently Have In Working With Data We Can Help With?
In short, given the industry specifics, agro-consultants critically need access to reliable multifaceted information on the state of crops and fields to elaborate the best advice for a client providing a high level of services.
But if we drill down, there will be more specific problems, such as:
Insufficient data to make proper decisions;
Time-consuming scouting for crop issues investigation;
Necessity of remote access to customers' fields;
Lack of transparency in a consultant-client relationship;
Slow processing of data retrieved from different sources;
High competition between agro-consultancies;
Need for additional value-added services complementing the core offerings;
Limited resources for market expansion.
Let me elaborate a bit more on the last point. It often happens that agro-consultancies don't have enough resources to promote their services, making it difficult to win new customers. So we help our agro-consultancy clients promote their services by making marketing presentations and conducting joint webinars and workshops to enhance market presence. For example, we've recently hosted a workshop with our client Agroxchange Technology for partners worldwide, planning to arrange more such events in the future.
Which EOSDA Solutions Can Be The Most Valuable For Agro-Consultancies?
Usually, consultants have to physically check problematic field areas and take soil samples to understand crop growing issues. This approach is costly and time-consuming, and the results may not be fully representative if not considering other factors influencing crop development. Our EOSDA Crop Monitoring, a satellite-powered online service for remote crop management, utilizes mathematical algorithms to process the satellite imagery and provide agro-consultants with in-depth analytics for making informed decisions.
EOSDA Crop Monitoring has rich functionality to streamline farm operations and optimize crop cultivation. Specifically, for agro-consultancies, I believe the following platform's features will be the most helpful:
Scouting — a scouting app allows sending scouts to investigate the field areas where the satellite detects problematic plots. The scouts take pictures, upload them into the app, and fill in the report indicating an issue in detail;
Zoning — zoning helps in differential seed planting and fertilizing by identifying field parts with higher and lower productivity. This functionality enables creating vegetation and productivity maps to manually calculate the required amount of fertilizers depending on vegetation and soil state and crop growth stage;
Indices analysis — vegetation indices, when properly interpreted, inform crucial insights on crop state and assist in spotting and timely averting various anomalies such as weed spread, nutrient deficit, cold or heat stress, etc.
Weather data — weather forecasts, together with historical trends, give agrarians the understanding of what to anticipate from the weather during the sowing season, crop maturity stage, or harvesting, and adjust their agricultural activities accordingly;
Team management — even though this feature isn't directly related to EOSDA Crop Monitoring, team management helps greatly ensure quick, easy, and transparent information sharing between fields' owners and third parties — scouts, agri-consultants, or agronomists;
Field leaderboard — it sounds a bit pompous, but in fact, this is a table showing the main fields' characteristics such as crop type, a field's area, sowing date, and vegetation index value that can be sorted in either way.
What Partnership Options For Agro-Consultancy Do We Offer?
EOS Data Analytics has three options of partnership to offer the clients:
Out-of-the-box EOSDA Crop Monitoring — this option will be a good choice for accounts with a subscription package of 5,000+ ha. A dedicated account manager, assigned once the purchase is completed, will make sure a client has a hassle-free start.
White Label solution (Simple or Advanced) — a fully customized platform under Simple white label solution allows applying a client's branding and visual identity and changing the domain name. In the Advanced white label, there should also be added the mobile application for scouting, a user management admin panel, and a custom reporting scheme.
Custom solutions covering crop classification, yield prediction, and field boundaries detection powered by multi-resolution and multi-temporal satellite images and AI and machine learning models.
How Is The Implementation Process Going?
The out-of-the-box EOSDA Crop Monitoring platform is an entirely ready-to-use product once a subscription is purchased.
The white label solution usually takes around 2–3 months before a client makes the purchase decision. In the ballpark, after all customization requests are fulfilled, the simple white label platform can be up and running in 4–6 weeks, whereas for the advanced white label, the deployment team needs 8–10 weeks to finalize it and give it to the client. Compared with the time a client would spend developing such a platform on their own, the EOSDA off-the-rack solutions save the customer at least as much as two years.
What Benefits Will Agro-Consultancies Get Once The EOSDA Solutions Are Implemented?
In my opinion, agri-consultancies will benefit the most from:
24\7 remote access to all client's fields;
Time-saving scouting app, enabling all concerned parties to seamlessly collaborate;
Group accounts to ensure transparency in the farmer-consultant relationship;
Historical data and vegetation indices for data-driven decisions;
Productivity and vegetation maps available in Zoning for accurate fertilizer application;
Automated vegetation change notifications to mitigate all risks threatening yields.
What Outcomes Will Agro-Consultancy Get By Partnering With EOSDA?
We're confident that agro-consultancies may achieve higher yields for their clients by using our satellite-driven analytics platform. In its turn, success stories will bring consultants more customers and, eventually, more profit. Since satellite-powered technologies are rapidly advancing, getting more interest from different businesses and commercial organizations, we believe the agro-consultancy sector will also recognize the value of satellite-based EOSDA Crop Monitoring analytics for their business development.
About the author:
Rim Elijah joined EOSDA in early 2020. She holds a double degree in business administration and political science from Stockholm University.
Rim is VP of Sales at EOSDA. She is overseeing all aspects of business model development and implementation, maintenance of positive business & customer experience, and the growth of the company's global coverage. She is responsible for closing deals, scaling up ongoing projects, as well as the development and implementation of process control within the Sales department. Rim also regularly takes part in negotiations with important clients.
So far, Rim has managed to successfully establish a number of strategic partnerships with an emphasis on the delivery of sustainable solutions in various regions of Africa and Asia.
In addition to her main responsibilities, Rim is presently involved in the upcoming launch of the first agri-based satellite constellation by EOSDA, scheduled for mid-2022. She manages relationships with the EOS SAT investors.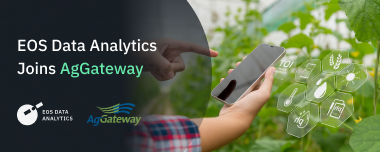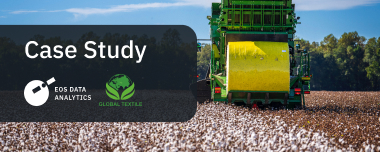 Stimulating Cotton Growth In Uzbekistan
Global Textile has been successfully utilizing EOSDA Crop Monitoring for over two years to obtain information about the vegetative development and help take care of their farmers' cotton fields.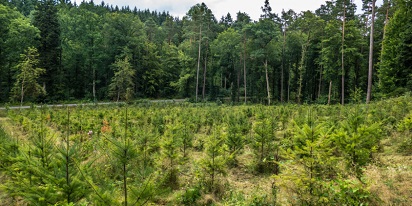 Reforestation: Pros, Cons And Effects On Planet
Reforestation has far-reaching benefits, from enhancing ecosystem services to fostering a more sustainable future. But we can only reap these rewards if we start well-planned reforestation right away.