Ubiquitous Connection: EOSDA Enters Telecom
In today's world, telecom is one of the most important commercial markets leveraging space technologies. The demand for telecommunications has significantly increased during the last five years, fueled by economic globalization, mobile devices' popularity, and all-permeating digitalization. The researches state that the global telecom market is expected to hit $2,866.61 billion in 2022. Growing by 7.4% annually, the telecom sector is projected to reach $3,818.36 billion by 2026, opening vast market entry opportunities for businesses utilizing remote sensing technologies in their solutions.
In this interview, Mohammed Altaqatqa, Partner Sales Manager at EOS Data Analytics, shared the company's plans to expand into the telecom market in the US, Canada, Australia, and New Zealand and explained how EOSDA solutions benefit the telecommunications industry.
What Goals Does EOSDA Have Accessing Telecom Sector In The US, Canada, Australia, And New Zealand?
Telecom in the Anglosphere is a virtually new market for us — we haven't provided our solutions there before. However, following the company's goal to expand business coverage, particularly via partnerships, we see lots of opportunities in the telecom sector, which is currently gaining momentum.
We already have two telecom partners in Africa and Asia using our platform to serve their clients, so now our goal is to have at least one partner in each of those new regions by the end of 2022!
What Is The Telecom Markets' Capacity Of The Targeted Regions?
In the US, the telecom market amounts to $331.3 billion this year, with a projected growth of 6.2% till the end of 2022.
The Canadian telecom sector is ramping up, controlled by few market players. The lack of competition leads to higher growth potential than in other countries, and figures prove this assumption — in 2019, the Canadian telecommunication industry generated 54.1 billion Canadian dollars in revenues.
The telecom market of Australia is currently valued at $35 billion. And finally, the telecommunications sector in New Zealand was worth around 5.12 billion New Zealand dollars in 2020.
Join the EOSDA Partner Program
Why Did EOSDA Decide To Penetrate Telecom Market In The US, Canada, Australia, And New Zealand?
We used to think that telecom companies provided communication services only. However, in reality, telecommunication businesses are also involved in working on innovations and exploring new technologies that may benefit their clients.
Recently, I spoke with the Head of Information and Communication Technology at one of the world's largest telecom companies helping governments digitize their operations. This company is considering purchasing our white label EOSDA Crop Monitoring platform and providing it to the Ministry of Agriculture to monitor government fields scattered across the country with the help of satellite imagery.
EOSDA Crop Monitoring allows them to access all fields with just one click and check the crops' health remotely without spending a fortune on scouts and other traditional methods such as soil testing.
What EOSDA Crop Monitoring Features Are The Most Useful For Telecom?
Our platform is a feature-rich tool offering different functionalities for multiple use cases.
Specifically for the telecom sector, I would say the following features will be helpful:
Indices analysis — vegetation indices based on mathematical algorithms provide insights on crop growth, helping detect deviation in normal crop development and prevent threats such as weed spread, pest attacks, or weather extremes;
Weather data — a 14-day weather forecast and historical data give farmers the necessary background to schedule field activities and prepare for weather events making sure crops won't be affected;
Zoning — this feature is powered by VRA (Variable Rate Application) technology creating maps for differential seed planting and fertilizing to spot low-productive field areas in need of additional nutrition;
Scouting — scouting functionality facilitates pinpointing a problematic field area and sending an expert directly to investigate an issue and indicate it in the report;
Team management — since agricultural operations may involve different stakeholders, the team management feature allows for quick information sharing between farmers, agri-consultants, agronomists, and scouts, ensuring data is accurate and reliable;
Field leaderboard — this table displays essential field parameters such as vegetation index, sowing date, crop type, and field size that can be filtered and sorted the way a user needs.
What Partnership Options For Telecom Do We Offer?
More likely, telecom partners won't use the platform themselves. Instead, they will mainly resell EOSDA Crop Monitoring out-of-the-box or white-label solutions.
The out-of-the-box product with account management and customer support is suitable for accounts with more than 5,000 hectares of a subscription package.
A white label solution implies a client's custom branding, visual identity, and domain name. In the advanced white label, customers will also get a scouting mobile application and a user management admin panel.
What Is The EOSDA Solutions Implementation Flow?
The out-of-the-box product can be used right away after subscription purchase. As to white label solutions, customers may choose between simple (basic) and advanced platforms. The simple white label platform can be rolled out in four to six weeks, whereas the advanced white label product needs a bit more time to be deployed — it takes eight to ten weeks on average. So even though it's not a one-day deal to have the platform up and running, clients can still save up to two years of development time.
What Benefits Will Telecom Partners Have With EOSDA Solutions?
First and foremost, using EOSDA Crop Monitoring will help their clients (farmers) get valuable insights and make precise data-driven decisions that can lead to better farm management, crop health, and higher yields.
Also, our telecom partners will provide the platform for governments and large growers to introduce more users to precision agriculture technologies. Moreover, telecom players may use our custom solutions — including crop classification, field boundaries detection, and yield prediction based on multi-resolution and -temporal satellite images and AI and machine learning models — to satisfy specific requirements of their clients and increase sales and profit.
About the author:
Rim Elijah joined EOSDA in early 2020. She holds a double degree in business administration and political science from Stockholm University.
Rim is VP of Sales at EOSDA. She is overseeing all aspects of business model development and implementation, maintenance of positive business & customer experience, and the growth of the company's global coverage. She is responsible for closing deals, scaling up ongoing projects, as well as the development and implementation of process control within the Sales department. Rim also regularly takes part in negotiations with important clients.
So far, Rim has managed to successfully establish a number of strategic partnerships with an emphasis on the delivery of sustainable solutions in various regions of Africa and Asia.
In addition to her main responsibilities, Rim is presently involved in the upcoming launch of the first agri-based satellite constellation by EOSDA, scheduled for mid-2022. She manages relationships with the EOS SAT investors.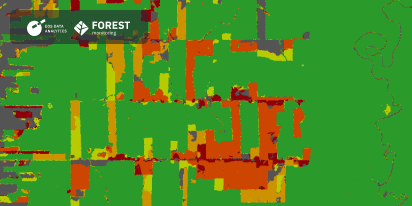 EOSDA Custom Neural Net: Deforestation Detection
The Science team at EOS Data Analytics has developed a custom algorithm for intelligent detection and tracking of deforestation in tropical regions using LEO satellite images as a data source.