EOS Data Analytics Receives 2022 GEO SDG Award
The Group on Earth Observation and the Earth Observations for Sustainable Development Goals (EO4SDG) Initiative announced the winners of the 2022 GEO SDG Awards at GEO Week 2022.
EOS Data Analytics (EOSDA), a global provider of AI-powered satellite imagery analytics, received the sectoral Commercial Award recognizing the productivity, innovation, novelty, and exemplary efforts in the use of Earth observations to support sustainable development. Launched in 2019, this annual award is presented to those making an impact on the 17 "Sustainable Development Goals."
Set by the United Nation's 2030 Agenda for Sustainable Development, these 17 goals provide a universal set of priorities to use as a blueprint of action for people, the planet, and prosperity. Earth observations, geospatial data, and the information they provide play insightful roles in monitoring targets, tracking progress, and helping nations and stakeholders make informed decisions toward achieving Sustainable Development Goals (SDGs). The annual GEO SDG award celebrates progress in reaching those goals through strengthening resilience and adaptiveness to climate-related hazards and natural disasters via Earth observations.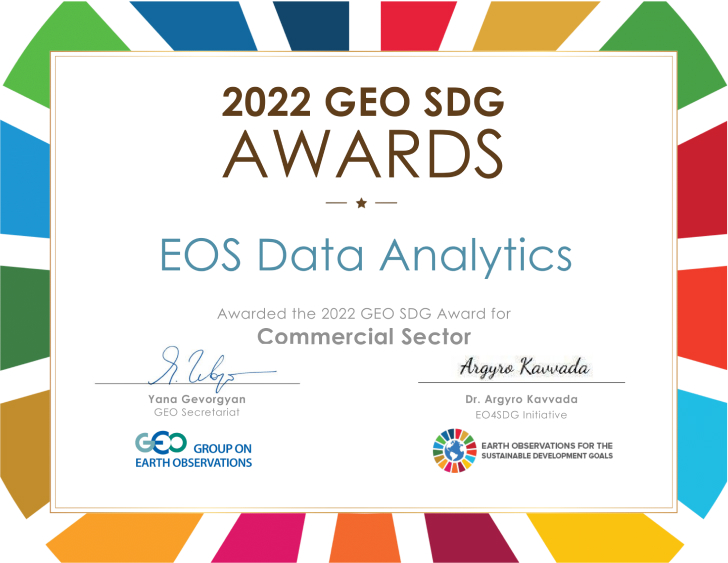 EOSDA obtains geospatial data and satellite imagery to analyze it for science and business purposes. It observes the surface of the planet to monitor global changes and provide data for immediate decisions.
EOS Data Analytics is currently aligned with 10 of 17 UN Sustainable Development Goals and uses them as guidelines when developing new software solutions or updating existing products to make an even bigger positive impact on nature.
The recognition from the Group on Earth Observation and the EO4SDG Initiative means a lot to me and my team. When tackling global challenges, humanity needs to combine the efforts of every its member, starting with a single individual and ending with international corporations and governments. We add technological expertise to this process to help retrieve actionable insights on how to make our world a better place for everybody. Dedicated to our mission of harnessing the power of satellite tech to provide businesses with fast and accurate data-driven decisions, we are staying confident that smart and sustainable practices in every industry are a key factor in ensuring the food security on the planet.
EOS Data Analytics utilizes proprietary algorithms and AI tech to the data retrieved from satellite imagery to analyze crops and forests. In this way, it helps businesses implement sustainable practices all over the world. The company also offers access to its geospatial data analytics tools to drive research, innovation, and progress together with non-profit organizations, independent researchers, and scientific organizations.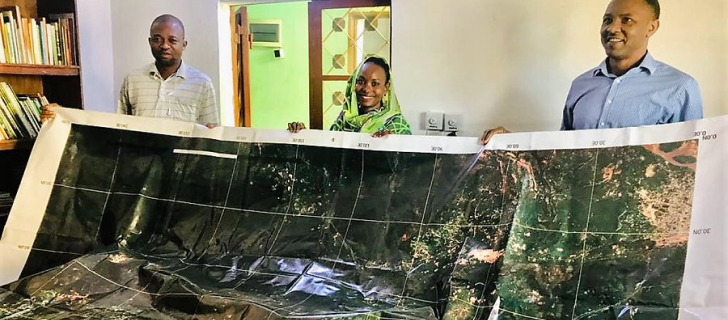 It's a pleasure to congratulate EOS Data Analytics on getting the 2022 GEO SDG Award. The analysis and management of massive amounts of geospatial data require combining its real-time collection with accurate location information, and this is where remote sensing technologies reveal their true power. Today, data analytics plays a crucial role in the development of the precision agriculture sector.
EOSDA's product lineup includes the EOSDA Crop Monitoring platform for the agriculture industry, EOSDA Forest Monitoring for forestry management, EOSDA LandViewer for businesses requiring geospatial data, and a number of custom solutions, all aimed to help adapt to climate-related hazards and shift towards sustainable business practices.
The awards include sectoral and special award categories. Sectoral awards focus on the type of organization and the nature of their work. Special awards recognize specific key tenets and objectives the awards are intended to highlight including innovation, statistical-geospatial integration, testimonial/story, and collaboration.
About GEO
The Group on Earth Observations is a unique global network of international experts designed to build connections, identify gaps, share best practices and reduce duplication of effort in sustainable development and sound environmental management.
About EO4SDG
EO4SDG serves a fundamental role to advance global knowledge about effective ways that Earth observations and geospatial information can support the SDGs.
Website: https://eo4sdg.org – Twitter: https://twitter.com/EO4SDG
About the author:
Rim Elijah joined EOSDA in early 2020. She holds a double degree in business administration and political science from Stockholm University.
Rim is VP of Sales at EOSDA. She is overseeing all aspects of business model development and implementation, maintenance of positive business & customer experience, and the growth of the company's global coverage. She is responsible for closing deals, scaling up ongoing projects, as well as the development and implementation of process control within the Sales department. Rim also regularly takes part in negotiations with important clients.
So far, Rim has managed to successfully establish a number of strategic partnerships with an emphasis on the delivery of sustainable solutions in various regions of Africa and Asia.
In addition to her main responsibilities, Rim is presently involved in the upcoming launch of the first agri-based satellite constellation by EOSDA, scheduled for mid-2022. She manages relationships with the EOS SAT investors.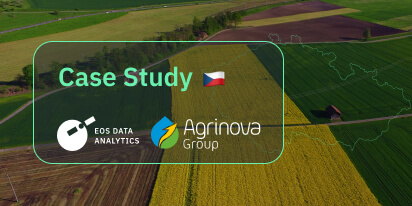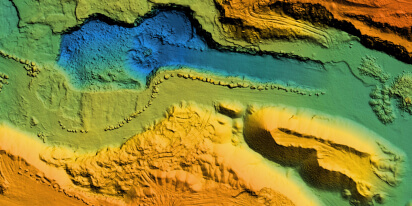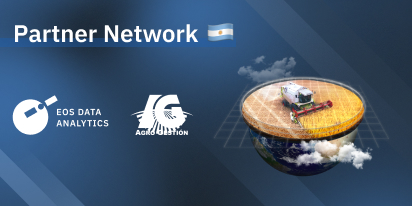 EOS Data Analytics Partners With Agro Gestión
With a focus on innovation and sustainability, EOS Data Analytics and Agro Gestión's partnership will bring cutting-edge satellite technology to more agribusinesses in Argentina, Paraguay, and Spain.