EOSDA Received Business Innovator Award 2023
On January 27-29, 2023, during Agrivision-2023, the International Conference on Agriculture and Rural Development, its host Society for Agricultural Research & Management (SARM) honored the most outstanding companies in the industry with a series of awards.
EOS Data Analytics, a global provider of AI-powered satellite imagery analytics, received a Business Innovator Award, which is a recognition of the company's ability to change society and create an impact on farmers' livelihoods.
EOS Data Analytics provides Earth observation solutions for smart decision-making in agriculture, forestry, and 20 more industries. It combines data retrieved from satellite imagery with artificial intelligence technologies to analyze the state of crops and forest trees to drive businesses and help them implement sustainable practices globally.
The Business Innovation Award received at Agrivision-2023 confirms the significant contribution of EOS Data Analytics in the agriculture sector and its success in transforming its economy through innovations.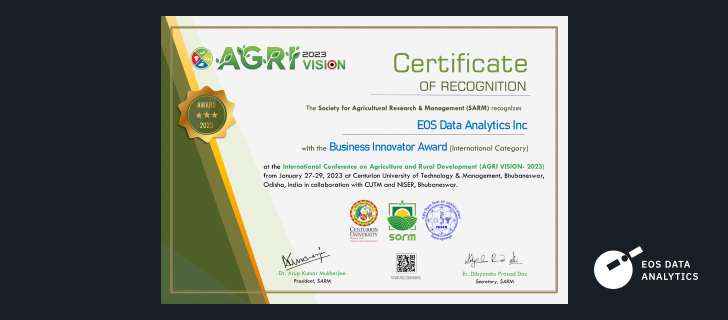 We are happy to receive the Business Innovation Award from the Society for Agricultural Research & Management. It's been a long way for a company and it is a pleasure to know our hard work is now getting recognized all around the world. I congratulate EOS Data Analytics' team with this achievement.
The Agrivision conference takes place almost every year starting with 2018 and helps industry players meet new clients and partners, explore emerging agribusiness opportunities, and build new business partnerships. In 2023, the program of the conference covered all aspects of agriculture, including plant science, rural banking, agri-policies, and many more.
Only five companies received a business award during Agrivision-2023, including EOS Data Analytics. This way, Society for Agricultural Research & Management recognizes the best brains in the industry and helps them boost their efforts in groundbreaking research and innovations, as well as extraordinary leadership.
We believe any significant impact on the agriculture industry must be recognized in order to inspire and motivate other players to think out of the box and serve humanity. I'm especially pleased that we had an opportunity to recognize the contribution of EOS Data Analytics, a company harnessing satellite technologies to help farmers increase their yields in a more eco-friendly way, with our award.
To continue bringing innovations to the agriculture and forestry industries, on January 2, 2023, EOS Data Analytics launched EOS SAT-1, the initial satellite of the first agri-focused satellite constellation EOS SAT operated by a remote sensing company, into a low Earth orbit. This satellite and, later, the whole constellation will help agribusinesses monitor crop growth, detect various kinds of stress and threats to the crop with even more precision and get more accurate insights on field productivity.
The extended possibilities of EOS SAT-1 will soon be added to all the products of EOSDA's lineup, including the EOSDA Crop Monitoring platform for agriculture businesses and organizations, EOSDA LandViewer for companies requiring geospatial data, EOSDA Forest Monitoring for forestry management, and a number of custom solutions, all aimed to help adapt to climate-related hazards and shift towards sustainable business practices.
About the author:
Rim Elijah joined EOSDA in early 2020. She holds a double degree in business administration and political science from Stockholm University.
Rim is VP of Sales at EOSDA. She is overseeing all aspects of business model development and implementation, maintenance of positive business & customer experience, and the growth of the company's global coverage. She is responsible for closing deals, scaling up ongoing projects, as well as the development and implementation of process control within the Sales department. Rim also regularly takes part in negotiations with important clients.
So far, Rim has managed to successfully establish a number of strategic partnerships with an emphasis on the delivery of sustainable solutions in various regions of Africa and Asia.
In addition to her main responsibilities, Rim is presently involved in the upcoming launch of the first agri-based satellite constellation by EOSDA, scheduled for mid-2022. She manages relationships with the EOS SAT investors.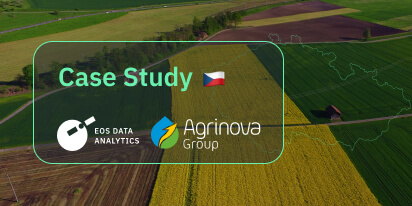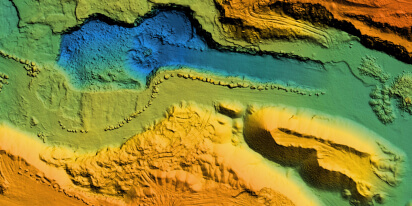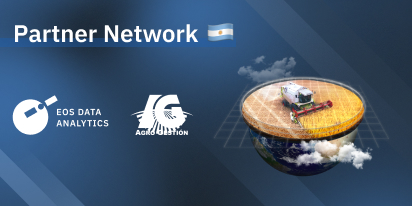 EOS Data Analytics Partners With Agro Gestión
With a focus on innovation and sustainability, EOS Data Analytics and Agro Gestión's partnership will bring cutting-edge satellite technology to more agribusinesses in Argentina, Paraguay, and Spain.