The Year Of 2020 In Satellite Highlights
2020 was a challenging year for humankind and our planet. Apart from the coronavirus pandemic, the Earth suffered from severe wildfires, tornadoes, hurricanes, floods, volcanic eruptions, and other natural calamities. Anthropogenic failures like oil spills and toxic leakages widened the damage scope.
EOS Data Analytics provides use cases based on the spatial imagery from their EOSDA LandViewer. Satellite images help visualize losses of environmental disasters 2020 and prove the diversity of the product applications. Let's recollect the most significant natural and technological tragedies of the year 2020 and see how satellite technologies assisted in monitoring them.
Fires In California And Colorado
The US Forest Service reports a 78-day increase in fire seasons, compared to the 1970s, mainly due to global warming. California lost about four million acres of forests in almost 9,300 fires in 2020, as assessed by the California Department of Forest and Fire Protection. Thirty-one people perished in this ecological tragedy. Satellite data, and images from EOSDA LandViewer in particular, show the disaster scale.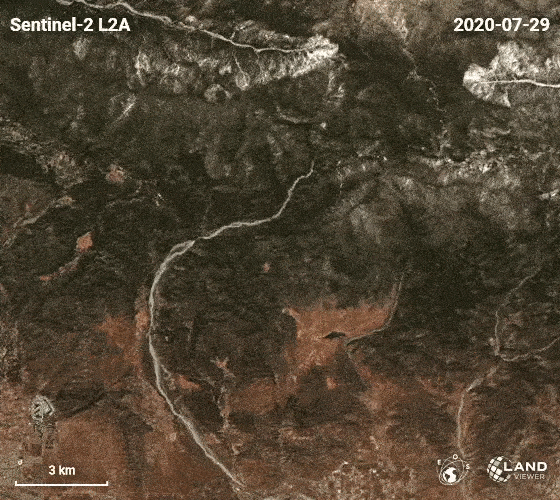 Wildfires of 2020 burnt over 624,000 acres in Colorado and took two persons' lives at least, not to mention fauna species. Forest fires united the California National Guard and regular residents of the Santa Cruz Mountains who volunteered in farm animals rescues. Satellite imagery helped the teams coordinate their actions.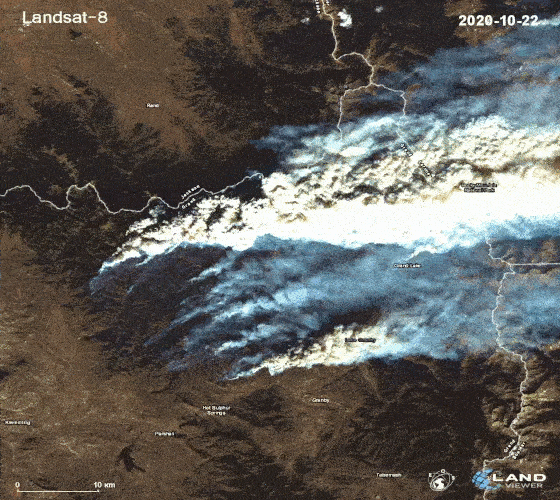 Ian Morris, a Stanford professor, shared his evacuation story in the New Yorker. He compared the orange and red-glowing skies with burning Atlanta in the movie Gone with the Wind.
Seasonal wildfires are challenging to prevent, yet they are possible to manage with satellite monitoring. Remote sensing allows more accurate problem evaluation and rational response.
Hurricane Laura In Louisiana
Laura was the tenth most severe hurricane that hit the continental United States, with a landfall on the Gulf Coast in August 2020. The speed reached 150 mph, compared to the gusts of the strongest US storm ever – the Labor Day hurricane that sustained winds up to 185 mph in 1935. Hurricane Laura was ranked fifth in a tie with five other 150-mph cyclones and assigned Category 4, lacking only seven mph to Category 5.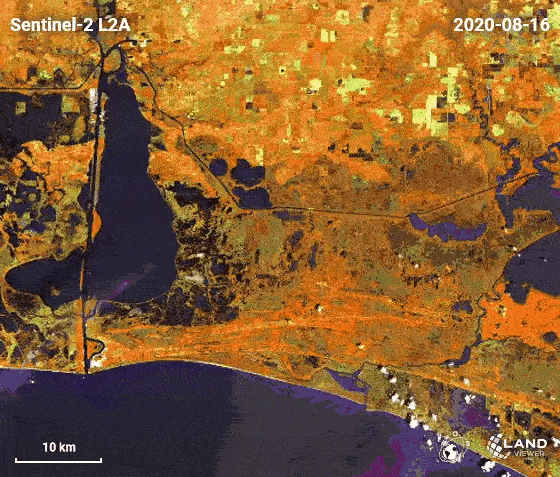 It was one of the most destructive storms in Louisiana, killing at least six people and competing with the 150-mph Last Island of 1856. Like Robin Baudoin from Sulphur, those who survived took it for blessing and still recollect the experience with awe.
The Doppler radar of the National Weather Service in Lake Charles reported winds up to 133 mph before the storm blew it apart, even though these devices are supposed to withstand Category 4 gusts. Meanwhile, satellite imagery remained a reliable source to monitor the tragedy. Images retrieved by NASA's GOES satellite and their spatial analysis allow tracking hurricane movement and impacts, noticing when they evolve, predicting the consequences, and planning rescue operations.
Kamchatka Spill In Russia's Far East
Thousands of sea inhabitants could not survive a toxic leak at the 25-mile shoreline in Kamchatka, the Russian Far East, in September 2020. The pollution also impacted a UNESCO World Natural Heritage Site and poisoned several local surfers and fishers who fell sick. They complained of vomiting and fever after entering the water. Like the surfer Anton Morozov, some helped raise public awareness of the disaster after getting well. The tragedy evoked discussions on social networks and independent mass media.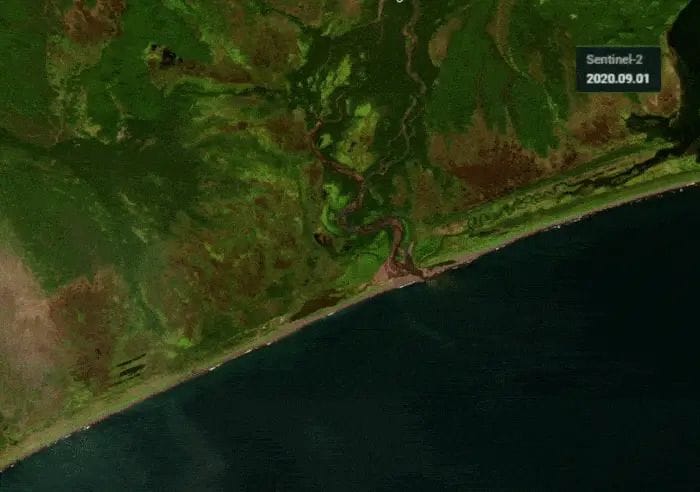 Seawater examinations proved the presence of oil substances in the zone, phenol in particular. Almost 95% of sea life perished at the 10-15 m depth due to contamination. The dead marine creatures washed ashore.
Satellite imageries captured from September 1 to September 9 and change detection enabled ecologists to spot the area where the river started to carry toxins to the ocean. The disclosure helped them to identify the leak and facilitated Greenpeace clean-up operations.
Norilsk Oil Spill In Russia's Arctic North
Twenty-one thousand tonnes of diesel were released from Nornickel's power plant in May 2020. President Putin categorized the Norilsk oil spill as an environmental emergency. The disaster status revealed the scale and speeded up the tragedy management. The consequences were liquidated in joint efforts of ecologists, US aid, and Russian authorities.
Due to the hard-to-reach location, remote sensing was the best option to deploy the cleaning-up events and rescue marine wildlife in the Russian Arctic. Satellite monitoring outlined the scope and highlighted the areas that demanded urgent attention. It ensured better disaster control and faster leak collection.
This is how satellite imagery from EOSDA LandViewer assisted in saving marine wildlife.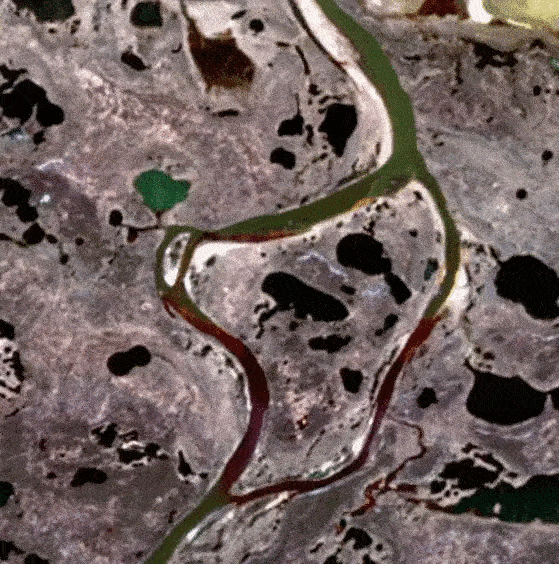 Calving On The Brunt Ice Shelf In Antarctica
There are two significant cracks on the Brunt Ice Shelf in Antarctica, the British Halley Research Station site. The recent one was first noticed in October 2016 and named Halloween Crack. The first one, Chasm 1, had been stable for 35 years until 2012, as seen from historical satellite images. Presently, it expands northward by 2.5 miles every year. EOSDA LandViewer clearly shows that sooner or later, it will intersect with the Halloween Crack, growing eastward.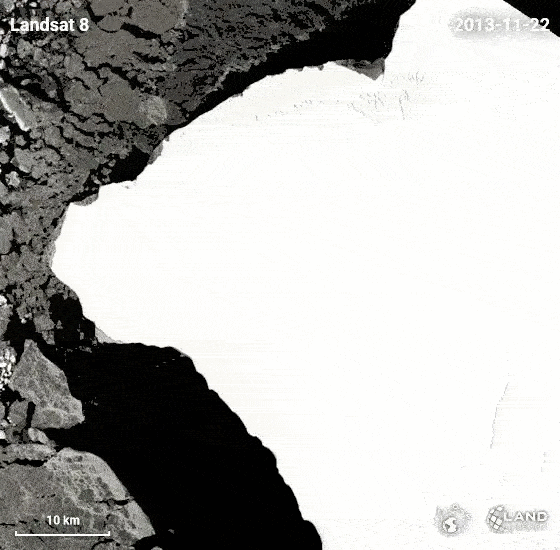 The intersection of these two cracks will push a massive iceberg into the ocean, and the ice chunk is estimated to be more than twice the size of New York City (660 square miles). It will melt, slightly raising the global sea levels. Furthermore, scientists doubt the shelf's further stability, not to mention safety concerns for the research station staff.
The crack lines are visible from space. Monitoring the phenomenon and analyzing satellite data, glaciologists can track the changes. This way, they can better predict how the situation unfolds and when the intersection happens.
Spatial Imagery Is A Precise And Powerful Tool
Earth observation systems empower us with the knowledge to work out a more rational response. Remote sensing aids in:
predicting,
scaling,
rescuing,
assessing losses,
mitigating the consequences.
Satellite imagery helps monitor the entire process from beginning to aftermath and notice the phenomenon once it evolves. Thus, rescue teams can evacuate people and animals in time, reducing the number of victims.
Satellites provide reliable and almost real-time data on what is happening on the Earth's surface and under it. These observations become invaluable for remote places or equipment breakdowns due to disaster severity.
The good thing is that spatial images don't cost a fortune or always require expensive equipment and research center approvals. Nowadays, anyone can access medium and high-resolution images, using multiple public free satellite imagery sources.
The scope of applications goes far beyond disaster response and environmental protection. From building a route with a GPS navigator to strategic monitoring, satellite-based systems facilitate many aspects of our lives and drive most modern businesses. The bright siding is that it is not yet a limit, and many more applications are predicted for the future.
About the author:
Natalia Borotkanych has been working in the space sector for more than 15 years now. Her experience includes working in business, science, education, and government projects.
Natalia has a PhD in space history, Master's Degree in Foreign Policy from the Diplomatic Academy of Ukraine, as well as Master's Degree in Public Management and Administration from National Academy for Public Administration under the President of Ukraine.
Building upon her experience of working in the State Space Agency of Ukraine, Natalia now specializes in helping the state bodies and NGOs to implement the satellite monitoring technologies for solving real-world problems and for smart decision-making.
Natalia is an active science communicator. She is a scientific editor at The Universe. Space. Tech magazine. She also teaches a "Space diplomacy" course at the National Aviation University.
Natalia's experience in project coordination and scientific expertise in the space sector are much appreciated at EOS Data Analytics.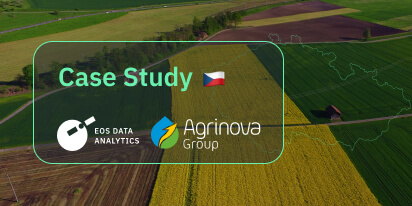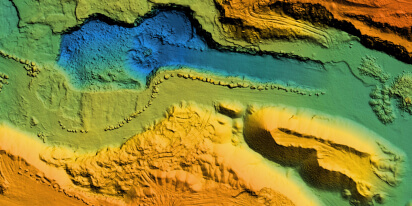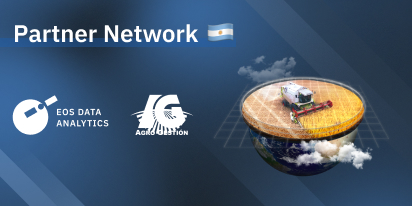 EOS Data Analytics Partners With Agro Gestión
With a focus on innovation and sustainability, EOS Data Analytics and Agro Gestión's partnership will bring cutting-edge satellite technology to more agribusinesses in Argentina, Paraguay, and Spain.