Russia Invades Ukraine: The War Declared By Putin
Around 5 am EET, on February 24, Russia invaded Ukraine. Residents of the capital city of Kyiv, as well as Kharkiv, Kherson, and Dnipro woke up to the sounds of explosions. The Russian military invasion was accompanied by numerous missile strikes on military targets in multiple locations across Ukraine. That morning will forever be known in history as the day when Putin started the Russia-Ukraine war.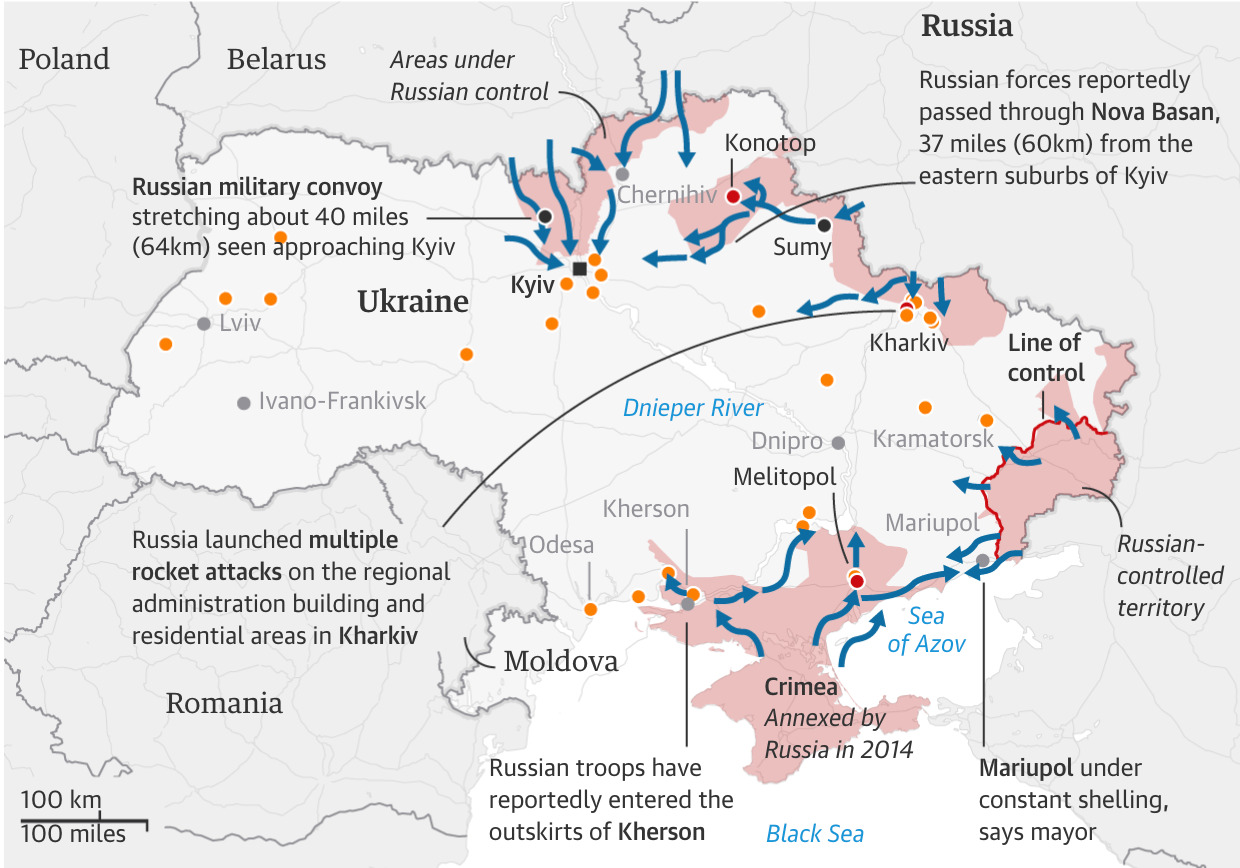 A day before Russia invaded Ukraine and the war has started, Putin claims that self-proclaimed republics LNR and DNR turned to Russia for help asking, according to Russia, "to protect the people who have been subject to bullying and genocide by the Kyiv regime throughought the last eight years." Putin calls this a "special military operation aimed at demilitarization and denazification of Ukraine". In reality, Russia effectively declared war on Ukraine.
As of March 2, it has been 7 days since the beginning of the Russian invasion of Ukraine. Whatever Putin claims, this has been anything but a peaceful operation. Putin's tyrannical regime has resulted in deaths of hundreds of Ukrainian civilians, including over a dozen children. A number of Ukrainian towns and cities were attacked and burned, and the long-range missiles have hit resident houses, kindergartens, orphanages, and hospitals. Unfortunately, this list goes on.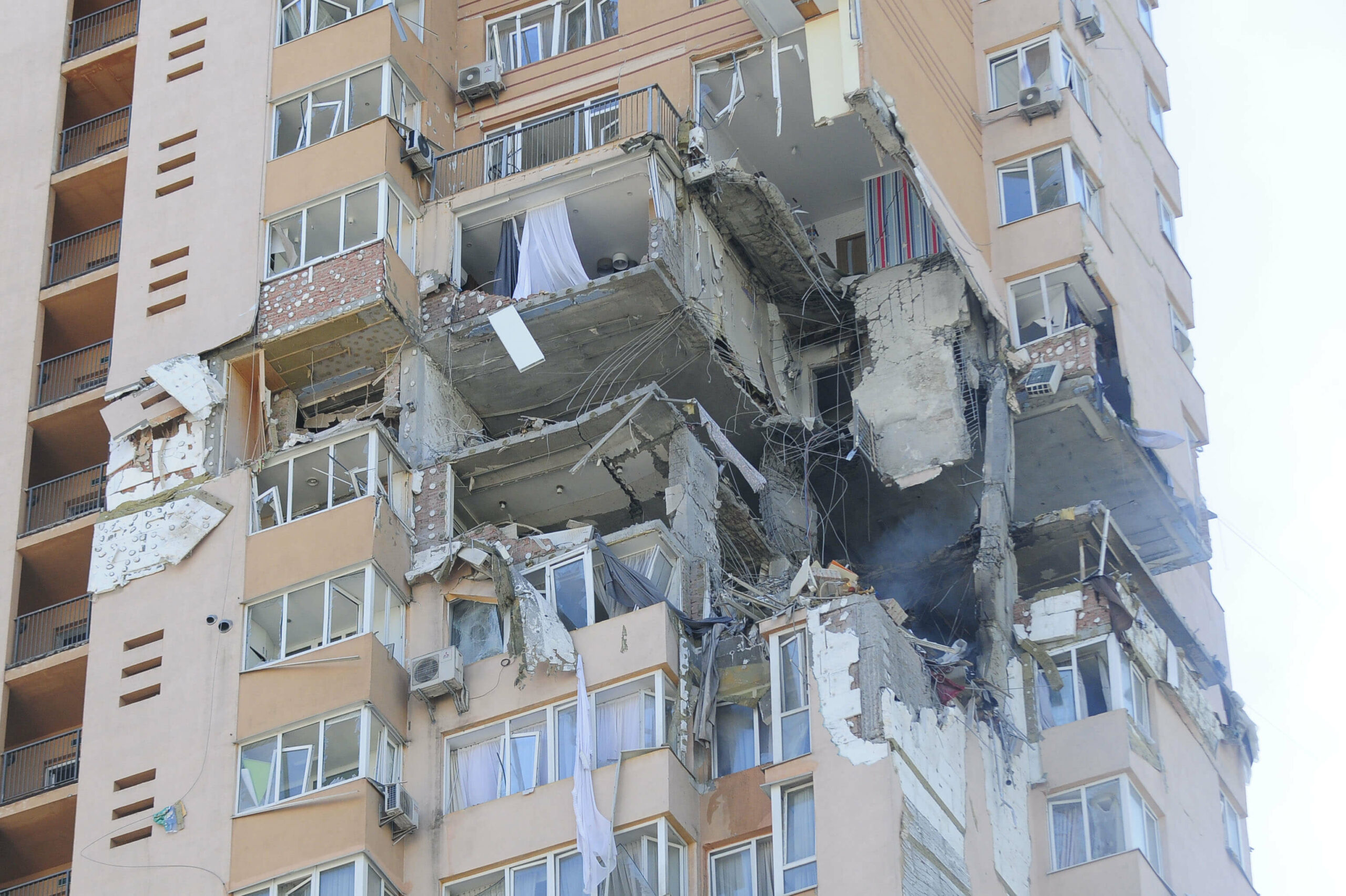 For 7 days, Putin has been lying to the world about his intentions in Ukraine, but he is fooling no one. The international community immediately started to react to Russia going to war with Ukraine, issuing sanction after sanction on the aggressor. By February 29, Europe completely shut the airspace for Russian airplanes. The Russian invasion of Ukraine led to the rapid collapse of the Russian economy with the SWIFT ban, prohibition to use the international reserves (€640bn), restrictions on the biggest banks, recession of the Nord Stream 2 gas pipeline, just to name a few. The Russian currency – Rouble – dropped by 40% in 3 days after the invasion, and the stock exchange is closed.
As the war between Russia and Ukraine continues to escalate after invasion, the armed forces of Ukraine are demonstrating a powerful resistance to the attacks. According to the latest statistics of the Ministry of Defence of Ukraine, there have been to date over 5800 Russian casualties in Ukraine, with hundreds of war machinery destroyed, and these numbers keep increasing every minute. Nevertheless, it took 5 days for president Putin to confirm any loss to the Russian troops in this Ukraine-Russia war, but he is still denying their true scope.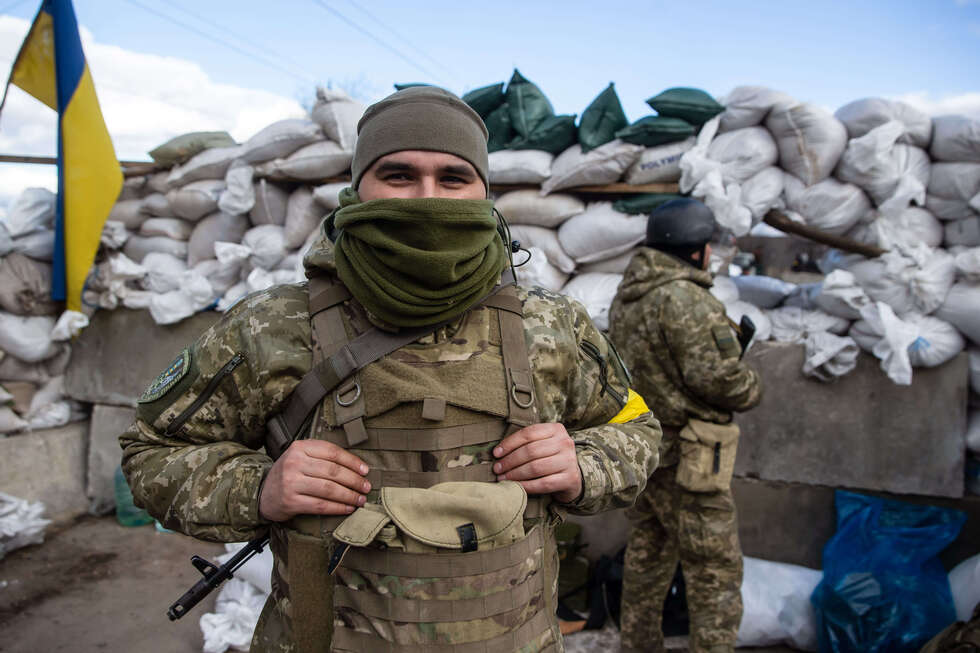 Meanwhile, Russian soldiers in Ukraine are deserting on a massive scale. They meet vigorous opposition from the ordinary people who do not welcome the invaders with the outstretched arms. Despite Putin's propaganda, numerous Russian soldiers are surrendering to the Ukrainian troops on the 6th day of the Russian invasion of Ukraine. Russian soldiers abandon military equipment and run away, trying to get back to Russia on foot.
On February 28, both parties to the conflict agreed to negotiate the peace. However, the Ukrainian cities continued to be bombed by the Russian armed forces. Putin breaks peacetime laws and even laws of warfare. The first round of the talks seems to not have brought any concrete results. The dialogue remains open.
Presently, 200 of EOS Data Analytics employees, along with 40 million Ukrainians, are under attack. At the same time, many Russian citizens refuse to believe that Russia has invaded a sovereign state and is actually at war with Ukraine. Putin's propaganda media continues brainwashing and doesn't cease to assure that it is a peaceful operation, and no civilians are being harmed. Russians are scared to protest against this invasion and war for fear of being arrested, while Ukrainians are in constant fear of dying from the rockets launched from the Belarussian's border. Many Russian people remain oblivious not only to what their government is actually doing but also to the danger they are in as the ever-intensifying international sanctions are about to destroy their lives, shattering to pieces the last bits of freedom they have.
The Russian invasion of Ukraine is not just a war against the neighboring country, it is aggression and war against democratic and free societies of the world. It must be stopped. We ask all global entities operating in the remote-sensing field to share recent and real-time high-to-medium resolution optical and radar satellite imagery of Ukraine and Eastern Europe with EOSDA to assist in both military and humanitarian efforts in the region. We also urge our international community to support the Ukrainian Army and volunteers who are fighting for the protection of their land right now.
How To Help The Ukrainian Army:
Humanitarian Supplies:
Crypto Donations:
Sign The Petitions:
#StandUpForUkraine! Слава Україні!
About the author:
Rim Elijah joined EOSDA in early 2020. She holds a double degree in business administration and political science from Stockholm University.
Rim is VP of Sales at EOSDA. She is overseeing all aspects of business model development and implementation, maintenance of positive business & customer experience, and the growth of the company's global coverage. She is responsible for closing deals, scaling up ongoing projects, as well as the development and implementation of process control within the Sales department. Rim also regularly takes part in negotiations with important clients.
So far, Rim has managed to successfully establish a number of strategic partnerships with an emphasis on the delivery of sustainable solutions in various regions of Africa and Asia.
In addition to her main responsibilities, Rim is presently involved in the upcoming launch of the first agri-based satellite constellation by EOSDA, scheduled for mid-2022. She manages relationships with the EOS SAT investors.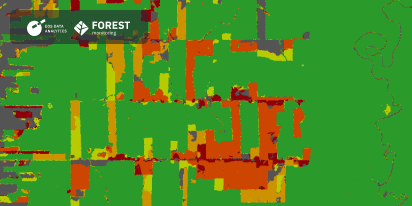 EOSDA Custom Neural Net: Deforestation Detection
The Science team at EOS Data Analytics has developed a custom algorithm for intelligent detection and tracking of deforestation in tropical regions using LEO satellite images as a data source.