EOSDA In The Light Of Earth Observation Market Trends
The Earth Observation (EO) market is rapidly growing. The numbers speak for themselves — the global satellite-based EO market was valued at $2.743.6 million in 2019, and it is expected to reach USD 4,427.2 million by 2025.
The rising interest in satellite capabilities shown by the governments and businesses worldwide along with the easier satellite data usage leads to an increase in the demand for satellite-driven solutions by the end-users. New market players tend to employ the vertically integrated business model and focus on building small satellite constellations in Low Earth orbit.
We analyzed the PwC report and identified a number of significant Earth Observation market trends to be discussed with Rim Elijah, VP of Sales at EOS Data Analytics. In this interview, Rim shares her opinion on global satellite market trends, EOSDA 2021 achievements, and the company's strategic plans for 2022.
The Earth Observation Market Is Growing. What Are The Reasons For The Increasing Interest In EO Products?
Today, the word "space" shows up in the top five headlines of almost every newspaper or magazine. Investing in the space industry today is similar to investing in information technologies back in the 90s. In other words, this really has a potential of becoming the next life-changing trend in world economics. Satellite technologies are critical to monitoring the emissions of greenhouse gases, agriculture and forestry management, and natural disasters control (more in our natural disasters 2021 and natural disasters 2022 articles). In fact, earth observation technologies can benefit many other industries. Twenty to thirty years ago, monitoring fields using satellites was almost unthinkable. Now it's possible!
Moreover, for the last two years, the hype around the satellite industry has increased because of remote work. Working remotely, people have 24/7 access to online media, so they start to read and watch more about space news broadcast across TV/radio channels and social media. Eventually, this topic begins to spark their interest.
By The Way, Regarding The Pandemic. Many Industries Suffered From COVID-19 Consequences. Did EOSDA Feel The Pandemic's Impact On Business Development And Sales?
Like many other commercial companies, we were certainly concerned about the state of the business world. We thought it was going to impact our business strategies. Also, we weren't sure whether customers would be willing to pay since they needed to prioritize their finances. However, we realized that the pandemic had not affected the Earth Observation industry like it affected tourism or travel, for instance.
The thing is, our products and services depend on satellite data. Everything can be monitored remotely without any interaction between people. The COVID-19 has put severe restrictions on traveling, but satellite technology enables us to monitor any part of the world without physical presence. And even when it comes to interacting with people, we have the scouting feature in EOSDA Crop Monitoring that allows you to drop a pin and send a specialist to check and report whether there is a problem with crops. The fact that EOSDA achieved a 101% revenue growth in 2021 compared to the last year's income shows that people are more actively taking up innovative technologies.
EOSDA Crop Monitoring
Using satellite monitoring for remote fields management in one platform!
What Global And Regional Trends Can You Identify In 2021 Based On The Company's Performance?
In early 2021, many companies visited our EOSDA Crop Monitoring webpage to understand how the platform could help them track logging. This made us realize that there is a need for a similar product in forestry, which led to launching EOSDA Forest Monitoring, online satellite-based software for convenient and sustainable forest land management.
Other trends concern the regional markets we are working with, namely the African and LATAM regions. The agricultural sectors in Africa and, for example, in Brazil or Argentina, have a lot of differences. African agriculture is represented mostly by smallholding farmers, whereas in Latin America, medium- and large-scale farms prevail. Compared to Africa, the LATAM region has broader Internet coverage and higher technology adoption rate. Additionally, environmental problems are more common in Africa — climate change has resulted in soil degradation in many parts across the continent. And last but not least, the economic situations of African and Latin America are completely different, which impacts how agriculture is perceived.
In Africa, around 60% of the population is engaged in agriculture, mostly males. However, introducing satellite-monitoring remote technology also gives women more opportunities to become heavily involved in the agro sector as only the Internet connection is needed to access fields' analytics in a few clicks. Such involvement could be achieved by educating the population about new technologies and giving them the necessary tools to implement tech-related initiatives that will result in both men and women becoming part of an active society engaged in agriculture.
Brazil and Argentina are quite saturated markets with large farms and high competition. Moreover, local farmers are aware of satellite monitoring, and many of them already utilize this technology. Thus, EOSDA's main task is to differentiate our product from competitors by adding new valuable features customized to the specific regional needs. For example, we're working with sugarcane producers to develop certain algorithms that will track the sugarcane growth stages.
And What Makes The EOSDA Project Stand Out From The Competition?
We began not by building satellites, like our competitors, but by analyzing gaps in data from the existing sources. That's the main point I want to highlight.
EOS Data Analytics was founded in 2015, but we started commercializing our products in 2019. We began by using data from publicly and commercially available sources and identified major gaps in the received data. Thus, to eliminate these gaps and become the number one player in the agro market, we need a unique set of data that will enable us to meet the demand, eliminate the perceived bottlenecks, and deliver top-quality products. The only way to achieve all of this is by launching our own satellite constellation.
EOSDA Is Now Attracting Investors To Join The EOS SAT Satellite Constellation Project. What Are The Benefits Of Investing In EOS SAT?
EOS SAT constellation is equipped with 11 agri-related bands which makes it the first-ever agriculture-oriented satellite monitoring project (specifically oriented at solving agricultural challenges) designed to support precision farming in the face of global food demand.
Over the last 50 years, the world faced unprecedented population growth, which led to the increasing need for agricultural production. This resulted in the higher cost of farming inputs such as fertilizers, seeds, pesticides, herbicides, and even water. Additionally, global warming, induced by greenhouse gases emissions, leads to decrease in field productivity and causes soil depletion and degradation.
So, investing in EOS SAT is not only about profit. It's about being part of something big and meaningful that will solve many of the agricultural world's issues.
Currently, Governmental Institutions Show Growing Interest In Earth Observation Capabilities. Have EOSDA Worked With Governments In 2021?
Yes, our company has been working with governments, especially in the CIS region, since 2019. We also plan to collaborate with authorities from other countries in the future.
What we have discovered is that governments predominantly show strong demand for custom projects and a need for exclusive data that would affect import and export strategies and benefit the entire country, boosting the economy of the already established welfare. For example, such features as crop classification, yield modeling based on historical data, and field productivity maps can serve as a basis for informed decisions that will help local farmers increase productivity and reduce costs, as well as boost the economics of the entire country.
Did We Get Any Non-Agriculture-Related Requests For Satellite Imagery Analytics From Our Clients?
We receive many interesting requests from our customers that revolve around studying the external factors impacting agriculture — for instance, tracking cattle in farms to understand which areas cattle tend to pick on or surveilling the cattle's effect on vegetation state using various indices.
Also, we had some inquiries from our Asian clients to track forest fires and receive fire hazard alerts. Unfortunately, it's difficult to implement using satellites as we can send notifications only when the next satellite imagery is available. What we can do is to set a priority tasking and monitor an area of interest for a selected period. That means we have to position the satellites at the right angle and the right location to capture the imagery.
In addition, we had a request from our Nigerian partner to deliver a platform for monitoring building infrastructure to prevent collapses. The platform should have a feature to track the building activity log — similar to the field activity log in EOSDA Crop Monitoring — where it would be possible to track the heaviest and the least critical flaws in construction. It's an interesting project from a humanitarian point of view, so we're currently analyzing the requirements to understand what we can offer.
Talking About EOSDA Products Distribution, What Model Ddoes The Company Follow In 2021, And Will It Be Changed The Next Year?
We work mostly with local partners because they understand the region's needs and usually come with a huge demand for our technology— ranging from hundreds and thousands to millions of hectares. Thus, the partnership distribution model is profitable for us, and it shall certainly be one of our key goals in 2022.
We're also expanding our sales department by 60% in 2022, adding more partnerships and sales specialists to spread the word about the satellite technology and our platforms.
Another approach we use in terms of EOSDA products' distribution is working directly with clients for custom projects without third-party mediation.
What Model — Subscription- Or Volume-Based — Do You Consider More Profitable For The EOSDA Business?
In fact, both models are profitable for us, but depending on the project we are selling, there would be either a subscription fee or a one-time payment. For the EOSDA Crop Monitoring platform, we have subscription-based pricing, and for custom projects with large volumes, we offer just one-time payments on a yearly basis.
What Main 2021 Business Milestones Can You Mention? The Launch Of EOSDA Forest Monitoring, The Beginning Of The EOS SAT Project…
We started the EOS SAT project in 2020, and now our first satellite is in its post-production stage. We're making the final adjustments and finalizing the logistic aspect to ship the satellite to the United States for the launch.
Another remarkable milestone is introducing our satellite-based analytical products to other verticals. Having heard about agriculture, people immediately think of farmers, but in fact, many other industries are interconnected with husbandry. For instance, financial institutions are currently exploring digital technology to check farms' state and ensure they can grant farmers loans and the necessary financial support. So, we're now working closely with banks and governments and discussing future collaboration with insurance companies. We see a lot of opportunities in further expansion into other industries and will focus on it in 2022.
Could You Please Share EOSDA 2021 Facts And Figures?
We did a great job in 2021, and I am pretty pleased and proud to be part of the EOSDA team. We have achieved some crucial milestones and important accomplishments, such as:
Covered more than 296.000 new users across all EOSDA products;
Acquired 60.000+ new users for EOSDA Crop Monitoring and increased the product user base up to 105.000 registered users;
Monitored 32 million field hectares within EOSDA Crop Monitoring;
Achieved 96% customer retention rate;
Expanded partnership network up to 20 medium and large companies.
What Strategic Plans Does EOSDA Have For The Upcoming 2022?
First and foremost, we'll keep focusing on the agricultural sector. Then, we will pay more attention to forestry and promote the EOSDA Forest Monitoring platform.
In the long run, our goal is to explore other sectors. We're now looking at the mining industry taking into consideration our participation in the GoldenEye project for the European Union. Also, we want to investigate maritime and oil and gas sectors, understand the gaps those markets have, and come up with solutions we can offer to satisfy customers' needs.
As it was mentioned above, in 2022, we aim to expand our business and increase sales operations by 60%. Our ambitious target is to achieve a 600% growth this year. Talking about products enhancement, we'll keep on adding new features to the EOSDA Crop Monitoring platform based on valuable feedback from our customers, and next year we'll be working on improvements to stand out from the competition.
In a long-term perspective for 2030 and further, we're planning to add new satellite sensors to enter the IoT market and uncover more business growth opportunities.
About the author:
Natalia Borotkanych has been working in the space sector for more than 15 years now. Her experience includes working in business, science, education, and government projects.
Natalia has a PhD in space history, Master's Degree in Foreign Policy from the Diplomatic Academy of Ukraine, as well as Master's Degree in Public Management and Administration from National Academy for Public Administration under the President of Ukraine.
Building upon her experience of working in the State Space Agency of Ukraine, Natalia now specializes in helping the state bodies and NGOs to implement the satellite monitoring technologies for solving real-world problems and for smart decision-making.
Natalia is an active science communicator. She is a scientific editor at The Universe. Space. Tech magazine. She also teaches a "Space diplomacy" course at the National Aviation University.
Natalia's experience in project coordination and scientific expertise in the space sector are much appreciated at EOS Data Analytics.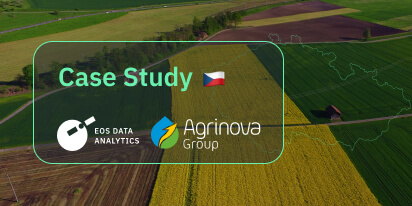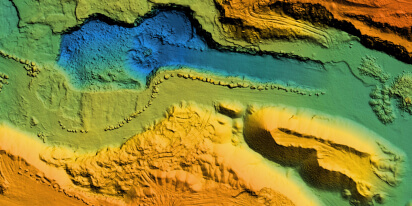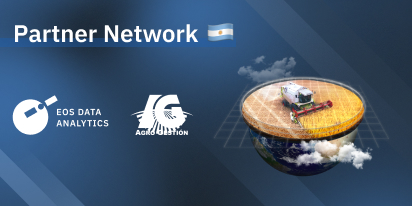 EOS Data Analytics Partners With Agro Gestión
With a focus on innovation and sustainability, EOS Data Analytics and Agro Gestión's partnership will bring cutting-edge satellite technology to more agribusinesses in Argentina, Paraguay, and Spain.