EOSDA 2021 Recap: Much Accomplished, More To Achieve
The 2021 Earth Observation market kept gaining momentum. The growth is driven mainly by the rising popularity of remote sensing for multipurpose environment monitoring and significant improvement of satellite imagery quality.
Satellite-based solutions capable of controlling and evaluating the state of a wide area are getting more interest from governments and businesses in terms of environmental risks detection, crop and forest health monitoring, and weather forecasting. Thus, individuals and organizations' usage of space-driven data stimulated the 2021 Earth Observation market growth.
EOS Data Analytics (EOSDA), a global provider of AI-powered satellite imagery analytics, marked 2021 by notable achievements we'll highlight.
Satellite data received with the help of remote sensing technologies has many practical use cases. Specifically, in 2021, EOSDA noticed the increasing demand for satellite-powered analytics in agriculture and forestry, proved by numbers.
EOSDA 2021 Achievements By The Numbers
296,351 new users across all EOSDA products;
735,000 users worldwide with at least one registered user from all 195 countries of the world;
68,139 new EOSDA Crop Monitoring users, which makes 57% of the platform's total;
32 million field hectares monitored within EOSDA Crop Monitoring;
96% customer retention rate;
Up to 20 medium and large companies joined the company's partners network.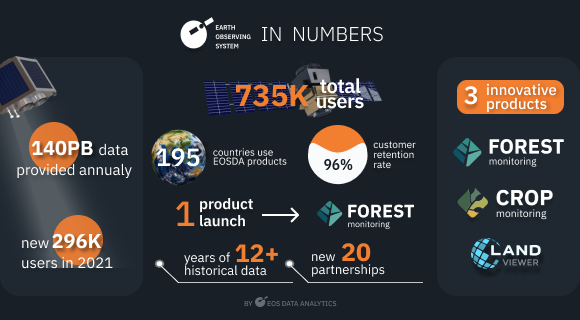 We're pleased and proud to look back at our accomplishments and get inspired to set even more ambitious goals. In 2022, we plan on increasing sales operations by 60%, with the ultimate target to achieve x5 revenue growth. Also, in the long run, we intend to expand our business beyond agriculture and forestry, exploring other sectors. So, we're ready to hit the ground running!
EOSDA Crop Monitoring
Access high-resolution satellite images to ensure effective fields management!
Great Year Opening: We Wrapped Up EOS SAT Project
The beginning of 2021 gave tone to the whole year. The EOSDA team had been working on the launch of a satellite constellation into Low Earth orbit and came close to the final stage.
The EOS SAT constellation, equipped with the 11 agri-related bands, is designed to focus on farmlands monitoring. Thus, EOSDA will be the first company — out of those that employ remote sensing technology in products and services — to launch a one-of-a-kind agro-focused satellite constellation. In the project, the company applies vertical integration logic to embrace all the data transformation stages from satellite imagery acquisition and processing to easy-to-use analytics products development. The project's ultimate goal is to receive high-quality images and provide customers with the most accurate and reliable information in the company's tech solutions.
We have been planning the EOS SAT constellation launch for quite a long time now, and finally, we're about to realize our plans. In mid-2022, EOSDA is to launch the first out of seven EOS SAT satellites into Low Earth orbit together with Dragonfly Aerospace. Once the first satellite is in service, we'll concentrate on promoting satellite monitoring among farmers who don't realize yet how remote sensing technologies can benefit their businesses. Satellite-based tools may address many agricultural problems. For example, AI-powered analytics helps prevent weeds and pests' spread, optimize the use of fertilizers, track, measure, and mitigate Greenhouse Gas emissions. It also gives valuable insights into weather patterns and crop growth to make agricultural activities more efficient and profitable.
The first satellite is now going through the post-production phase to be shortly delivered to the United States for the launch.
Input In Sustainable Forestry: We launched EOSDA Forest Monitoring
In July 2021, EOSDA introduced the first version of the new product — EOSDA Forest Monitoring, an online platform to optimize forestry operations. This satellite-powered tool helps monitor forest stands remotely, detect illegal logging, and get timely notifications about any changes and risks across the surveyed area.
EOSDA Forest Monitoring provides reliable data on:
Wildfire hazards based on thermal anomalies detection technology;
Moisture content in plants;
14-day weather forecast;
Changes in forest productivity.
The platform is constantly supported and upgraded based on users' feedback to ensure the best possible customer experience prior to the global launch in spring 2022.
Statistics claim that deforestation rates reached 10 million hectares within 2015-2020. This alarming number makes us realize the urgent necessity of monitoring forest coverage, detecting logging and thermal anomalies, and identifying any activity that could be potentially harmful to forest ecosystems. EOSDA Forest Monitoring is designed to contribute to sustainable forest management, and we're working zealously on the platform's enhancements to enter the global forestry market soon. So stay tuned with our updates!
Inspiring 2022: Plans And Goals
In the face of climate change and global food demand, implementing sustainable practices in agriculture and forestry is one of the most critical tasks of our generation. Adhering to the company's mission to bring space closer to humankind, EOSDA concentrates on improving satellite technologies that underlie the company's products to benefit end users and contribute to environmental protection.
Regarding business direction, EOS Data Analytics keeps supporting precision agriculture and forestry management with future plans to expand into other verticals. Also, the company intends to investigate the mining sector and participate in the GoldenEye project for the European Union with this in mind.
About the author:
Rim Elijah joined EOSDA in early 2020. She holds a double degree in business administration and political science from Stockholm University.
Rim is VP of Sales at EOSDA. She is overseeing all aspects of business model development and implementation, maintenance of positive business & customer experience, and the growth of the company's global coverage. She is responsible for closing deals, scaling up ongoing projects, as well as the development and implementation of process control within the Sales department. Rim also regularly takes part in negotiations with important clients.
So far, Rim has managed to successfully establish a number of strategic partnerships with an emphasis on the delivery of sustainable solutions in various regions of Africa and Asia.
In addition to her main responsibilities, Rim is presently involved in the upcoming launch of the first agri-based satellite constellation by EOSDA, scheduled for mid-2022. She manages relationships with the EOS SAT investors.