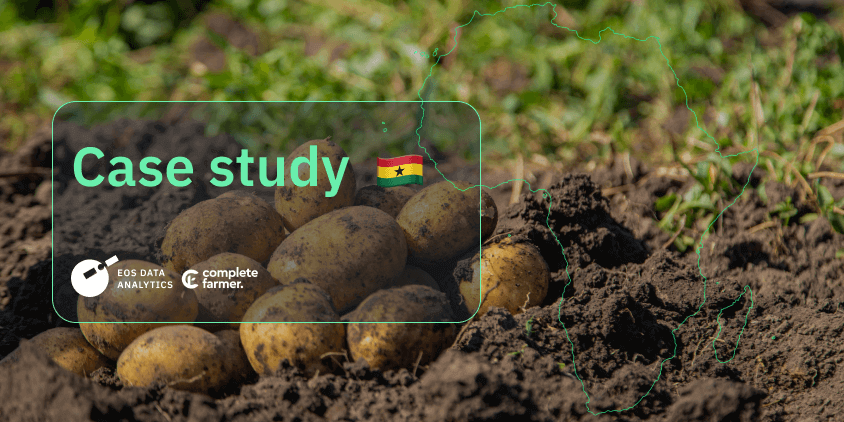 Complete Farmer Connects 5,000+ Farmers To SatTech
Agriculture stands as a cornerstone of economic growth and sustenance for millions of people in Africa. Yet, the landscape of traditional farming is transforming, and precision agriculture is ushering in a new era of possibilities. In fact, by 2050, agricultural productivity in Africa has the potential to increase by 70% .
This case study explores how Complete Farmer, an agricultural consultancy based in Accra, Ghana, has integrated satellite imagery analytics provided by EOSDA Crop Monitoring into their farming partnership network across Africa. This case study highlights their valuable experience.
This transformation is not merely a technological upgrade but a lifeline to ensure food security and economic prosperity for the continent. The decision to embrace satellite imagery analytics marks a significant milestone in Complete Farmer's mission to empower farmers and elevate the agricultural sector. As we explore this collaboration, we will unveil the intricate ways in which technology is enabling farmers to make data-driven decisions, optimize precision agritech workflows, and ultimately, secure a brighter future for African agriculture.
Overview: About Complete Farmer
Complete Farmer is an agritech company that provides a better way to feed the world by connecting farmers with global food buyers and allowing them to gain a competitive edge across the supply chain. The company collaborates closely with farmers to ensure the production of high-quality commodities that meet rigorous market standards.
By leveraging satellite imagery analytics through EOSDA Crop Monitoring since 2021, Complete Farmer harnesses data-driven insights to empower farmers in achieving these exacting benchmarks. This strategic integration of technology not only enhances the precision and efficiency of farming practices but also cultivates a culture of excellence among partner farmers. With this innovative approach, Complete Farmer stands at the forefront of revolutionizing agricultural production for a more sustainable and market-responsive future.
Challenges: Tasks Management, Protocol Implementation
Previously, the organization faced a significant challenge related to managing various tasks associated with different crops, each having its unique requirements. To address this issue, a solution was implemented in the form of a simplified protocol. Instead of inundating the agents with extensive documentation, the approach focused on providing clear day-to-day instructions to streamline processes, ensuring agents had a precise understanding of their tasks.
Farmers found themselves grappling with the persistent challenge of accessing timely and accurate data pertaining to soil quality and precipitation. This information was vital for making informed decisions about when to undertake various farm activities and which specific areas of the farm required more focused attention.
Other significant challenges included:
Market demand and viability: Complete Farmer develops solutions to address specific challenges in agriculture. If the overall agricultural sector struggles, reduced demand for commodities can affect the company's viability and profitability.
Technological adoption: Adoption of new technologies in agriculture can be slow, especially in regions where traditional practices are deeply ingrained. Economic constraints and lack of awareness or training can impede the uptake of Complete Farmer's solutions.
Climate and environmental factors: The company aims to help farmers adapt to environmental challenges, such as changing weather patterns and soil degradation. However, if these challenges worsen or become more unpredictable, it places added strain on Complete Farmer to develop even more sophisticated solutions.
Access to data and connectivity: Data is crucial for Complete Farmer's solutions, from precision agriculture to supply chain management. In areas with poor connectivity or limited access to reliable data, the company faces challenges in delivering these services effectively.
To address these pressing concerns, the decision was made to integrate EOSDA Crop Monitoring into their farming operations, paving the way for a more streamlined and effective approach to farm management.
EOSDA Crop Monitoring
Fields monitoring platform, leveraging high-resolution satellite images to identify and react to any changes remotely!
Solutions: Activity Management, Data Integration, Precise Input Application
Complete Farmer has been using the EOSDA Crop Monitoring platform as well as the product's API since 2021. The most actively used features are Weather, Field Activity Log, Scouting, and Zoning.
Field technicians oversee the agricultural operations and assign tasks to agents that directly communicate with farmers. To ensure efficient task assignments and communication, field technicians instruct agents to focus on specific crop-related aspects. In some instances, certain agents are equipped with the EOSDA Crop Monitoring mobile application, enabling them to cross-check issues and promptly inform the relevant farmers. Communication is facilitated through text messages to keep growers informed about farm-specific issues, enabling necessary updates.
For weather forecasting, Complete Farmer primarily relies on the Weather Forecast feature within EOSDA Crop Monitoring. Based on the obtained insights, farmers plan their agricultural activities, ensuring they make informed decisions regarding the timing of various tasks, particularly concerning soil moisture levels and rainfall.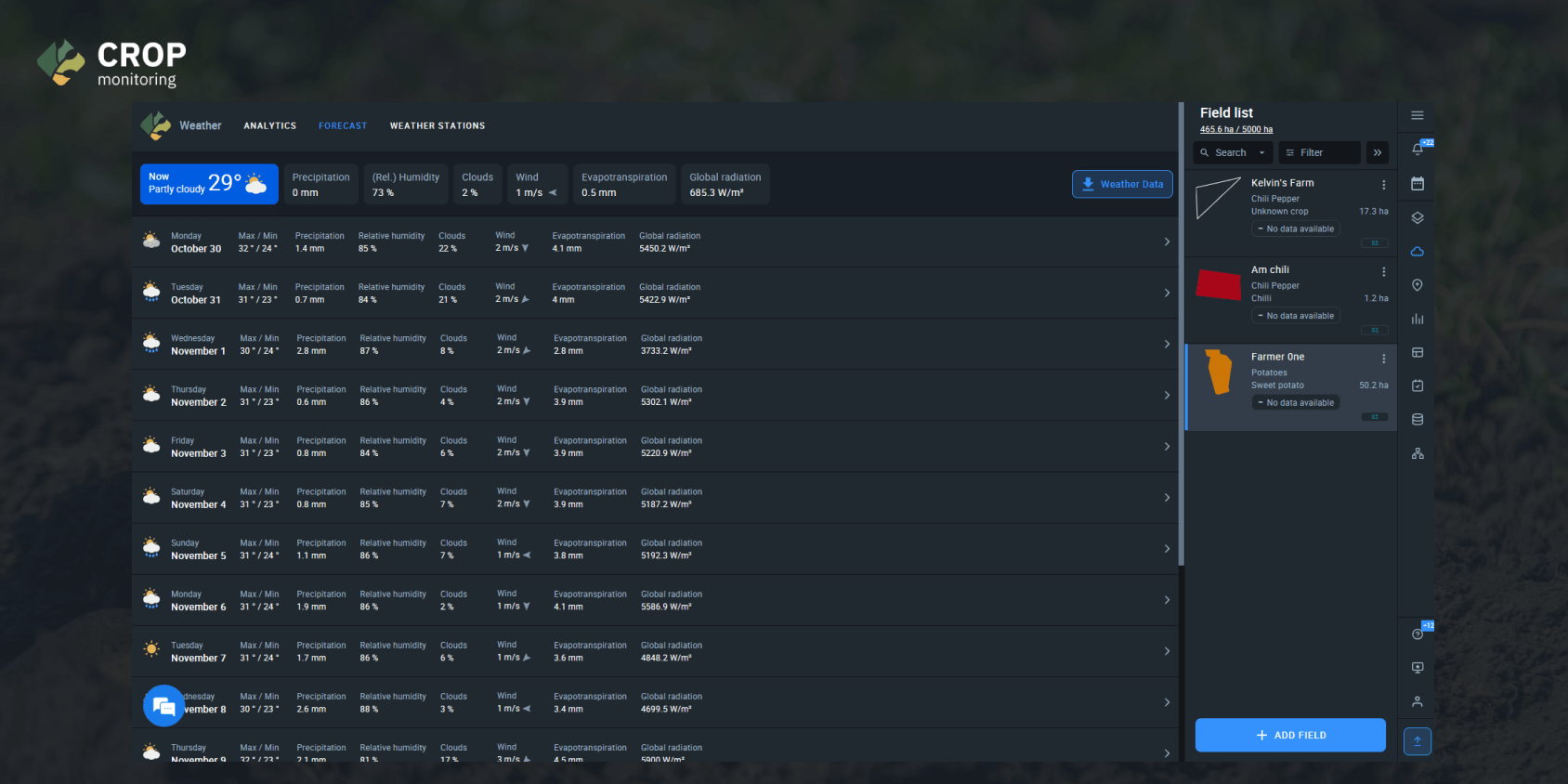 To schedule field activities effectively, Complete Farmer employs a protocol grounded in historical weather patterns. This protocol dictates when specific tasks should be performed, taking into account the number of days after planting. However, flexibility is maintained in cases where the weather forecast contradicts the protocol's recommendations. For instance, if a specific task is scheduled for a rain-free day, it is rescheduled to a more suitable time, ensuring optimal application of fertilizers and other actions.
Interpretation of rainfall forecasts depends on specific contexts. Rainfall levels of ten millimeters or higher, coupled with a relative humidity of approximately 90%, are considered indicative of substantial rain. In contrast, lower precipitation levels may suggest the possibility of drizzle or limited coverage within the field. Decisions regarding precipitation interpretation are influenced by factors such as field acreage and unique conditions, for example, local soil architecture.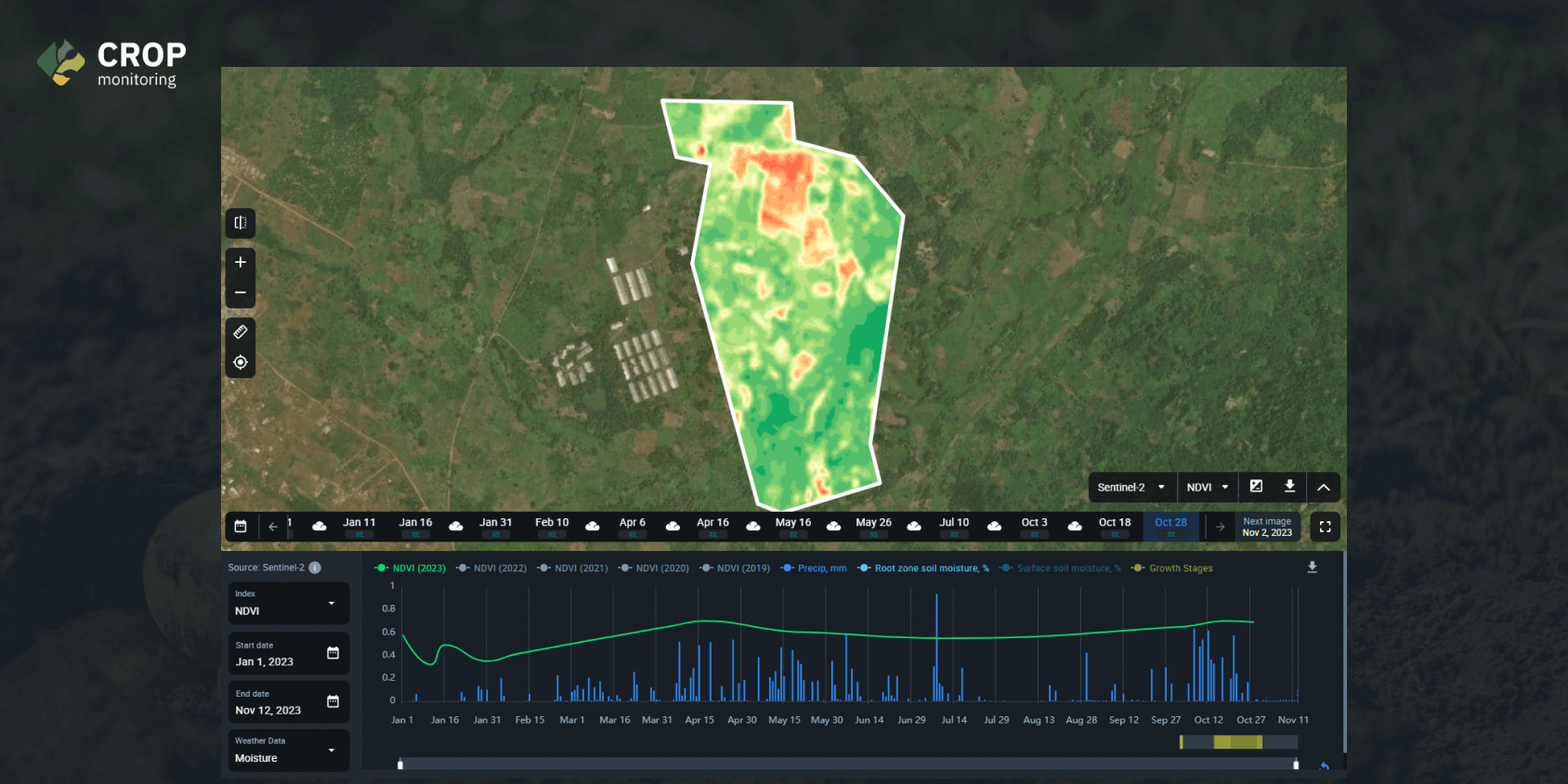 Interactions with farmers are somewhat seasonal, with user onboarding and analytics usage being most active from January to March or April. As the farming season progresses, interaction with the platform slows due to the demands of fieldwork. While new farmers continue to join throughout the year, limited communication may occur during the active farming season. The preferred time for partnering with farmers and achieving full platform integration is the first quarter of the year.
The Complete Farmer's network encompasses a substantial number of farmers, totaling nearly 5,000. Currently, approximately 600 farmers have been successfully onboarded to the platform. Limited visibility is attributed to the necessity of accurate farm boundaries for display, with some farmers in the process of providing this essential information, which will extend the platform's reach.
Field Activity Log primarily serves the agents, featuring Complete Farmer's proprietary protocol tailored to specific crop types. Agents employ this feature while monitoring growers' fields via the mobile app, providing guidance and ensuring that all involved parties are well-informed about essential tasks and their timing.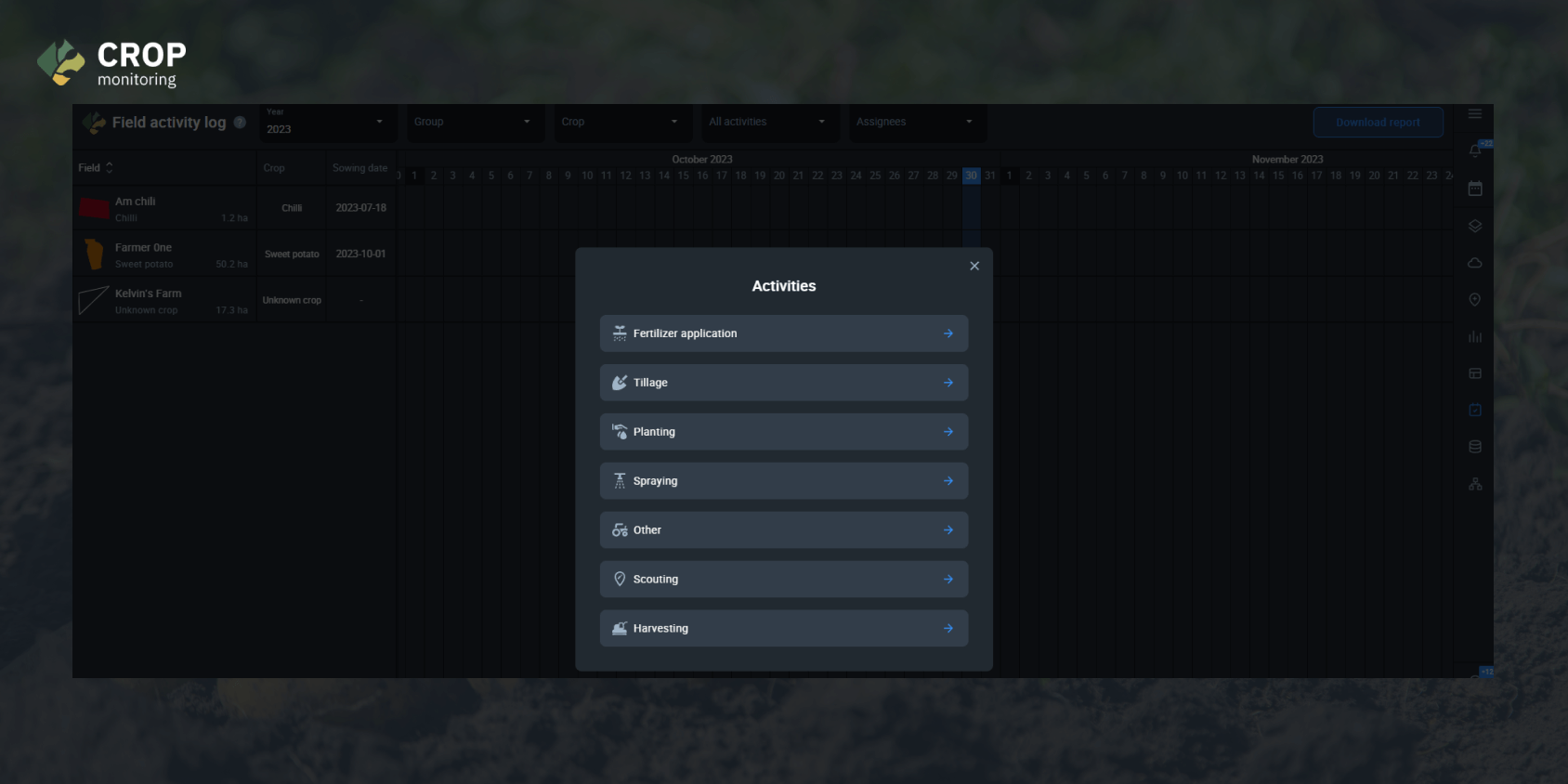 The primary interaction with farmers revolves around the utilization of the EOSDA Crop Monitoring API because they often focus on specific data elements, particularly those related to rain forecasts, integral to their farming practices. These data requirements are predominantly fulfilled through the API and are subsequently integrated into the platform.
In contrast, some farmers seek additional data for a more comprehensive understanding of their land, along with the necessity to implement precision agriculture practices personally.
While Complete Farmer's agents primarily use the API, farmers with additional requirements for managing processes independently have the option of utilizing the EOSDA Crop Monitoring platform, which is seamlessly integrated for enhanced capabilities.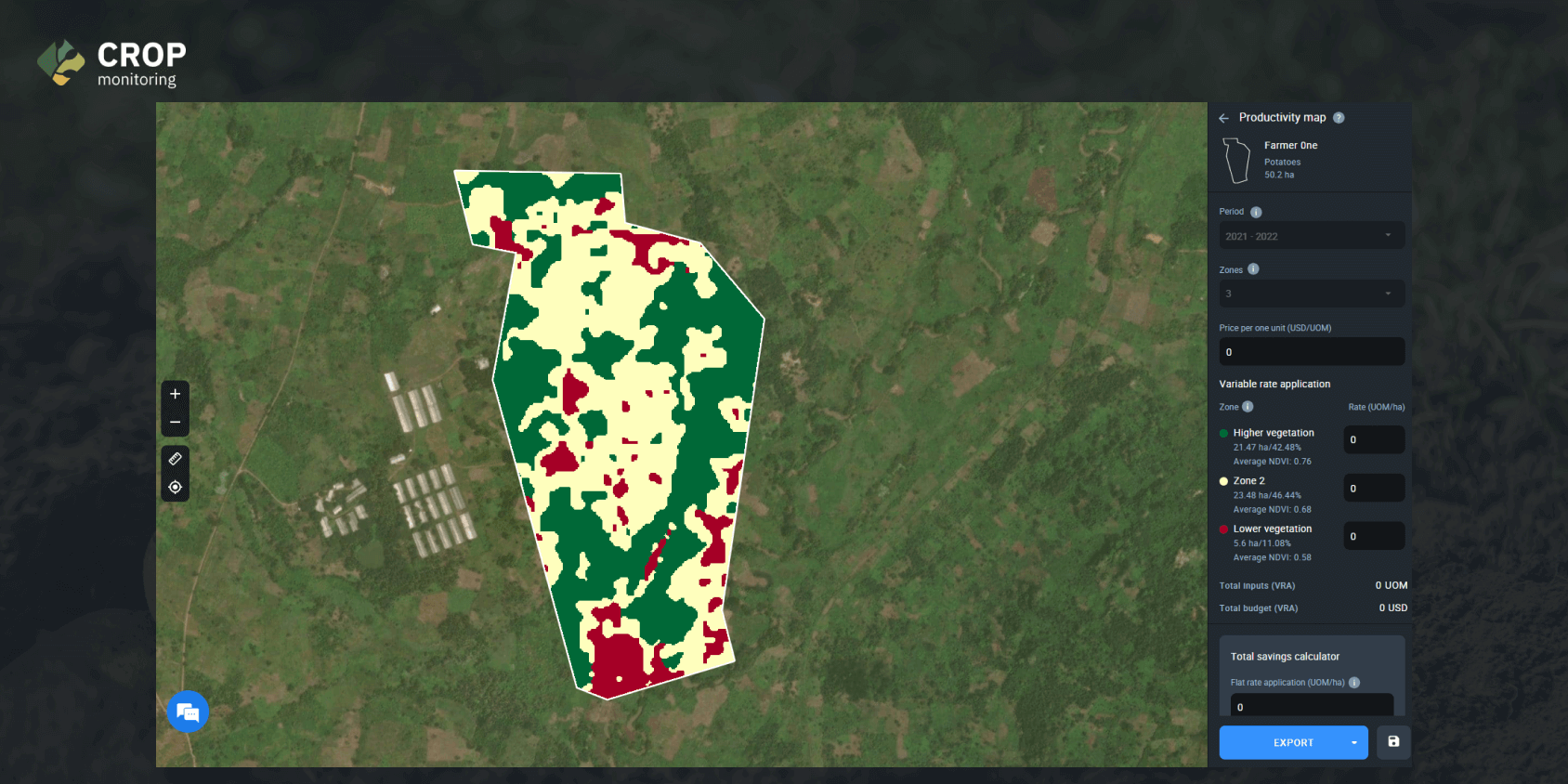 The feedback that Complete Farmer receives from farmers primarily focuses on crop yield. They mention that improved timing of fertilizer application, facilitated by remote sensing analytics, tends to enhance crop productivity. Effective synchronization of fertilizer application with rainfall improves its absorption, resulting in increased fruit production and higher overall yields. EOSDA Crop Monitoring plays a vital role in optimizing fieldwork activities, enabling Complete Farmer to help its customers achieve the expected yields.
Outcomes: Improved Operational Efficiency, Streamlined Processes, Optimized Yields
Complete Farmer has achieved an impressive 80% increase in operational efficiency over two years of utilizing the EOSDA Crop Monitoring platform and its API. In the short term, Complete Farmer's immediate focus revolves around two pivotal objectives. First, they aim to significantly enhance traction within our existing markets, solidifying their leading position in the industry. Second, they are dedicated to optimizing organizational efficiency across all facets of business operations. This entails streamlining processes, harnessing innovative technologies, and fostering a culture of continuous improvement. By achieving these short-term milestones, Complete Farmer is poised to lay a robust foundation for their long-term aspirations.
Complete Farmer's overarching vision encompasses ambitious long-term goals, including geographical expansion into key regions such as Côte d'Ivoire and Togo. This strategic move will not only diversify their operational footprint but also establish a strong presence in emerging agricultural markets. Simultaneously, they aspire to forge new channels characterized by world-class excellence, creating avenues for sustainable growth and global recognition.
About the author:
Karolina has embarked on a unique career journey that has taken her from journalism to a STEM degree, leading to her current path in writing about science & deep tech.
Currently pursuing a Bachelor of Science degree at Pennsylvania State University, Karolina combines her passion for writing with her technical expertise by contributing to technical documentation on Earth Observation satellites and spacecraft data processing. She also excels in communicating the scientific value of EOSDA solutions in precision agriculture, precision forestry, and environmental monitoring in a way that is accessible to all.
As a dedicated advocate for personal empowerment, Karolina is actively involved in 5th-wave feminism, striving to represent and uplift Ukrainian women in the global STEM community. Her commitment to this mission is demonstrated through her membership in esteemed organizations such as the Association for Women in Science (AWIS), Women in Technology (WIT), and Blue & White Society, featuring the biggest alumni network in the US of over 750,000 influential professionals.