Agriculture Band Combinations — Overview
Satellite monitoring of crops today is impossible without applying agriculture band combinations in the process. Most commonly, some arrangement of the SWIR1, NIR, and Blue ranges is used. These band combinations help distinguish healthy vegetation (vibrant green color) from bare earth (magenta), non-crop vegetation (pale green), and other features in satellite imagery.
Both short-wave and near-infrared bands provide a lot of useful information about crop health. NIR band reveals insights into the actual state of vegetation, while SWIR bands can be used to detect water content in both plants and soil. Food producers can leverage this data to better protect their crops and ensure higher yields.
Agriculture Band Combinations In Action
The so-called agriculture band combinations are relying on the naturally high vegetation reflectance in the IR region of the electromagnetic spectrum. This characteristic allows for the monitoring of crop state and even enables the identification of various crop types. And since the moisture content – in both soil and plants – plays a key role in crop growth, it is just as good that water reflects almost no light in the same IR region providing a stark contrast between water bodies and other features of the Earth's surface visualized in satellite imagery.
SWIR1 + NIR + Blue
In this agriculture band combination, standing crops can be distinguished from bare soil and forested areas alike due to higher reflectance in the near-infrared spectrum. At the same time, urban infrastructure has a much darker color further enhancing the croplands and grasslands in the images.
Healthy Vegetation Band Combination (NIR + SWIR1 + Blue)
Arranged in a slightly different way, this agriculture band combination provides a color scheme that focuses more specifically on healthy vegetation detection.
The resulting NIR composites display healthy vegetation as various shades of red, orange, yellow, and brown; soils as shades of brown – from light to dark. The non-vegetation features – like clouds, snow, and ice – all get put into a separate color class of cyan blue.
This agriculture band also makes it possible to distinguish between the coniferous and deciduous trees, identify sparsely vegetated areas and grasslands, different soil types (brown, green, light blue), urban structures (white), and delineate water bodies. Muddy or shallow water will have a lighter blue color in a satellite image as opposed to darker deep and clear water.
Why Are Agriculture Band Combinations So Useful?
The SWIR and NIR bands work splendidly for EOSDA Crop Monitoring purposes. Healthy vegetation spectral curve spikes in the near-infrared spectrum. Thanks to this phenomen, healthy crops will appear much brighter than their stressed counterparts in a satellite image.
Correct satellite band data interpretation, however, is only possible when enough care is applied. Precipitation occurring recently before the image acquisition, for example, could influence the accuracy of the data analysis due to certain characteristics of the SWR1 band.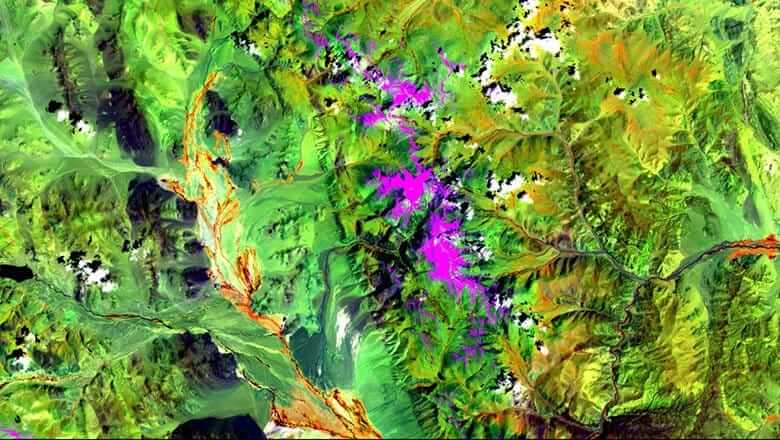 Healthy Vegetation Monitoring – How It Actually Works
What makes agriculture band combinations so effective is the fact that vegetation reflects considerably more light in the IR regions.
Due to the strong absorption of visible light by the chlorophyll and the mid-infra-red light by water, the best region of the electromagnetic spectrum for crop health monitoring is always the NIR range – between 0.7μm and 1.3μm. The extremely high plant leaf reflectance in this band makes it very easy to visualize healthy vegetation in a satellite image.
Satellite sensors are also capable of discriminating between different types of crops by integrating various plant leaf and canopy reflectance effects (taking into account leaf area, plant structure, background reflectivity, shadows, etc.).
As far as crop stress detection from space is concerned, other effects are taken into account. Instead of focusing on the vegetation reflectance, sensors interpret the reduction of total leaf area as a potential sign of vegetation experiencing stress. This data should always be compared against ground data, though, such as plant growth stage, soil conditions, and so on, to be interpreted correctly.
What is interesting, the reduction of total leaf area due to stress or disease usually corresponds to a decrease in the infrared reflectance. These crucial satellite-driven insights can provide growers with enough information to distinguish healthy vegetation from the stressed crops – taking all the proper precautions to keep the yield abundant.
Ready?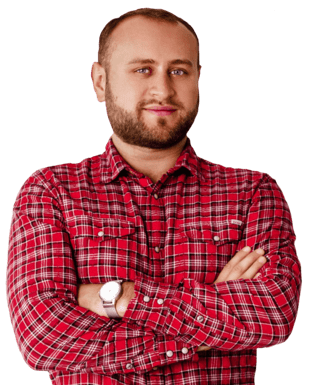 We're here to help! Don't hesitate to ask any questions or schedule a demo.
Try for free
Get familiar with the Platform by exploring your very own demo account.