Satellite-Based Monitoring Of Crops Condition
The Key Issues Faced By Farmers In The Ag Management
The soil quality may differ from that stated in the documents. It depends on whether intensive technologies were used earlier that caused soil degradation. In assessing the feasibility of investment, it is necessary to take into account some other factors: the location of the site, the productivity of the field during previous years, as well as the topography and communications that go along. All of these features affect the market value and profitability of the land.
Such information is not always easy to obtain. It's often outdated or absent altogether.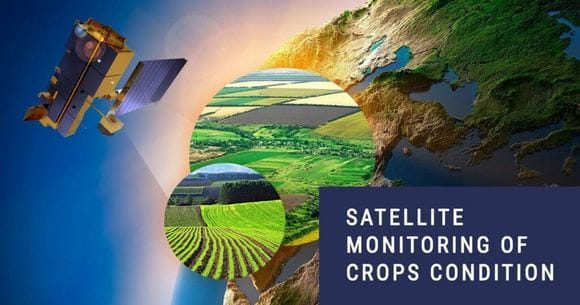 Today, both agro holdings and investors cannot afford the luxury to choose a land plot blindly. Such investments entail high risks, so it's extremely important to understand how promising the land is.
And thats when satellite monitoring comes in use, providing a variety of solutions for analyzing the state of agricultural fields, both nationwide and at the local level.
Manual Field Assessment Takes Time, Money, And Effort
The schemes of shares, as well as the electronic cadastral map, are not a solution. Basically, they do not consider afforestation, shrubs, wetlands, salt marshes, power lines, and other communications. This data is of great necessity for investors, landowners and all the agro market players who want to be at the forefront of farming technology. They need to understand which areas are cultivated, whether they are accounted, and to the precise amount of land bank losses due to poor management. Answers to these questions will help clearly identify the productivity of fields, the effectiveness of their use, and to determine the profitability per land unit. To answer these questions, agro holdings and investors conduct a general audit of a separate plot or land bank and use it to assess the attractiveness of agricultural land.
The Usual Ways To Audit Fields Are Not Always Justified
To conduct a land bank audit, you'll have to collect an impressive package of documents. What is needed:
Digital maps of fields;
Location of land shares;
Unused land areas;
Yield data;
Field registries;
Lease agreements.
As a result, auditing often takes a lot of time and resources, but still does not provide accurate data. It should be borne in mind that for the company itself it will be difficult to implement all the tasks. It is necessary to look for competent employees, ably manage them and incur additional costs.
Satellite-Based EOSDA Crop Monitoring
Satellite monitoring is the missing link in a successful agribusiness chain. The use of satellite data and online analytical services are able to fill the gaps in the routine audit methods. They allow you to quickly get and assess information on any field. With all the best planning, recommendations, and crop management practices, there's still nothing that replaces empirical, on-farm data. A huge bonus is that the analysis of historical satellite images enables you to keep an even closer watch on your fields and catch problems you may not otherwise have seen.
These solutions have unrivaled advantages – they are cheaper and allow you to monitor large areas for a long time. Accounting of previously collected data opens the door to the creation of historical field maps. Data-driven decisions like a field productivity map created by examining archived images for the spring-summer periods of past years can really convert your whole farm into a testing ground and give a confidence of the practices you are adopting. This will give you the most return on investment. These are the benefits that top the list of satellite monitoring capabilities.
Using them, the auditors will receive a tool to assess the real value of the land. And agro holdings will have the opportunity to account their land bank, identify areas for "smart" fertilization and much more. Furthermore, you have to consider that during the growing season, you are making key decisions that will have a direct impact on your final yield results.
Optimize Inputs To Maximize Profits With The EOSDA Crop Monitoring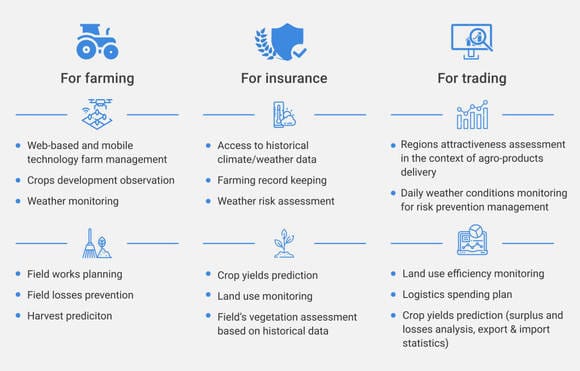 EOSDA Crop Monitoring is a universal tool for all the players of the agro market as you can find the field health monitoring, climate impact analysis, fertility management and crop yields modeling tools at one-for-all Platform. It's hard to know how decisions are paying off without a reliable way of measuring results, so:
farmers can use the platform to monitor weather conditions for minimizing related risks, plan and manage field works, prevent their field losses, use powerful analytic tools like vegetation indices (you can select the period for analysis) for proper decision making and to be on the forefront of farming technology with yield prediction;
insurers can get easy access to field's historical data, farming records or land usage without visiting the field as these can be monitored directly in the platform;
traders can assess region attractiveness for safer transactions on the supply of agricultural crops, improve their logistics plans, track the land usage, predict yields to estimate their future incomesexpenses, and monitor weather conditions to prevent crop failure risks.
Monitor Your Fields In Browser
It allows the farmer to automate the process of monitoring and efficiently manage both- a small farm and large agribusiness enterprise. The platform allows you to fulfill a large scope of tasks – from farming to insurance and trading issues. In addition to a comprehensive assessment of the field, the platform also provides farmers with the weather forecast, fertilizer maps – coming soon, a spot problematic areas analysis, which significantly reduces the costs.
In addition, the platform provides farmers with field condition maps based on vegetation indices analytics for the field. The indices currently available: NDVI, NDRE, MSAVI, ReCl, and NDMI (EVI, SAVI, ARVI, GCI, NDWI – coming soon). Due to the availability of historical data on the NDVI, EOSDA Crop Monitoring provides complete information on such plants as canola, corn, wheat, sunflower, soybeans, beetroots, and peas. Yes, the world loves peas and even beetroots – and they're big business.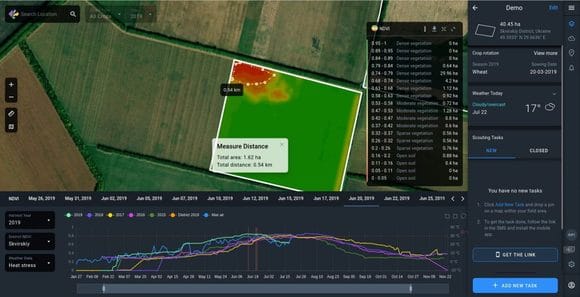 Another feature of the platform is a comparison of the field indicators with averages over the area. This feature allows you to determine how the crops are vegetating compared with the same crops within a given area that is, you can see whether you are the coolest farmer in the region.

The product's functionality also includes the ability to classify cropping areas and visualize it on the map.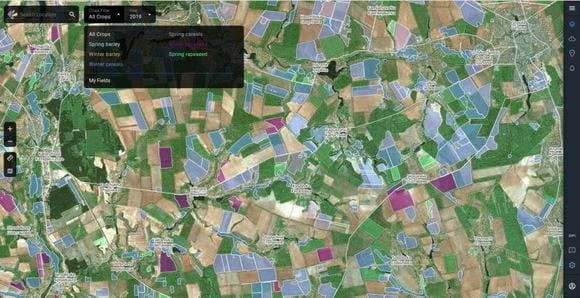 Scouting – Set, Arrange, Synchronize, And Track The Performance Of Your Tasks
The module for scouting allows you to set a task directly in the EOSDA Crop Monitoring system. The procedure is as follows: you specify the GPS-coordinates of the field and add the description of the issue needs to be solved. The scouting task goes directly to the mobile application. Once the task is opened in the application, it's marked as a point on the filed. The expert goes to the field, takes pictures and gives feedback on the state of the crops. All data is saved, and as soon as access to the Internet appears, the information is downloaded by default, so that you can proceed with it offline. The tasks performance can be monitored in the system and the results can be downloaded as an Excel file.
It definitely would have been a lot harder to identify if I was just blindly walking into it.
EOSDA Crop Monitoring Mobile App
The mobile app provides functions just like the web version, it is easy to use and constantly improving. Particular attention deserves the interface of EOSDA Crop Monitoring. It is user-friendly and easy-to-integrate into ERP and CRM systems. The app is provided in three languages ​​- English, Ukrainian, and Russian.
Weather Data
Last, but not least is a monitoring of weather conditions. Constant updating of meteorological information with early weather forecasting, which comprises precipitation, air temperature, humidity, wind speed, as well as the depth of snow can deliver value to your business. It allows to know the critical weather conditions that can directly affect the vegetation of crops in advance, and take all the necessary precautions timely. An important advantage of the system is the ability to receive notifications of 'Winter kill', 'Cold stress', and 'Heat stress' immediately after the issue occurred. Analyzing historical weather data allows you to look more deeply inside your fields so you can stay one step ahead.
"Heat-Stress"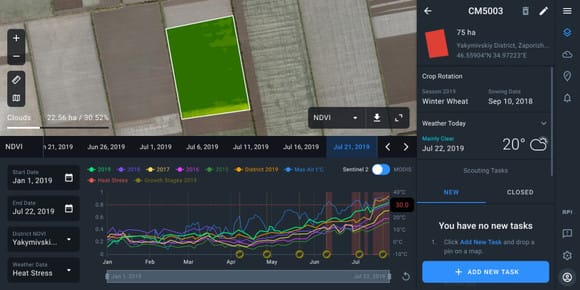 "Cold-Stress"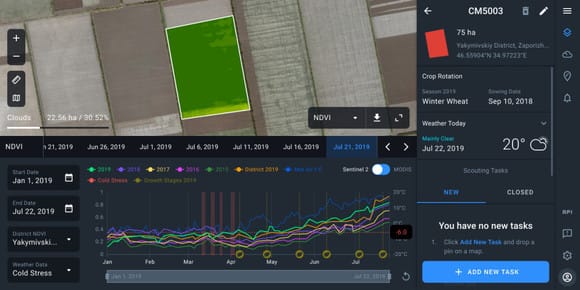 Make Reliable Business Decisions
EOSDA Crop Monitoring opens up great opportunities for enhancing the efficiency and competitiveness of any agricultural company based on the analysis of input data. It provides tools for a comprehensive assessment of land, soil, and crops, as well as yield forecasts for insurance companies and traders. Our focus is to help farmers and dealers make every investment count, and EOSDA Crop Monitoring provides critical information that really helps to make a real assessment of how well an input worked.
About the author:
Rim Elijah joined EOSDA in early 2020. She holds a double degree in business administration and political science from Stockholm University.
Rim is VP of Sales at EOSDA. She is overseeing all aspects of business model development and implementation, maintenance of positive business & customer experience, and the growth of the company's global coverage. She is responsible for closing deals, scaling up ongoing projects, as well as the development and implementation of process control within the Sales department. Rim also regularly takes part in negotiations with important clients.
So far, Rim has managed to successfully establish a number of strategic partnerships with an emphasis on the delivery of sustainable solutions in various regions of Africa and Asia.
In addition to her main responsibilities, Rim is presently involved in the upcoming launch of the first agri-based satellite constellation by EOSDA, scheduled for mid-2022. She manages relationships with the EOS SAT investors.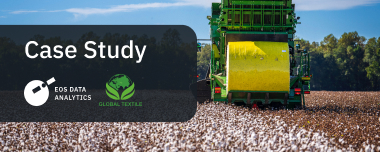 Stimulating Cotton Growth In Uzbekistan
Global Textile has been successfully utilizing EOSDA Crop Monitoring for over two years to obtain information about the vegetative development and help take care of their farmers' cotton fields.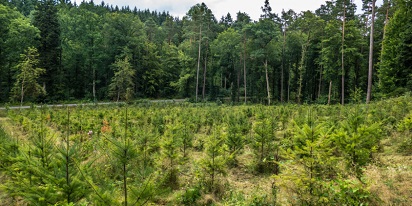 Reforestation: Pros, Cons And Effects On Planet
Reforestation has far-reaching benefits, from enhancing ecosystem services to fostering a more sustainable future. But we can only reap these rewards if we start well-planned reforestation right away.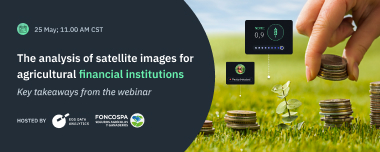 Sat Tech For Agri-Finance: Webinar Takeaways
On May 25, 2023, EOS Data Analytics and the insurance fund FONCOSPA held a free webinar dedicated to the ways remote sensing solutions can be of use to the insurance industry and financial institutions.