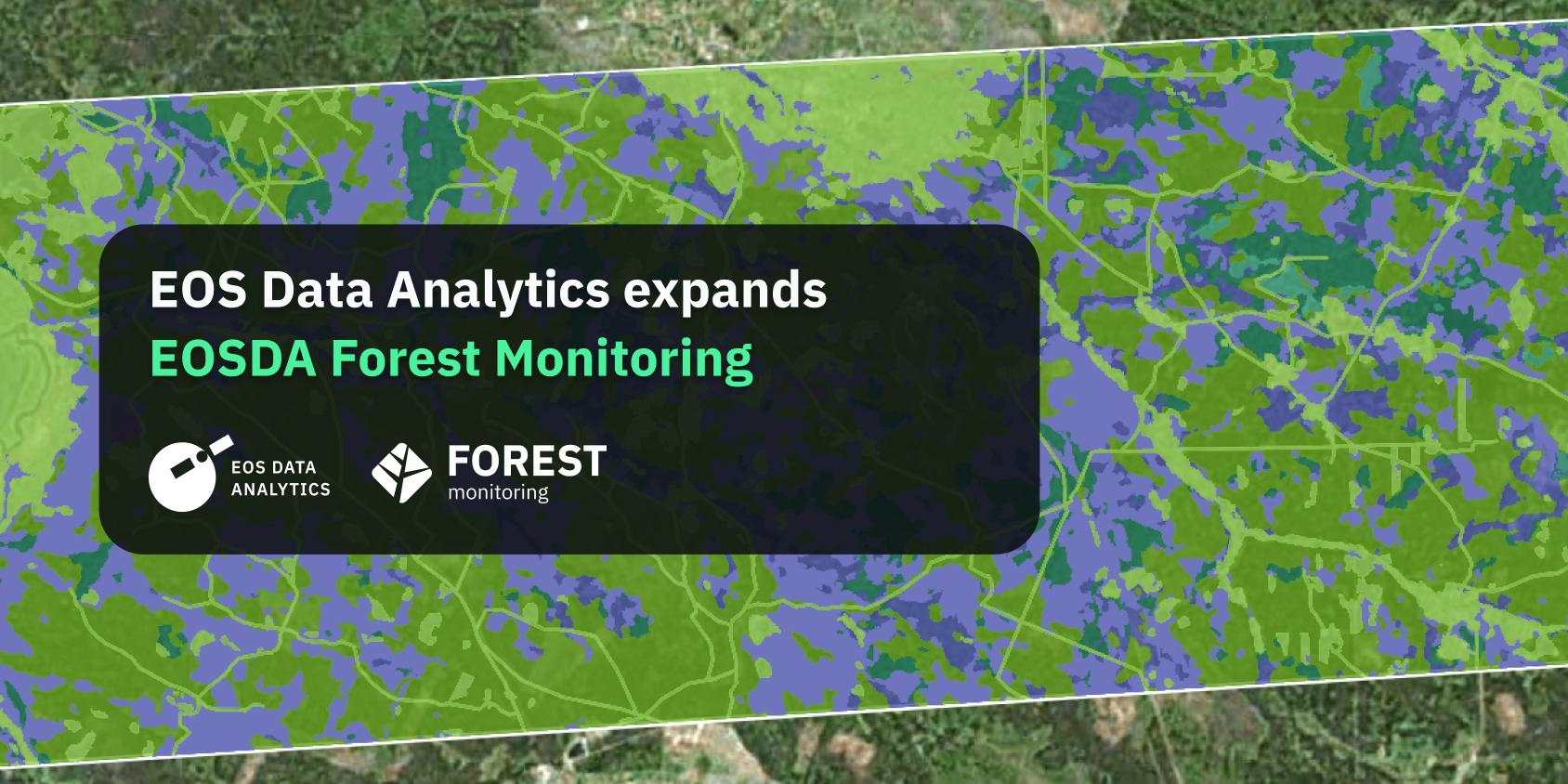 EOSDA Forest Monitoring Gets Updated With New Features
EOS Data Analytics, a global provider of AI-powered satellite imagery analytics founded by Dr. Max Polyakov, releases an updated version of EOSDA Forest Monitoring, an online satellite-based software for forestry management.
The new version is now offered as a custom solution that is tailored specifically to the individual needs of every client. Its forest monitoring capabilities now include forest cover detection, tree species determination, deforestation and reforestation dynamics tracking, assessment of forest damage in burnt areas, and forest health monitoring.
Forests cover 31 percent of the land on Earth, but this area is shrinking by up to 10 million ha every year, according to FAO . Climate change, increased urbanization, and aggressive logging together possess an urgent threat to the sustainable future of the Earth and its nature. Smart and data-driven forestry management is the key to addressing the problem since forests absorb carbon, support the well-being of the people living nearby and restore local biodiversity.
Driven by the vision to make space tech a global driver of sustainability of Earth, EOS Data Analytics has been offering EOSDA Forest Monitoring, an online satellite-based software for convenient and sustainable forest land management, since 2021. The platform allows landowners, forest managers, logging companies, food processing businesses, organizations in the finance and investment industry, and research institutes to monitor forest health remotely using satellite imagery.
The goal of EOSDA Forest Monitoring is to revolutionize the way forestry businesses operate by providing them with unparalleled insights and control. With the new suite of features, the users are able to make informed decisions that balance productivity with sustainability, leading to great operational efficiency and a healthier planet.
EOSDA Forest Monitoring
A digital forest monitoring tool blending powerful remote sensing technology with data science and excellent user experience.
The update contains the next new features:
Forest Cover. This feature offers the detection of forest coverage by comparing satellite images. This advanced capability can be tailored to the client's needs, offering frequent monitoring options and ensuring an accuracy of 90%+ when assisted by EOSDA's experts.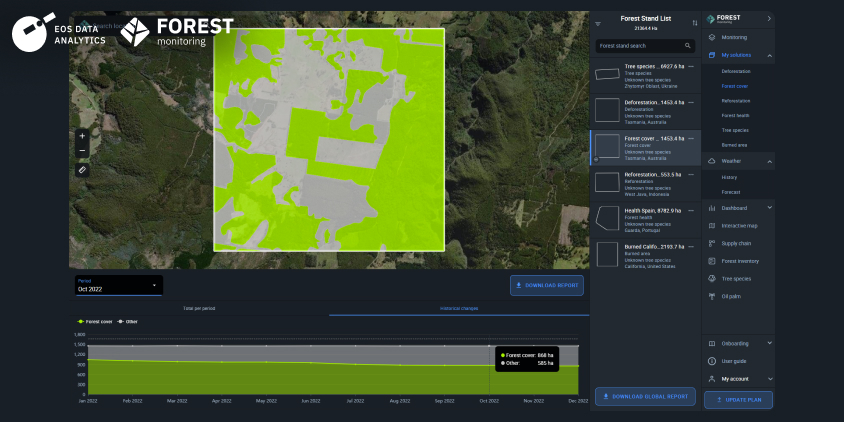 Deforestation. This feature identifies deforestation within the specified area of interest over required periods.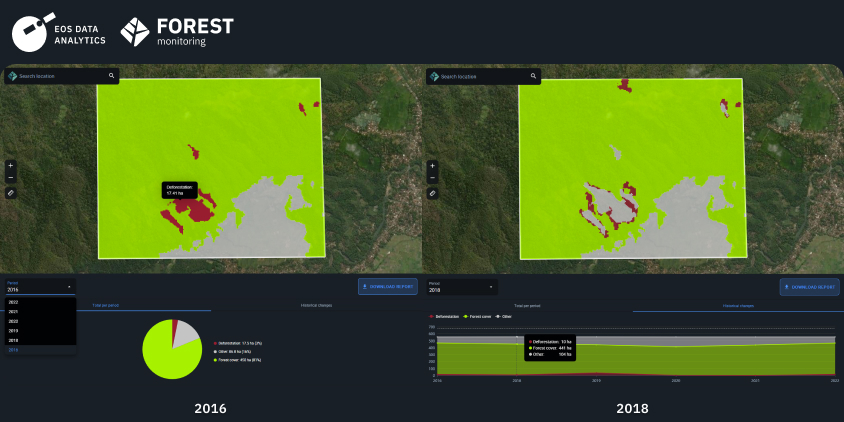 Reforestation. This feature allows for the analysis of a specified area to identify which regions have undergone successful forest regrowth. By leveraging satellite data, it can effectively pinpoint where the forest has managed to recover.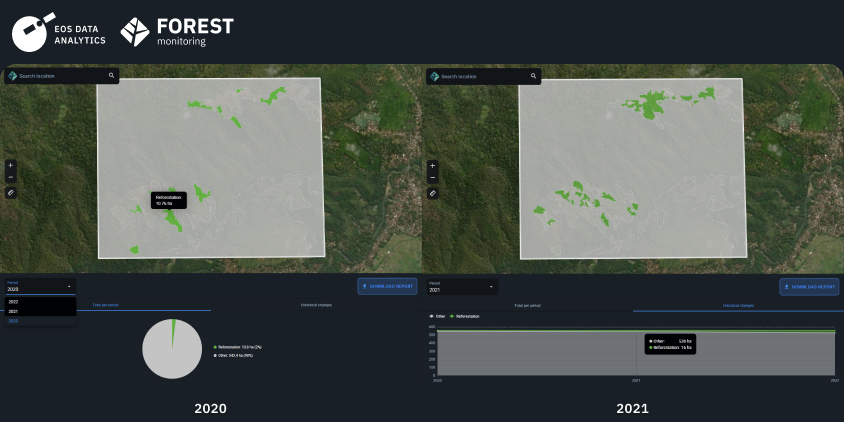 This massive update of EOSDA Forest Monitoring underscores our commitment to facilitating sustainable forestry practices through the power of satellite technology. This way, we help preserve the health of our Earth for generations to come.
Tree Species. Capable of distinguishing between broad categories like oak, birch, pine etc. over a few months of analysis, this feature delivers the results through the EOSDA Forest Monitoring platform to offer valuable insights for more targeted forest management.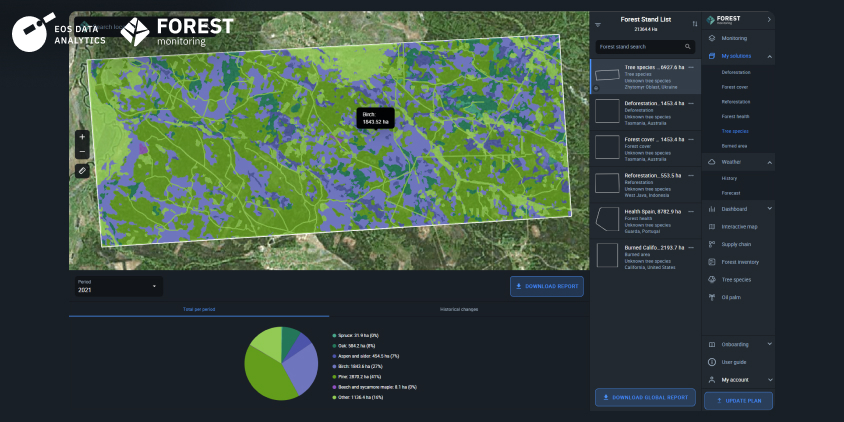 Burned Area. Today, fires cause 3 million more hectares of tree cover loss per year compared to 2001 . The Burned Area feature offers fire damage assessment to evaluate fire-affected territories and classify the degree of forest damage. It can also be integrated with other features, for instance, the Reforestation tracking algorithms to help clients measure the effectiveness of their reforestation efforts over time.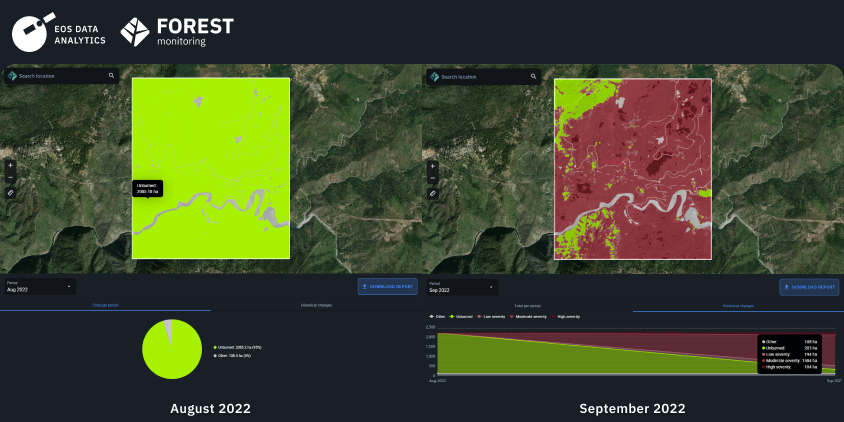 Forest Health Monitoring. This feature analyzes the health of forests using a range of vegetation indices, providing both a historical overview and current data, updated roughly every eight days. The system primarily uses images captured by the MODIS satellite, which offers a resolution of 250 meters. Additionally, it is capable of using data from other satellites if needed.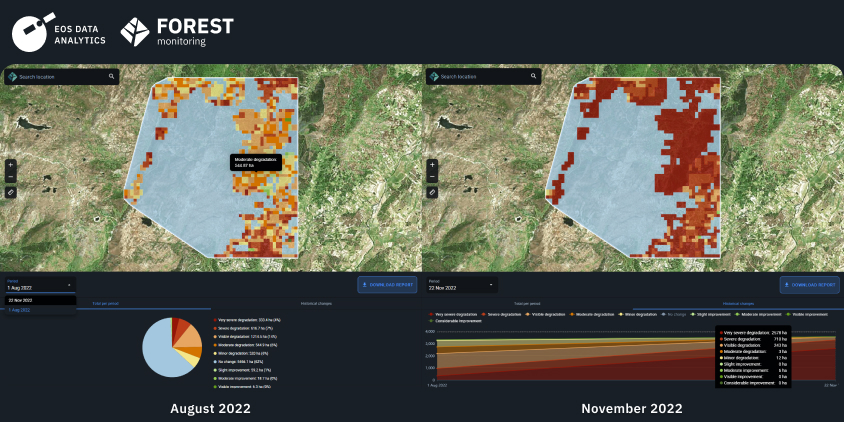 The features that will be released later are Biomass Estimation and Carbon Stock. The Biomass Estimation feature will provide insights into the total mass of organic material in a given area, providing a precise understanding of the forest's productivity. And the Carbon Stock feature will enable the quantification of carbon stored in the forest, contributing to crucial climate change mitigation efforts.
Each feature leverages advanced AI algorithms and a wide range of satellite data sources, including Sentinel 1 and Sentinel 2, and later EOSDA's EOS SAT-1 (the initial satellite of EOS SAT, the company's upcoming satellite constellation designed in a way that allows more precise forest dynamics monitoring from space), to provide precise and actionable insights for any area of interest regardless of its size, up to and including regional and country scales. All features also offer multiple delivery methods, with a priority on platform visualization and the ability to customize data display, while also being capable of sending reports in various formats through the API, file hosting services, or email.
EOS Data Analytics continually strives to refine and expand its offerings, ensuring its platforms and solutions stay at the cutting edge of technology. The company believes that sustainability and efficiency should be not mutually exclusive, but rather synergistic elements that can coexist, hence its products not only empower businesses with precise and actionable insights but also reaffirm EOSDA's commitment to sustainable forestry management.
To learn more about EOSDA Forest Monitoring, visit eos.com/products/forest-monitoring.
About the author:
Vera Petryk
Chief Marketing Officer at EOS Data Analytics
Vera Petryk is the Chief Marketing Officer at EOS Data Analytics, a global provider of AI-powered satellite imagery analytics.
She has a degree in marketing from the Netherlands Institute of Marketing, as well as a master's degree from Kyiv Institute for Interpreters and Translators under the Ukrainian Science and Research center. She is in charge of marketing and PR for EOSDA and all of its products.
Her main goal is to put EOS Data Analytics among the world leaders of satellite monitoring companies, as well as to promote sustainable products that utilize cutting-edge infrastructure helping to preserve the Earth and bringing the benefits of space to all humanity.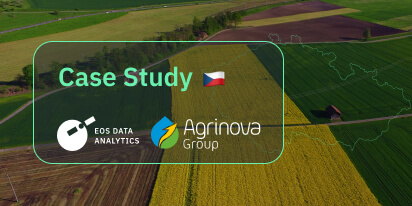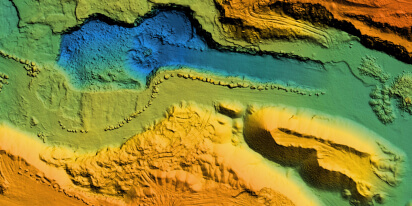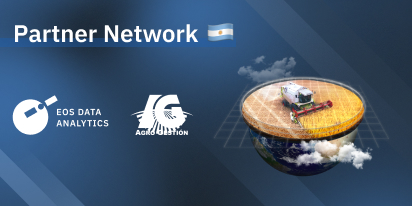 EOS Data Analytics Partners With Agro Gestión
With a focus on innovation and sustainability, EOS Data Analytics and Agro Gestión's partnership will bring cutting-edge satellite technology to more agribusinesses in Argentina, Paraguay, and Spain.