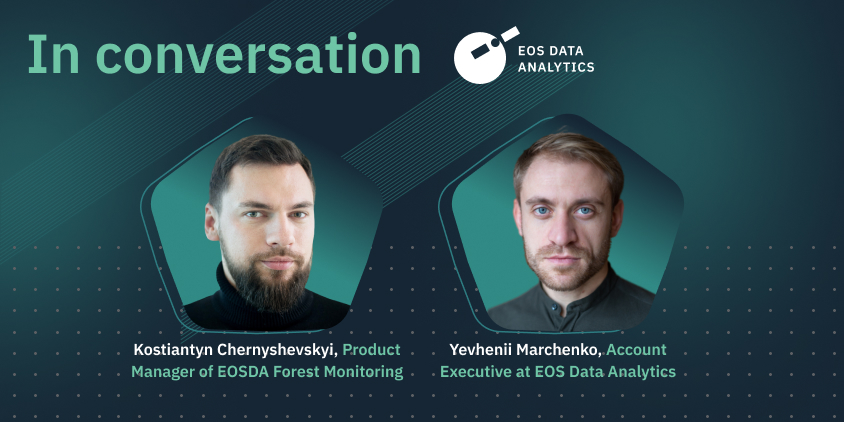 How To Comply With New EUDR Using Satellite Solutions
EUDR, or the EU Deforestation Regulation, is a pioneering set of rules reshaping commodity trading in Europe. It focuses on combating deforestation and ensuring supply chain transparency. EOS Data Analytics experts provide solutions for compliance with this groundbreaking regulation.
Europe has been importing staggering amounts of deforestation-related commodities which overall constitute an area that is larger than the EU itself .
EUDR regulation is aimed at tackling this issue. We spoke to Kostiantyn Chernyshevskyi, Product Manager of EOSDA Forest Monitoring, and Yevhenii Marchenko, Account Executive at EOS Data Analytics, to shed light on effective strategies for meeting the EUDR demands. Recently, the team behind EOSDA Forest Monitoring has expanded the platform's capabilities to meet the EUDR demands, which makes it possible to streamline deforestation monitoring on a regular basis.
What Is EUDR?
Kostiantyn Chernyshevskyi: EUDR is a comprehensive regulatory framework specifically crafted to combat the pressing issue of deforestation. Its significance lies in its potential to significantly impact global biodiversity, climate stability, and the livelihoods of forest-dependent communities. The EU deforestation regulation marks a significant milestone, not just for the European Union but for the entire global community.
Yevhenii Marchenko: At its core, the EUDR seeks to curtail the logging of native forests and preserve biodiversity across the world, which will significantly impact agricultural operations. This means that both companies operating within the EU and their suppliers will be held accountable for the environmental footprint of the products they bring in, especially those associated with high-risk commodities such as soy, palm oil, and cocoa, which could be planted in deforested areas. Businesses will need to demonstrate that their supply chains adhere to stringent sustainability and deforestation-free standards.
What Regions And Businesses Will Be The Most Affected By EUDR?
Kostiantyn Chernyshevskyi: The most affected are the regions that export the restricted commodities to the EU. Typically, businesses that sell coffee, cocoa, rubber, beef, and soybeans are situated in LATAM, Asia, and Central America. EUDR denotes that Europe wants those commodities to come from land that is not associated with logging native forests. Possible sanctions are significant: a fine of 4% of annual turnover, exclusion from the market access, and even "fines proportionate to the environmental damage".
Yevhenii Marchenko: Our clients who are considering EUDR reporting operate primarily in the agriculture and forestry sectors, but we also work with software development companies, auditing and consultancy, and insurance firms that will provide compliance services to commodity suppliers.
Due to this regulation, all countries of the world will be assigned the levels of risk, based on the European Commission's assessment of deforestation in every region. The EU deforestation regulation doesn't state specifically how they will use that information. Perhaps, higher-risk commodities will be checked more thoroughly at customs because they mention the interconnection with customs through the European Union Single Window Environment.
Additionally, regular reporting will be mandatory for all importers and its frequency will depend on the seasonality of crop production – some companies will have to file annual reports, while others will have to do it more frequently.
What Exactly Is Considered Reliable Evidence Of Deforestation-Free Practices?
Kostiantyn Chernyshevskyi: One of the most significant requirements of the EUDR is its focus on transparency and traceability. Companies will have to provide detailed information about the origins of the products they import. In particular, the mandatory part is visual georeferenced evidence that the products were not produced on the deforested land.
Yevhenii Marchenko: Essentially, suppliers will have to submit due diligence statements to the authorities, proving that they comply with EUDR requirements. What's more, competent authorities will exchange information with the European Commission, so the whole supply chain will be traceable, even if commodities are being traded across multiple third parties.
EOSDA Forest Monitoring
State-of-the-art digital platform that monitors your forest stands wherever they are.
How To Collect The EUDR Required Data?
Kostiantyn Chernyshevskyi: There are several strategies to ensure compliance with the EUDR, including gathering evidence through on-site inspections and utilizing aerial and space-based technologies. Among these methods, satellite observation stands out as a viable approach for generating essential reports to present to the authorities.
Yevhenii Marchenko: The EUDR acknowledges the importance of data from relevant systems to identify the geolocation which may include data gathered by Earth observation systems like satellites. These technologies will play a pivotal role in monitoring compliance with the regulation because they provide the necessary evidence in a cost-efficient and sustainable manner.
How Would You Recommend Implementing Satellite Tech To Comply With The New EUDR Regulation?
Kostiantyn Chernyshevskyi: We would certainly recommend collecting data from various sources. For example, optical satellites are a good source of information, however, if complemented with SAR data, it can present a more accurate picture of the situation.
Yevhenii Marchenko: Large area challenges can be addressed with the help of our computer vision AI that includes architectures like Conv-LSTM, CNN, RNN, U-Net, and more. Our GIS team comprises 60 in-house scientists, including 25 PhDs, so we confidently deal with the most demanding client inquiries.
Kostiantyn Chernyshevskyi: Spatial resolution of satellite imagery matters as well. Obviously, the higher the better. Our satellite imagery sources include the world's golden standard, Sentinel 1 and 2, together with EOS SAT-1, the satellite that has been manufactured specifically for EOS Data Analytics and offers a 1.5m spatial resolution. Other operational LEO satellites are available on demand.
Furthermore, EUDR reporting can be streamlined by using tools available on the EOSDA Forest Monitoring platform. We have also implemented Deforestation and Reforestation monitoring functionality, tree species detection, and biomass estimation. In case of an emergency, there is also a forest fire monitoring tool.
What Formats Of Output Data Do You Provide As Part Of EUDR-Compliant Services?
Kostiantyn Chernyshevskyi: While EOSDA Forest Monitoring offers a handy web-based software interface, we also work with individual clients and their special requests because, essentially, every company comes with a unique combination of factors like business model, value chain, geography, markets, etc.
Yevhenii Marchenko: For EUDR reports, we provide vector and raster maps based on satellite imagery analytics, as well as any other formats required by customers. We can also generate custom-tailored reports depending on the business objectives and send them by e-mail on a regular basis. For clients who wish to adjust EUDR reporting to their internal software engineering pipelines, we offer data access through the API interface.
What Is Your Experience With Clients That Order EUDR-Compliant Forest Monitoring So Far?
Yevhenii Marchenko: A lot of EUDR use cases that I've been dealing with lately are about clients seeking satellite imagery providers to support highly specific software solutions in supply chains. For example, this could be something like a traceability platform for commodities that are listed as EUDR-regulated. They focus on beef, soy, cocoa, coffee, palm oil, and rubber producers. Some companies are already developing automated due diligence solutions, partnering not only with remote sensing data suppliers but also with audit companies that provide on-ground verification. A substantial number of them consider offering comprehensive tools that deliver EUDR compliance as part of a whole spectrum of services considering things like carbon stock monitoring, yield estimation, and in some cases, even tracking tags on individual tree cuts. There is a lot of interest in remote sensing data from companies from Africa, Brazil, and Southeast Asia regions.
In summary, the updated EU Deforestation Regulation (EUDR) signifies a significant stride towards preserving global forests and mitigating climate change. By fostering transparency and accountability, and by harnessing cutting-edge satellite technologies to monitor compliance, the EU aims to set a powerful example for the world in the fight against deforestation while engaging all stakeholders in this critical endeavor.
The forthcoming EUDR regulation promises substantial change, but with the invaluable support of satellite technologies leveraged by EOS Data Analytics, businesses can confidently navigate the new regulatory landscape. EOSDA solutions offer comprehensive assistance for all your compliance needs. Talk to Yevhenii Marchenko directly by booking a call and get the answers to your questions on the new EU deforestation regulation!
About the author:
Karolina has embarked on a unique career journey that has taken her from journalism to a STEM degree, leading to her current path in writing about science & deep tech.
Currently pursuing a Bachelor of Science degree at Pennsylvania State University, Karolina combines her passion for writing with her technical expertise by contributing to technical documentation on Earth Observation satellites and spacecraft data processing. She also excels in communicating the scientific value of EOSDA solutions in precision agriculture, precision forestry, and environmental monitoring in a way that is accessible to all.
As a dedicated advocate for personal empowerment, Karolina is actively involved in 5th-wave feminism, striving to represent and uplift Ukrainian women in the global STEM community. Her commitment to this mission is demonstrated through her membership in esteemed organizations such as the Association for Women in Science (AWIS), Women in Technology (WIT), and Blue & White Society, featuring the biggest alumni network in the US of over 750,000 influential professionals.