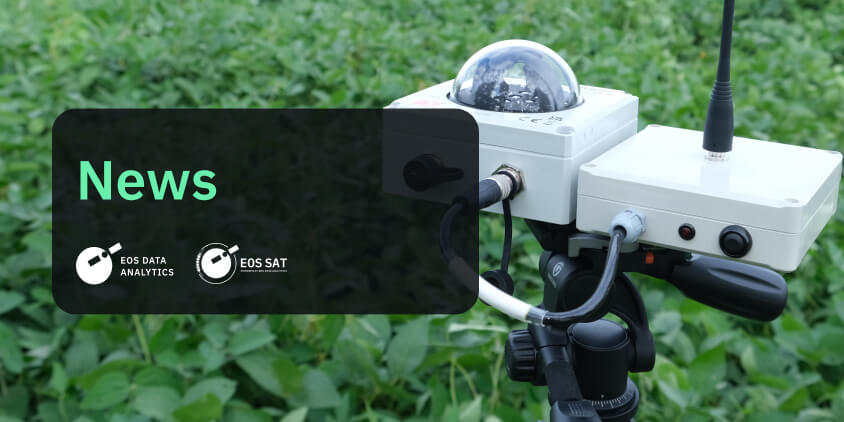 EOSDA Confirms EOS SAT-1 Satellite Data Validity
EOS Data Analytics (EOSDA), a global provider of AI-powered satellite imagery analytics founded by Dr. Max Polyakov, announced the successful verification of the validity of data that its EOS SAT-1 satellite collects and provides. The satellite was launched on January 3, 2023, and is currently undergoing final adjustments.
EOS SAT-1 is a small optical agri-focused satellite capable of monitoring up to one million square kilometers daily using 11 agri-related bands. Given the satellite's novel capabilities, it was crucial to confirm the consistency of the data it provides with other satellites and ground measurements. The verification ensures that EOS SAT-1 can be a reliable source for calculating critical plant characteristics such as its moisture level, Leaf Area Index, and others.
To verify the data collected by EOS SAT-1, ground measurements were conducted on August 10-11, 2023, near Boguslav, Ukraine. These measurements employed The SunScan Canopy Analysis System from Delta-T Devices Ltd. Ground verification is essential because it provides a direct comparison of satellite data with actual plant conditions, offering a more nuanced understanding than merely comparing data with other satellites.
The SunScan device was specifically chosen for its advanced capabilities in analyzing leaf canopy. It accurately assesses the Leaf Area Index (LAI) based on Beer's law of light absorption by a canopy and measures levels of Photosynthetically Active Radiation (PAR) in the leaves.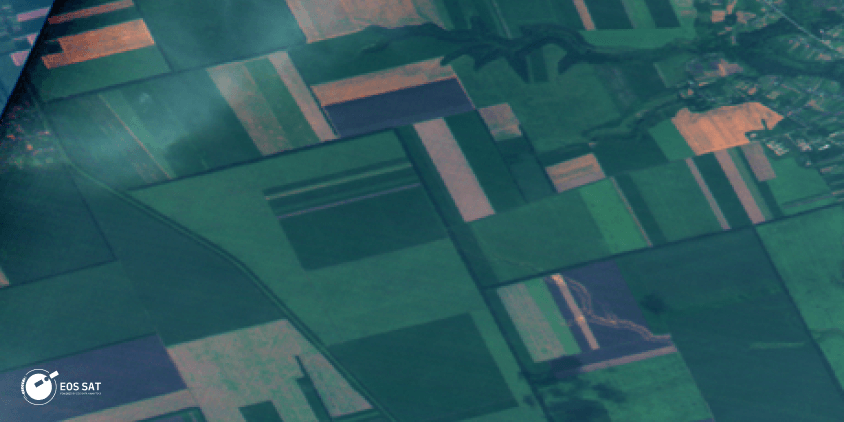 Measurements were carried out on four fields of soybean, one field of maize, and one field of sunflower. On each field, five to seven measurements were made, totaling 38 measurements of LAI and soil moisture. The ground data collected strongly confirms the validity of the data provided by EOS SAT-1.
The ground measurements we conducted in Ukraine is a significant milestone for us since they confirm the reliability of EOS SAT-1 data for our clients.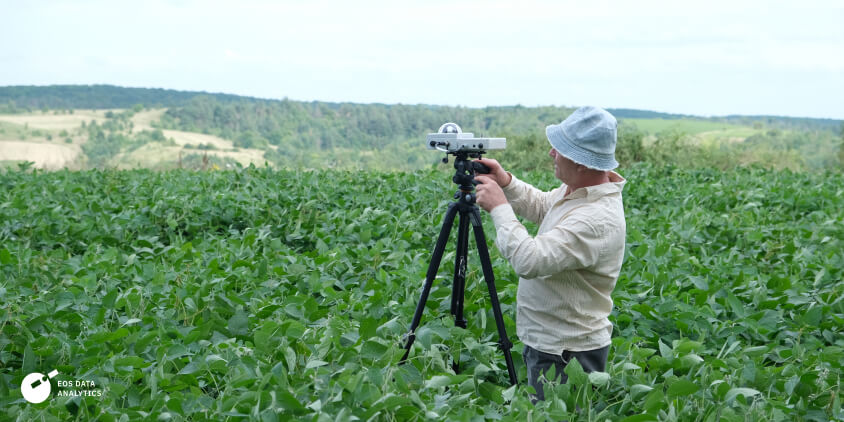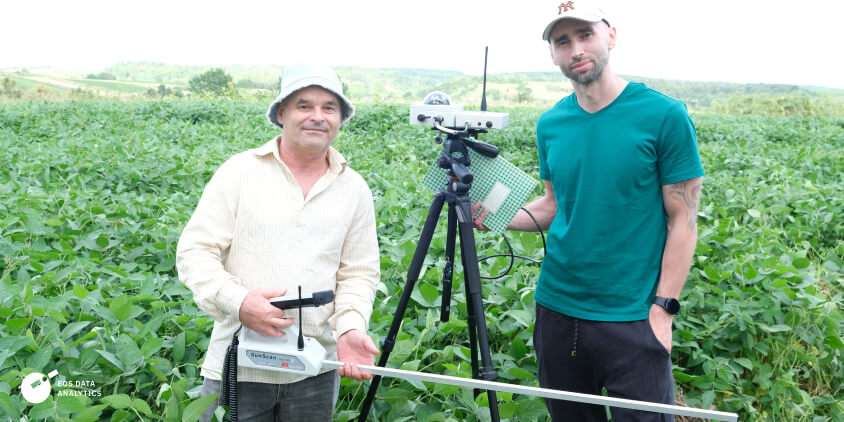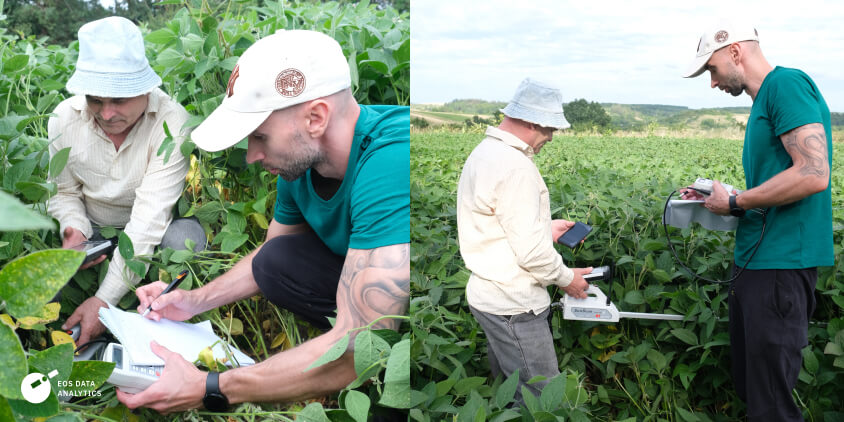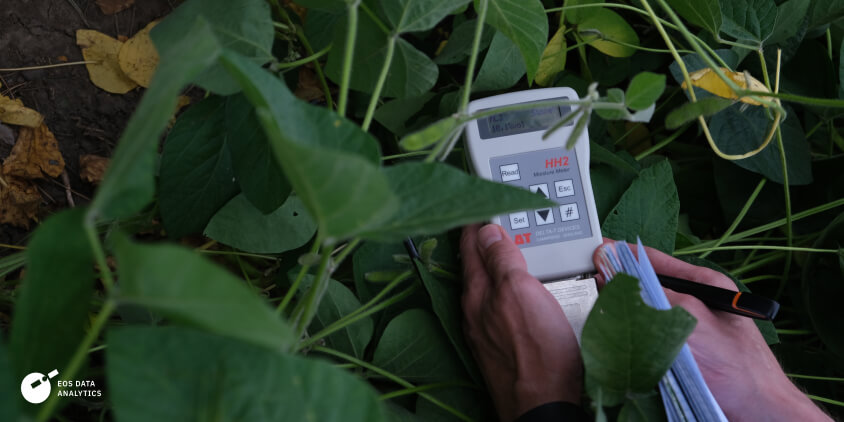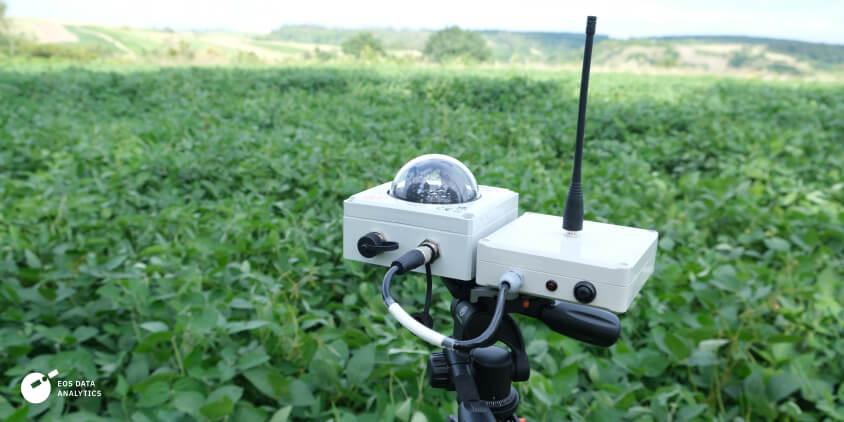 It's important to note that both ground measurements and satellite data come with their own set of possible inaccuracies. In an ideal scenario, numerous ground measurements would be conducted, the state of the atmosphere would be considered, and satellite data about the state of the field would be collected at the exact moment the ground measurements are made. However, even with the limited measurements that were conducted, the EOSDA team observed a strong correlation between the ground and satellite data. This confirms their initial expectations regarding the validity of EOS SAT-1 data.
The correlation between our ground measurements and the data from EOS SAT-1 validates the satellite's capabilities and underscores our commitment to providing accurate and actionable insights for sustainable agriculture.
Prior to the ground measurements, EOS Data Analytics had also conducted a comparative analysis between EOS SAT-1 and Sentinel-2 (S2) satellite data to gauge the quality of the information collected. This comparison involved images acquired by EOS SAT-1 on August 4, 2023, and Sentinel-2 images from August 5, 2023, over the Boguslav area. Given the inertia in crop development, a one-day difference was deemed inconsequential for biophysical and agro-hydrological parameters of plants and soil.
For this analysis, NDVI and LAI were estimated over specific fields from both satellites. LAIs from S2 data were calculated using SNAP software, while for EOS SAT-1, an adapted algorithm developed for the Planet data was employed to estimate the leaf area index. The comparison was limited to three fields captured by two satellites within a specific timeframe. The results showed no significant difference in calculated vegetation indices and LAI over the targeted fields, corroborating the validity of EOS SAT-1 data.
About the author:
With over 15 years of experience in copywriting, journalism and content creation for prominent Ukrainian startups, charitable funds, and ESG businesses, Maksym Sushchuk has evolved into a "storyteller with a purpose," committed to driving impact through words.
At EOS Data Analytics, Maksym Sushchuk is at the forefront of realizing the company's vision to make space tech a global driver of sustainability on Earth. He crafts 'stories of impact,' compelling narratives that showcase the potential of modern technologies and passionate individuals to address pressing environmental challenges, fostering a brighter future for generations to come.
In 2022, Maksym Sushchuk co-founded PR Army. It is a Ukrainian volunteer initiative of communication experts focusing on combating disinformation, advocating for economic sanctions, and telling the stories of those affected by the war. His role as Head and Co-founder allows him to utilize his writing skills to bring attention to the human and social tolls of the aggression against Ukraine.
Well-versed in the nuances of storytelling, Maksym Sushchuk uses his craft to spur change across various sectors, from environmental advocacy to cultural preservation and social justice. His work reflects a lifelong dedication to making a difference, one word at a time.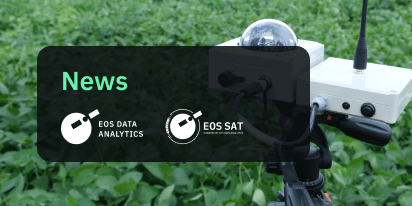 EOSDA Confirms EOS SAT-1 Satellite Data Validity
Ground measurements in Ukraine have confirmed the data validity of EOSDA's EOS SAT-1 satellite. The tests used the SunScan device and showed a strong correlation between ground and satellite data, validating the satellite's capabilities.