GEOSAT Images Are Now Available In EOSDA LandViewer
Satellite images of GEOSAT-2 from Earth Observation company GEOSAT, a European satellite owner and operator, are now available in EOSDA LandViewer, a digital satellite-driven tool created by EOS Data Analytics, a global provider of AI-powered satellite imagery analytics.
By incorporating GEOSAT imagery, EOSDA LandViewer offers enhanced value to various market verticals, including agriculture, forestry, and natural resource exploration.
GEOSAT-2 data provides invaluable support to a wide range of activities and industries, including sustainable development in agriculture, forestry, and environmental management through its high-resolution imagery enabling a detailed view of the Earth's surface. Environmental organizations can use GEOSAT-2 data in EOSDA LandViewer to identify areas of concern and in disaster management efforts. Additionally, the satellite's imagery can assist in climate change monitoring, land administration, and mapping efforts and be a valuable data source for shipping, fishing, and other maritime activities.
I am thrilled to announce that GEOSAT-2 imagery is now available to EOSDA LandViewer users worldwide. We have been listening closely to our users, and we understand that high-quality satellite images are in high demand on our platform. That is why we are committed to continuously adding new satellite data sources, including those with higher resolution and better revisit time, to meet the evolving needs of our users.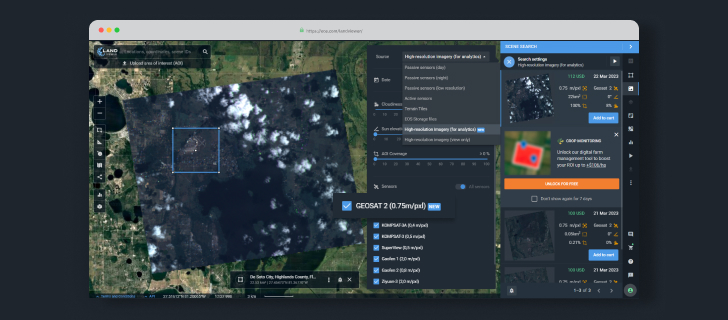 GEOSAT-2 is a multispectral optical satellite that makes images of Earth with a 75 cm pan-sharpened resolution. With its data, EOSDA LandViewer is capable of providing high resolution imagery for up to 200,000 km2 of land per day and collecting data from the satellite's panchromatic and multispectral cameras simultaneously. The multispectral capability of GEOSAT-2 includes four channels in the visible and near-infrared spectral range (red, green, blue, and NIR).
To date, GEOSAT-2 has captured over half a million images since its launch in 2014, providing a wealth of data for a variety of industries and applications.
To access GEOSAT-2 imagery, users need to select the "High resolution imagery (for analytics)" source in Scene Settings. With this option, users can filter high-resolution imagery by date, cloud coverage, sun elevation, and area of interest to obtain the data they require. The platform offers a free image preview feature, allowing users to check the quality of the image before making a purchase.
In 2023, EOS Data Analytics plans to continue developing EOSDA LandViewer, introducing first the GEOSAT-2 archive imagery and later adding the ability to request custom image captures of specific areas.
Driven by its mission to harness the power of satellite technologies to provide businesses with fast and accurate data-driven decisions, EOS Data Analytics is committed to continuously expanding and diversifying its data sources to bring users the most comprehensive and up-to-date satellite imagery available.
About GEOSAT
GEOSAT is a leading Earth Observation company focused on bringing the potential of EO to People, Businesses, and Institutions around the world. Our expertise and experience, combined with our flexibility to adapt to customer needs, allow us to maximize value and deliver tailored solutions, while helping to address global challenges from Space. Thanks to our own satellites, orbiting the Planet several times a day, we deliver high quality images and analytics for high impact insights which result in better decision making, putting us in a unique position to use Space and technology to improve everyone's life in an ever-changing world.
About the author:
Rim Elijah joined EOSDA in early 2020. She holds a double degree in business administration and political science from Stockholm University.
Rim is VP of Sales at EOSDA. She is overseeing all aspects of business model development and implementation, maintenance of positive business & customer experience, and the growth of the company's global coverage. She is responsible for closing deals, scaling up ongoing projects, as well as the development and implementation of process control within the Sales department. Rim also regularly takes part in negotiations with important clients.
So far, Rim has managed to successfully establish a number of strategic partnerships with an emphasis on the delivery of sustainable solutions in various regions of Africa and Asia.
In addition to her main responsibilities, Rim is presently involved in the upcoming launch of the first agri-based satellite constellation by EOSDA, scheduled for mid-2022. She manages relationships with the EOS SAT investors.