Farm Software: Convenient Apps For Your Comfortable Business
Agriculture software is a recent beneficial finding of the digital world on the merge of cybernetic and agronomy. Digital applications simplify agrarians' lives. Smart innovations make their business comfortable, predictable, confident, more profitable.
Present-day best apps for farmers include FarmLogs, Climate FieldView, Farmers Edge, Agrian, Trimble, Agrivi, Granular, FarmShots, Strider, Proagrica, AgriEdge, and EOSDA Crop Monitoring.
What Is Farm Management Software?
The farm management system aids in solving many tasks of different complexity. Various tools aim at making important decisions within a short time. Farming apps not only speed up the process but provide a well-informed background. This increases the chances that the solution will be correct.
Agronomy software makes the farm management process easier, covering a wide spectrum of agricultural activities:
record-keeping/maintenance;
fertilizer/water saturation;
crop rotation;
seeding/harvesting time;
pest control;
weather precipitation;
yield prognosis;
track farming;
resources optimization;
risk management;
loss prevention.
EOSDA Crop Monitoring
Offering high-resolution satellite images for fields analytics to monitor crops health remotely!
Software For Agriculture: Types Of Tools And Their Purposes
Modern agricultural tools are grouped according to the scope of tasks they fulfill and the frequency of their applications. These two aspects allow distinguishing the following classification:
Farm management (52%) entails three significant clusters: enterprise management and finances, crop management, the system of enterprise resource planning (ERP).
Crop management suggests plant growth monitoring and prediction of yields.
Management and finances entail general farm management issues including farm supervision, inventory maintenance, accounting and financial reports, control and guidance of workers, etc.
ERP allows collecting information regarding crop conditions, work of personnel, farming activities with further analysis and planning.
Precision agriculture and predictive analytics (12%) ensure optimization of cost inputs and increase field performance. These apps allow farmers to oversee risks and prevent their consequences, to treat critical areas only reducing chemical applications.
Field monitoring and sensors (10%) cover a vast scope of essential features including plant growth, pest control and weed management, fertilizing and irrigation, weather and soil conditions.
Platforms for big data aggregation (7%) accumulate information from multiple sources but do not interpret it.
Platforms for big data analytics (7%) analyze retrieved geospatial data with further recommendations for agrarians.
Spatial imagery and big data analytics (4%) process spatial images.
Scouting software (2%) tracks critical areas.
Miscellaneous apps (6%) comprise remote sensors and in-field hardware, software for robots and UAVs.
Popular Agricultural Software: A Review Of The Most Essential Features
Present-day growers have over 50 software products at their disposal. The choice is more than rich; the information they provide may be overwhelming at times. The best option not to get confused is to choose the farm app best responding to the specific needs of your enterprise.
Applications for the agricultural industry differ in the span of services they render and the data they rely on.
1. FarmLogs
This farm app dates back to 2011. The application provides services to around 50,000 agricultural enterprises. The platform CEO Jesse Vollmar started it as a user-friendly product for easier farming. This software offers several tariff plans that you can customize with add-ons. It has desktop as well as Android and iOS versions.
It will be interesting for those who are eager to find free farm management software as the platform offers a free trial period. Its application FarmLogs Lite is also free.
The program claims to make the farm running process as hassle-free as possible. It renders the following essential services:
rainfall/heat history;
field monitoring with satellite images or scouting;
soil mapping;
plant growth and maturing stages;
fluctuation of market prices in a particular locality with a ZIP code;
profit and loss;
operation manager with reports on activities;
email notifications.
The last feature enables farmers to estimate the best time and area to sell their yields with the greatest profit. Besides, FarmLog makes it possible to sell crops with its AutoHedge app.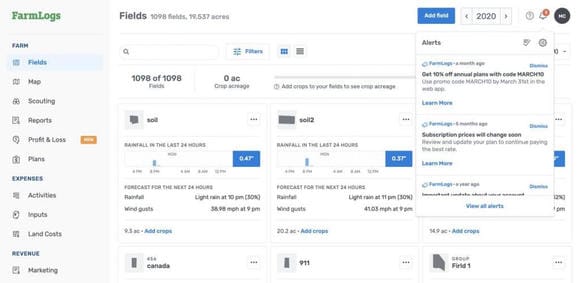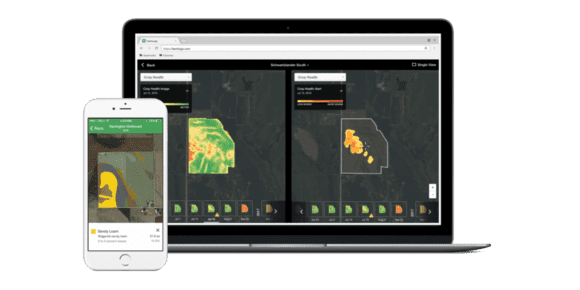 2. Climate FieldView
The farming software is simple to install and allows keeping all data in one place. As the name suggests, it shows weather data and rainfall in particular. Yet, this is not its only advantage. Its essential features provide:
Data connectivity via the in-cab hardware FieldView Drive with a possibility to get historical and real-time field maps to your account. This also includes uploading and transferringdata from other agricultural software.
Data visualization with real-time digital maps on seeding, spraying, harvesting.
Crop performance evaluation and analysis with comparing field and soil maps, spray applications, determining the best crop for the next season.
Field health and vegetation monitoring with satellite imagery or scouting to identify critical issues early.
Input optimization with variable rate seeding, customized fertilization prescriptions.
Users access the application from a PC or a mobile device, with a free trial available.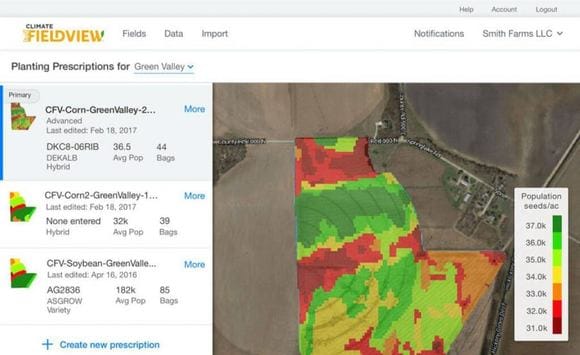 3. Farmers Edge
Farmers Edge is a Canadian company founded in 2005 with a focus on precision agriculture. It suggests solutions in English, Portuguese, and Russian. The company's agriculture software products interpret data from private satellites and hardware installed in the fields.
Their on-farm equipment includes:
weather stations;
soil moisture sensors, soil probes with further laboratory analysis;
on-farm telematics for equipment monitoring, remote machinery operations.
The team also promotes decision making with webinars, technical and agronomic support.
Farmers Edge apps integrate all retrieved data in one place generating comprehensive farm command prescriptions.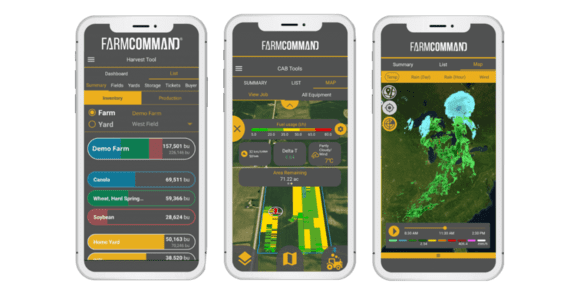 4. Agrian
The platform was designated in 2004 for various AG stakeholders. It targets farmers, product providers, retailers, food processing companies, professional agronomic advisors.
This software for agriculture primarily focuses on precision and sustainability, analytics, agronomic planning, food safety compliance.
The company deals with soil testing, field and yield mapping, crop protection, fertilizing through a variable-rate approach. The collected data can be easily shared between the involved parties.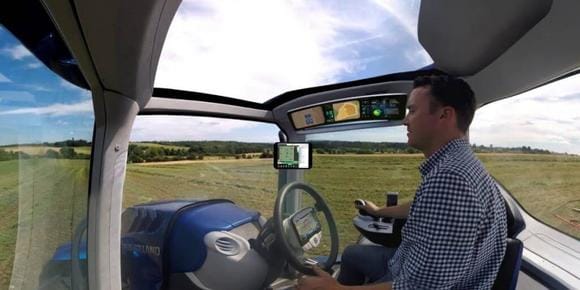 5. Trimble
The US agribusiness software suggests smart solutions for various participants, from growers to retailers and food companies. The app is available in mobile, desktop, cloud versions. It offers subscription and free trial period.
Trimble optimizes farm activities providing:
weather data,
field and seed monitoring (quality and distribution),
farm fleet management via in-cab displays,
variable applications (seeds and fertilizer combinations),
field record-keeping and access to historical data,
price tracking,
profit mapping.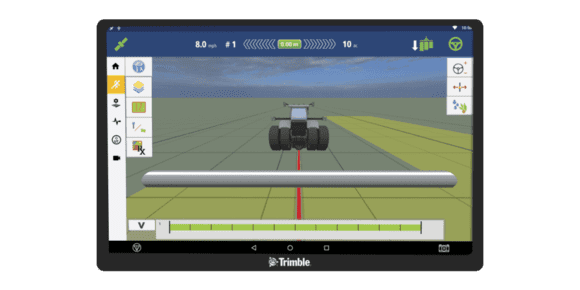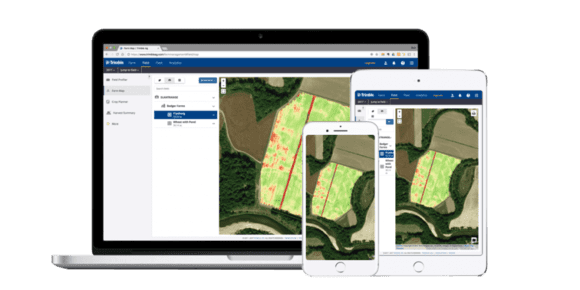 6. Agrivi
The UK platform helps agrarians to run vertically integrated enterprises in 150 countries. It enables product quality control, tracks field activities, checks compliance with standards. Agrivi Ltd offers farm management utilities suitable for small, medium, or big businesses.
Its farm apps conduct full or simplified data analysis, planning. It assists in major field operations:
soil cultivation,
planting,
pest detection,
spraying,
fertilization,
harvesting.
The software program produces financial reports, sales management, risk alerts, due payment reminders. It allows data storage, historical records, weather precipitations.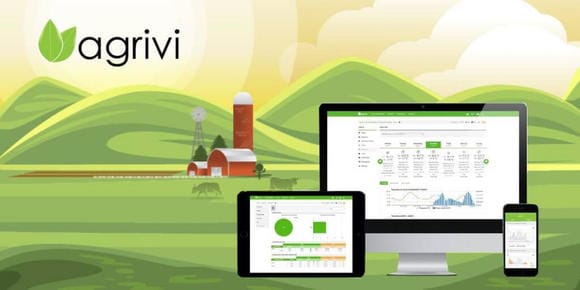 7. Granular
The company has headquarters in San Francisco. It produces software for farmers from the USA, Canada, and Australia. The US farmers are also granted access to AcreValue. The tool gives satellite-based field insights. It analyzes crop health, inventory utilization, soil fertility and composition.
The program enables task assignments to farmworkers. It provides technical and agronomical support for strong farm-running decisions. Granular also suggests predictive models to increase profitability. The multi-location feature allows viewing diverse terrains in one window.
Granular opens either from office or on the road from Android and iOS mobile devices. Its demo version helps to estimate the product's efficiency.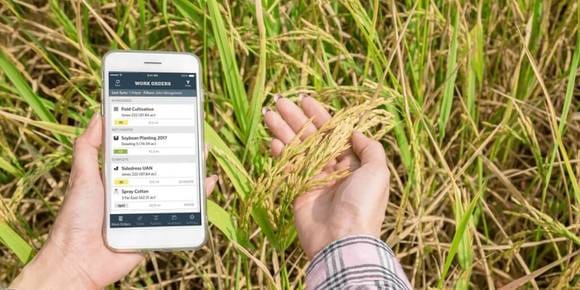 8. FarmShots
This cloud-based solution – available on desktop and mobile devices – derives high-resolution images from satellites, drones, and tractors. It tracks anomalies and informs on critical issues about crop health and growth stages, pest invasions, irrigation or fertilization failures, as well as unfavorable weather conditions. This farm software easily integrates into AgriEdge Excelsior.
FarmShots enables to survey fields right from your smartphone anytime and anywhere.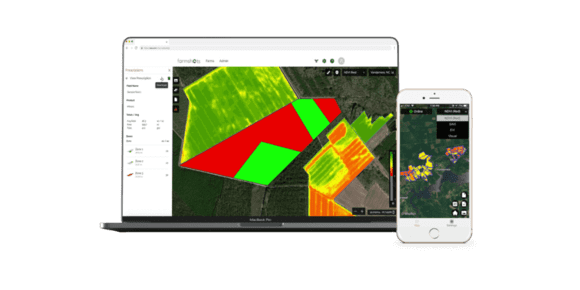 9. Strider
The Brazil company surveys over 5000 ha of Brazilian farms, mainly big agro holdings. It assists in farm management and digital field monitoring with four major farm management apps:
Strider protect – pest control and protection.
Strider base – all-year-round monitoring.
Strider space – detection of critical areas with spatial images.
Strider Tracker – machinery tracking.
The platform employs satellite imagery and integrates with the agricultural software of other popular developers. The company's site is available in English, Spanish, Portuguese.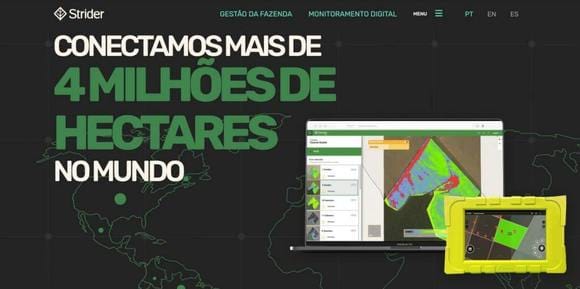 10. Proagrica
Proagrica is a cloud platform with big data aggregation. Information is derived through personal surveys, UAVs, satellites. It enables farmers to spot critical areas with NDVI and to take proper actions.
This software is used for recordkeeping and optimization of inputs. It aids to maintain compliance and make smart decisions based on analytics of field insights. Proagrica deploys trading operations connecting buyers with suppliers.
Apart from agriculture, the company deals with animal health. Alongside farmers and agronomists, it targets retailers, food processors, veterinarians.
There is no free trial but a demo version is available upon request.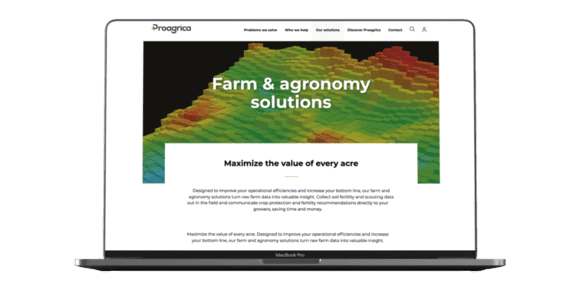 11. AgriEdge
AgriEdge is a software product by Syngenta used in 90+ countries worldwide. Syngenta is a huge agricultural company also specializing in crop protection and seed treatments. It combines advanced technologies with rich experience.
The app comprises five pillars of the agricultural business:
service,
stewardship,
agronomy,
economy,
technology.
It employs images from satellite or drones as well as the field machinery John Deere. US users can incorporate FarmShot data into the system.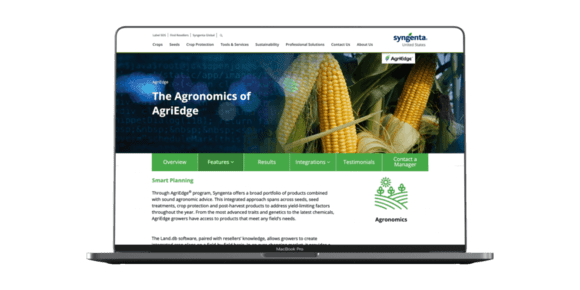 12. EOSDA Crop Monitoring
EOSDA Crop Monitoring is an online agricultural product launched by the Earth Observation system. It collects and interprets data derived from satellites. This EOSDA app helps agrarians watch their fields and make smart decisions. The provided information is also useful to insurance agents, traders as well as other players in the agro market.
The farm management and crop planning software is efficiently used in the USA, UK, Brazil, Argentina, Azerbaijan, Kazakhstan, Ukraine.
The program is supported in English, Spanish, Portuguese, Russian.
The application currently includes the following features, which are constantly expanding:
satellite field monitoring;
field mapping:

zoning according to productivity,
vegetation indices,
plant growth stages,
crop maps,
soil moisture,
fertilizer application,
water stress and irrigation needs;

weather precipitations with alerts about excessive heat and cold:
comparison of real-time VS archive data;
crop rotation data and productivity;
alerts with immediate notifications.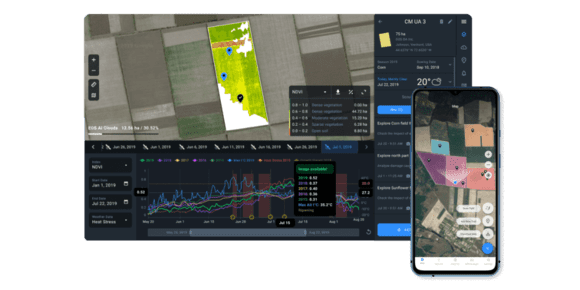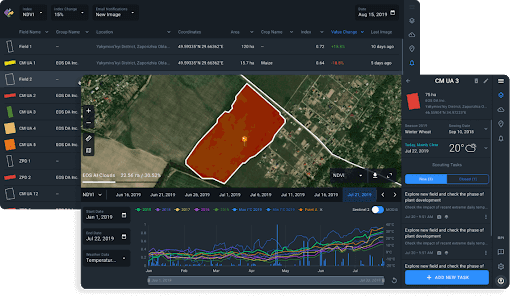 Farm Apps: Tips To Navigate In The Ocean Of Information
Like any business, agriculture is supposed to bring profit. However, a wise owner also cares to make farm running sustainable. A discerning farmer seeks ways with low inputs, moderate resource consumption, the least harm to nature. Farm management software greatly contributes to precision and sustainability in agriculture.
Smart apps ease enterprise management and give detailed field insights in real time. They cut risks, reduce inputs, maintain quality compliance.
Apart from the required features, pay attention to the countries where the software program applies.
Some applications combine satellite images with heavy in-field equipment and remote sensors. Some use open-data satellites and some have private satellite constellations. Others rely on spatial images which are far cheaper. The used data sources influence the product price correspondingly.
Some platforms flaunt decades of experience. Others have young enthusiastic teams with up-to-date visions of problem solutions. In the ever-changing world of technologies, continuous development is a must.
EOSDA offers an agricultural software product with useful features and new functionalities in the prospect.
Please fill out the form to learn more about the EOSDA Crop Monitoring potential. Find out how it can make your farming smart, confident, and comfortable.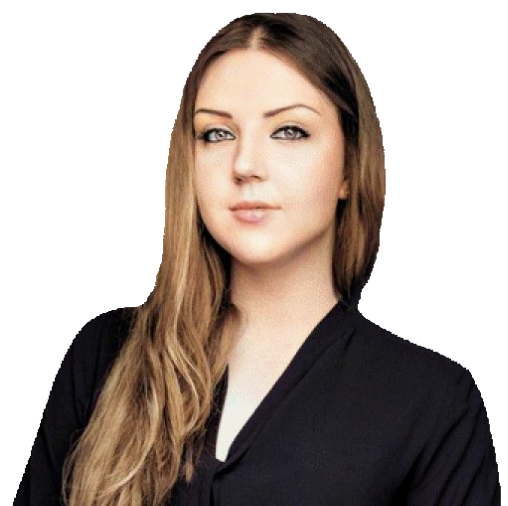 Rim Elijah joined EOSDA in early 2020. She holds a double degree in business administration and political science from Stockholm University.
Rim is VP of Sales at EOSDA. She is overseeing all aspects of business model development and implementation, maintenance of positive business & customer experience, and the growth of the company's global coverage. She is responsible for closing deals, scaling up ongoing projects, as well as the development and implementation of process control within the Sales department. Rim also regularly takes part in negotiations with important clients.
So far, Rim has managed to successfully establish a number of strategic partnerships with an emphasis on the delivery of sustainable solutions in various regions of Africa and Asia.
In addition to her main responsibilities, Rim is presently involved in the upcoming launch of the first agri-based satellite constellation by EOSDA, scheduled for mid-2022. She manages relationships with the EOS SAT investors.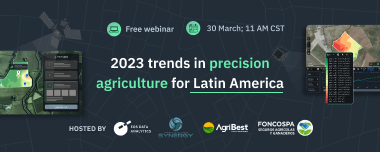 Webinar: 2023 Trends In Precision Agriculture
On March 30, 2023, EOS Data Analytics and its partners FONCOSPA, Agribest México, and Synergy Agroinsumos will hold a joint webinar on the current trends of precision agriculture for businesses in Latin America.