Precision farming technologies and space monitoring of agriculture are aimed to increase the food security of the population. Effective farming depends on timely and accurate information. And AG software can successfully solve this task.
World farming is facing the challenge of increasing crops in a resource-constrained environment. This factor has brought IT into the agro sphere. Digital technologies are an integral part of agriculture today. The whole world is moving in this direction. Farm management software allows taking a fast and efficient decision. Agriculture solutions can be implemented at all stages of production – from the soil preparation stage to delivering the goods to the point of sale. With AG software farmers can make agriculture fully manageable and predictable.
Farm software boosts yields
It is a software aimed at farming efficiency increase. The new technology replaces old farming tools in all spheres: from the soil analysis to monitoring and providing effective plant growth at all stages. It gives precise recommendations on fields treatment, helps maintaining documentation, compiles field maps, calculates AXO and NDVI indices, processes space images, monitors weather risks. All these features are integrated into space monitoring systems called farming software.
What can different types of agriculture software achieve?
Today, the market today offers a wide range of farmers' tools along with crop services to optimize farming management. Having analyzed the most popular agricultural software, it is possible to group them in the following clusters by the frequency of use:
52% of all smart agriculture apps belong to

FARM MANAGEMENT

. It comprises crop management, management + finance, and ERP;
This software helps farmers to more effectively manage their resources. Besides, it greatly facilitates crop monitoring.
MANAGEMENT + FINANCE. This farm management system focuses on inventory supervision, warehousing, financial reporting, and farm control.
CROP MANAGEMENT is an agricultural solution concentrating on the analysis of the state of the fields and crop forecasting.
ERP is a full-fledged platform for farm management. It provides an analysis of the condition of the field, finances, the work of equipment and personnel. The service allows you to accumulate information, make forecasts and carry out planning.
12% are

PRECISION AGRICULTURE AND PREDICTIVE DATA ANALYTICS.

This software type focuses on the use of big data and predictive analytics to answer field-related questions. It allows efficient decisions like saving energy, productivity boosting, optimizing the use of herbicides and pesticides, and risk management.
10% deal with

FIELD MONITORING + SENSORS

. These tools are aimed at analyzing the state of the fields. It is done with the help of sensors that collect data and help farmers monitor the health of plants, animals, weather, soil quality, waste, water use, and other factors.
7% –

BIG DATA AGGREGATORS.

These apps will aggregate and accumulate information for farmers from various sources but do not provide detailed analytics and recommendations to farmers
7% –

BIG DATA ANALYTICS

; It is agriculture software for processing geospatial data received from various sources
4% –

IMAGERY DATA/BIG DATA ANALYTICS

; The programs comprise analysis of spatial images.
2% –

SCOUTING

. The program involves the minimum set of image processing necessary to detect problematic spots on the field. And the main accent is made on taking notes.
6% –

OTHER APPS

. Mainly, these are Sensors (hard segment + software) and Aero / Robotics / Drone (agricultural services based on aerial photos or software for drones).
Main features of farm management software
The below table will demonstrate what top agricultural services each type of software offers.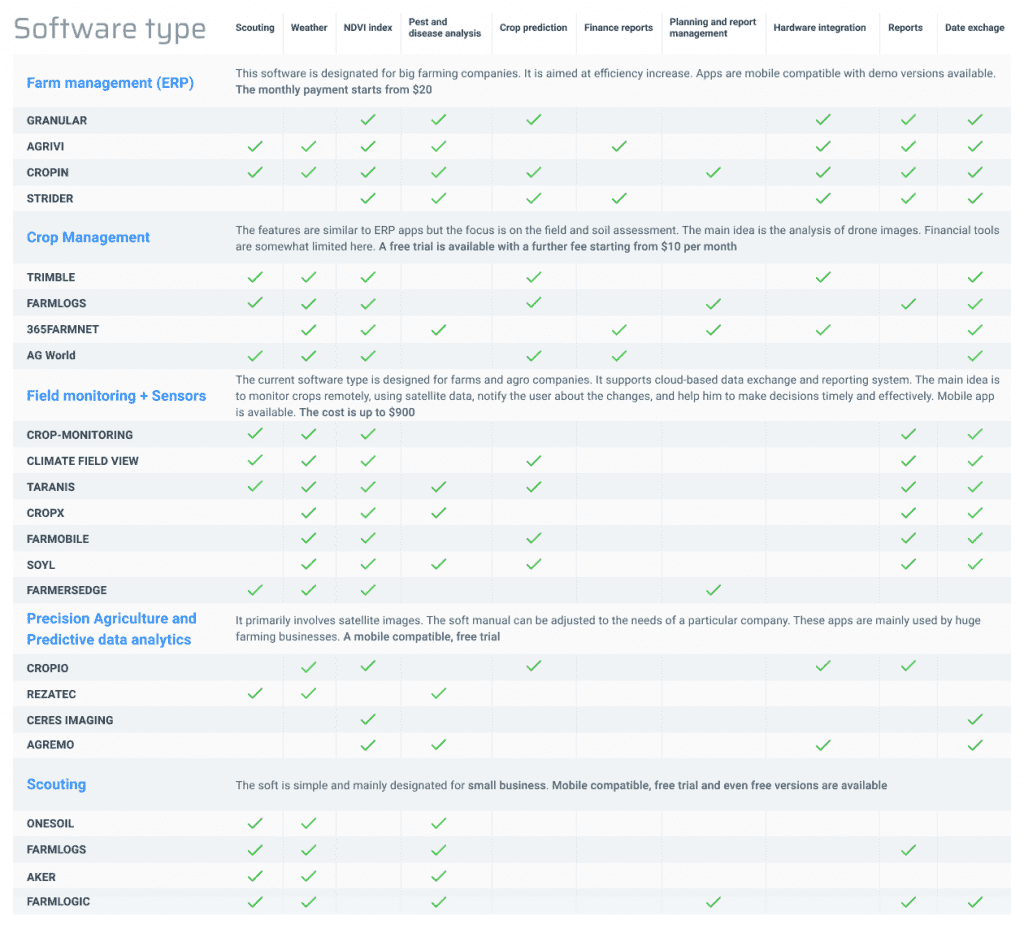 The biggest market share belongs to FARM MANAGEMENT (ERP) and CROP MANAGEMENT clusters. These programs combine the widest range of farmers' tools that are significant for a successful business. The most important features are weather risk analysis, NDVI calculation, pest and disease protection, crop planning, and yield prediction. This data is vital for each farmer, be it a private company or a huge agro- business.
Other smart agriculture groups like PRECISION AGRICULTURE AND PREDICTIVE DATA ANALYTICS, FIELD MONITORING + SENSORS are designated mainly for big farming corporations. The features of this software are focused on drone and satellite image analysis. The tools are being individually adjusted, and the cost of these programs is high.
And SCOUTING software is meant for small businesses. It is a very user-friendly program but offers a limited range of features like weather risk monitoring and pest control.
Larger companies opt for more advanced AG management technologies, while smaller businesses choose free software with basic features.
Crop Monitoring will transform your farm for the better
The winning feature of this farm management software is the possibility to deal with multiple tasks. The program can be used by farmers, insurance companies, and traders.
Farmers will find the following monitoring tools:
Test and control. Field state analysis will identify dried areas and soil nutrient value. The platform allows us to determine water needs and organize effective irrigation and fertilization.
Protection. The program constantly updates data on weather conditions (precipitation, air temperature, humidity, wind speed, etc.). So farmers will know in advance about critical weather conditions that can threaten crops.
Permanent crop observation. The system records and transmits changes in light, humidity, temperature, shape, and size of the plants. Any deviance or anomaly is immediately reported to the farmer. The remote monitoring can help prevent the spread of pests and diseases.
Mobility and notification. The farmers can stay up-to-date on all the events the system fixes. The mobile application will inform both positive and negative NDVI indices allowing urgent measures to be taken. The user has access to the platform 24 hours a day.
The software gives a prediction on crop yields and land use efficiency. These features are important for insurers and traders.
In a complex, all these actions are capable to boost farming efficiency.
By 2050 the global population will reach 9.8 billion people, and food demand will increase by 60%. Meanwhile, the climate is changing and the amount of resources is continuously decreasing.
Therefore, representatives of the agricultural industry around the world today have to look for ways to optimize all processes. Precision farming in general, and satellite monitoring, in particular, may seem incomprehensible today, but, in fact, it is just a matter of time.