Duration:1 hour 35 minutes
Language:Spanish
Transforming Role Of Precision Agriculture In Mexico
On July 5, EOS Data Analytics, a global provider of AI-powered satellite imagery analytics, together with AgriCenter Zevilla, Cosmocel, S.A., and Der Neue Horizont Re, S.A. (DNHR), hosted an open-door webinar on advances in precision agriculture in Mexico. During the online event, the presenters discussed the current state of the agriculture industry in Latin America and particularly Mexico, precision agriculture's role in modernizing the sector, and perspectives of using satellite monitoring for businesses — insurance companies, input suppliers, and food producers.
The partners also talked about how leveraging satellite tech influenced their daily processes and overall work results. Viewers from 13+ countries, including Mexico, Argentina, Colombia, Peru, and Chile, joined the broadcast.
Please follow the links to watch the webinar recording and view the presentation in Spanish.
The speakers were:

Dmytro Svyrydenko, Business Development Manager at EOS Data Analytics
Dr. Gregorio Núñez Hernández, Marketing and Development Leader at AgriCenter Zevilla, a provider of products for crops and technical services for crop production
Francisco Javier Martinez Mas, Strategic Planning and Innovation Coordinator at Cosmocel, S.A., a provider of specialty solutions for the agricultural market
Efrain Lechuga Valencia, Claims Manager at Der Neue Horizont RE, S.A., the reinsurer of agricultural risks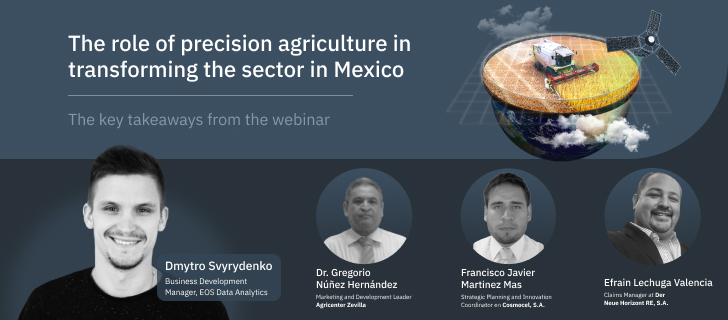 The current role of Latin America in global food supply and premises the agricultural sector's future growth to some extent are driven by the significant amounts of natural resources the region holds. Latin America has the largest quantity of freshwater in the world. According to The Food and Agriculture Organization of the United Nations, it accounts for 33% of the world's freshwater resources. And based on the World Bank data, almost 36% of all land area is available for farming in Latin America and the Caribbean.
Latin American countries have positioned themselves as major exporters of soybeans, pork, maize, poultry, animal feed, coffee, sugar, and various fruits and vegetables. Mexico is one of the region's leaders in agricultural production, having become the world's eighth largest exporter of agri-food products in 2020. Along with Canada, Mexico is one of the United States' largest trading partners. The main agricultural products exported in 2020 were vegetables, fruits, and beverages, representing more than 61% of total agricultural exports.
Despite Latin America's strong position in agricultural production, there is still room for growth in terms of digital innovation.
However, adoption of technologies like satellite analytics can be a game changer for the industry players. Digital tools provide up-to-date information on environmental conditions that can potentially threaten crop health, and agriculturalists can use those insights to react accordingly.
One of the biggest challenges facing Latin America is the changes in weather patterns induced by climate change: high temperatures, droughts, or tropical cyclones. For example, this year, Brazil, Argentina, and Mexico are experiencing prolonged periods of drought that can seriously affect yields. In addition to difficult weather conditions, local farmers lack modern equipment and digital tools due to limited internet access, especially in rural areas. This situation deteriorates further without qualified agricultural specialists who can support small and medium-sized farmers in their daily struggle for better yields. Technology is one of the primary agents of change today: You can't change the past or control the weather, but you can react to changes with better-informed decisions based on satellite data, and EOS Data Analytics is here to help.
Dr. Gregorio Núñez Hernández, Marketing and Development Leader at AgriCenter Zevilla, also discussed challenges facing humanity and notably agriculturalists.
The most important challenge is, without a doubt, the unexpected growth of the world's population and its consequent demands for food, goods, and services. Climate change-related increase in temperature affects the crop development, physiology, and yield. Limited water resources is another alarming issue, as agriculture uses 70% of freshwater extracted annually across the globe. Finally, farmers in almost all parts of the world deal with soil deterioration, which is related to a lower crop production.
However, new digital technologies allow for turning challenges into business opportunities.
The use of remote sensing technologies has allowed us to plan, support the operation, monitoring, and evaluation of the agricultural processes of our clients in a quite efficient way. We developed a multifactorial model of variables of climate, soil, genotype, and agronomic management to identify factors limiting crop production. We use simulation models, integrated precision seeding, started using satellite images for irrigation monitoring, and installed automated weather stations. In the same way, the specialists integrated georeferenced mapping of soil characteristics with the use of GPS and GIS, manual sensors and satellite images for managing crop nutrition. The integration of satellite images provided by EOSDA has allowed us to deal with current challenges, get more business opportunities, and help our producers increase productivity and profit.
With NDVI analysis, we can monitor crop germination, phenological stages of the crop, detect field areas affected by pests and diseases and weather events, and check the efficiency of products after applying them. The implementation of this capability also allowed our team to work more efficiently than before. Field engineers can prioritize on-site visits using information on historical behavior of crops in field zones and complete their tasks faster. In addition, we can rely on recommendations from specialists based on the analysis of satellite images and the field revisions.
For the reinsurer of agricultural risks Der Neue Horizont RE, S.A., the adoption of satellite imagery analytics brings the opportunity to monitor the development of insured crops, which, in turn, simplifies the validation of claims.
New agritech tools greatly help agribusinesses, and the insurance sector is no exception. The advantages are the mitigation of risks and support in decision-making regarding claims and improved customer service. We are delighted to be one of the first in Mexico using satellite monitoring technologies through EOSDA Crop Monitoring, with the sole intention of improving our operations day by day.
The launch of EOS SAT, the first agriculture-focused satellite constellation among companies utilizing remote sensing, will allow EOSDA and its users to monitor farmlands relying on analysis of high-quality data that is updated within 5-6 days or even daily. By 2025, the EOS SAT constellation will cover up to 90% of global agricultural lands worldwide.
About Agricenter ZeVilla
AgriCenter Zevilla provides high-quality products for crops — fertilizers, agrochemicals, and seeds — as well as analytical services, such as soil, water, and plant analysis. The company's range of services also includes selling greenhouse products and selling machinery and equipment. AgriCenter Zevilla has a nationwide presence in Mexico.
About Cosmocel, S.A.
Cosmocel is a leader in the innovation, manufacturing and commercialization of specialty solutions for the agricultural market. With more than 60 years of experience, the company remains true to the reason for being: "Nothing but the best for the farmers." Cosmocel innovates and formulates specialty solutions based on the physiology and specific objectives of modern plant nutrition, which are also respectful of the planet and friendly to the environment.
Under a philosophy of continuous improvement and cutting edge, the company works with prestigious universities, research centers and recognized institutions around the world with the aim of developing new technologies to offer high-performance products under high quality standards.
Cosmocel has advanced laboratories, accredited by the American Association for Laboratory Accreditation with the recognized international standard ISO/IEC 17025:2005, which house a team of scientists focused on guaranteeing the quality and innovation of their formulations based on current market trends in the world.
About Der Neue Horizont Re, S.A.
Based in Mexico with headquarters in Chihuahua, Der Neue Horizont Re, S.A. (DNHR) is a reinsurer of agricultural risks. By providing reinsurance services, Der Neue Horizont protects the insurance cases of their clients (aka cedents) in the agricultural sector and employs EOSDA Crop Monitoring to validate insurance claims.
The company is constantly improving its operation standards for the best quality of service, which has gained customer trust, and regularly passes the Fitch Ratings audits. In 2021, Der Neue Horizont Re, S.A. was issued 'B' and 'BB (mex)' Insurer Strength credit quality, confirming that DNHR met its financial commitments. Der Neue Horizont is also a member of ALASA, the Latin American Association for the Development of Agricultural Insurance that aims to unite crop insurers and protect local farmers and ranchers in the Latin-American region.